So awhile ago, I blogged about my new favorite side dish. And it's still pretty much my favorite side dish, except now that fingerling potatoes are difficult to come by, I just buy a bag of red potatoes and pick out the smallest ones I can find and it works beautifully.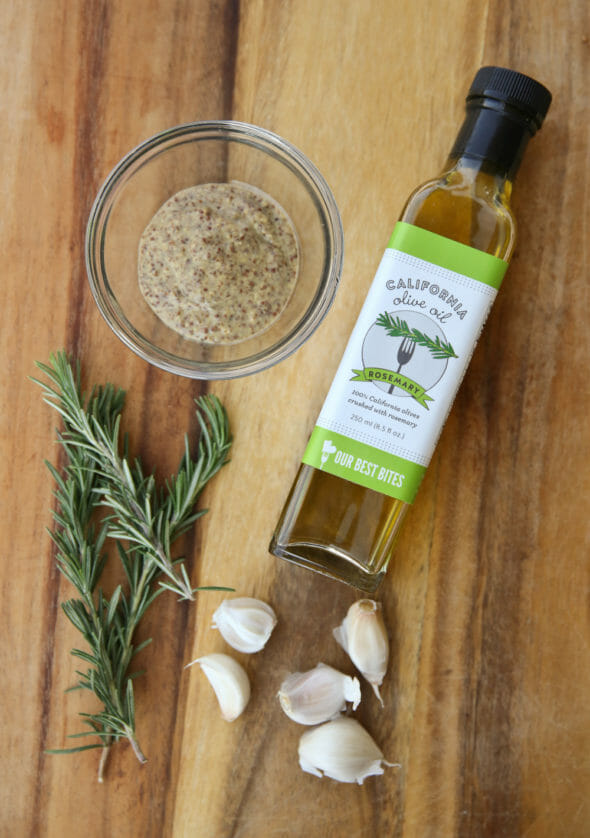 One of my favorite things about those potatoes isthis flavorful, garlicky/salty/tangy rosemary-infused crust that develops. Once, as I was secretly snacking on the roasted garlic crumbles washing the dishes after dinner, I was completely stricken with how fabulous the rub would be on a roasted pork tenderloin. And I tried it. And it was fabulous.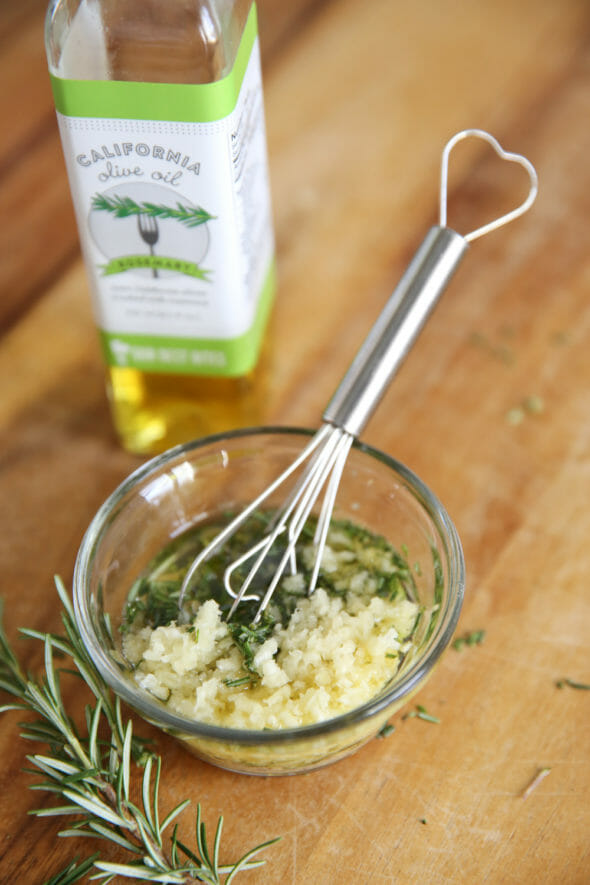 One of the best things about pork tenderloins is that they cook quickly and feel fancy, so, say you have a romantic Valentine's Day planned with lots of skiing and canoodling and you want to cook a nice, romantic dinner at home, but you don't want to spend all day in the kitchen. Or…say you spend Valentine's Day wrangling children and cleaning up messes and you're at your wit's end and you want a nice dinner, but you're too tired to cook. Well…lucky you…this recipe works either way!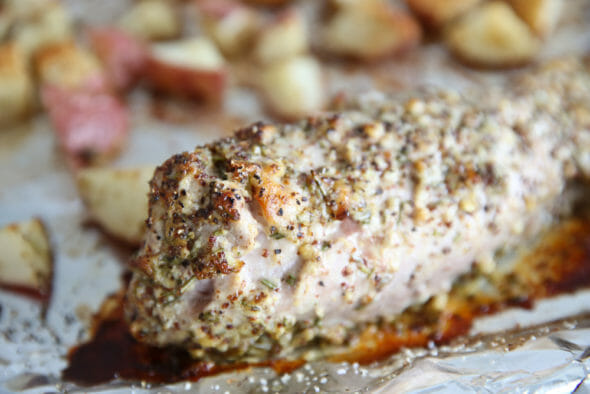 Seriously–thirty minutes, you're done (and a good chunk of that is spent sitting on the couch while the pork is roasting). You can mix a little extra olive oil with a little of the rub and toss it with some diced potatoes and bake them right on the pat at the same time. Or serve it alongside some asparagus or blanch some green beans for a minute or two and saute them in a little butter and garlic and Happy Valentine's Day to YOU.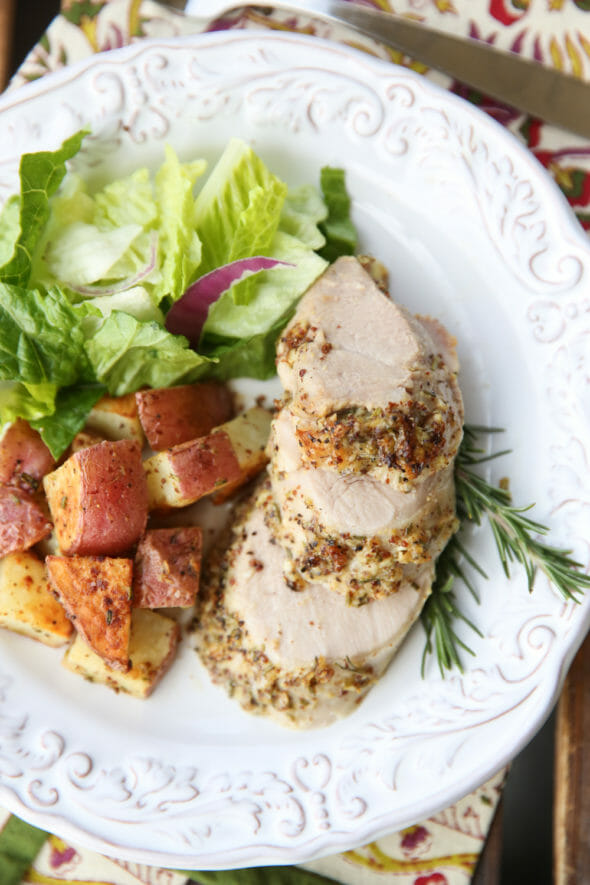 Print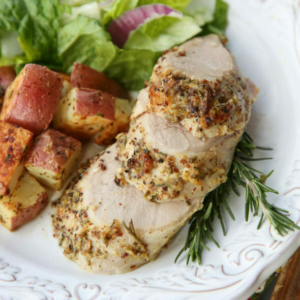 Garlic-Rosemary Pork Tenderloin
---
Description
An easy and delicious pork tenderloin. Fancy enough for company and easy enough for a weeknight!
---
1

large or

2

medium or small pork tenderloins

2 1/2 Tbsp

. olive oil

2 1/2 Tbsp

. chopped rosemary leaves (strip them from the woody stem first)

2 1/2 Tbsp

. coarse mustard

5

cloves garlic, minced

1/2 tsp

. Kosher salt
A few turns of freshly ground black pepper
---
Instructions
Preheat oven to 450 degrees. Line a baking sheet with aluminum foil and spray with non-stick cooking spray. Set aside.
Rinse pork tenderloin in cool water and trim any excess fat or the silvery membrane on the meat. Pat dry and place on the prepared baking sheet.
In a small bowl, combine olive oil, rosemary leaves, mustard, garlic, Kosher salt, and black pepper. Carefully rub all over pork roast, particularly on top. Place in heated oven and roast until an instant-read thermometer reaches 155 degrees. When the meat is done, remove from oven and allow to stand 5-10 minutes before slicing.
Now…say your instant read thermometer angered you and you threw it away and then you find yourself roasting a pork tenderloin, cursing yourself for throwing your thermometer away, then realizing a thermometer that doesn't tell the correct temperature wouldn't do you any good, anyway. All of this is completely hypothetical, of course. Anyway, if it boils down to the fact that you don't have a thermometer, you're going to have to do a little guesswork because if you overcook it, it will be tough, but you also don't want to get sick. The tenderloin I used this go-around was definitely on the large side and I roasted it for about 25-30 minutes; the center wasn't pink, but it was juicy and the ends were definitely done. For a smaller piece of meat, start around 20 minutes and go from there. Of course, large and small is all relative and a good meat thermometer is definitely an asset in your kitchen, so just be sure to make it known when you do find a good thermometer that you have very little tolerance for inaccurate temperature measurements…
---
---