This past Christmas my cousin Cami texted me a picture of some cute paper bags she made with a "Just Popping By" message.   I had already come up with my Valentine popcorn idea (I'm a food blogger- my mind is always on the next holiday!) so I started working on these tags to go with it.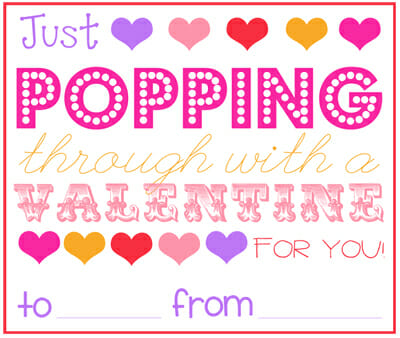 So here's some ideas for how you can use these tags.  They obviously work great with the fun Valentine Popcorn mix, but you can easily fill a bag with any store-bought goodie just as easily and have a cute treat to give to a friend, neighbor, teacher, etc.
Pin It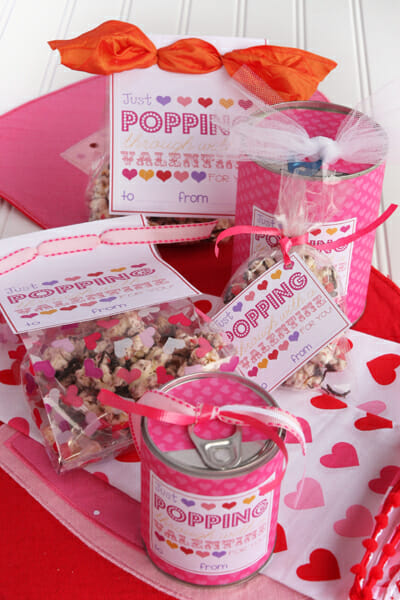 Whenever I post these fold over tags I get questions on how to do the ribbon, so here's a little how-to.  Fill your bag with goodies and fold the top over.  Crease the top portion of your tag and then place it right over the creased cellophane bag.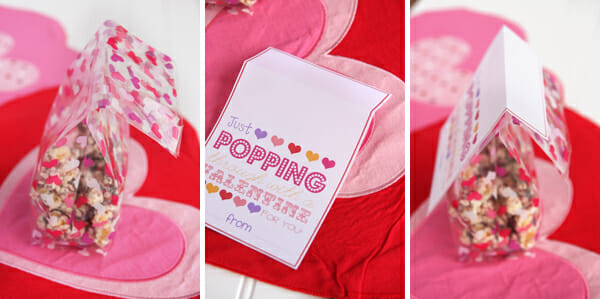 While holding the bag (seriously, don't let go- I only did because I had to photograph!) punch two holes.  Have your ribbon all ready so you don't have to let go of the bag.  Place your ribbon through the front side of the tag so the ends are hanging out the back.
Then on the back side, take each ribbon through the opposite hole back to the front.  Ta-da!  No knot tying involved.  Trim the edges and experiment with thick or thin ribbon.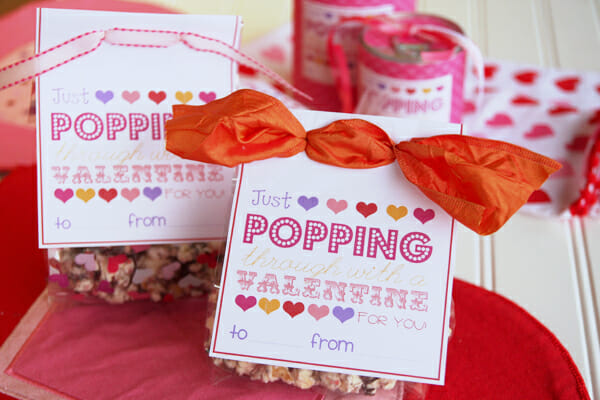 I specifically made these with the word "popping" so they'd be cute on Tin Cans.  Click here for the full tutorial on that fun and easy craft.  You get bonus points if you fill them with popcorn too!  Just cover your cans with a cute paper and then glue or double-stick tape the tag on the front.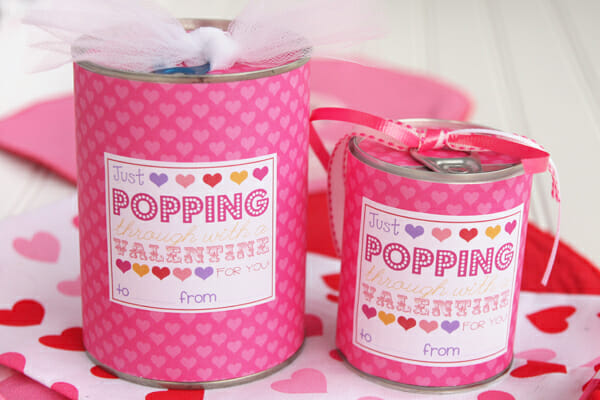 Lastly, you can just cut out the small square tags and tie them to a baggie of your favorite treat (Butterfinger hearts?   Yes please.)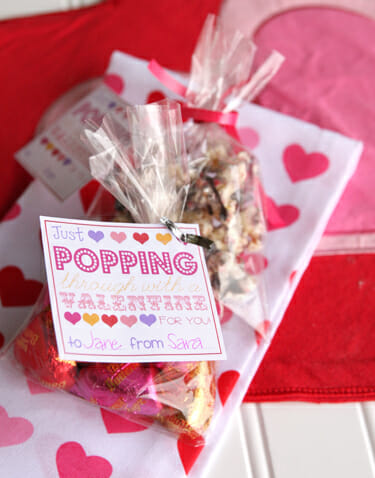 Click the links below for the downloads.
Print on your home computer, cut out, and spread the love.
Large fold over tags for cellophane bags
Small tags for Tin Can Treats and Cut-Out labels