I recently shared about how when I was pregnant with my third child, I was obsessed with drinking Virgin Bloody Marys (Maries? That doesn't seem right. How does one make this plural?) I was flying very frequently and would always ask for Bloody Mary mix on the airplane. The whole can because a) I was pregnant and as much as I tried to keep my emotions in check, it didn't take much to make me cry, and b) who else is going to drink half a can of Bloody Mary mix? I propose no one. I would make them at home. I couldn't even talk about them without my mouth watering. It was the single most pervasive, intense pregnancy craving I have ever had–never brownies, never cookies, often salt and vinegar Kettle Chips. But there was nothing like the Bloody Mary.
If you're unfamiliar with the Bloody Mary, it's basically a supercharged tomato juice. Think Spicy V8, a little less spicy, a lot more multidimensional flavor, plus fewer of those bitter notes. It has a lot of weird stuff in it, stuff that makes you wonder who came up with this, stuff that, when I was a teenager came across a recipe for it in my Teen Works binder, I thought, "Who would DRINK this?!"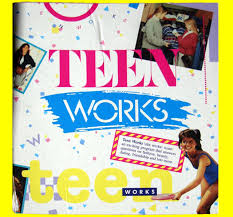 Little did I know that 20 years later, *I* would drink it. Obsessively.
You're going to need tomato juice, freshly squeezed lemon juice, freshly squeezed lime juice, and dill pickle juice. You heard me. Dill pickle juice. Just come along for the ride.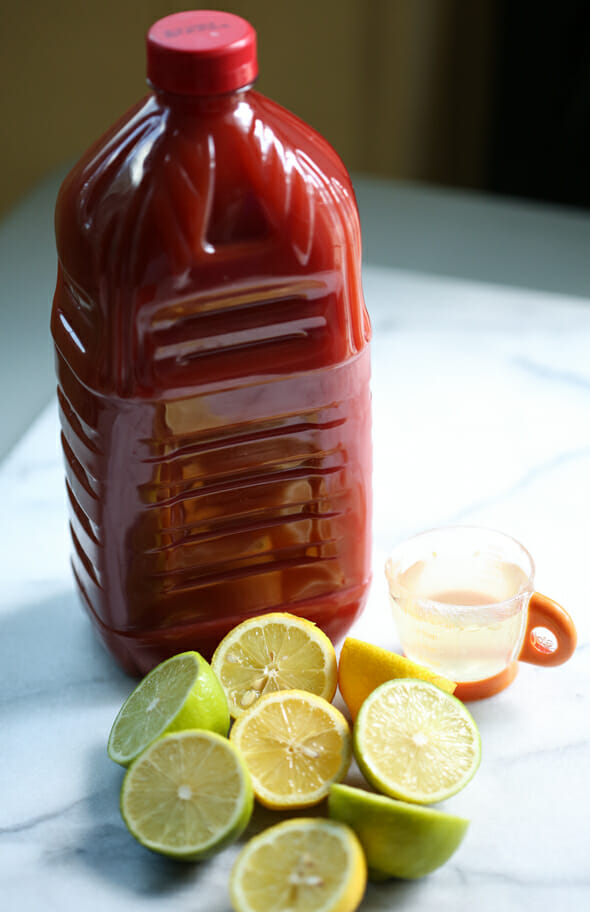 Whisk them together in a serving pitcher. Then you're going to need prepared horseradish. The hard stuff. Not that namby pamby horseradish spread or topping or dressing–if it has mayonnaise or eggs in it, that is not what you want. You want grated horseradish roots. Water. Maybe a few other ingredients that make it stable. The stuff that grows hair on your chest. You'll also need Tabasco sauce and Worcestershire Sauce.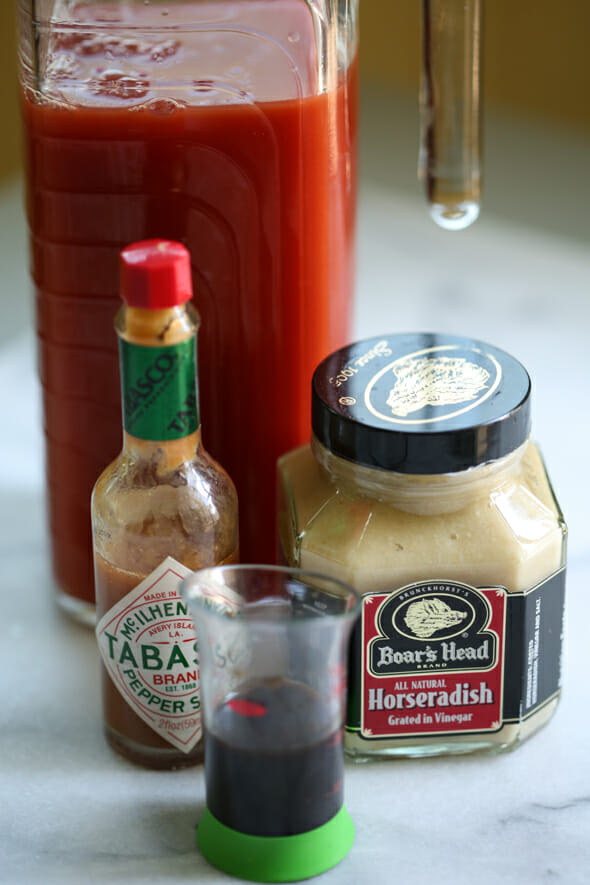 Whisk those into the tomato juice mixture. Next, you'll need your spices–garlic powder, celery salt, and freshly ground black pepper.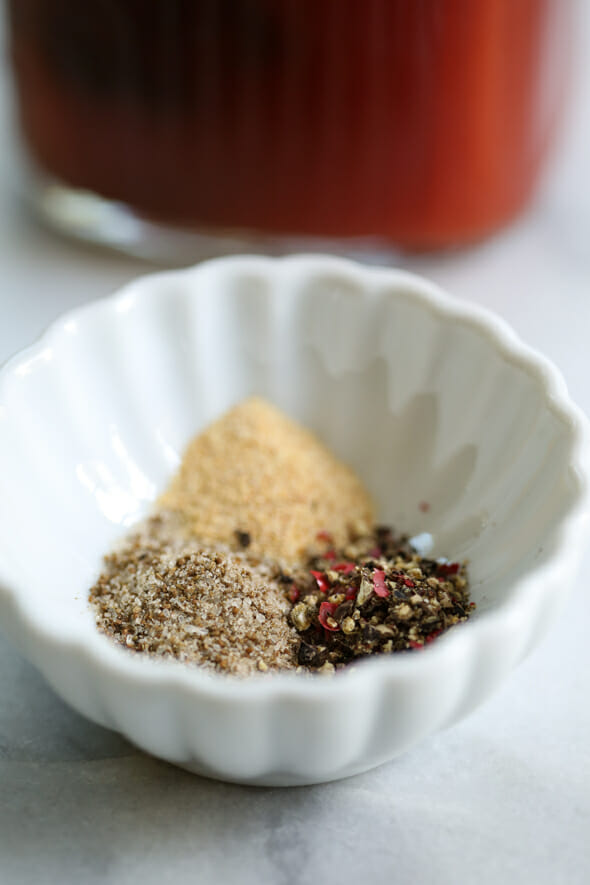 Add those to the mixture. Whisk it all up so it's well-combined, then pop it into your fridge for at least two hours, up to 8-10 hours. When you're ready to serve, dip the serving glasses in a little water, then dip them into a tub of margarita salt. Carefully add ice cubes, then pour the mixture over the ice. Serve with a stalk of celery, asparagus, and/or a few lime wedges.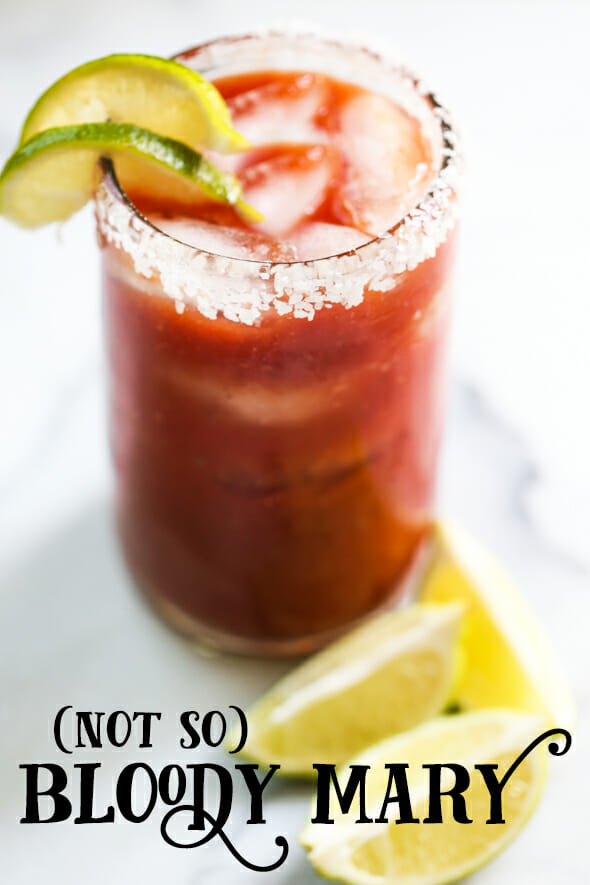 Print
Virgin Bloody Mary
---
Description
Tangy, savory, and spicy, this Bloody Mary recipe will take care of any salty cravings!
---
6 cups

tomato juice

6 tablespoons

freshly squeezed lemon juice

6 tablespoons

freshly squeezed lime juice

2 tablespoons

prepared horseradish (NOT horseradish sauce or dressing–if it has eggs or mayonnaise in it, that's not what you're looking for)

3 tablespoons

Worcestershire sauce

1/2 teaspoon

garlic powder

1 1/2 teaspoons

Tabasco sauce

1 1/2 teaspoons

celery salt

1 teaspoon

freshly coarse ground black pepper

1/2 cup

dill pickle juice
---
Instructions
Whisk ingredients together in a serving pitcher and chill for at least 2 hours or up to overnight. Serve over ice in salt-rimmed glasses with a stalk of celery, asparagus, or a lime wedge or two.
---
---