Two quick announcements before we get to today's recipe!
1.  SEATTLE!  We're coming your way this month!  Mark your calendars for Friday JULY 24th.  We will be at Williams-Sonoma in Bellevue Square from 12-2pm.  There will be a little recipe demo, some samples, books, mingling, and signing.  Pretty please tell your friends and come see us!
2.  Our DietBet is officially ON!  If you haven't noticed, the pot is big.  Over $52, 000 is up for grabs.  It's not too late to join up, we're all just starting today!  You can join and weigh-in any time over the next 14 days.  Click here for more info and join us!  It's such a great way to get back on track after a holiday weekend.
Now, on to pancakes.  Pancakes with healthy whole grains that actually taste good.  (Shocker!)
I often add whole wheat flour to baked goods, but as most people know, you very rarely want to add ALL whole-wheat flour.  It is notorious for heavy, dense, and often bitter results, which is why it's almost always combined with some all-purpose flour.  This recipe is unusual because there's no white, all-purpose flour here, we're using 100% whole wheat, and they're delicious!  Fluffy, soft, and everything a pancake should be.  The most important thing here is that you're using fresh flour.  If you're pulling out a bag you've had for ages, think again.  Start with a new bag, or one that has been in the freezer for less than 12 months.   If you're feeling ambitious and want to grind your own flour, that works great as well.  Definitely store your whole wheat flour in the freezer when you're not using it, it will extend its life!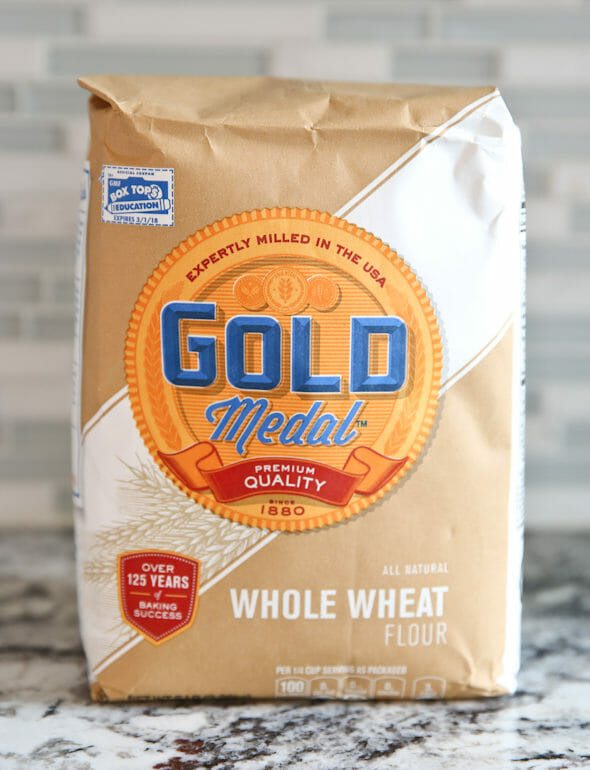 To your whole wheat flour, whisk in a little baking powder, baking soda, sugar, and salt.  (Our favorite adorable heart whisks are in stock in our Shop, by the way!)
Pour your wet ingredients into the dry.  The wet ingredients are buttermilk, eggs, and vegetable oil.  I do recommend using real buttermilk (as opposed to milk mixed with lemon juice or vinegar.) However if you do use the buttermilk substitute, I suggest decreasing the amount by 1/4 cup.  I actually used milk in this batch and I found that they weren't quite as fluffy as they were with buttermilk, but still totally tasty.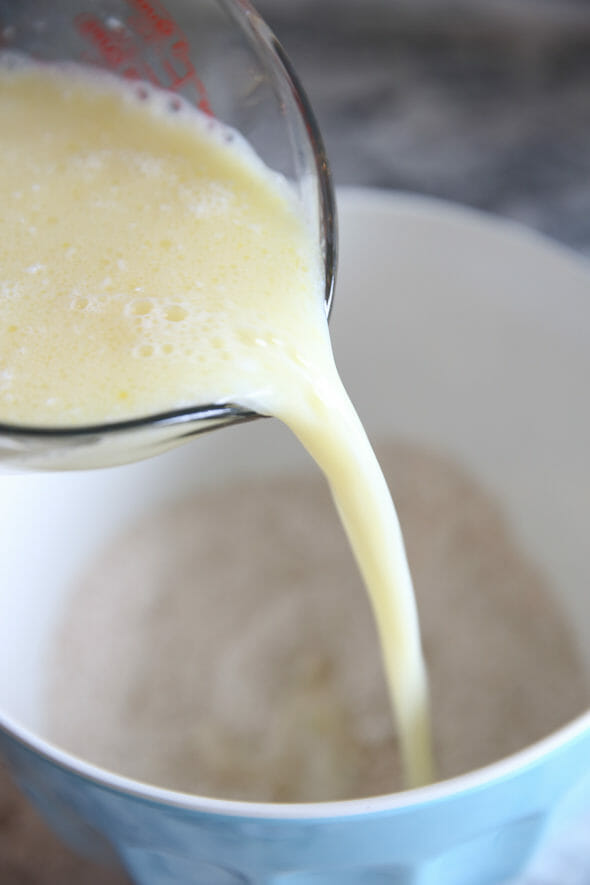 I love the griddle on my stove-top and use it a lot for pancakes!  Do any of you guys have a griddle top?  A lot of people say they don't end up using that part, but I find I use mine quite a bit.  Then again, we also eat a surprisingly large amount of pancakes and quesadillas.
Top with some real butter and maple syrup.
The last time I suggested that people use 100% real maple syrup in a recipe, I was torched by crazy commenters telling me I was pretentious for suggesting they buy something so ridiculously expensive.  So the next time I clarified that I thought it was handy to keep a bottle of the more expensive 100% maple syrup in the fridge for recipes (and grown-up breakfast), and use the industrial sized jug of Mrs. Butterworth's for the kiddos to slather on the Eggos.  That time I was torched by crazy commenters telling me it was practically child abuse to feed my children cheap sugary substitute and if I was a more responsible parent I'd be topping their organic pancakes with only the best 100% real maple syrup.  So.  On that note.  I'm going to say nothing about syrup.
These pancakes are soft, with a slightly nutty flavor, but not a nutty texture.  They're hearty, filling, and totally delicious.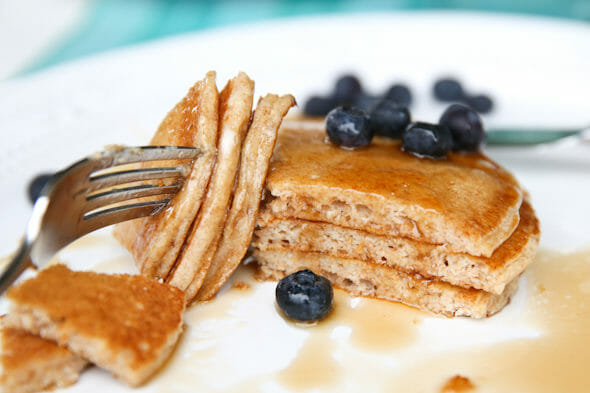 They're also 100% kid friendly.  My kids ate just as many of these as they do regular white flour pancakes.
Make a bit batch and pop them in the freezer for busy mornings.  Frozen pancakes toast up beautifully in the toaster!
Print
100% Whole Wheat Pancakes
Author:

Sara Wells

Prep Time:

10 min

Cook Time:

15 min

Total Time:

25 minutes

Yield:

15
---
Description
Forget everything you've heard. The more whole-wheat flour you use, the more tender (and foolproof) the pancakes will be. Just be sure your flour is fresh, and you will get soft, fluffy, delicious whole wheat cakes!
---
2 cups

(

11 ounces

) whole-wheat flour

2 tablespoons

sugar

1 1/2 teaspoons

baking powder

1/2 teaspoon

baking soda

3/4 teaspoon

salt

2 1/4 cups

buttermilk

5 tablespoons

vegetable oil (plus more for greasing pan)

2

large eggs
---
Instructions
Whisk flour, sugar, baking powder, baking soda, and salt together. In a separate bowl mix buttermilk, oil, and eggs. Make a well in the center of the flour mixture and pour in buttermilk mixture. Whisk until smooth (if the mixture is thick, don't add more liquid).
Heat 1 teaspoon extra oil in a large nonstick skillet (or large griddle) over medium heat until shimmering. Use a paper towel to wipe the oil around the pan. Pour pancakes into pan using 1/4 cup batter in each. If needed, gently spread each portion into 4 1/2-inch rounds. Cook until edges are set, first side is golden brown, and bubbles on surface are just beginning to break. Flip pancakes and cook until 2nd side is done. Serve with butter and maple syrup, or other toppings as desired.
---