One of my favorite uses for the air fryer is roasted vegetables. Thin green beans, often labeled as Haricot verts or French cut green beans are especially delicious. There's no pre-steaming or blanching required here. Green beans are tossed simply in olive oil, salt and pepper and in just a few minutes they turn lightly browned and perfectly cooked. The air fryer is a great size for side-dish sized recipes like vegetables and these are done in 10 minutes, which is pretty doable for just about any meal! Give these air fried green beans a try next time you need a quick and easy crowd-pleasing side dish!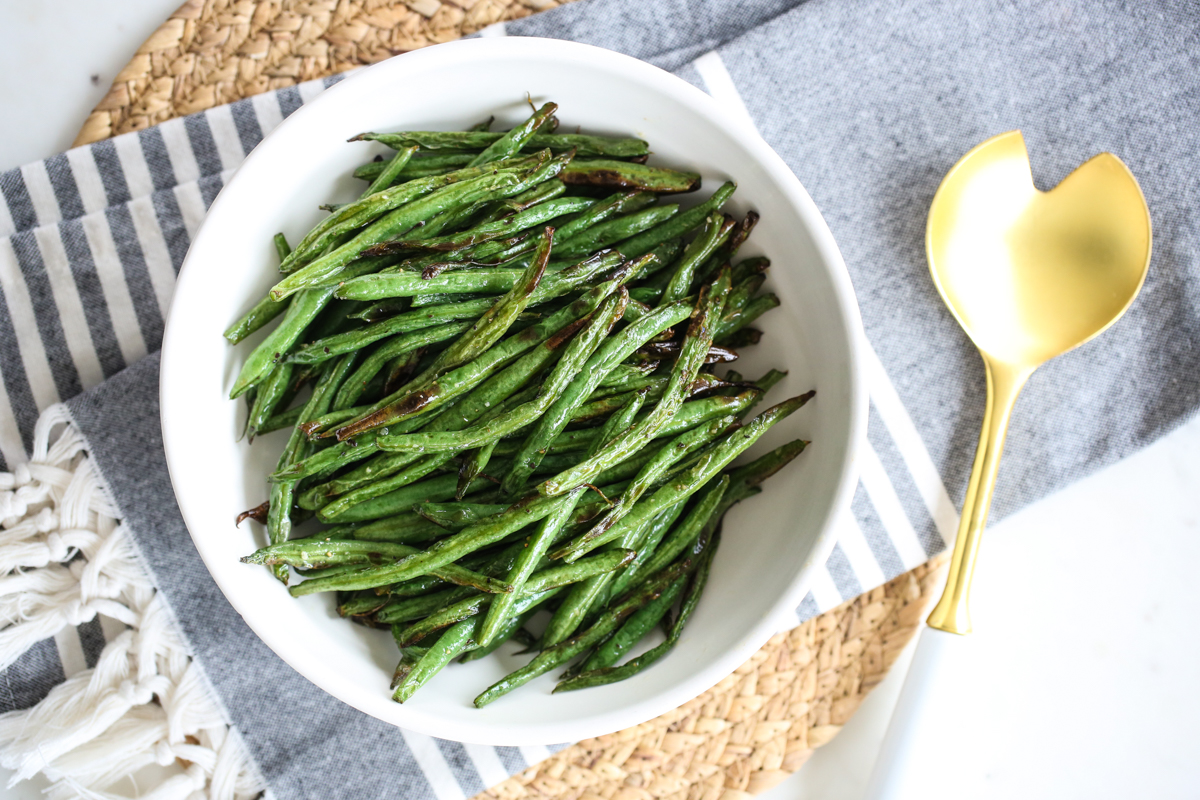 Ingredient and Equipment Notes
Green Beans – you can use this method for any style of green beans, but my favorite are "french green beans" as pictured below. They are thinner and quick cooking.

Olive Oil – you may use any oil of choice. Avocado oil works great as well.

Salt and Pepper – I suggest kosher salt for most cooking needs. If you are substituting a fine salt like table salt, you will want to decrease it a bit from what is called for. You can always add more to taste. These beans are also very adaptable to other seasonings. We like to add lemon pepper sometimes, or garlic powder, or even some chili flakes.
Air Fryer – If you don't own an air fryer yet, I genuinely love having one! I've had 2 different brands and enjoyed them both. This Power XL one is great for larger capacities, and this Instant Pot brand was the highest rated and recommended by America's Test Kitchen.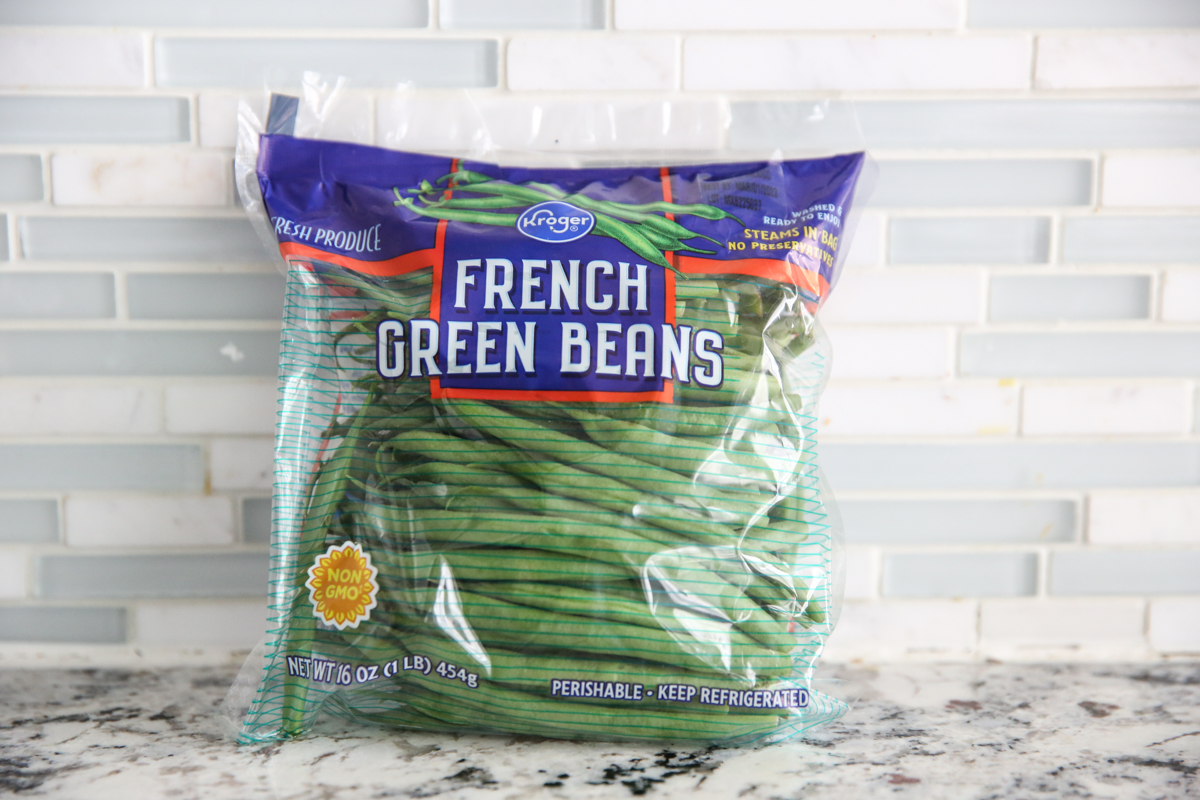 Instructions for Air Fried Green Beans
Preparation for these air fried green beans takes less than 2 minutes!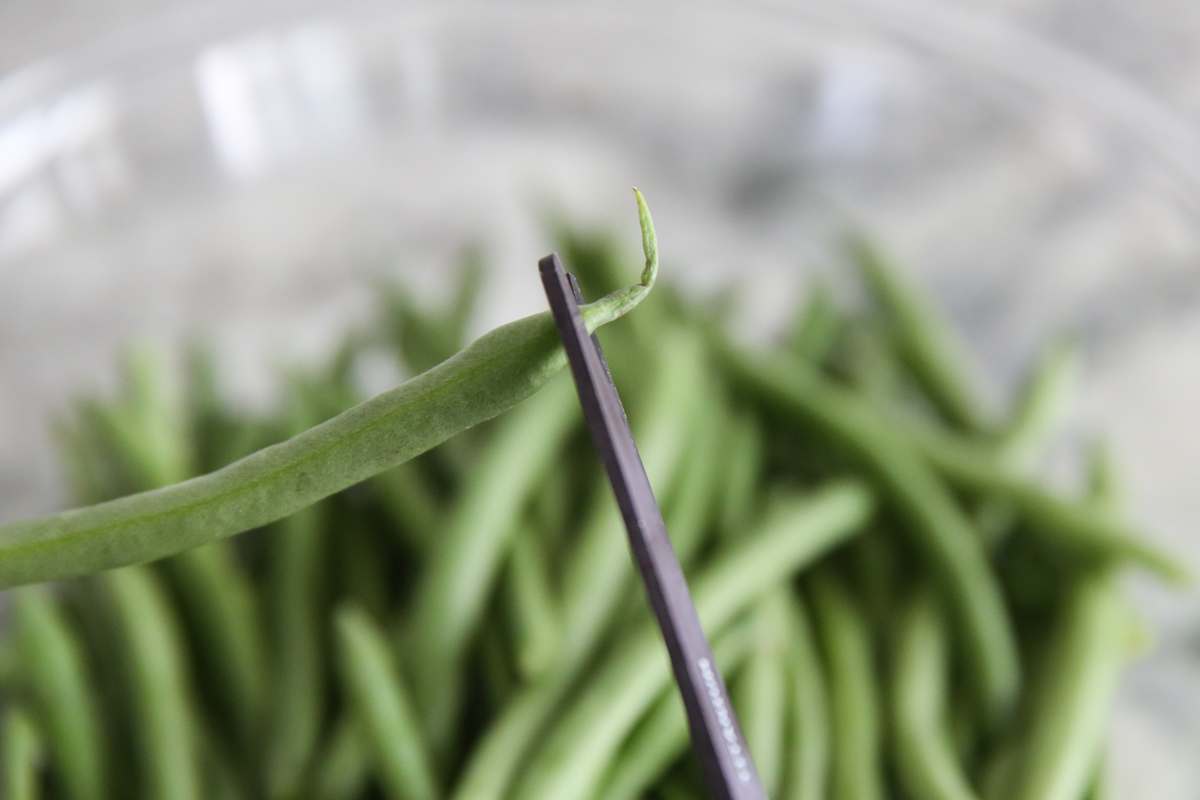 Wash green beans, and if necessary (or desired), trim off tips if part of the stem is still attached. A pair of clean scissors works great for this task!

Drizzle green beans with olive oil, or oil of choice.

Sprinkle green beans with salt and pepper, or any other seasonings, if desired.

Cook green beans in the air fryer at 400 degrees, shaking to turn once during cooking. You can cook according to preference. I like to take them out when they start turning golden and browned in spots, at about 8-10 minutes. Thinner beans will cook quicker than fatter beans. If you like your beans a little more crisp on the inside, you might like to take them out after 6-7 minutes.
The result is soft tender beans, evenly cooked throughout. It's an incredibly quick and easy side dish that doesn't require heating up the oven for such a short cook time! These make a great side dish for just about any meal.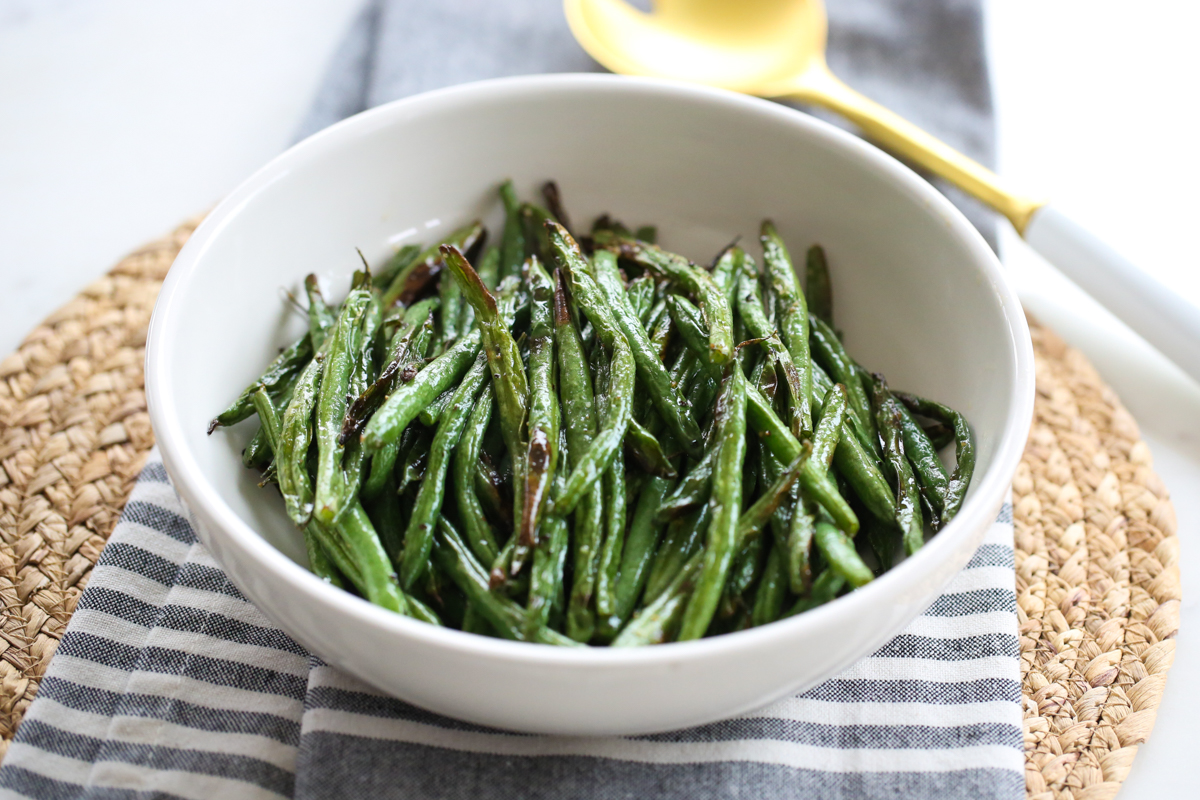 Want some other ways to enjoy this style of green beans? We also love them in these recipes:
Bacon Wrapped Green Bean Bundles
Caramelized Green Beans
Beef and Green Bean Stir Fry
Print
---
Description
These green beans take just minutes to make in the air fryer.  They're a perfect side dish!
---
1 lb french style (thin) green beans
1–2 tablespoons olive oil
1/2 teaspoon kosher sale
1/4 teaspoon black pepper
---
Instructions
Preheat air fryer to 400 degrees.
Place green beans in a bowl and add olive oil (I use 2 tablespoons, but if you'd like to use less, just make sure you have enough to have them coated)
Sprinkle with salt and pepper and toss to coat. 
Place in air fryer and spread beans out into an even layer
All air fryers are different, but I suggest cooking for 8-10 minutes for soft green beans that get browned and slightly crisp on the outside, and 6-8 for a crisper bite.  Give them a shake about half way through cooking and that's a good time to check. 
---