Remember the time I was ready for it to be fall, but it was still hot enough outside to fry eggs on the sidewalk?  Okay, so it's not that hot where I live, but still.  We're in full-on shorts and flip flops attire and probably will be for a while.  What you need this time of year is a spiced autumn wonder disguised as a cold frosty summer treat.  Perfect for those in between months where you're totally confused as to which season to be devoted to.   I actually thought of this last fall but as the months filled up I never got around to post it.  Then this fall rolls around and cider floats are all over the blogosphere.  Turns out I'm not as ingenious as I thought.  Hate it when that happens!  Here's what you'll need for this deeeelicious little treat: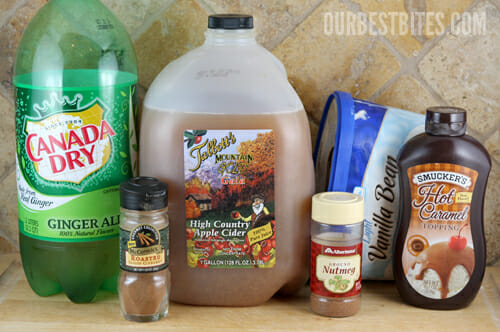 Make sure you use a good apple cider, not plain ol' apple juice.  Sometimes you'll see jugs labeled "apple cider" next to the apple juice, but don't buy it if it looks clear and light, like normal apple juice.  You want an unfiltered cider, so it has little bits of pulp in it; it should be a darker, amber color like this picture.  Don't be afraid to buy the big jug.  You can make lots of things with the left overs like, Hot Caramel Apple Cider, Apple Butter Pork Chops, and Tortellini Sausage Soup.
This time of year, seasonal jugs of cider start popping up in grocery stores and are often found on the aisle end-caps or in the produce department.  There is also "Simply Apple" found in the refrigerated section near the orange juices.  I think the seasonal type jugs are still better for this particular recipe, but if you can't find any, Simply Apple would be a good option; much better than plain apple juice.  Depending on where you live, it's often from local suppliers.  We always support buying products that are produced locally; they not only taste the best because they're fresh, it's a great way to support local growers and businesses in your area.
Start by pouring some cider in your glass, you'll want it about 1/2 full.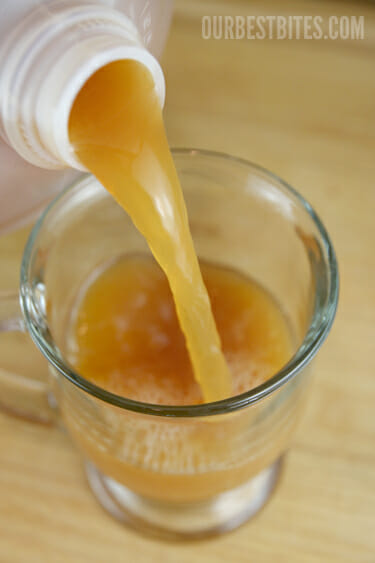 See that nice color?  And the flecks of pulp?  Dark and rich, that's what we're going for here!
Then you'll add a little fizz.  The trick is adding the right amount.  It's not rocket science, but if you add too little, it comes out like flat soda, and if you add too much, it really dilutes the flavor of the cider.  A 2-1 ratio of cider to ginger ale seems to be just about right.  And really, I like to sacrifice a little fizz for a stronger cider flavor.
Next comes a big scoop or two of vanilla ice cream.  Or any of those yummy fall flavored ice creams like cinnamon or apple pie would be yummalicious.  And if you want to go all out, try our Homemade Apple Pie Ice Cream, or this Snickerdoodle Ice Cream without the cookies, or the easy peasy  Two-Ingredient Ice Cream I posted on Monday.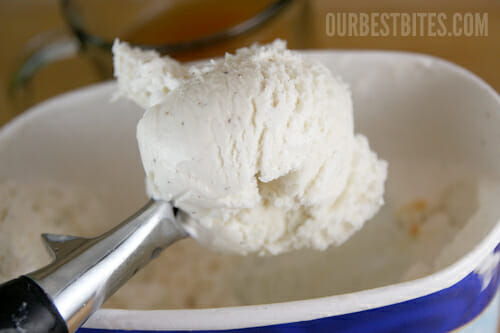 After the ice cream, sprinkle a little nutmeg and cinnamon on top, or a lot of nutmeg and cinnamon if you're me.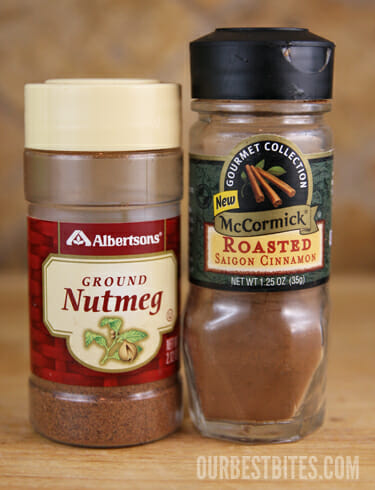 And a nice big drizzle of caramel.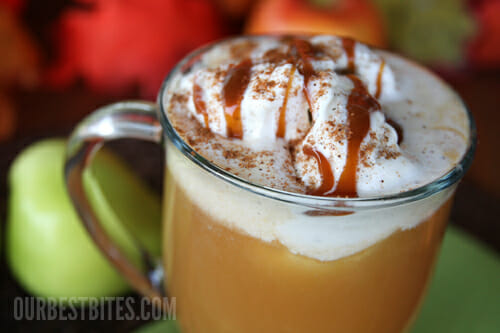 Oh yeah.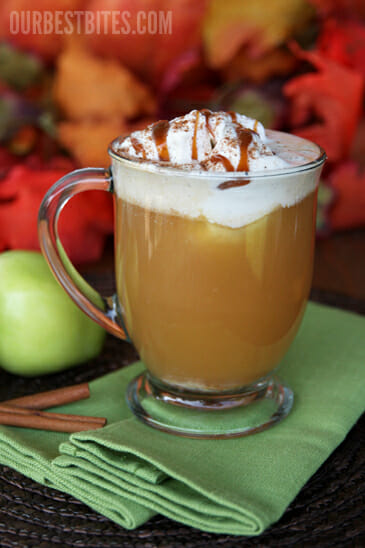 Apple Pie Floats
Recipe by Our Best Bites
Ingredients
1 cup apple cider
1/2 cup ginger ale
1-2 scoops vanilla ice cream, or any seasonal flavor such as cinnamon or apple pie
ground cinnamon and nutmeg for sprinkling
1-2 tablespoons jarred caramel sauce
Pour apple cider and ginger ale into a glass.  Add vanilla ice cream.  Sprinkle on nutmeg and cinnamon to taste and drizzle caramel sauce on top.  Serve immediately with a straw and a spoon.
Yield: one serving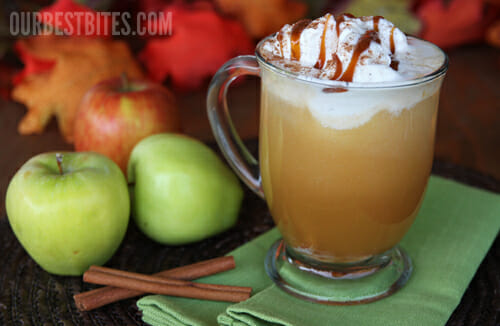 And speaking of warm/cold- autumn/summer treats, you can put a scoop of ice cream in our Hot Caramel Apple Cider and it's fantastic!