People are always asking us how we come up with recipes, and also what we cook when we don't really have a plan, or we're short on time.  We'll be the first to admit that we're not above drive-throughs, cold cereal, and frozen meals.  But sometimes you just want a good, hearty, home-cooked meal.  This is a great example of a really good dinner, that was created by simple ingredients I already had around my kitchen. I've said over and over that the trick to being able to whip up quick, yet delicious meals in a pinch is keeping a well-stocked pantry.  One of the things I always have around is dried pasta, in all shapes and sizes.  I love quick cooking tortellini that can be a great base to so many quick dinners- and there's something fun about little pouches of cheese!  I also almost always have a giant package of fresh spinach from Costco in my fridge, and it's so cheap that I don't hesitate buying it in such large quantities.  After a week or so I'm always looking for ways to use it up quick before it goes bad.
This is an awesome little pasta bake and the great thing is that it looks fancy and tastes decadent, but it's super simple to throw together (shhh…no one has to know!) And although it's rich and creamy and cheesy, it's also fairly healthy.  I love dinners that I can throw together during my baby's nap-time and pop in the fridge to have ready at dinner time when things get crazy.
Let's cook.
Obviously you'll need tortellini!  You can find dried tortellini in the regular pasta aisle- a great thing to have in your pantry.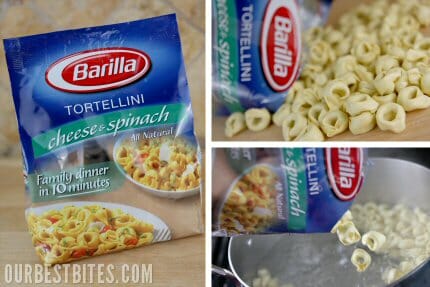 You don't need to have any jarred sauce on hand for this dish- the sauce is SO good and you'll be amazed how quick and easy it is.  Start by cooking up a few strips of bacon (or pancetta would be great too) until crisp.  It only takes a little bit for good flavor throughout the dish.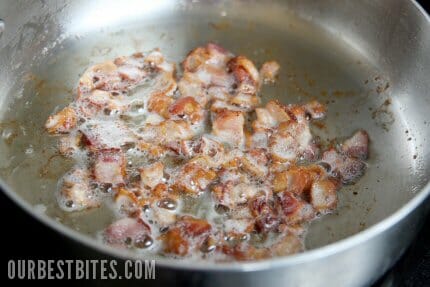 After you take the bacon out of the pan, you're going to make a simple roux– but instead of butter, we'll take advantage of the fat we've already got right there in the pan!  You'll just use a little bit, and discard the rest of the grease.  I usually just take a wad of paper towels and soak it right up and toss it in the trash.  (Or save it in a jar if you're a save-the-bacon-grease type of person)
In the little bit of bacon grease in the pan, toss in some minced garlic.  I've said it once and I'll say it again- the smell of fresh garlic sauteing in bacon drippings is one of the most intoxicating smells in the world.  Glade needs to market that one.  Add a little flour and a little milk (non-fat is fine) and you've got yourself a base to a nice creamy sauce.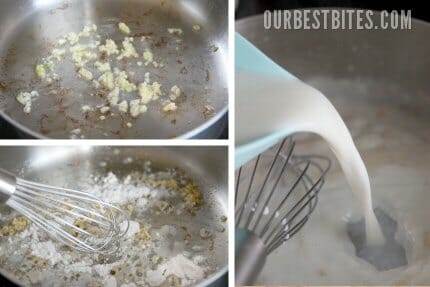 We'll flavor it up with salt and pepper of course, a little basil, and then some fresh lemon zest, lemon juice, and some red pepper flakes.  The lemon is so bright and so fresh, it adds the perfect flavor to this creamy, savory dish.  And with the red pepper flakes, you can add just a little, for flavor and no heat- or a lot, for flavor and a nice kick.  Up to you.  It's like a choose your own adventure book (remember those??)  I added 1/4 teaspoon and it wasn't spicy at all.  Really.  I promise.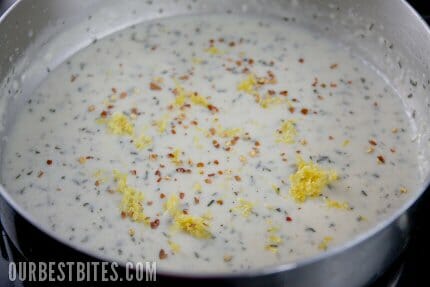 By now those tortellini are done cooking (they only take about 10 minutes) so drain those and then place them back in the pot they came out of.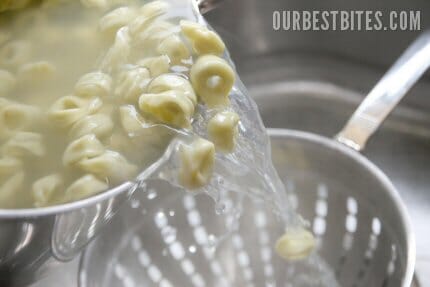 When our recipes call for "loosely packed spinach" this is what we mean.  Just set the spinach in the measuring cup gently and don't pack it down.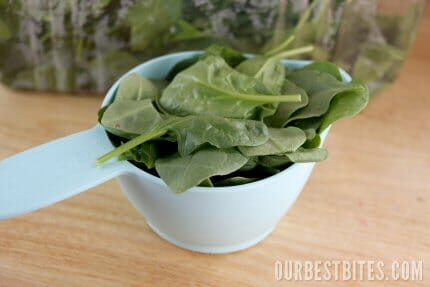 And when we say "roughly chopped" it just looks like this- no need to be meticulous, just run a knife through it real quick.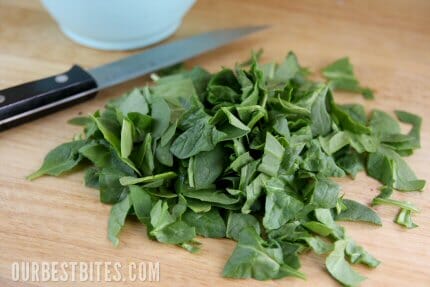 The tortellini is back in the pot and now we'll toss in the spinach and the bacon (I reserve about 1 tablespoon of the bacon to put on top at the end)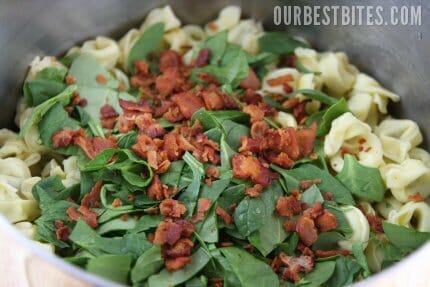 We'll also add a little cheese, both Parmesan and Mozarella, for flavor and creamy-melty-cheesy-goodness.  If you wanted to bulk up the meal and add some protein, some chopped grilled chicken would be fantastic ion there too!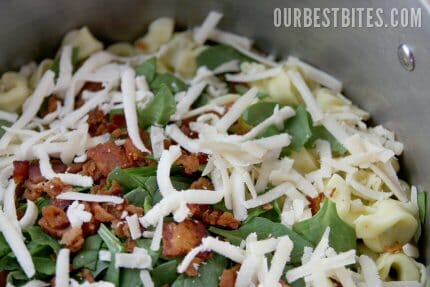 Stir in the sauce and pop it all in a baking dish with a little more cheese and bacon on top.   At this point it can be covered in foil and go in the fridge for later, or right into the oven.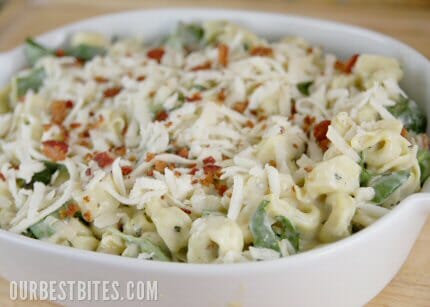 It bakes up in 20-30 minutes, and while it's in the hot oven the flavors have a party and come out tasting even better than when they started.  Amazing how that happens!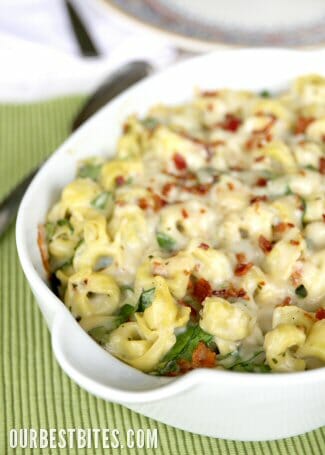 Serve it as a one dish dinner with a piece of crusty french bread on the side, or as a side to chicken or steak.  Makes a great addition to a pot-luck too.  With the fun tortellini and the yummy cheesy sauce, my kids said NOTHING about the fact that there was spinach in there.  Plus one for team Mom!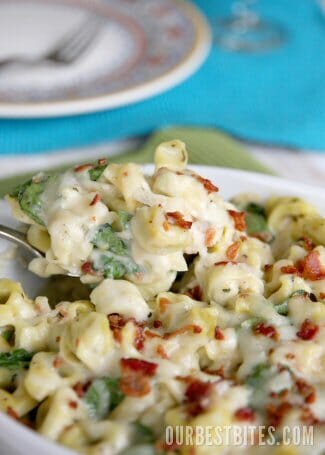 Tortellini Spinach Bake in Creamy Lemon Sauce
Recipe by Our Best Bites
12 oz bag Barilla Cheese & Spinach Tortelini (find them in the dry pasta aisle)
4 oz bacon or pancetta, (about 4 strips bacon)*
3 cloves garlic, pressed in garlic press or finely minced
2 Tbs flour
2 C milk
¾ tsp kosher salt
⅛ tsp black pepper
1 1/2 tsp dry basil
¼ tsp red pepper flakes (1/2 tsp or more if you like spicy)
1 medium lemon
2 C loosely packed fresh spinach, roughly chopped
¾ C grated mozzarella cheese, divided
¾ C grated Parmesan cheese, divided
Preheat oven to 350 degrees.  Fill a large stock pot with water and bring to a boil.  Add tortellini and cook according to package instructions.
Place bacon in a medium sized skillet on the stove-top at medium-high heat.  Cook until crisp.  Remove bacon from pan with slotted spoon and set on paper towels to drain.  Reserve two tablespoons bacon drippings in pan and discard the rest.  Add garlic to pan and cook until fragrant and tender, about 1 minute.  Add flour to pan and stir with a whisk for about 1 minute. Slowly add milk and continue to stir with whisk until smooth.  Add salt, pepper, basil, and red pepper flakes and bring sauce to a simmer.
While sauce is heating, use a microplane grater or a fine-holed cheese grater to zest lemon.  Then cut lemon in half and remove juice.  Add 2 teaspoons zest and 1 tablespoon lemon juice to sauce.  (Note:  I really love lemon so I added this to my tastes.  If you don't want as strong of a lemon flavor, I suggest cutting it down to 1 teaspoon zest and 2 teaspoons lemon juice) .  Continue to stir until thickened, 2-3 minutes.  Remove from heat.
Drain tortellini and place back in stock pot.  Reserve 1 tablespoon of the cooked bacon and add the rest to the pasta mixture.  Add spinach, 1/2 cup mozzarella cheese and 1/2 cup Parmesan cheese.  Add sauce and gently stir to combine.  Place pasta mixture in an 8×8 or 9×9 baking dish and top with remaining 1/4 cup mozarella and 1/4 cup parmesan and also crumbled bacon.
Cover pan with foil and bake for 20 minutes.  Remove foil and bake for an additional 5-10 minutes, until cheese on top is melted and pasta is bubbly throughout.  Remove from oven and cool for 10 minutes before serving.
* For a vegetarian meal, omit bacon.
Serves 4-6