I'm continuing to love my Instant Pot Electric pressure cooker, and as requested, I have another recipe for you–Pressure Cooker Chili-Lime Chicken!  If you don't have a pressure cooker- don't turn away, this is still a great recipe that you could use with any other cooking method so stick with me.
boneless skinless chicken breasts
The first few times I cooked boneless, skinless chicken in my pressure cooker, I was disappointed.  It always had a funny texture; kind of dry and mealy- similar to when you overcook it in a slowcooker.  After several trial and error experiences, I finally figured out I was cooking it waaaaay too long.  For me, the magic number has been 6.  Six minutes under high pressure and I get perfectly cooked, juicy, flavorful chicken that my family loves.  I also discovered that I didn't need lots of extra moisture, like broth.  When extra liquid was added, it simply diluted the flavors and turned quite soupy. To remedy this, I put this chicken in without any additional fat; simply a squeeze of fresh lime juice and a handful of seasonings. It results in the perfect amount of flavor-packed juices to toss the chicken in.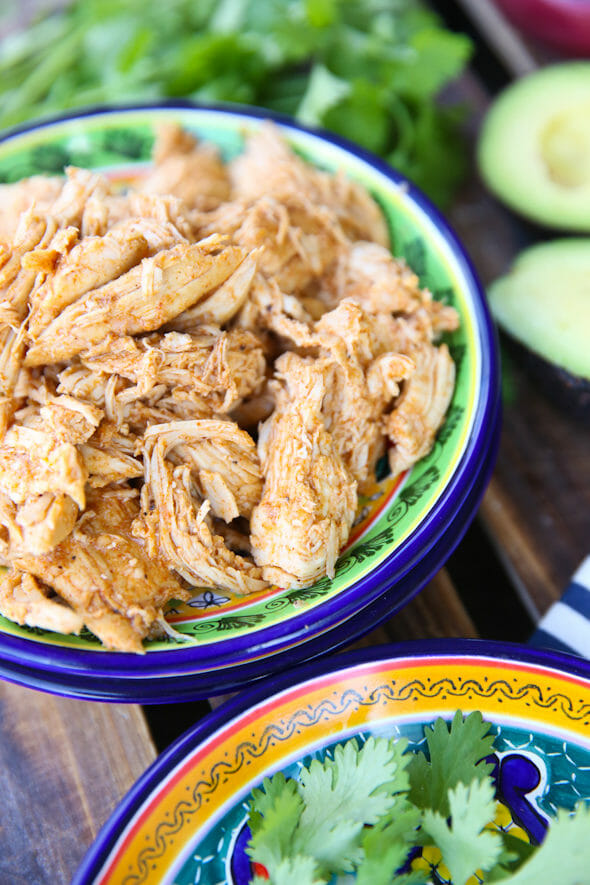 Although I make this a lot for dinners, I also love to make it simply to keep in my fridge for quick meals during the week.  I posted this pic on our health and fitness Instagram account, @ourbestbites_fitclub and I'm probably going to eat it again every day this week because it was so good!  If you don't have a pressure cooker, you can still use this same rub and just toss your chicken on the grill or under the broiler.  It's very similar to this Grilled Taco Chicken that we love.
kitchen staples
This recipe was born and stays a go-to week night recipe for me because these are things I always have on hand.
If I don't happen to have fresh limes around, I always have a big shaker jar of TrueLime (seriously one of my FAVORITE pantry ingredients.  It's granulated fresh lime and works brilliantly in just about everything.)
how to make it
I just toss boneless, skinless chicken breasts into my pressure cooker and squeeze a lime over it, then add chili powder, cumin, onion powder, salt and pepper, and some fresh minced garlic.  You could even use garlic powder if you didn't have fresh garlic on hand.  I also add just a bit of liquid smoke which gives it the perfect hint of smoky flavor.  I use my hands to just toss everything around and make sure it's well coated.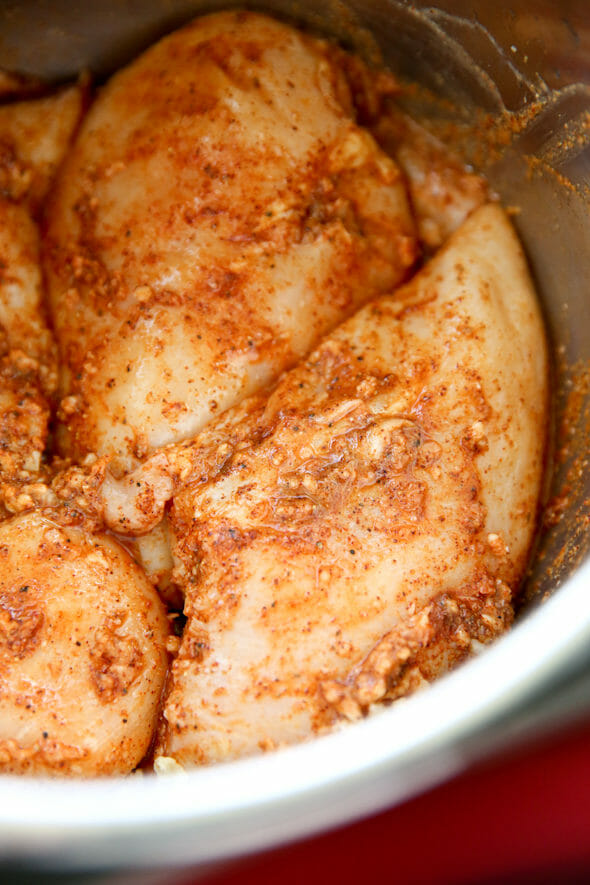 I generally use chicken breasts that are a little over than an inch thick at most.  I would say if they're any thicker than that I'd probably just cut them in half to make sure they get cooked through.
I have an Instant Pot Electric Pressure Cooker, if you want to read more info about it, I've written about it, here!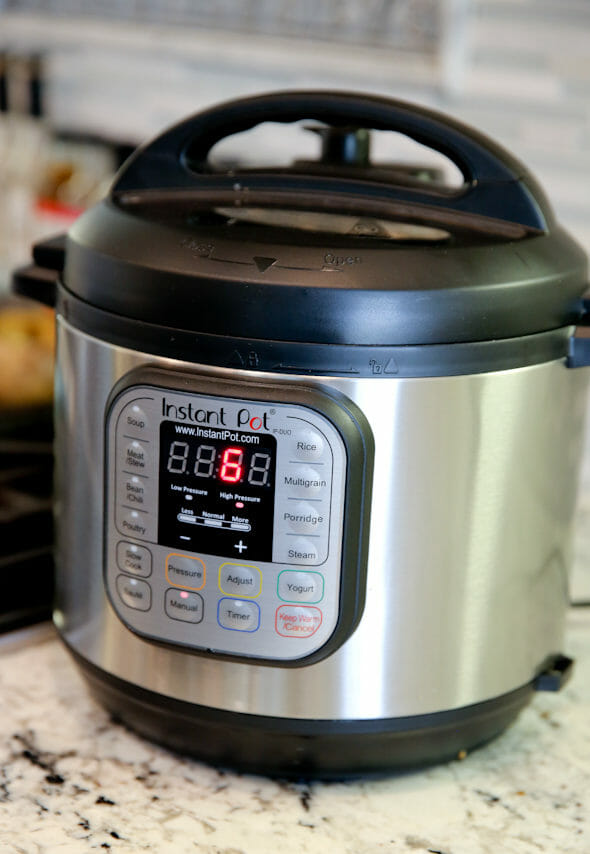 You could probably do an immediate steam release, especially since you're going to shred the chicken anyway (immediate release tends to break food up a bit sometimes) but I generally let it sit for just a few minutes as I'm prepping dinner and then release.  Your chicken should look nice and plump and juicy.  I always pop an instant-read thermometer in there just to make sure everything is to temperature.  It should be at least 165 degrees.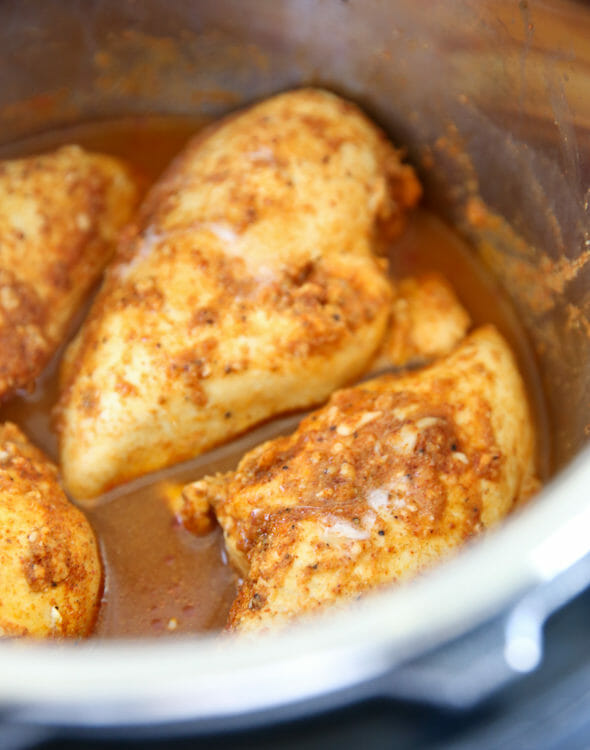 Take the chicken out and shred it with two forks and pop it back in the pan and toss it with the juices.
You're left with really flavorful chicken, perfect for salads, tacos, burritos, you name it.
It's great to keep in the fridge to pull out for quick meals throughout the week.
I love to have it on hand for meals while my kids are at school and I need a quick, healthy, filling lunch.  It's so easy to toss in a wrap, or in a bowl with leftover quinoa or rice and some veggies.
Try it out and let me know what you think!
Looking for more pressure cooker recipes?  Try these!
Pressure Cooker BBQ Ribs
Pressure Cooker Brazilian Black Beans
8 Must-Have Pressure Cooker Recipes (including this one!)
Print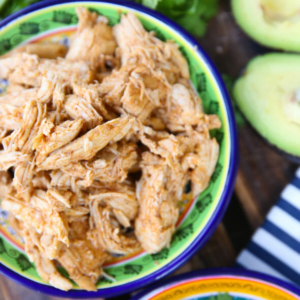 Pressure Cooker Chili-Lime Chicken
---
Description
Quick and easy chicken with Latin flavors that works great for meal prep, tacos, salads, and more.
---
2

pounds boneless, skinless chicken breasts

2

medium (or large) sized limes

1 1/2 teaspoons

chili powder

1 teaspoon

cumin

1 teaspoon

onion powder

1 teaspoon

kosher salt (use a little less is substituting table salt)

1/4 teaspoon

black pepper

6

cloves garlic, finely minced or pressed

1/2 teaspoon

liquid smoke
---
Instructions
If chicken breasts are more than 1-inch thick, cut in half. Place chicken in pressure cooker pot. Squeeze in the juice of both limes. Sprinkle all seasonings and liquid smoke over chicken and add garlic. Use clean hands to rub spice mixture all over all sides of chicken.
Secure lid on pot and cook at high pressure for 6 minutes. When finished let rest for 5 minutes and then release steam. (Or if you're short on time, just do immediate steam release). Check temperature of chicken with an instant-read thermometer and make sure internal temperature is at least 165 degrees.
Shred chicken and return to pot and toss in juices. Season with additional salt and pepper to taste, if desired.
---
Notes
If using frozen chicken breasts, I usually do 12 minutes high pressure. If using "thin cut" frozen (I buy them in bags at Costco) they cook in 6 minutes!
This post contains affiliate links, you can read more about them here.