When my husband and I were newly married, without kids, we had a holiday tradition of inviting other young couples over for a Christmas get together.  Everyone would bring something to eat, usually lots of cookies/candies/baked goods, and warm gooey dips.  We'd hang out and play games and stuff our faces.  One year, which I still remember clearly, my friend Wendy brought a cheese plate.  I thought it was super cool because a cheese plate just seemed, so, grown-up.  When I was a teenager, my friend's Mom Helen (Helen, creator of the infamous Wonton Salad, Helen) often brought cheese plates to baby showers and wedding luncheons and I remember thinking back then, "hmm…I wonder when I'll be grown-up enough to know what to put on a cheese plate?"  Back to the Christmas Party- my one memory of that year (besides some really crazy white elephant gifts) was that we couldn't pull anyone away from the cheese, including me!  It was such a fresh, flavorful, delicious alternative to all of the sugar and carbs that saturate the month of December.  And that's the day I decided I needed to be a cheese plate sort of person.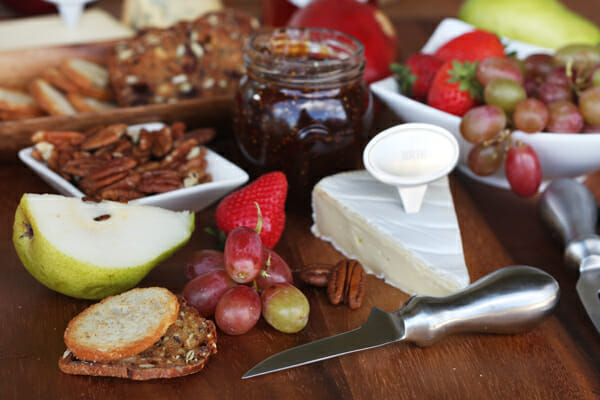 The whole idea of putting together a cheese board can be overwhelming.  "Fancy" cheese sometimes has a reputation for being stinky cheese, and expensive cheese, and even if you aren't scared of it, you may not have a clue about what sorts of things to pair everything with.  So I thought I'd write out some guidelines for anyone wanting to join the ranks of sophisticated adults who bring cheese platters to parties 😉
Let's talk cheese.  You don't need to go crazy; choose a few different types of cheeses thinking about both flavor and texture.  If you have a good grocery store with a specialty cheese section; go there!  Local Co-ops and markets are great as well.  An educated cheese-monger (yep, totally what they're called) is so helpful.   They can help you sample cheeses and pick out a good variety.  I actually reached out to a friend of mine at Whole Foods because they have an amazing cheese department and they hooked me up with some great choices and gave me some really helpful tips.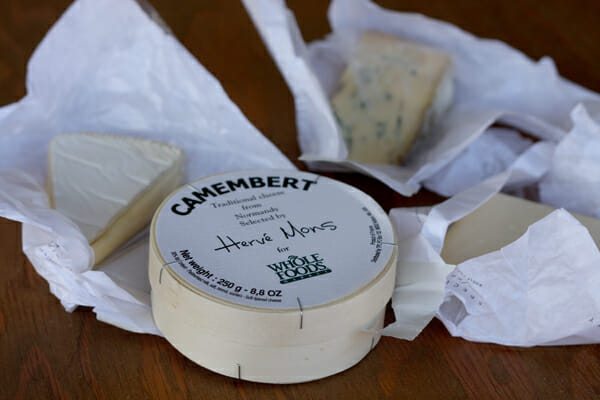 Remember, you just need to account for little samples for each person, so even if a cheese is expensive per pound you can usually get away with a fairly small amount.  Here are some of my personal favorites; and keep in mind I don't get too crazy with my cheese- I don't like cheeses that are intense, and if you are serving this at a party it's better to stay with things that are likely to be in people's comfort zones!  So these are all pretty "safe" bets; try a soft cheese, a hard cheese, and a crumbly cheese, and then add in more if you need to.
Soft  Cheeses
Brie: A soft, mild, creamy cheese generally sold in either a wedge or a round.  It has an edible rind; we use brie in our Baked Brie with Pepper Jelly recipe.
Camembert:  Very similar in taste and texture to Brie.  Many people feel it has a slightly stronger taste, in both the cheese and rind.  Brie is so widely available that I almost always choose it over Camembert.
Chèvre/Goat Cheese:  Honestly?  I don't love goat cheese.  I actually don't even like goat cheese.  But a lot of people do, and it's widely available even at not-so-well stocked grocery stores so that's a good choice if you enjoy it.
Boursin/Gourney:  You can find Boursin in most grocery stores now too, and my Costco carries it.  If you haven't tried it, it's a must.  It's like a flavored cream-cheese-ish cheese fantastic spread on crackers or fresh french bread.  I could easily eat an entire little bundle all my myself.  Seriously.  Rondele is another name you'll see; they taste almost identical.
And for hard cheeses, I love
Gruyere:  This is one of my favorite cheeses to cook with.  It comes from Switzerland (which makes me love it even more as I have some ties to Switzerland).  The flavor is distinct, but not overpowering.  We use it in our Zucchini Quiche, and a lot of baked pasta dishes.  It is sold in a block or slice, usually with a rind on one side that you do not eat.  It kind of reminds me of a cheese that would result from Parmesan and Swiss Cheese having a baby.
Parmesan Cheese:  Fresh Parm is always a good bet.  It's familiar and distinct and you know you can use leftovers if you end up with any!  I'd link some recipes we use Parmesan in, but there are like, 400 of them.  Just visit our pasta section.
Aged Cheddar:  A really good, aged cheddar is fantastic.  There are lots of varieties, so try to sample some for a flavor you love.
Gouda:  Smoked gouda is one of my very favorite cheeses; it usually has a waxy rind with a creamy, sweet interior.  The smoky flavor is strong enough to really impart the flavor; it's great to eat plain.
and then there's…
Blue Cheese (Roquefort/Gorgonzola/Stilton):  I know, I know…they can be scary.  I will admit I am very timid with blue cheeses; they have a very distinct flavor and odor.  I have a hard time eating them plain, but I can eat 6 of these Blue Cheese Stuffed Potatoes in one sitting (seriously, those babies are amazing). So when combined with the right things, they can add a great flavor combination to the plate.
Labeling
Labeling the cheese is really important; people need to know what they're trying!  Cheese sets (like this one I borrowed from cheese-plate-Wendy) often come with little name tags, but a toothpick with a label on it will do just as well.
You'll also need a little knife for each cheese.  Again, you can get a set of cheese knives that comes with different forks and knifes for the different varieties.  You could also just use a few sharp paring knives.  Just be sure to have a knife for each cheese; you want to avoid mixing the knives as they'll mix flavors.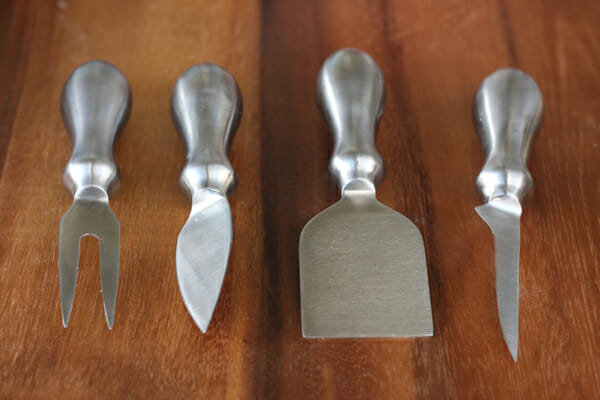 What to serve?
Try a variety of crackers and a fresh baguette.  I love 34° Crispbread; have you guys all tried those?  My grandma introduced me to them (the rosemary flavor is to die for) and I always eat up her stock pile when I visit her in Utah.  She buys them at a little local market, so I was totally surprised when I saw them a few months ago at my local Walmart of all places.  Anyway, tangent over.  Try some interesting crackers and toasts.  And seriously- gotta say I love me some Wheat Thins!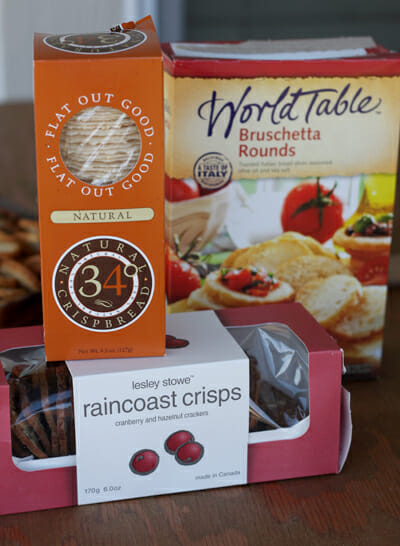 Also, grab a couple of jams or preserves.  Sour cherry is especially great with cheese and fruit, and one that I was surprised by was fig jam.  It was SO amazing with brie and an apple slice.  Pepper jelly is fantastic with cheese as well.  I've found a really great assortment of specialty jams and preserves at both World Market and Whole Foods.  If you have a local Co-op or Farmers Market, that's a great place to check out as well.  And as for cheeses, while specialty cheese counters are wonderful; I've found great selections at Costco and Sam's Club as well.  If you know what you want, that's a great place to check.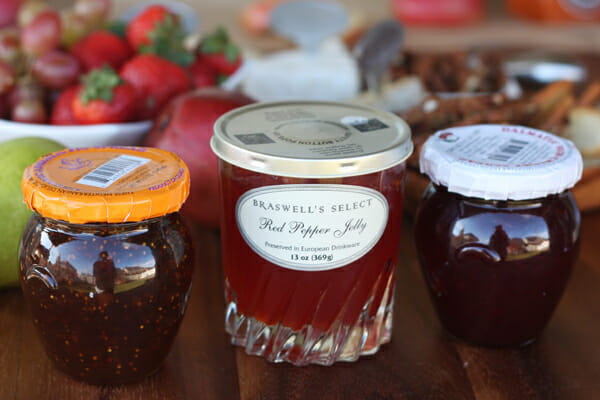 Lastly, set out some fresh fruit.  Pear and apple slices are a must, and some berries and grapes are great too, as well as some nuts.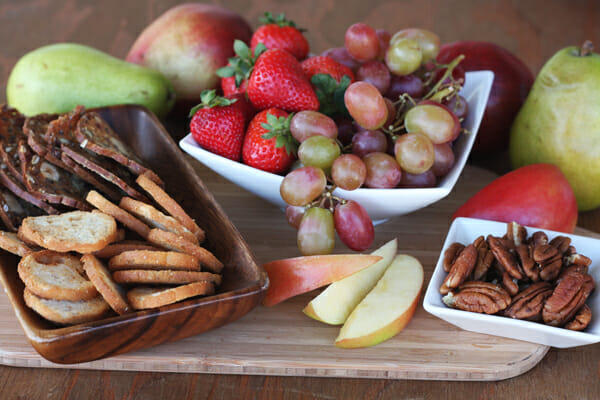 It might help to have some little cards out suggesting what people pair together.  Blue Stilton with Sour Cherry Spread, for example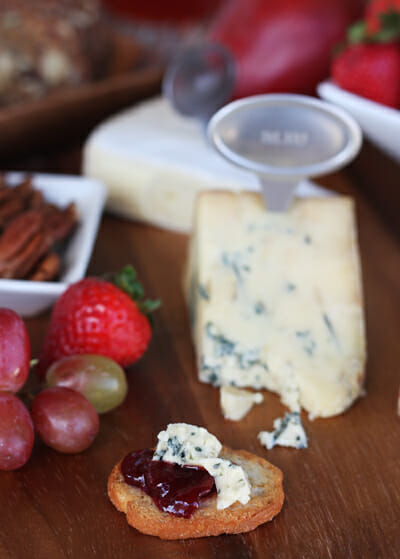 or as I mentioned, fig spread with brie and apple.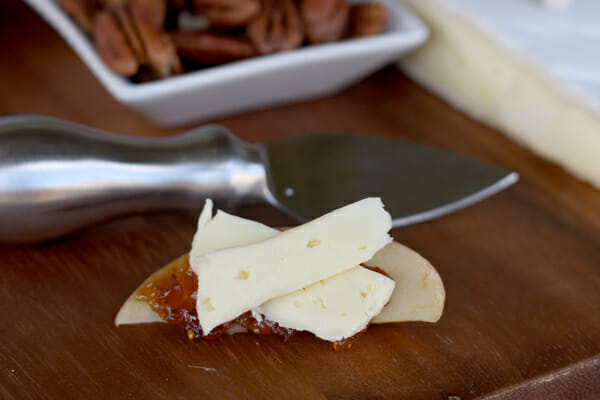 And then just let people have at it.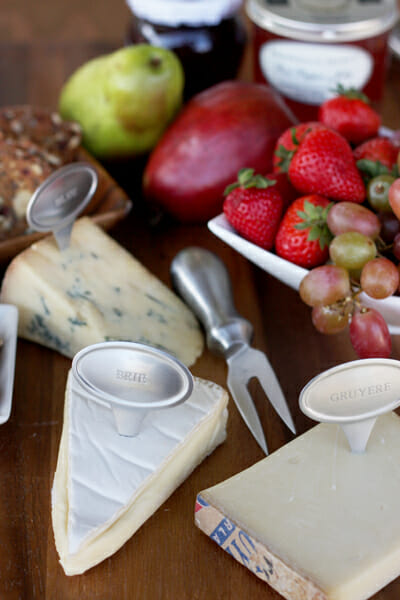 I promise it will be such a great addition to your next party spread!  One last tip is to set your cheeses out at room temperature about 30 minutes before serving; that way they'll be at their best.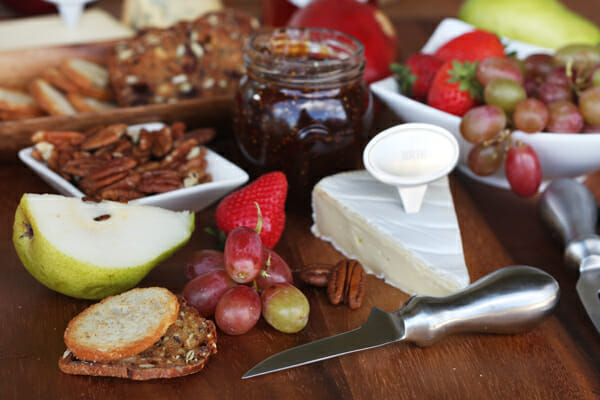 While this is not a sponsored post, my friends at Whole Foods did supply me with some cheeses and we want you to enjoy some too!  Don't worry, they'll send ya cash, not cheese.  Better, right?  Then you can go spend it on whatever you want.  Listen carefully folks, this is not the giveaway post. If you enter here your comment will be deleted.  Comments here should be all about the love of cheese!  Seriously, let's talk cheese plates.  When you're done with that, and if you're reading this via email, click here.  Don't email me.  I say that in the most loving way 🙂  I hope you all have a happy, and *safe* New Years!  Please don't hop in your cars if you've been celebrating the night away with bubbly 🙂  We'll see you again in 2012!!