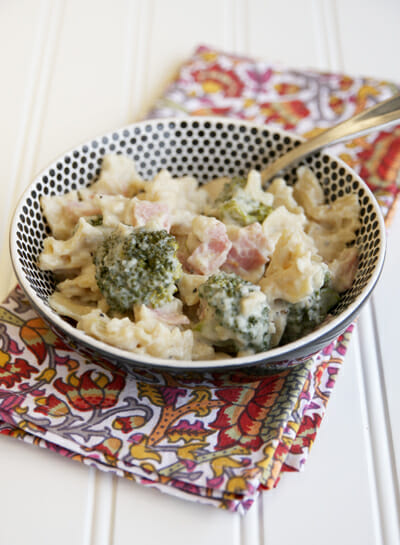 How's that for a title?  Sometimes I find it so hard to create a recipe title that effectively communicates all of the great elements in a dish but isn't a paragraph long.  So sometimes they are a paragraph long.  And it made me really happy to see that Martha does it too 🙂 This recipe was in this month's Martha Stewart Living Magazine.  It caught my eye because I'm always looking for ways to be sneaky and slip extra veggies into family meals.  This one has cauliflower pureed right into the creamy cheesy sauce and you will have absolutely no idea it's in there.  It's also made with nonfat milk and packed with a whole head of not only cauliflower but broccoli too.  Use a multigrain pasta and you've got a healthy, hearty, comforting meal in no time.
First saute some cauliflower, shallots (I used onions instead), and garlic.  Cauliflower isn't my favorite vegetable; I couldn't eat it raw to save my life, but I've found several ways to cook it that I really love (I'm going to share one next week) and one of them is like this, pureed into a sauce.  Since cauliflower doesn't have very much moisture at all, your pan might get a little dry.  You can add a little more oil, or I added a little water several times to make sure it wasn't sticking to the pan.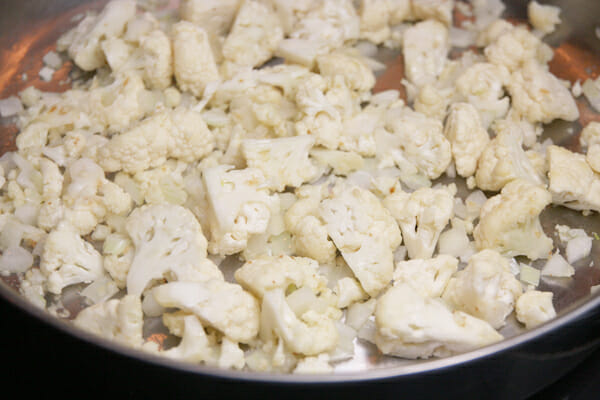 After it softens a bit, sprinkle in just a little flour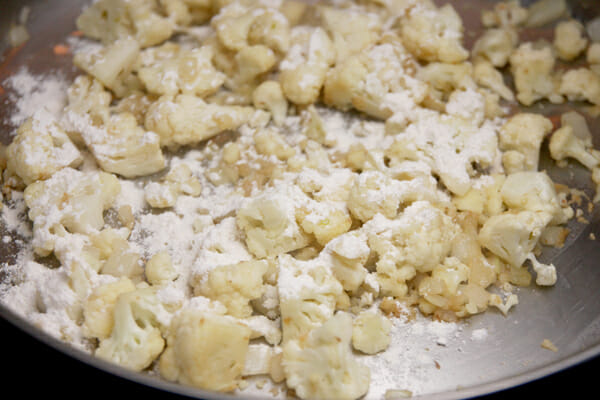 and then pour in some nonfat milk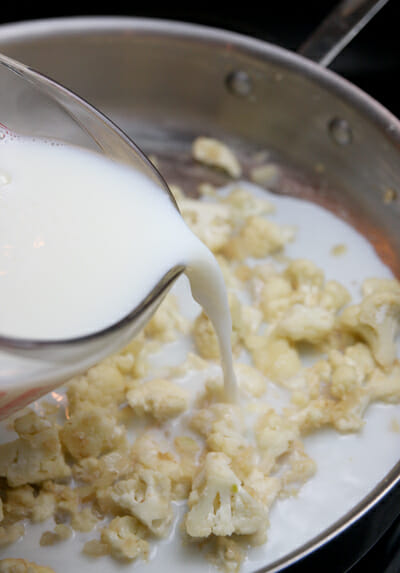 Bring the milk up to a simmer (be careful and keep it moving periodically so it doesn't burn.  Don't turn the heat up to high, try medium-high and bring the heat up gradually.)  While your cauliflower and milk are simmering away, you can start bringing a pot of water to boil for your pasta and get that cooked.  Also, chop up a head of broccoli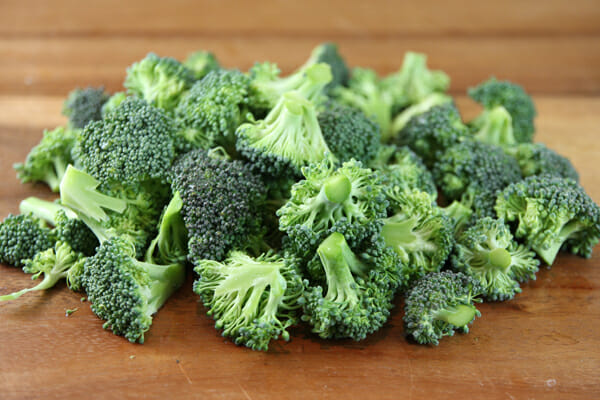 and dice up some sliced ham.  I just grabbed some sliced smoked ham from the deli department and asked him to slice it a little thicker than a normal sandwich slice.  You could also use a diced/cubed ham, but cutting up sliced lets you use less and have it go further.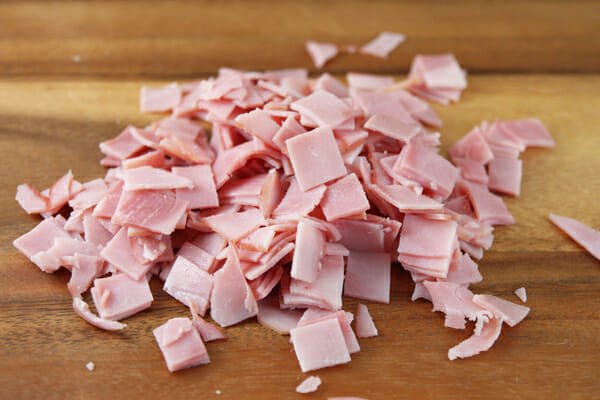 When your cauliflower is nice and tender (we're talking super soft- you want it to puree) remove it from the heat to let it cool off just a bit, and grate some Pecorino cheese.  If you've never used Pecorino before, it's really yummy.  It's similar to Parmesan, but with a slightly stronger flavor.  The benefit of using a strong flavored cheese is that it allows you to use a little less and still have the flavor come through in the dish.  We're using the whole wedge here though, so it's not like we're hurtin' for cheese!  If you can't find Pecorino, or it's too expensive, you could sub parm and this would still be good.  I'd recommend using a fresh Parmesan that you grate yourself for best results.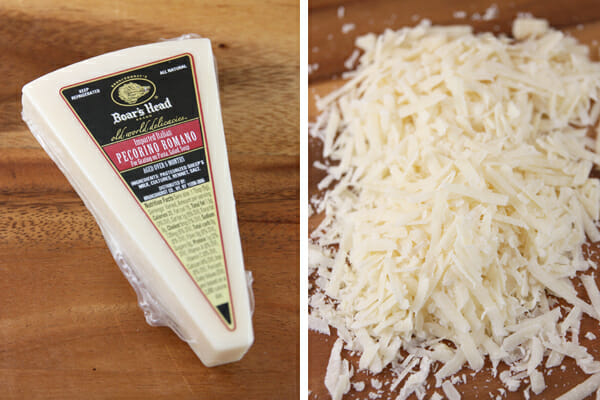 Pour your milk and cauliflower into a blender and add half the cheese.  Puree it until it's really smooth and then pour the sauce onto your pasta.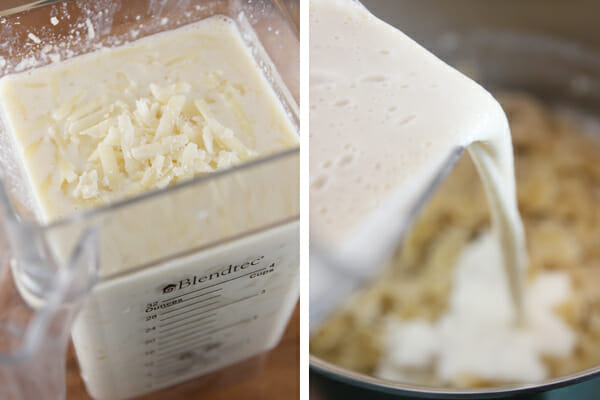 Then add the ham and broccoli.  And here's a little tip.  Even after cooking in the oven for 30 minutes, my broccoli was crisp-tender.  If you (or your kiddos) like it softer, you could toss it into the hot pasta water for the last minute or so of cooking; just to give it a head start.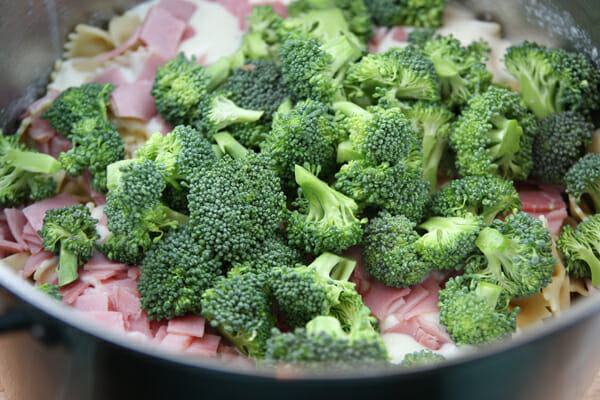 Stir that up and give it a generous sprinkling of kosher salt and black pepper.  Well, not generous at first; taste as you go and go from there, but I was pretty generous 🙂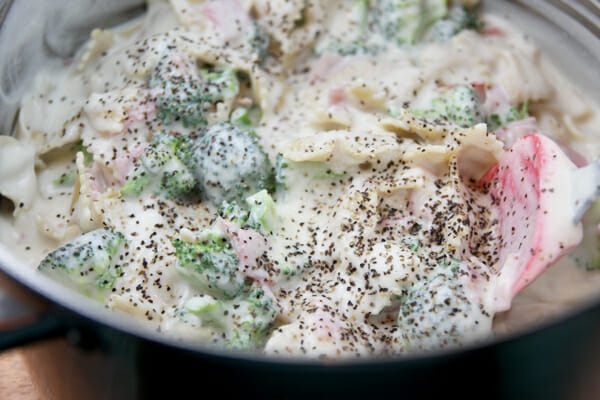 Place the mixture in a casserole dish and top with the rest of the cheese.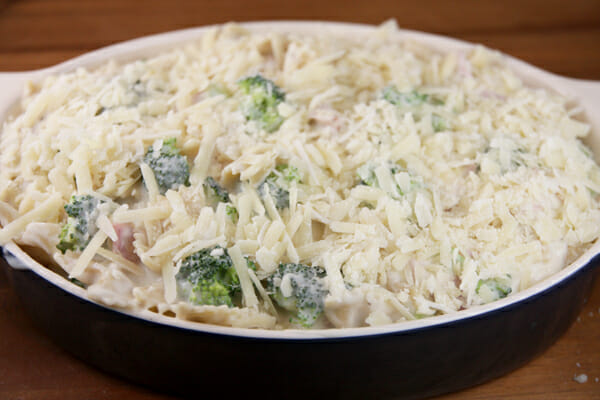 and bake it until it's bubbly and golden brown on top.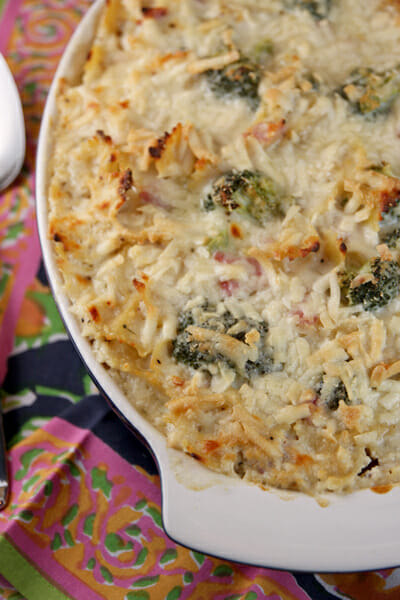 I love things that are kind of crispy and browned on the outside and soft and creamy underneath…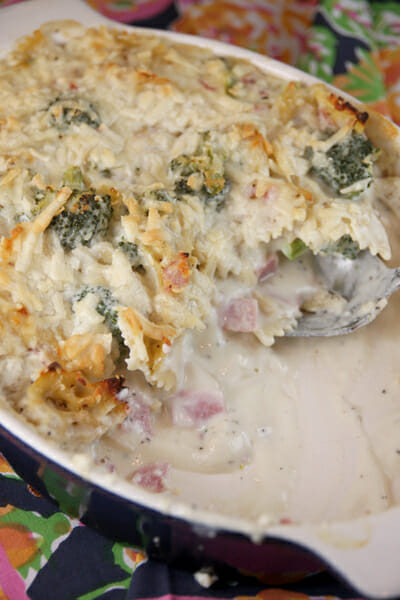 See that rich creamy sauce?  Who would have guessed the base was non-fat milk and cauliflower?  Not my 3 little kids, that's for sure.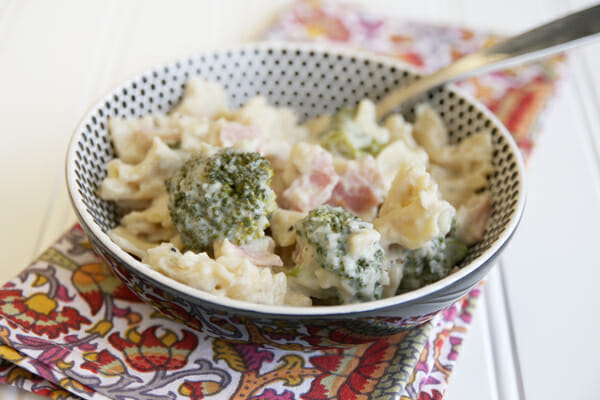 When I was eating this I realized you could easily get similar results by blending cooked cauliflower into our Guiltless Alfredo Sauce (that goes in the blender anyway) and stirring it up with steamed broccoli and ham.  So that's another option!
Baked Pasta and Broccoli with Ham and Cheesy-Creamy Cauliflower Sauce
Recipe from Martha Stewart Living, February '12  
Ingredients
1 teaspoon extra-virgin olive oil
1 small head cauliflwer, cored and chopped (about 3 cups)
6 garlic cloves, roughly chopped
4 medium shallots, roughly chopped (or sub about 1/2-3/4 cup diced onion)
Kosher salt and fresh cracked black pepper
4 teaspoons all-purpose flour
4 cups skim milk
1/4 teaspoon ground nutmeg (I did just under that, between 1/8-1/4)
6 ounces Pecorino cheese, grated (about 2 cups- could sub fresh grated Parmesan)
1/2 pound medium multigrain pasta shells or bowties
1/4 pound sliced smoked ham, chopped (about 1 cups)
1 medium bunch broccoli, trimmed and cut into florets (3-5 cups)
optional: 1/2 cup toasted whole-wheat panko (Japanese bread crumbs) for serving.
Instructions
Heat oil in a medium saucepan over medium heat.  Add cauliflower, garlic, shallots, and 1/2 teaspoon salt; cook until softened but not brown, about 10 minutes, stirring occasionally.  Sprinkle with flour; stir to coat well.
Gradually stir in milk; bring to a boil.  Reduce heat; gently simmer until cauliflower is very soft, about 15 minutes.  Let cool for 5 minutes.  Transfer all to a blender, and puree with nutmeg and half the pecorino until smooth, about 2 minutes.
Preheat oven to 400 degrees.  Meanwhile, bring a large pot of water to a boil.  Cook pasta until slightly tender but not fully cooked, about 5 minutes.  (Note:  If you like your broccoli pretty tender, add it to boiling pasta water for a couple of minutes before draining)  Drain well; return to pot.  Add ham, broccoli, and cauliflower sauce; toss to combine.  Transfer to an ovenproof 3 1/2 quart baking dish.  Sprinkle with remaining pecorino, and bake until bubbling in center, about 30 minutes.  Heat broiler, and broil until golden brown on top, 1-2 minutes.  Divide among dishes, top with breadcrumbs (if using), and serve immediately.
Pin It