Thanksgiving is just about HERE, y'all. That means Sara and I will be taking this week off to spend time with our families (and on our turkeys), but we're not abandoning you–on Friday, Sara posted a round-up of some of our best Thanksgiving recipes and today, I've got some of our very best Thanksgiving desserts! Apple and pumpkin, cobblers, cheesecakes, and pies–basically, all your favorite fall-flavors in desserts that can be easily transported and made ahead of time!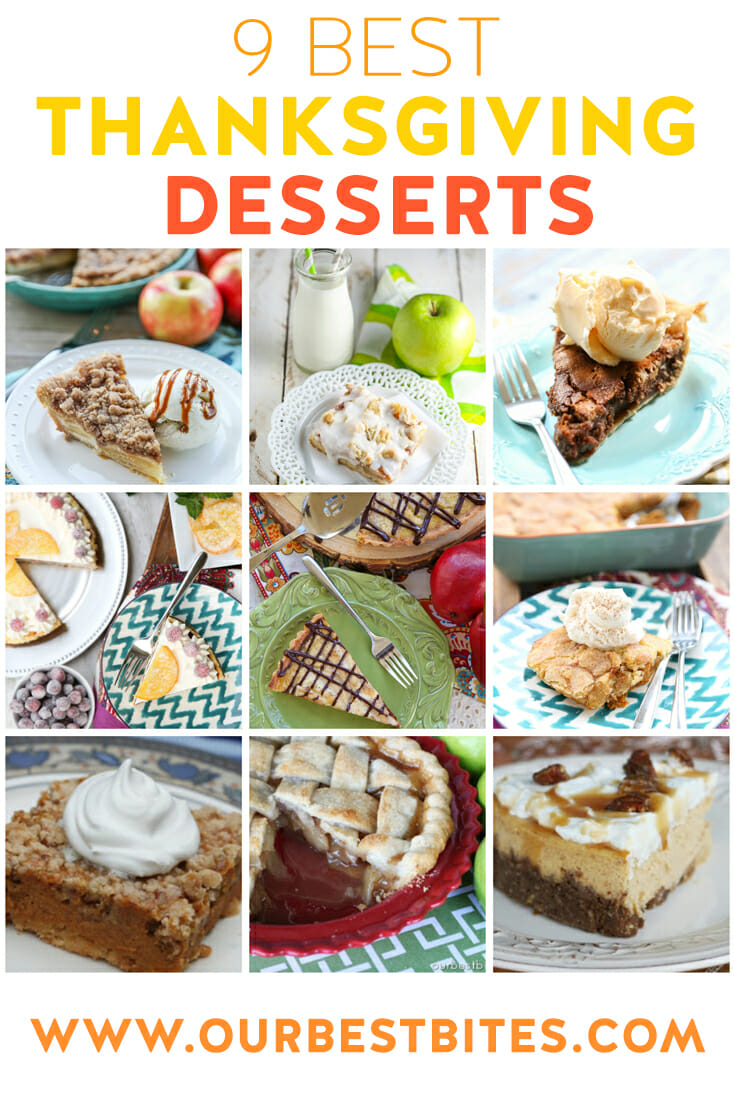 Sour Cream Apple Pie. This creamy, sweet, tangy apple pie with a crumb topping is definitely a crowd-pleaser!
These Apple Streusel Bars are always a hit and are delicious as a sweet treat for breakfast the next morning.
You can't have Thanksgiving without pecan pie, and this Caramel Chocolate Pecan Pie adds a fun twist (especially for people who might be a little reluctant.)
This gorgeous Orange Cranberry Cheesecake will add an elegant touch to your Thanksgiving table, plus the fresh flavors might be a nice break from all the pumpkin and apple spice.
Chocolate. Custard. Pears. This incredibly elegant Chocolate and Custard Pear Tart is perfect if you want to bring a dessert that will impress!
This Snickerdoodle Pumpkin Cobbler is such a fun combination of flavors!
This Easy Pumpkin Crumble is a must-have for our family every fall–we don't love pumpkin pie, but we love this.
This Apple Pie recipe is perfect you're looking for a tried-and-true classic.
If you want to step up your pumpkin pie game, this pumpkin cheesecake will do the trick!!
Also, we're really excited to be teaming up with the folks over at Star from Afar to offer a discount on their really neat Christmas tradition. All you have to do is hide the star every night (which is so easy!), and when the kids find it in the morning, they move the 3 wise men to wherever the star is. On Christmas morning, the wise men find the star on the stable with the baby Jesus. It's such a sweet and simple way to engage kids with the Christmas story.
Head over to their website and you can get 20% off using the code BESTBITES20!
We are so thankful for the Our Best Bites community and we hope you have a fun, happy, safe Thanksgiving holiday!