You want to know one of the things that gets me really excited? Well, besides chocolate,shoes, tropical vacations, Christmas presents, fall tv, and new furniture?  School supplies.  I actually love the whole "season" of back-to-school.  Maybe it's just the fresh new start it signifies as summer comes to an end, but I think it's more of the justifiable right to purchase new outfits, pencils, bags, calculators, notebooks, markers and binders.  Even when I was in college I'd go out every fall and prance through the school supply section at Target trying to contain my excitement of picking out new pens.  For real.  This year is a special one because my oldest kiddo is starting school!  We're heading off to meet his teacher this afternoon and then I'll be the crazy lady snapping photos as the bus drives off tomorrow. Wish me luck.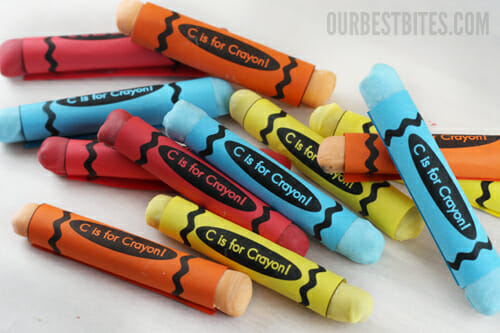 I stumbled across these darling crayon snacks at Gourmet Mom on the Go a whole year ago and I was dying to make them- immediately!  When my soon-to-be-kindergartener started preschool last year we were assigned our first class snack for the letter C and I ran out right that second to buy supplies for these.  I don't know who was more excited, me or the kid.  They were a BIG hit with the kids in his his class and his teacher too!  These would be super cute pass out to friends, or to a new teacher, or for a fun family activity to celebrate the new school year.
You can do whatever color crayons you want- you just need coordinating paper and candy melts.  You can buy candy melts at craft stores that carry baking supplies (like Michaels and Hobby Lobby) or kitchen supply stores like Orson Gygi in SLC.  And if all else fails, you can always order them on Amazon or at many other on-line cooking supply stores (seriously, check out the stash at Gygi's!)  I usually just buy the little bags at Michaels and they last quite a while if you store them well after.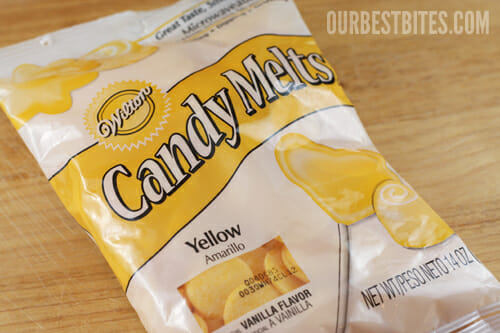 If you're not familiar with candy melts, they're similar to almond bark, or white chocolate, just in little colored pieces.  They melt easily in the microwave and then you dip things in them, or fill candy molds with them, or all kinds of other things.  For this project you really just need a little bit of each color since you'll only be dipping the ends of your pretzels.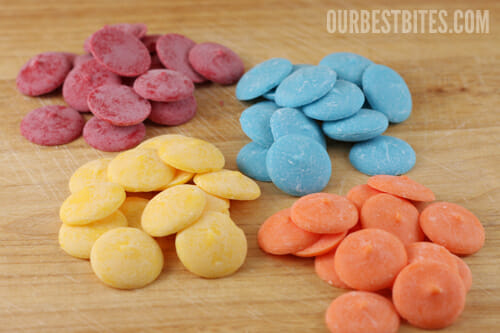 You'll want the large pretzel rods.  You do need to break them in half, but make sure you check out the bag before you buy because some brands are shattered before you even bring them home.  I've found Rolled Gold are pretty good.  I found it helpful to lightly score the pretzels with a serrated knife in the middle and then they just snap clean when you break them.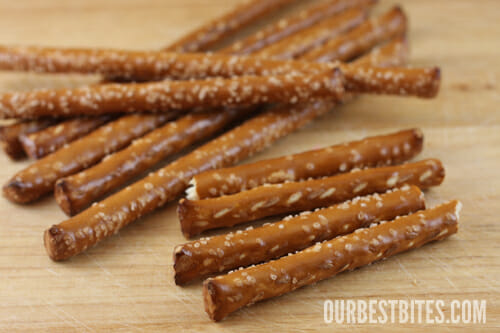 Just place a few candy melts in separate bowls and follow the directions on the package to melt them.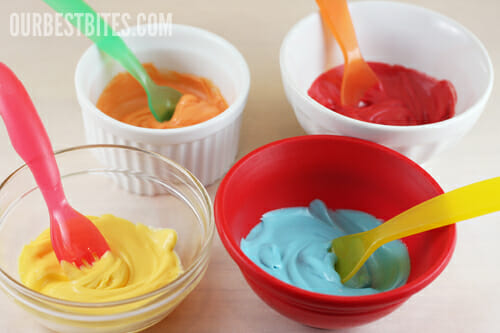 It helps to have all of your pretzels already ready to go before you start dipping because the candy melts will start to harden.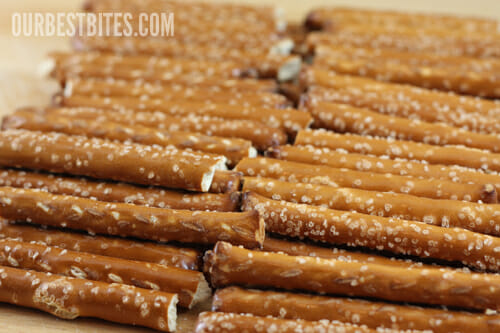 You only need to dip the ends of the pretzels so just quickly dip and let the excess shake off and then dip the other side.  If your candy starts to get hard, just warm it a little more.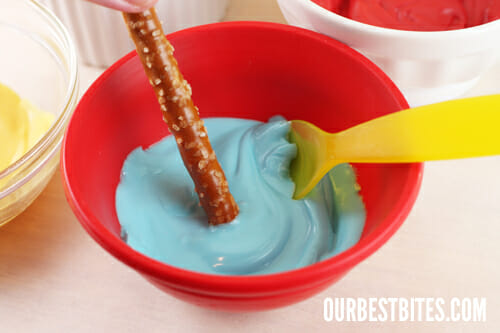 Do all of your colors and let them dry completely.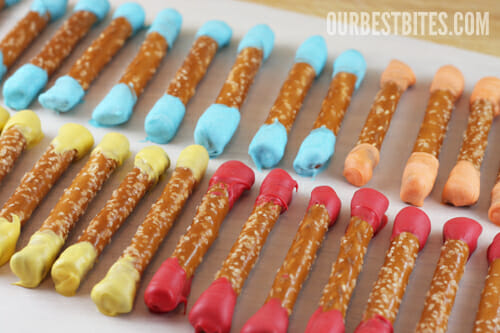 While they are drying you can prepare your labels.  When I made these for my son's preschool class it was alphabet themed and we were responsible for the letter "C" so I made labels that said, "C is for Crayon!"  You can download those labels here, or play around and make your own!  Mandy from Gourmet Mom on the Go has tons of custom labels she's made up for people, so check out this page.  There's even BYU labels on there (Rise and Shout!).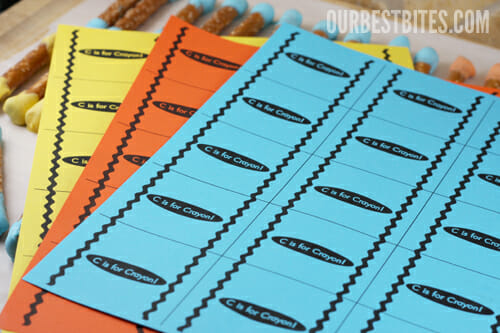 Cut the labels and wrap them around the crayons and secure with a piece of tape.  Don't even worry if your dipping isn't perfect or your labels are cut crooked or whatever.  When these little babies are all lined up they're cute no matter what!
And just because I know some of you are thinking this…I have never had a problem with anyone confusing them with real crayons 🙂  Preschool and older are smart enough to know the difference (if your preschooler is still eating real crayons then you have bigger issues on your hands!), and little little kids aren't going to think that a pretzel with something sweet on each end (because you would obviously take the paper off first)  looks anything like a crayon!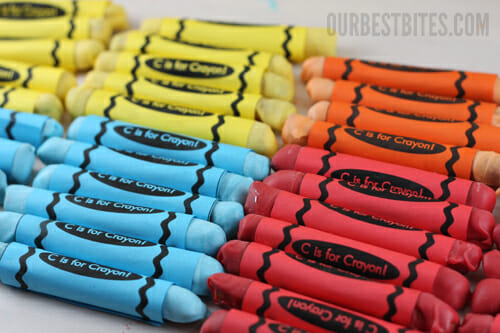 I totally loved these, and I smiled when I watched my son's end-of-preschool slide show last spring and saw pics of all the kids holding their crayons.  So fun!  I hope everyone else is having fun gearing up for the start of a new school year.  Go buy some new pens! (And glue, and markers, and a hole punch, and a coordinating notebook, and some boots to match, and then a bag to match that, and well, you know…)