All of you early risers might have noticed my post is up a little late this morning.  That's because I just woke up and had completely lost track of what day it was!  I'm a little off of my normal schedule because I'm off on a little adventure right now.  It took my husband and I 20 hours, stopping in 3 countries, on 3 airplanes, a couple of cab rides, and a rickety-but-speedy water taxi, but we finally made it to a tiny little speck in the middle of the Caribbean sea: the island of Anguilla.  Can you see the little red circle down there?  Squint a little, it helps 😉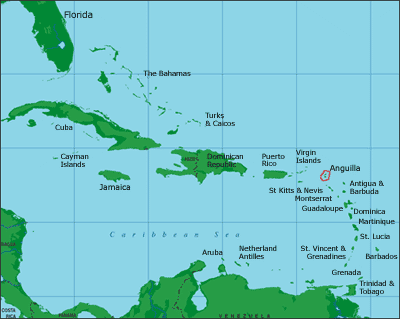 I'm here on assignment for Sea Cuisine, who's recipes are inspired by world travel, to eat my way through the island and discover what makes this little spot of land, of only 35 square miles, one of the world's culinary gems and capture its beauty in photographs. The food here is spectacular (a lot of creole influence) and the beaches breathtaking (look at that water! It's clearer than my local swimming pool) and I can't wait to tell you more about everything I'm discovering.  We'll be here for a couple more days and then we jump over to St. Maarten for the second half of the week, where the food is heavily influenced by French and Dutch cuisine (please, please, bring on the chocolate croissants!)  Follow us on Facebook and Twitter and I'll share a few more photos during the week.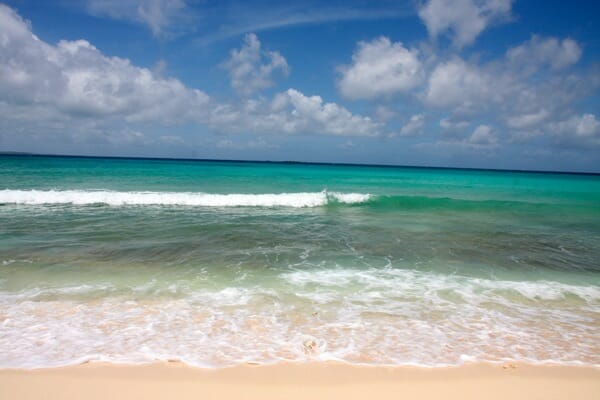 So, onto today's recipe.  Kate and I love entree salads during the summer, especially.  Last week I whipped up this salad based on a salad by the same name at one of America's culinary epicenters:  Chili's Restaurant.  I Joke.  But I also eat at Chili's sometimes.  Here in the states we often equate "Caribbean" to anything that's tropical, fresh, and island-y.  So while technically this isn't a traditional Caribbean meal, it is really bright and fresh with a tropical twist so we'll stick with the name.  I've noticed at Chili's, this is often served differently every time I order it.  Sometimes on iceberg, sometimes on "fancy" lettuce, sometimes with pineapple, sometimes without, and often with different dressings.  So I created my own Sweet Orange Vinaigrette (instead of their honey-lime) because I thought it went better with the flavors in the salad.  So start by mixing that part up so it can sit in the fridge and get extra yummy.  Start out with a little fresh orange juice.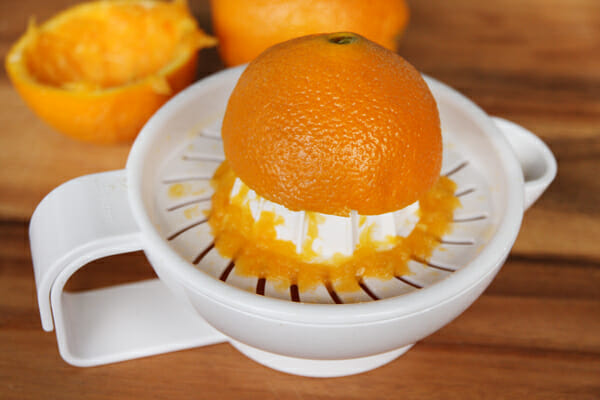 and add a few spices and a tiny touch of sesame oil.  To get the perfect, creamy consistency, make sure to follow the instructions about emulsifying the dressing (slowly pouring the oil in a running blender, not just whisking).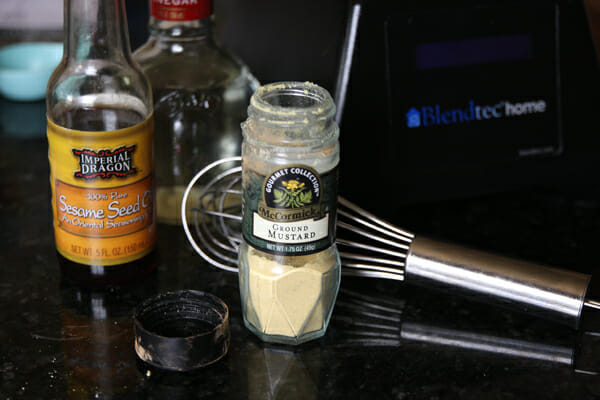 You can definitely make the salad dressing a day or two ahead of time and just store it in the fridge.  By the way, seriously every time Kate and I post photos with these little carafe's people ask where they can get one.  The answer: Walmart, $2.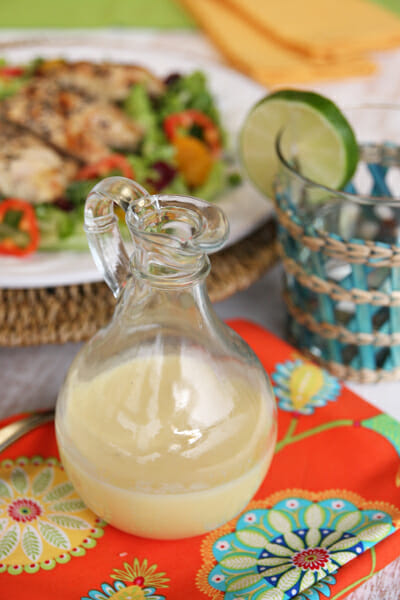 The salad is packed with sweet and savory flavors and textures.  First up, a small can of mandarin oranges.  You could certainly use fresh orange segments (click here for a tutorial on how to segment citrus) but I actually the prefer the sweetness of mandarin oranges in this salad.  Mangoes would be great too, though!
Some dried cherries or cranberries,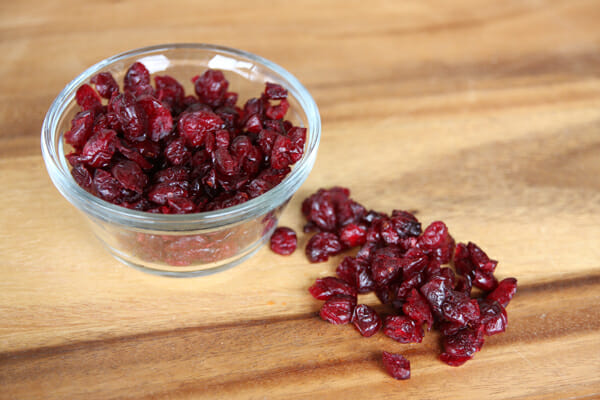 some bright herbs and greens, from green onions and cilantro (cilantro haters could use fresh parsley, and when you're done go to the library and check out the book titled "Why I'm Missing Out in Life by Not Eating Cilantro")  🙂
And finally some diced or sliced red pepper.  I happened to have some of these sweet baby peppers in my fridge so I just sliced those up.  You can buy little bags of these at Costco and I've been getting them on every trip lately.  I love how sweet they are and how great it is to just slice up a few for a salad or something.  But any sweet bell pepper (red, orange, or yellow- just not green) will be just fine.
Completely optional, black and/or white sesame seeds.  Funny- I bought these a couple of months ago when I needed them to garnish a recipe in our new cook book.  Last week I got an email from Williams-Sonoma that said, "Hi Sara!  You're probably out of black sesame seeds by now- would you like us to send you some more?"  That sneaky sneaky Williams-Sonoma…little do they know that jar will last me about 3 years at the rate I use it.  They sure are pretty though!  I love how they garnish a dish.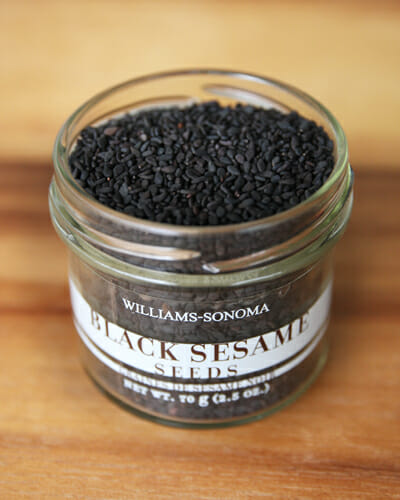 Put the salad all together by topping it with some grilled chicken.
If I remember, and I have time to make the dressing ahead of time, I like to marinate my chicken in some of the dressing- or simply brush some on in the last few minutes of grilling.
The mix of sweet oranges and dried fruit, mixed with the savory of chicken and herbs and topped with that sweet dressing is magic in your mouth.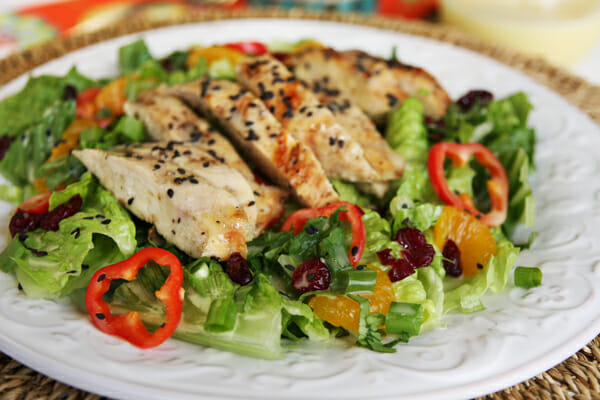 Kate and I are huge fans of entree salads for dinner, especially during the summertime and this is definitely a new one on my rotation.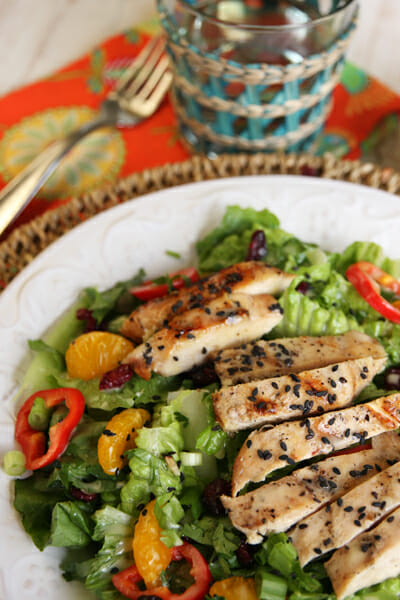 Caribbean Salad with Sweet Orange Vinaigrette
Recipe by Our Best Bites, inspired by Chili's
Ingredients
1 large bunch Romaine Lettuce
1 pound boneless, skinless chicken breast, grilled.
8 ounce can mandarin oranges, drained
1 red bell pepper, diced or sliced
4-5 green onions, sliced
1/3 cup chopped fresh cilantro
6-8 tablespoons dried cherries or cranberries
Black or regular sesame seeds
optional: diced fresh pineapple
Vinaigrette
1/4 cup fresh squeezed orange juice (about 1/2 of a large navel orange)
3 tablespoons white wine vinegar
1 1/2 teaspoon dry mustard
2 tablespoons sugar
1/4 teaspoon sesame oil
1/4 teaspoon kosher salt
3/4 cup canola oil
Instructions
To prepare dressing, combine orange juice, vinegar, dry mustard, sugar, sesame oil, and salt in the jar of a blender.  Blend until sugar is dissolved.  With blender running on low either remove stopper in blender lid, or crack the corner and slowly drizzle in oil, mixing until just combined.  Store dressing in fridge until ready to use, can prepare a day or two ahead of time.
To prepare salads, divide lettuce between 4 plates, top with grilled chicken, mandarin oranges, bell pepper, green onions, cilantro, and dried cherries or cranberries.   Drizzle with dressing and sprinkle with sesame seeds.  Serves 4 main dish, or 6-8 sides.