How many of you guys are Fit Club followers?  If you don't know what that is, we have an awesome part of this blog that we've dedicated to healthy living; including exercise, fitness gear, and of course- healthy recipes!  We have a whole section of our blog where you can find tons of information and resources.  You can find it by clicking on the cute "Fit Club" icon on our front page.  We have workout videos there, free printables that will help with goal-setting, and tons of great blog posts, including my own fitness story.  We also have an amazing (if I don't say so myself!) Healthy Cook Book called "400 Calories or Less" that has helped thousands of people lose or maintain a healthy weight while keeping their families happy as well.  Most of the action however, happens on our Fit Club instagram account.  That's where I post every day with health and fitness tips, snacks and recipes, and just funny thoughts.  It's a great community over there so if you don't follow us already, now you can!  This recipe I'm sharing today was something I whipped up one night and shared the picture on Instagram.  Everyone was asking for the recipe, so I made it again and actually measured to create this for you guys.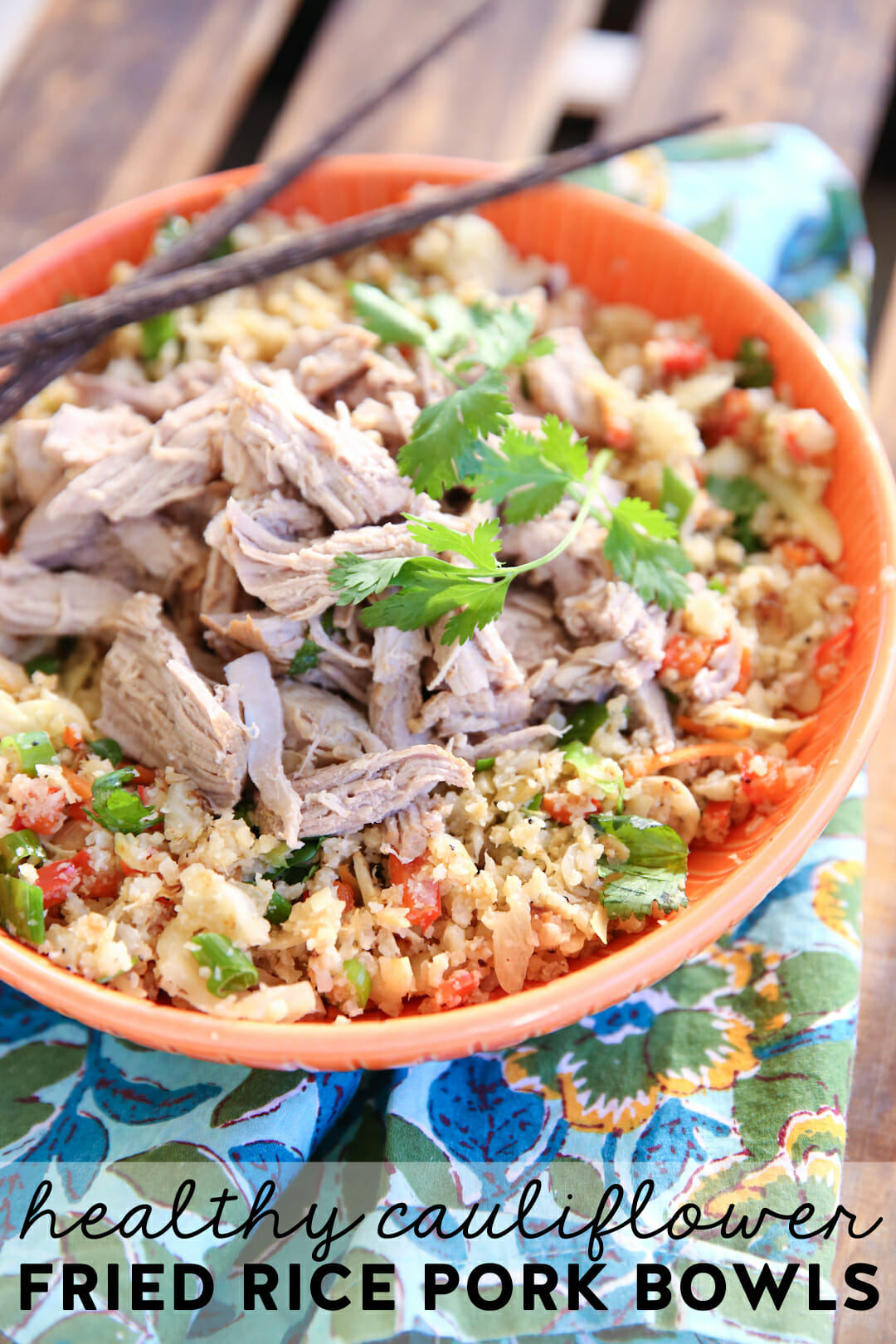 It's a lightened up version of fried rice using one of my favorite fit-food ingredients: cauliflower.  Let me tell you one thing from the get-go:  I can't swallow a piece of plain, raw cauliflower if my life depended on it.  In fact, I never really ate it at all until I was an adult and the secret for me was trying roasted cauliflower.  Holy smokes I can literally eat an entire pan of that stuff.  Now I use it like CRAZY in so many healthy recipes because it's kind of a magic ingredient.  If you're not a cauliflower fan, trust me- you can do amazing things with it and none of them even taste like Cauliflower!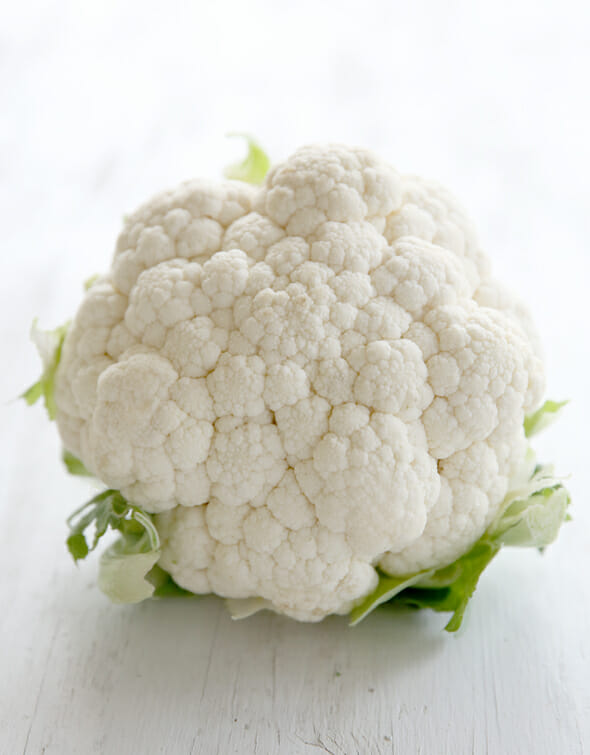 We have a Cauliflower Pizza Crust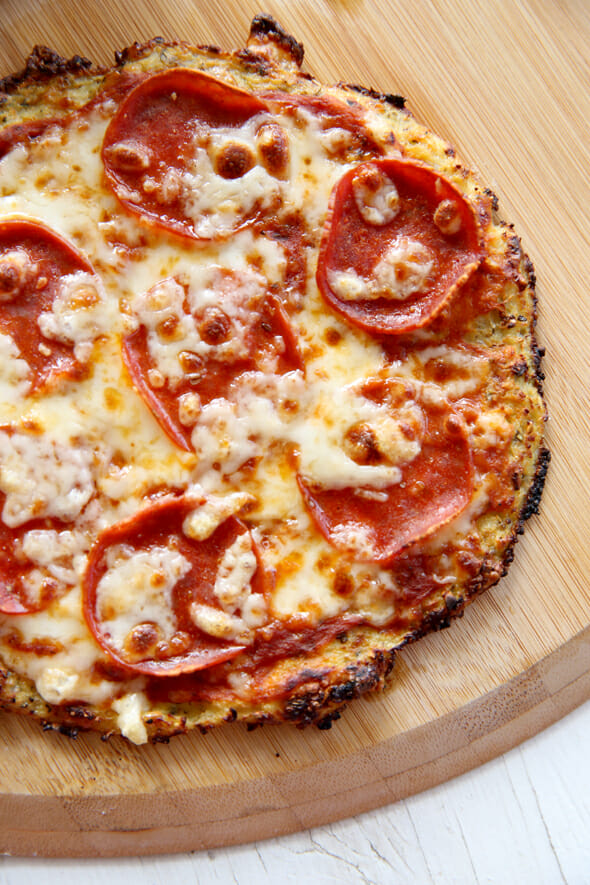 And a cheesy, creamy, alfredo-style sauce that you would never guess had cauliflower in it
And if you haven't tried it yet, Cauliflower "Rice" makes a great substitution for regular rice.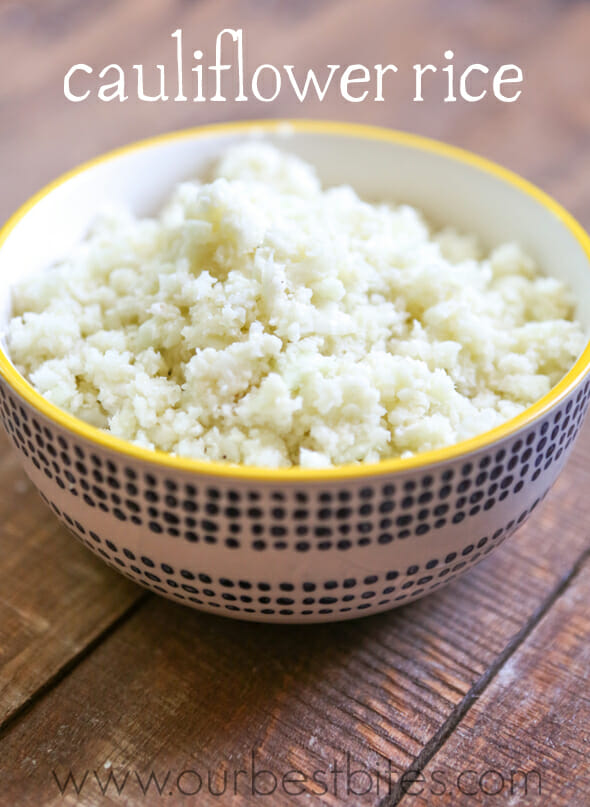 I want to be clear that I am not in opposition of rice.  Especially when it comes to healthy eating.  Carbs are not the enemy when it comes to health and weight-loss, like sometimes they get the reputation of being.  I eat rice often, but sometimes you do want/need to lower your carb intake, or simply make something extra lean and this is amazing for that.   It's also the base to my flavorful and filling Cauli Fried Rice!  Here's how I make it.
You'll first need "riced cauliflower".  You can purchase cauliflower that's already crumbled at some stores.  Trader Joes sells it, and so does Green Giant, which I find in the produce department of Walmart. You can use those if you like, but honestly it's so much more cost-effective to crumble your own in a food processor.  I just roughly chop it and pop it in my food processor until it looks like this:
To make my fried rice, I saute some diced onion, red pepper, garlic, and fresh ginger  in a little olive oil (I use our Lime or Garlic Extra-Virgin)
To that, I add in my crumbled cauliflower and saute until it gets cooked and tender.  It's important to use a large pan and higher heat so that the moisture can evaporate off and you don't end up with soggy cauliflower.  It only takes a few minutes to cook and then I add one of my favorite short-cut ingredients: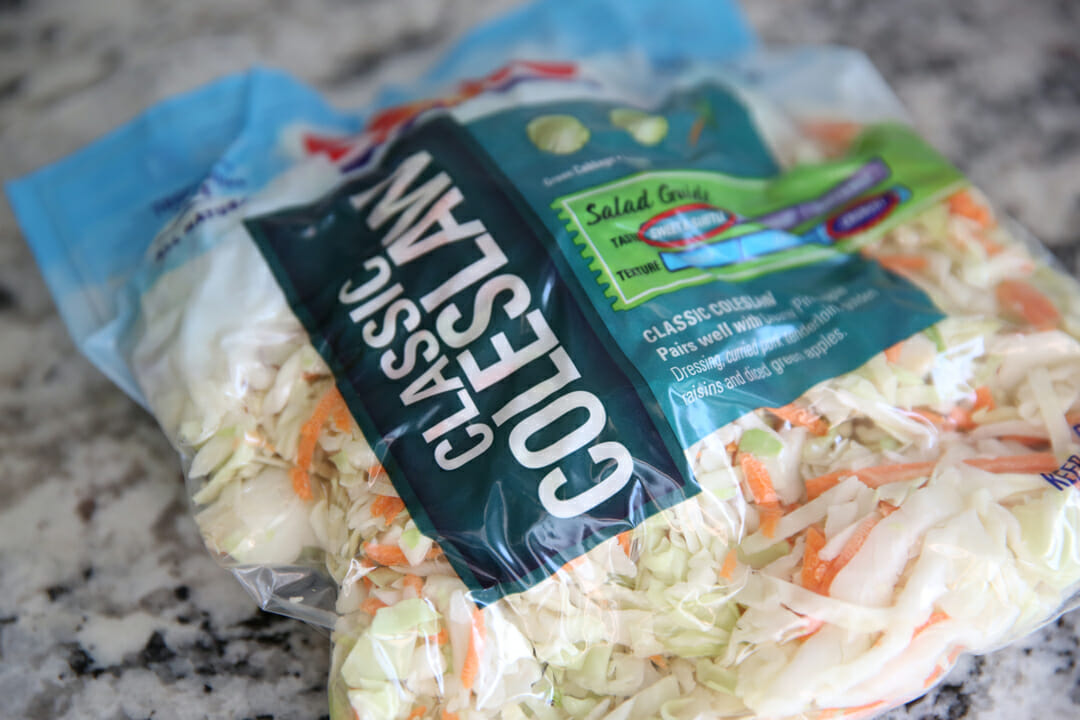 Bagged coleslaw mix.  I just push the "rice" mixture to one side and toss in a big handful of the shredded cabbage mix.  I cook for a couple of minutes until it gets just barely brown but is still crunchy.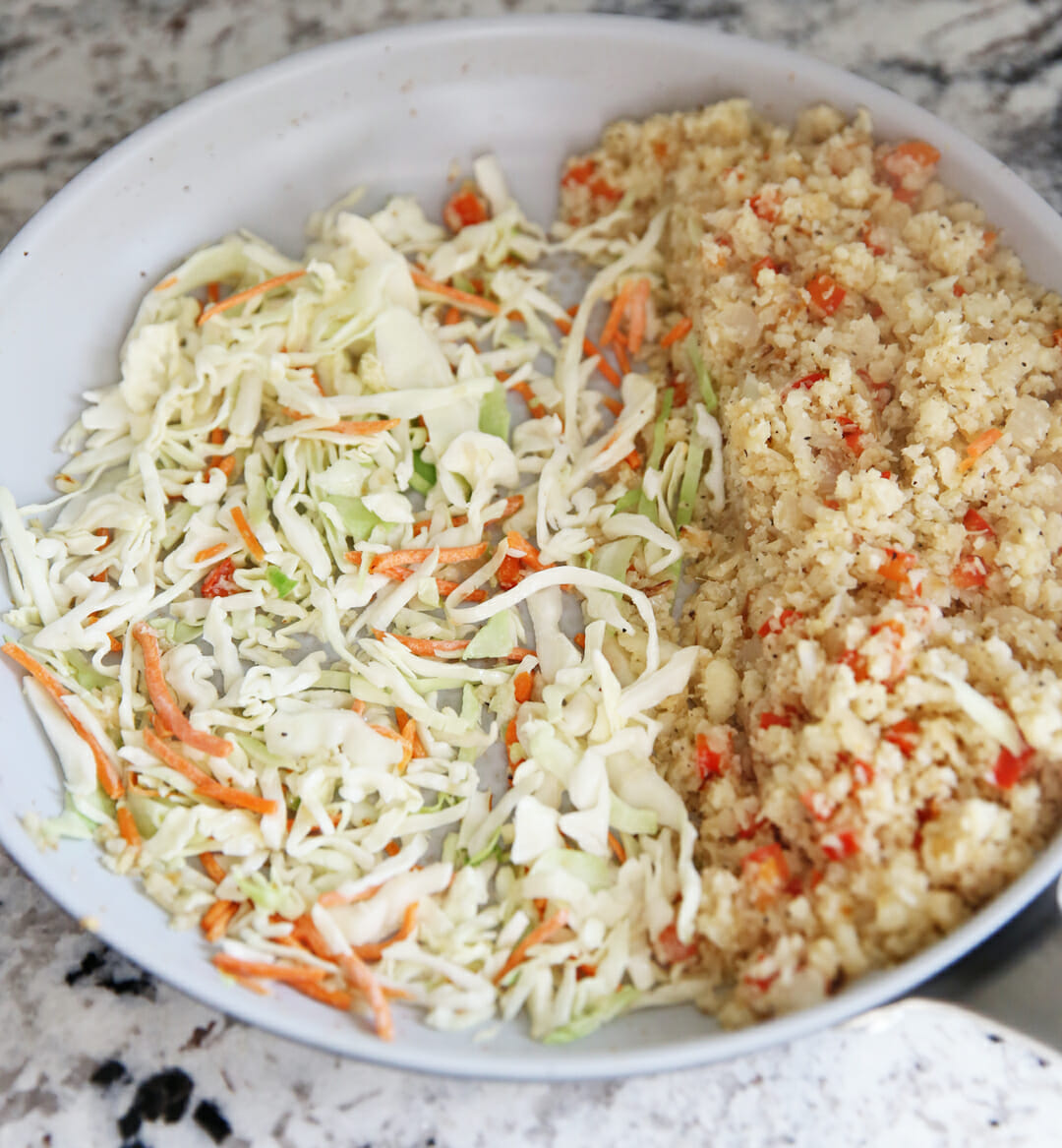 You could also toss an egg in there at this point and scramble it up if you want, or some bacon, or fresh pineapple.  Lot's of ways to customize this!  Then mix everything together and add a handful of chopped green onion and cilantro.
I like to top mine with shredded Kalua Pork.  (I make a really lean version by using pork tenderloin and I cook it in my Instant Pot.  Just chop the pork into 1-2″ cubes and also add about 1/2 cup of chicken broth,  and cook for 6 minutes.  Check the temperature to make sure it's done at the end and then shred!)  This is great use of leftover pork, chicken, or beef as well.  You can have a HUGE serving for minimal calories, which is always a plus in my book.  Enjoy!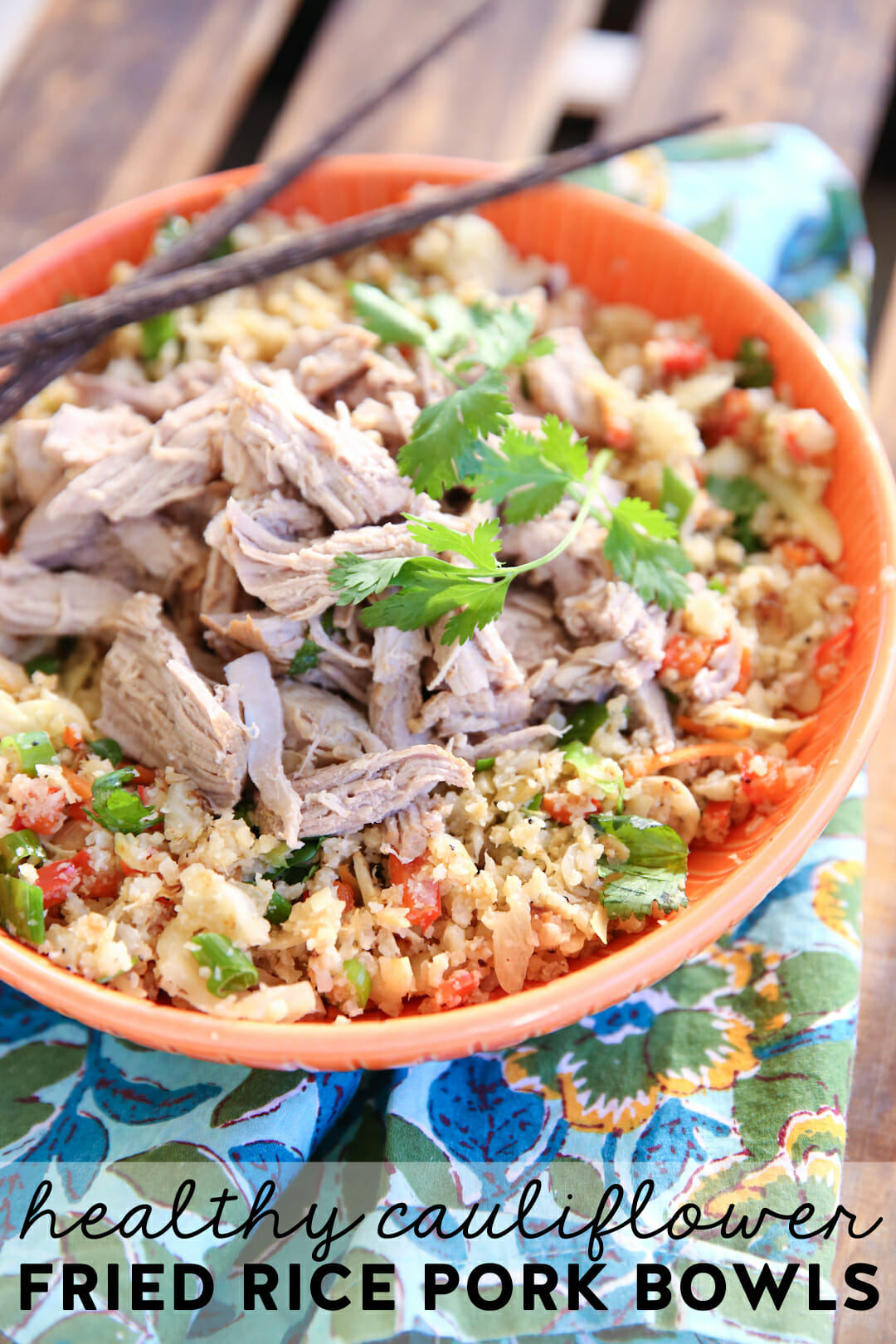 Print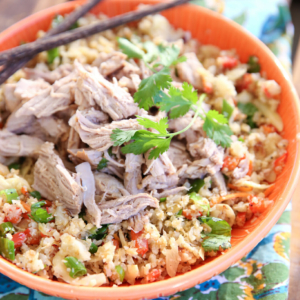 Cauliflower Fried Rice & Pork Bowls
---
Description
A lightened-up version of flavorful fried rice, all served in a fabulous one-dish-dinner. Serve with protein on top for a main dish, or without for a side.
---
2 1/2 teaspoons

olive oil, divided

2/3 cup

diced onion

1/2

red bell pepper, diced

2 teaspoons

minced fresh ginger

2

–

3

cloves garlic, minced or pressed

4 cups

crumbled cauliflower

1 teaspoon

kosher salt

1/4 teaspoon

black pepper

2 cups

bagged coleslaw cabbage mix

3

–

4

tablespoons chopped green onion

3

–

4

tablespoons chopped cilantro
Optional: Shredded Kalua Pork
---
Instructions
Heat an extra large saute pan to medium heat. Add 1 1/2 teaspoons olive oil and swirl to coat pan. Add onion and bell pepper and cook for 4-5 minutes, until tender. Add both ginger and garlic and saute about 1 minute, until fragrant.
Drizzle in remaining 1 teaspoon of olive oil and add cauliflower. Increase heat by just a bit and toss to cook until tender, about 3-4 minutes. Move mixture to one side of pan and add shredded cabbage mix to the other side. (I often give the cabbage a spray of nonstick spray, which helps it cook and brown better- or an extra drizzle of olive oil.) Cook for about 2 minutes until just wilted and slightly brown on edges.
Turn heat off and mix everything together. Stir in green onion and cilantro. Taste, and season with additional salt and pepper if needed.
Divide into servings and top with pork if desired.
Yields: 2-3 large main dish servings or 4-6 side dishes.
---
Have you gotten your hands on our NEW eBook yet?? It's gotten rave reviews!  If you don't have it yet, get more info, here!