Chicken soup like your mom used to make. Literally, your mom. At my house growing up, chicken soup came from a red and white Campbell's soup can. I remember the first time I had homemade chicken soup and truly, it was one of the best things I'd ever eaten. It was comfort in a bowl. And it can't be replicated, no matter how hard
Progresso
tries.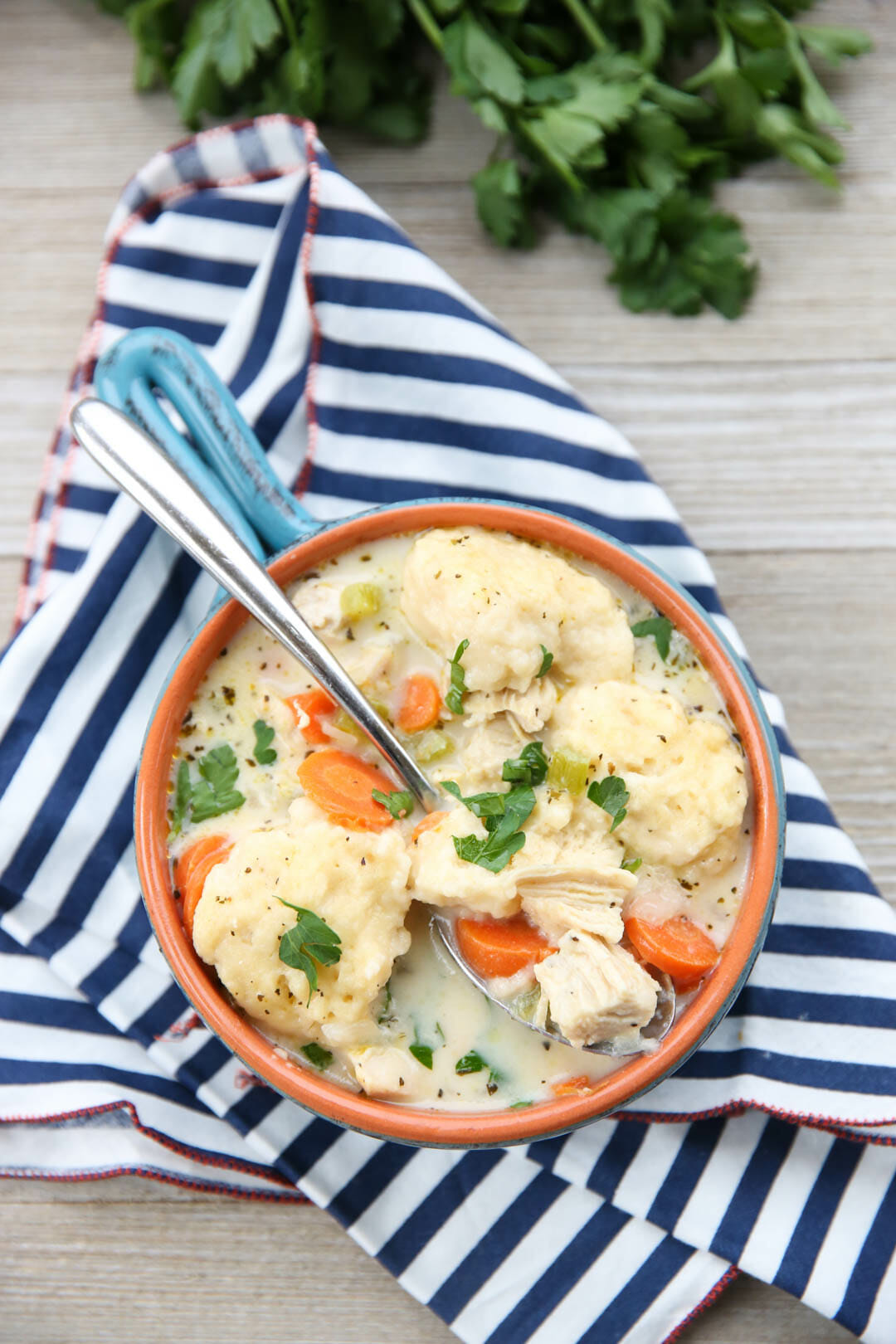 Now…living in the South, the idea is that chicken and dumplings or chicken noodle soup MUST be made from scratch with the whole chicken and homemade broth. Let me fill you in on a little secret. I've been assured time and time again from cookbooks and the Food Network that homemade chicken broth is incomparable to the stuff you can buy in the store. I have tried to make homemade broth a number of times, and, quite honestly, I find it to be a great deal of work and I can't taste enough of a difference to make it worth my time. The other thing is that if you're making soup that involves hours and hours of work, you're not going to make it a lot. And this soup is too good not to make a lot. So don't listen to those ninnies who would have you believe that you're less of a person for using bouillon cubes or canned chicken broth and welcome them to the 21st century. And reality.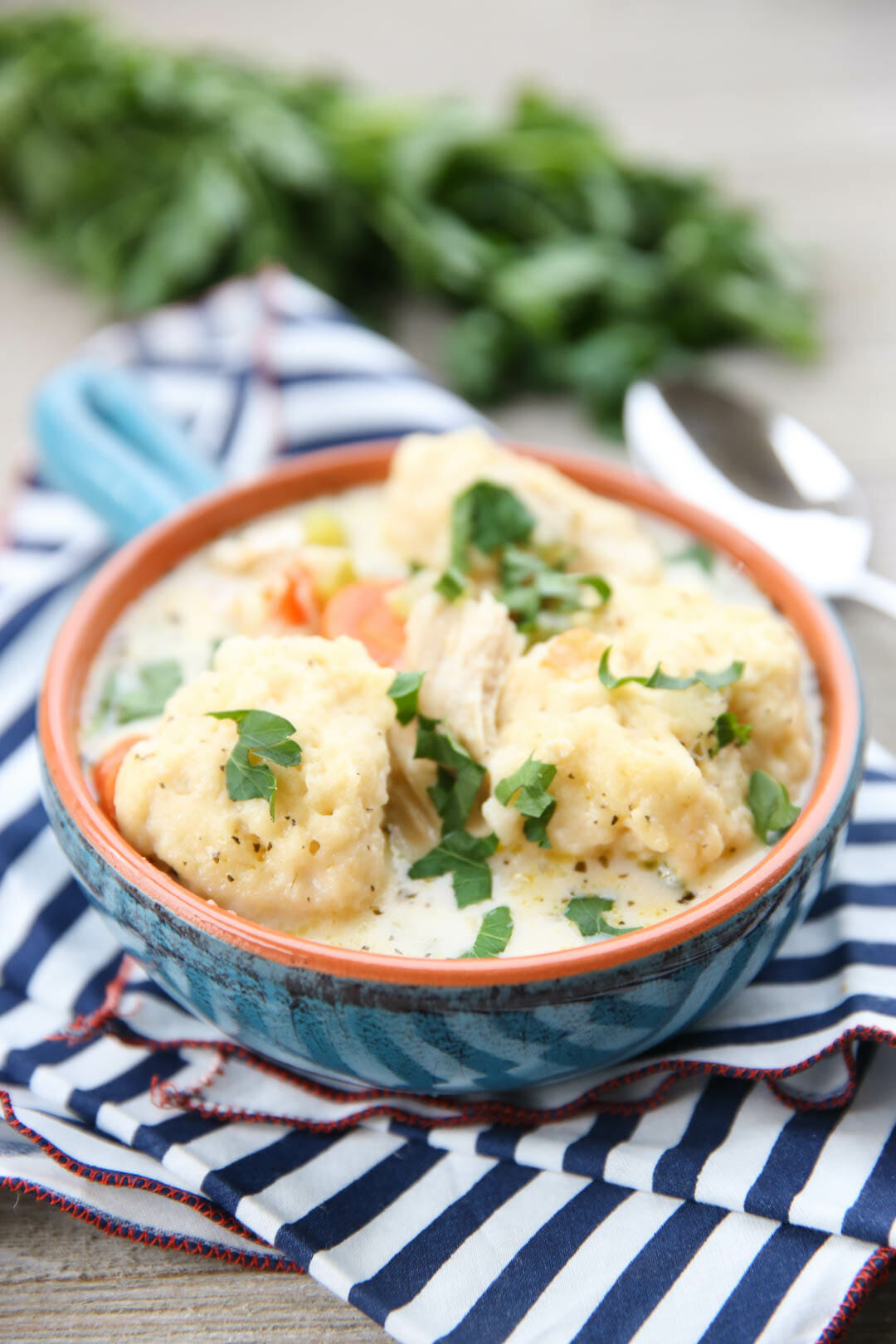 One more thing–I really, really like dumplings in this soup. A lot. I love the texture and how they thicken up the soup just right. However, if you're not a dumpling fan, you can use noodles. We have a recipe for homemade noodles, but if you buy them at the store, I strongly recommend that you get Kluski noodles like these ones:
They taste homemade without actually having to make homemade noodles. That way, everybody wins… 🙂
 Basically we're making an easy homemade chicken noodle soup.  Start with the building blocks of most great soups: a saute of onions, carrots, and celery.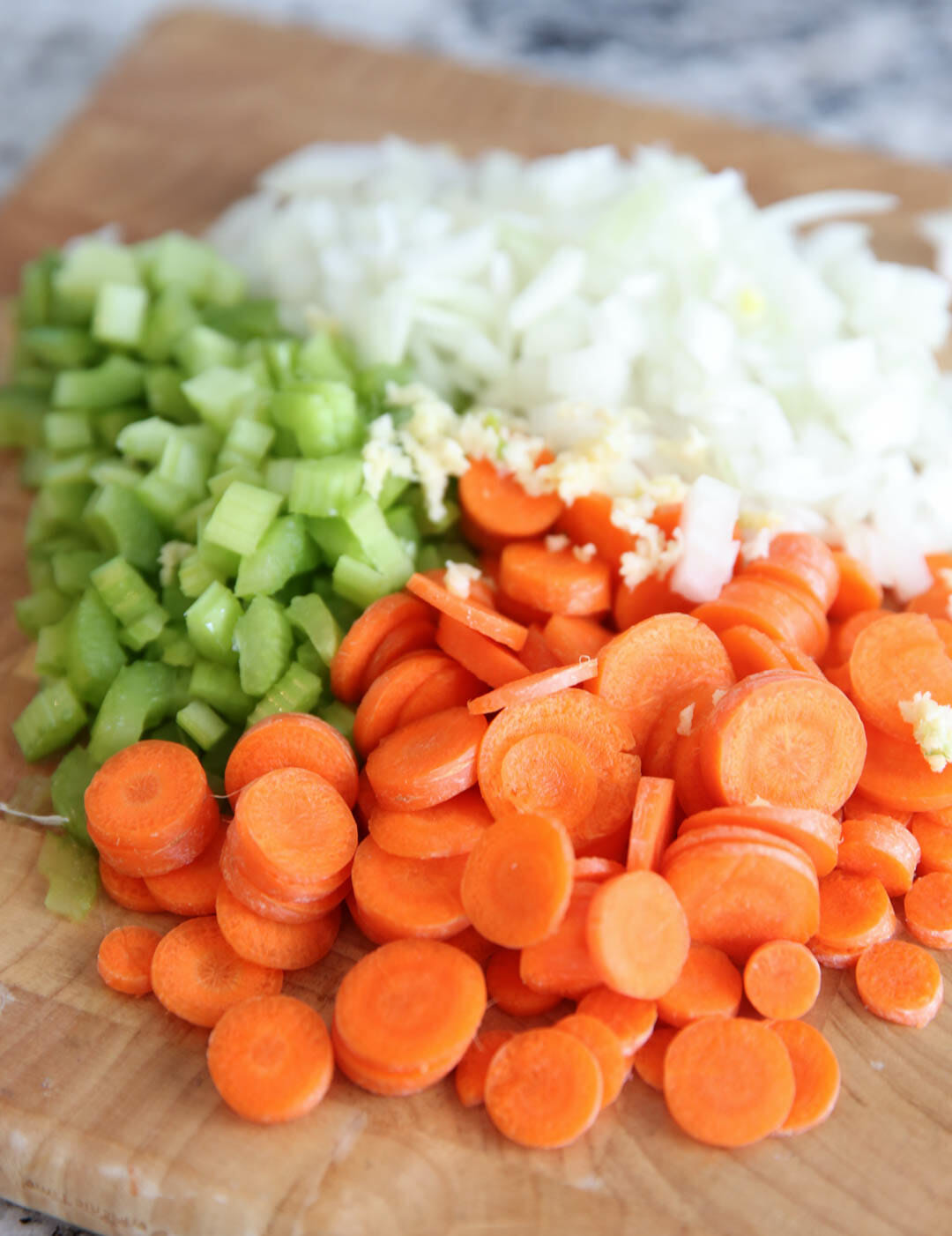 Then you'll add chicken broth and a few seasonings,
and let it simmer away.  This recipe calls for cooked, chopped chicken, but you can just as easily cook your chicken right in the soup.  I take a few chicken breasts and just gently poach them as the soup in simmering to cook the veggies.
It all gets done at about the same time and you can just shred the chicken and toss it back in.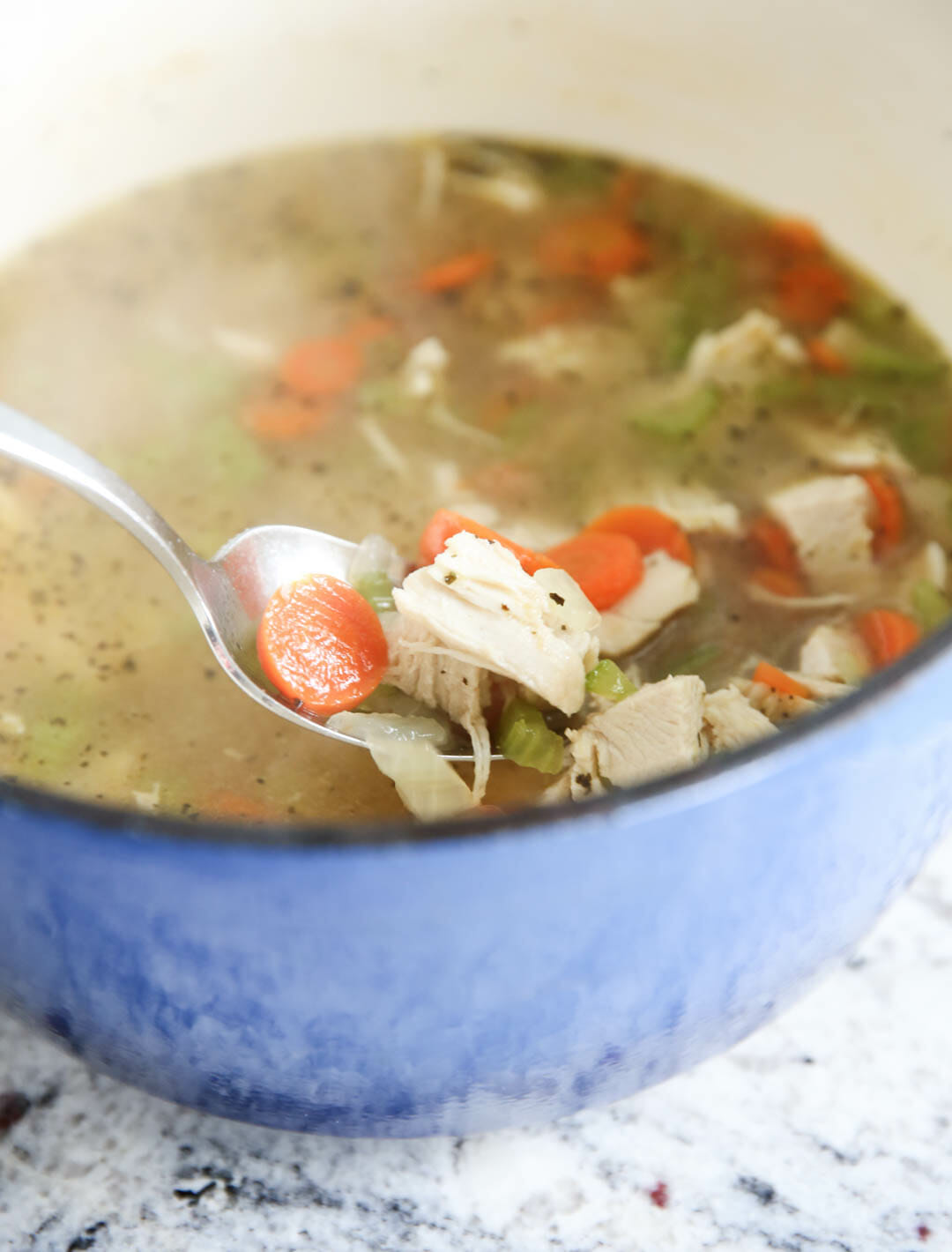 Now the secret for this creamy soup is quite brilliant.  There's no adding flour and making a roux or anything like that.  It's an easy-peasy can of evaporated milk, and you can even use low-fat.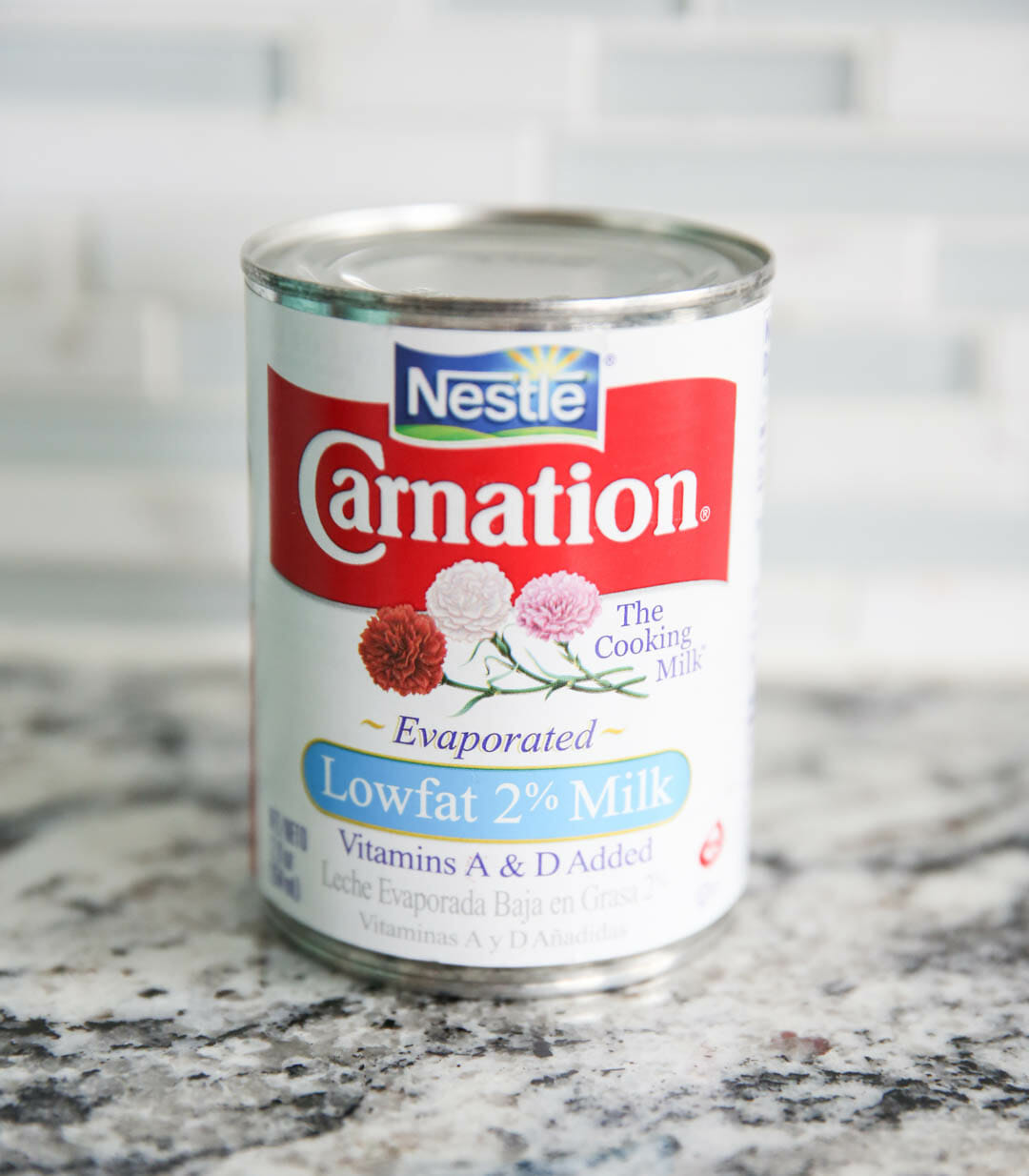 Now when it comes to the dumplings, you have a couple options.  You can easily mix up some Bisquik dumplings.  No shame in that!  I'm also providing a quick homemade version that is almost just as fast.  Both will be soft, tender, and delicious.  It's just a simple dough, and you drop it right in the simmering soup to cook.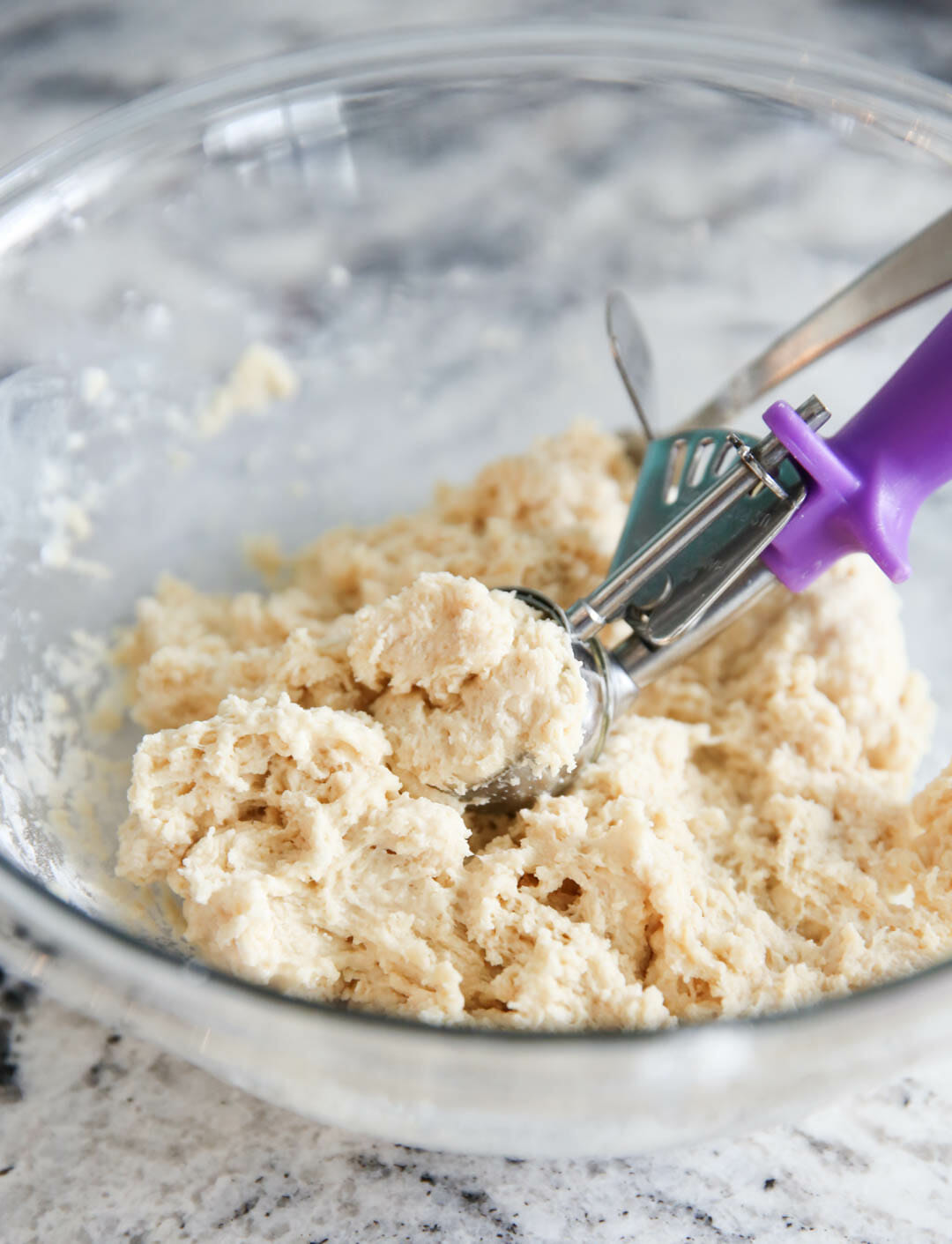 The flour from the dumplings thickens the soup just enough and it's the perfect one-dish dinner.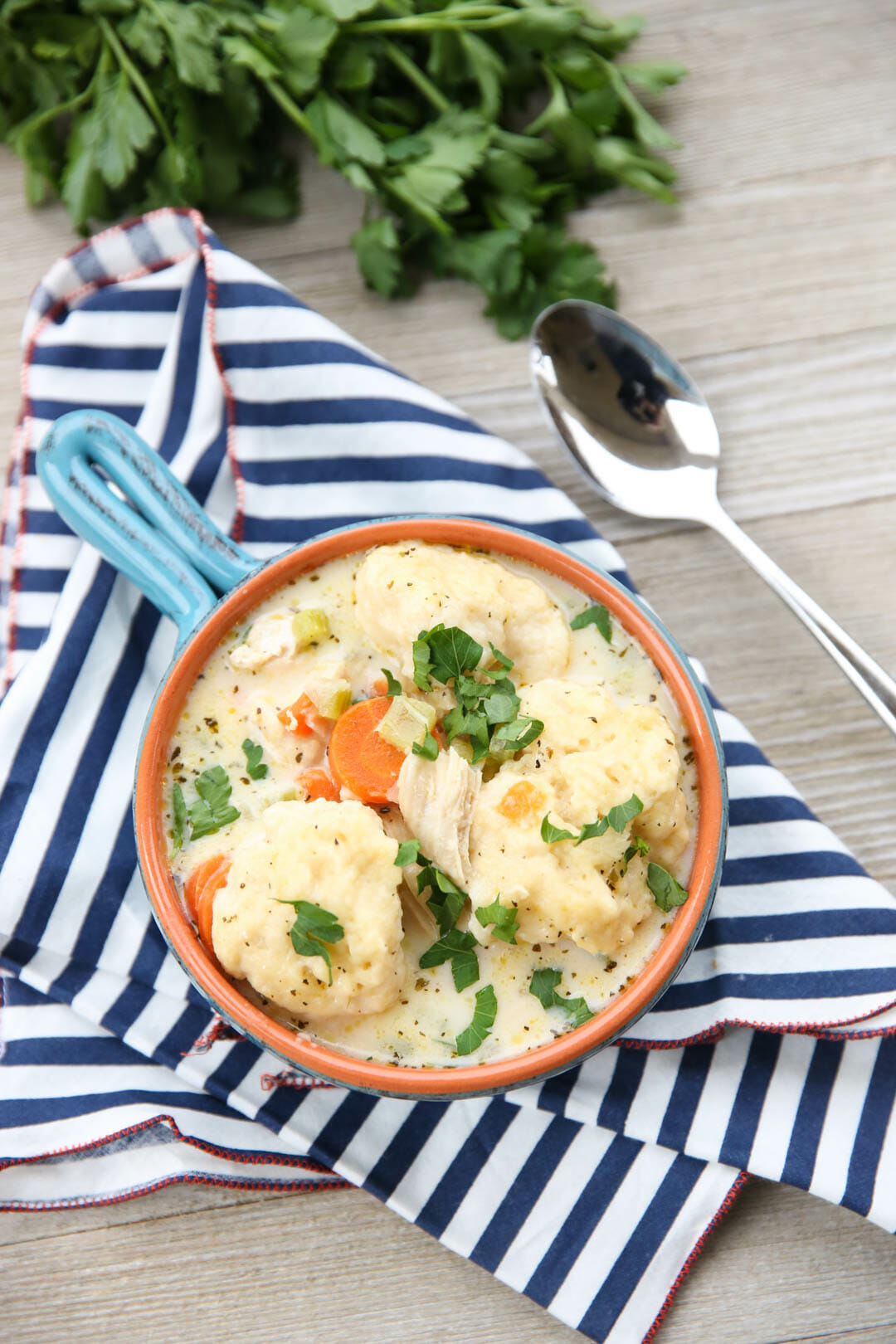 Print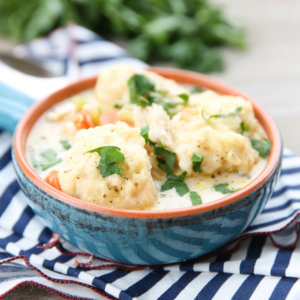 ---
Description
This recipe for homemade chicken and dumplings will be a family favorite on chilly nights!
---
1 cup sliced carrots
2 ribs celery, chopped
1 onion, chopped
2–3 cloves garlic, minced or pressed
1 bay leaf
6 cups chicken broth (homemade if you really want to be a domestic goddess)
1 lb. cooked chicken, cut into bite-sized pieces (I use 1/2 of a fauxtisserie chicken and it's FABULOUS! You could also use leftover rotisserie chicken from the grocery store)
1 handful of chopped fresh parsley (or 1 Tbsp. dried parsley)
1/2 teaspoon basil
1 14-ounce can evaporated milk (fat free is fine)
1 recipe of Bisquik dumplings (recipe is on the box) or homemade dumpling recipe below
Homemade Dumplings
1 1/2 cups all purpose flour
1 tablespoon baking powder
1/2 teaspoon kosher salt
3/4 cup milk
2 tablespoons melted butter
---
Instructions
In a large pot, heat some olive oil over medium heat and add carrots, celery, onions, and garlic.  Saute for a few minutes and then add chicken broth, bay leaf, and basil. Bring to a boil and then reduce heat to a simmer. Cover and cook until carrots and celery are tender.
When carrots and celery are almost done, add chicken and chopped parsley. Add evaporated milk and remove bay leaf.
Increase heat to boiling and add dumpling dough by the small spoonful (they'll puff up).  Cook until until dumplings are cooked through (they should appear moist but feel firm; this is after about 4-5 minutes).  If you're using raw chicken, simply add it in when the soup originally comes to a simmer and cook until internal temp reaches 165 degrees.
One other thing–if you know you'll have leftovers, only add dumplings or noodles to what you know you'll eat immediately. The noodles/dumplings will soak up all the liquid in the soup when you store it as leftovers, so you'll have overly-mushy noodles and chicken with no broth if you don't. The other thing you can do is add all of the dumplings or all of the noodles, and then store the dumplings or noodles separately from the rest of the soup. That's easy to do with dumplings, not so much with noodles.
---