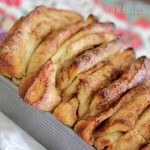 I'm pretty sure we've all had one of "those" weeks. This particular week wasn't really anything horrible, but it involved a sick kid, a sick dog, a messy house, perpetual exhaustion, behindness on laundry, trying to get ahead on blogging, the last few days of school, and general overall chaos. I had something patriotic and fun planned for tomorrow, but today, I needed cinnamon and sugar and bread. And I figured if I needed cinnamon and sugar and bread today, I can't possibly be the only one, so congratulations. Today is your day. I'm here for you.
I was inspired by Joy the Baker who adapted her recipe from Hungry Girl por Vida (although I'm not using this dough). If you've ever made our King Cake, that's the dough I'm using. It's The Pioneer Woman's cinnamon roll dough and it's not only light and flaky and fabulous, but I swear to you, it's foolproof. I'm kind of fiercely loyal to and protective of that recipe–we have a special relationship.
To make the dough, you'll need whole milk, oil, sugar, salt, yeast, baking soda, baking powder, and flour.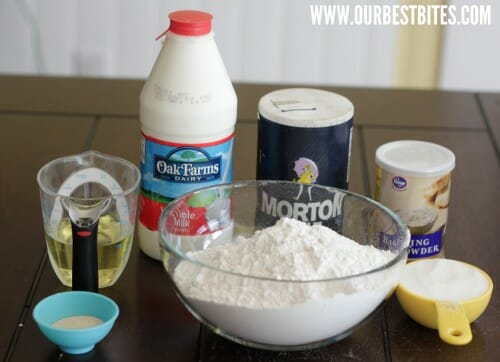 Place the milk, sugar, and oil in a large pot and heat until it just comes to a boil. Remove from heat and allow it to cool to 105-115 degrees (about the temperature of a hot, but not uncomfortable, shower). Add the yeast and let it stand for 5 minutes. Add 4 cups of flour, stir it up (it will be easy to mix even though you're doing it by hand). Cover and allow it to rise for an hour. Add another 1/2 cup of flour, the baking soda, baking powder, and salt, stir it up again, and then cover it and let it hang out until you're ready to use it. If you want to use it semi-immediately, you can either use it right away or let it rise, covered, for another 30 minutes or so. Or you can cover it with plastic wrap and pop it into the fridge for up to 24 hours or so.
Grease a 9×5″ loaf pan and set it aside.
When you're ready to use the dough, turn it onto a lightly floured surface.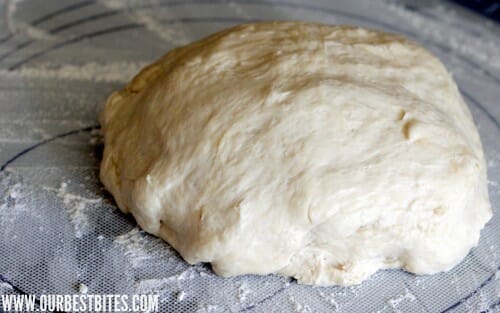 Roll the dough out into a rectangle about 18 inches wide by 9 inches tall.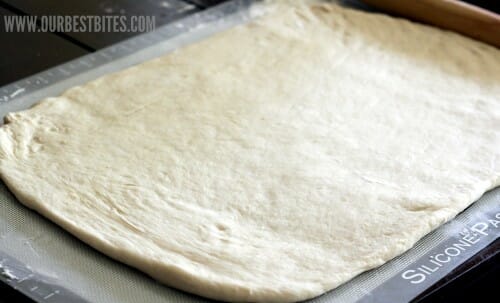 Melt or soften 6 tablespoons of butter. It doesn't really matter. We're talking about butter and carbs here; there's no need to be picky. In fact, because I'm so generous when it comes to butter and carbs, I did both–my butter was kind of half-melted, half-softened. And then I spread it all over the dough.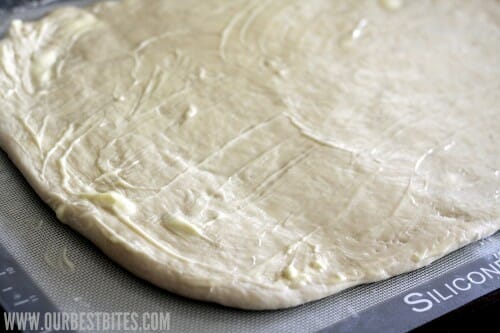 Then I sprinkled it with about 1/2 cup of granulated sugar…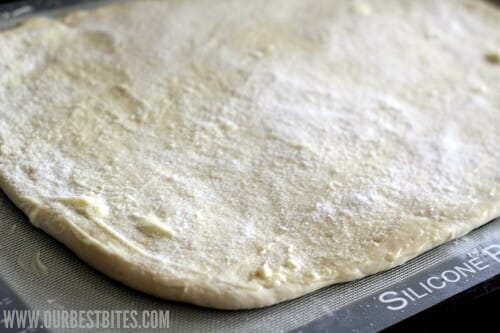 and a generous sprinkling of cinnamon…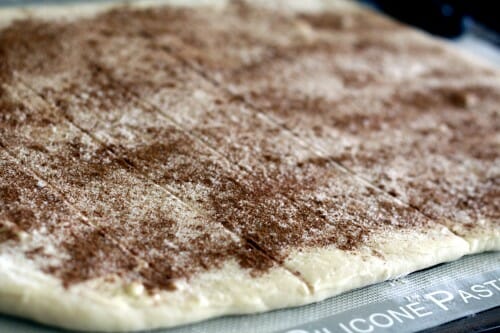 If you look closely, you'll notice that I scored the dough on where I was going to cut it. You'll want to make 6 3″-wide strips.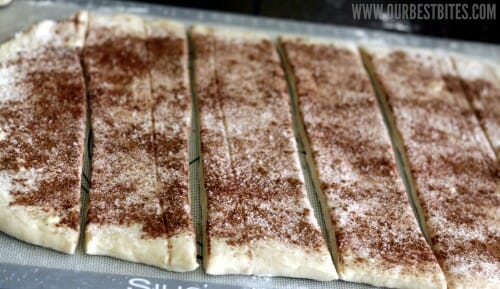 And then you'll notice that when I actually cut the strips, I didn't follow the score marks at all. This is why I don't sew.
Anyway.
Carefully stack the the strips so you have two stacks of three strips. Does that make sense? This is also why I don't sew–I need lots of pictures and when people describe things like that to me, my eyes glaze over and I sew a sleeve on backwards and with the wrong side of the fabric facing out. Luckily, I have a picture for you.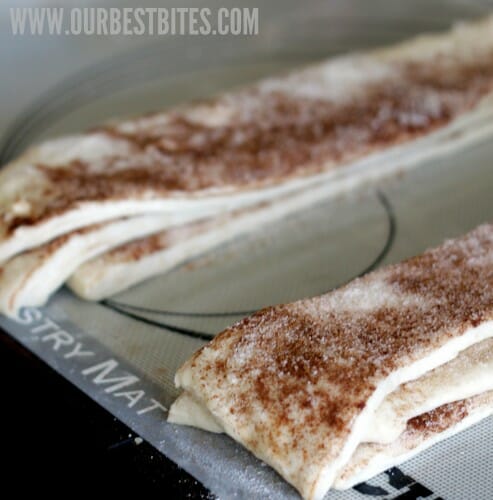 Using a pizza wheel, cut each stack into 3 3″ squares. Pop each stack of squares into the greased pan.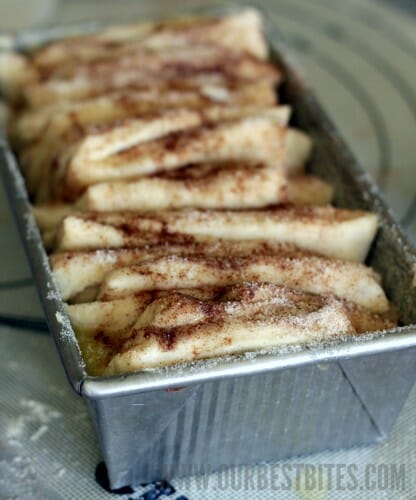 Be careful not to stuff the dough into the pan. If you're running out of room, you can use the rest of it to fill a mini loaf pan or make a few individual pull-apart rolls in a muffin tin. If it gets too tight in the pan, the insides will still be doughy and you will be sad and I don't want either one of those things for you.
Now…because we're being naughty here, melt the remaining two tablespoons of butter from that stick of butter you used to get melty/softened butter earlier. Drizzle it over the top of the loaf and then sprinkle with a little more cinnamon and sugar. Don't worry. It's okay. It's Friday. It's a 3-day weekend. You need something magical for breakfast on Memorial Day morning. Cinnamon and butter bring people happiness. Feeling better? Yeah, I thought so.
Cover the pan and let it rise for another 30 minutes. While the dough is rising, preheat the oven to 350. When the dough is done rising and the oven's done preheating, pop the pan into the oven. If you're not up for the fun of your fire alarm going off, I'd recommend sliding a baking sheet on the rack underneath the bread pan so it can collect any sugary butter drippings. Bake for 25-35 minutes or until baked through and golden brown on top. If the top is getting too brown before the insides are done, cover the bread lightly with a sheet of aluminum foil. Remove from the oven and allow it to cool completely.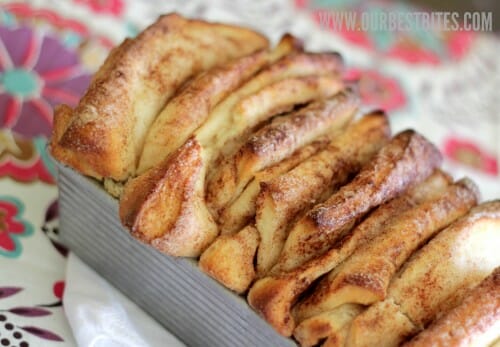 Now…because we're really living on the edge here, we're gonna ice this bad boy. You don't have to, but seriously…if you like sweet melty icing on your cinnamon rolls, you really should drizzle this buttery, almond-vanilla glaze on top of the bread.
You'll need 8 ounces sifted powdered sugar (by weight…seriously, if you haven't already, go buy a $6 kitchen scale. It will change your life.), 4 tablespoons of melted butter, 1/2 teaspoon of vanilla extract, 1/2 teaspoon of almond extract, and enough milk to make the icing the consistency you want it. Whisk all the ingredients together until smooth and then pour it into a heavy-duty Ziploc bag. Snip a corner off the bag and drizzle it over the cooled bread. You can either wait until the glaze firms up or start pulling the bread apart. If you are indeed human, I might lose a little respect for you if you wait. Just sayin'.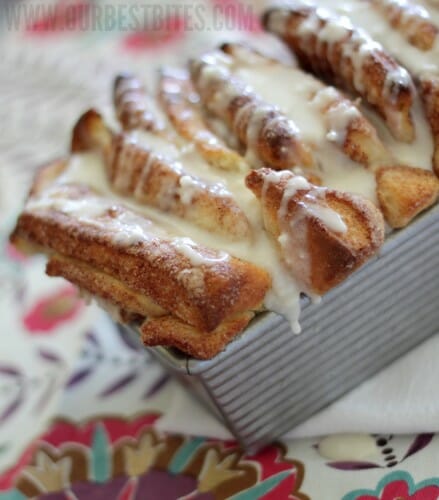 Cinnamon Pull-Apart Bread
Recipe inspired by Joy the Baker and adapted from The Pioneer Woman
Ingredients:
2 c. whole milk
1/2 c. canola oil
1/2 c. sugar
1 package active dry yeast (2 1/4 teaspoon)
4 1/2 c. all-purpose flour, divided
1/2 heaping tsp. baking powder
1/2 scant tsp. baking soda
1 1/2 tsp. salt
1/2 cup sugar
Cinnamon
Glaze:
8 oz. powdered sugar
4 Tbsp. melted butter
1/2 tsp. almond extract
1/2 tsp. vanilla extract
Enough milk to make a glaze to desired consistency
Instructions:
In a large (at least 4-quart) pot or saucepan, combine milk, sugar, and oil. Heat just to boiling, stirring occasionally, and then remove from heat. If you've got lots of ice handy, dump all that you have into a clean sink and then place the pan of scalded milk over the ice. This way, the milk mixture cools quickly and the melted ice just drips down the drain.
When the milk has cooled to around 105-115 degrees, remove from ice and sprinkle yeast over the milk mixture. Allow to stand for 5-10 minutes. Stir. Mix in 4 c. flour and cover. This can be done with a wooden spoon; the dough is VERY soft, more like a batter. Allow to stand for 1 hour.
Mix remaining 1/2 c. flour with baking soda, baking powder, and salt. Sprinkle over the dough and then mix it in with the wooden spoon. Place a sheet of plastic wrap over the pan and refrigerate for at least a few hours and up to 24 hours.
Grease a 9×5″ loaf pan and set it aside.
When you're ready to use the dough, turn it onto a lightly floured surface.
Roll the dough out into a rectangle about 18 inches wide by 9 inches tall. Spread with 6 tablespoons of melted or softened butter. Sprinkle with 1/2 cup sugar and an even sprinkling of cinnamon.
Using a pizza wheel, cut the dough into 6 3″ strips. Stack the strips 3 strips high (so you have 2 piles). Cut each of the stacks into 3 3″ squares. Place the squares, cut side up (not the flat, sugared side) into the prepared pan, being careful not to stuff too much dough into the pan. Any leftover dough can be baked in mini pans or muffin tins.
Melt 2 tablespoons of butter and drizzle over the loaf. Sprinkle with sugar and cinnamon. Cover and allow to rise for 30 minutes.
While the loaf is rising, preheat oven to 350.
Bake for 25-35 minutes (or until baked through). If you don't want your fire alarm to go off, place a baking sheet on the rack below the loaf pan. If the loaf is getting too brown on top, lightly place a sheet of aluminum foil over the loaf while it finishes baking.
Remove from oven and cool completely.
Whisk together glaze ingredients until smooth and desired consistency is reached. Place the glaze in a Ziploc bag and snip a small corner off the bag. Drizzle over the loaf.