So my husband and I have a slight obsession with King Arthur Flour.  I love their products (not sponsored, just love!) and they are a wealth of knowledge when it comes to both education and also solid, reliable recipes.  I feel they're right up there with America's Test Kitchen, but they get a little less acclaim since they don't have a TV show.  My husband, who is as fall-obsessed as I am, is constantly forwarding me recipes from their newsletters with enthusiastic "Let's make this!!" comments, and how can I not make things like Cinnamon-Apple Twist Bread??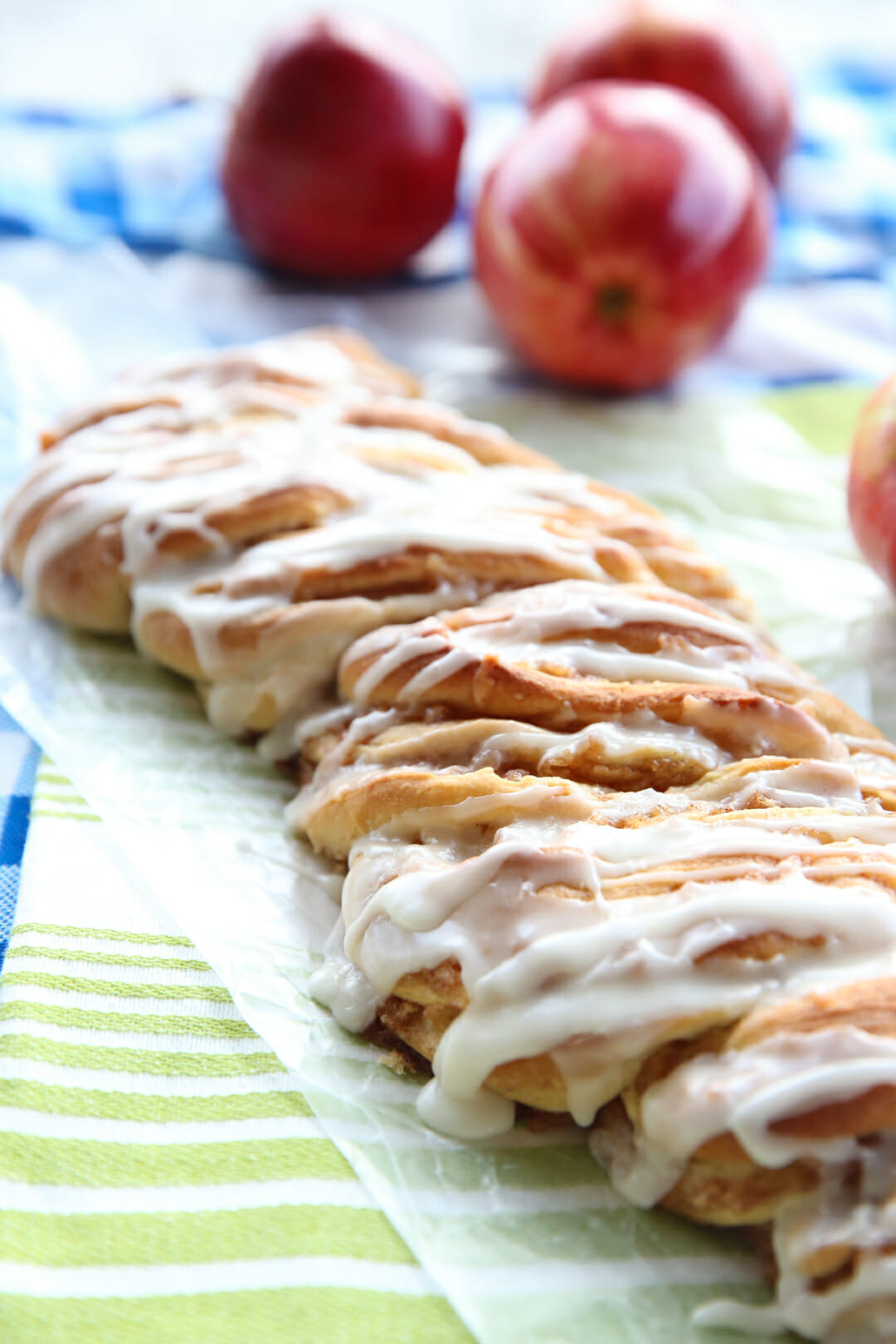 This was one of their recent bakealong recipes (where you can join in and everyone tries the same recipe each month) and it was soooo good.  It's like autumn in one soft, carby bite.  And one of the best things is that it makes 2 loaves, #score.  I ended up veering from the path a bit and made one sweet and one savory.  Keep reading to see what I ended up with (spoiler alert: you'll want both.)
One of the secret ingredients in this bread is potato!  You can use potato flour, or did what we did and use unflavored potato flakes.  This gives the bread a super soft texture. Gotta go with those Idaho potatoes, obviously.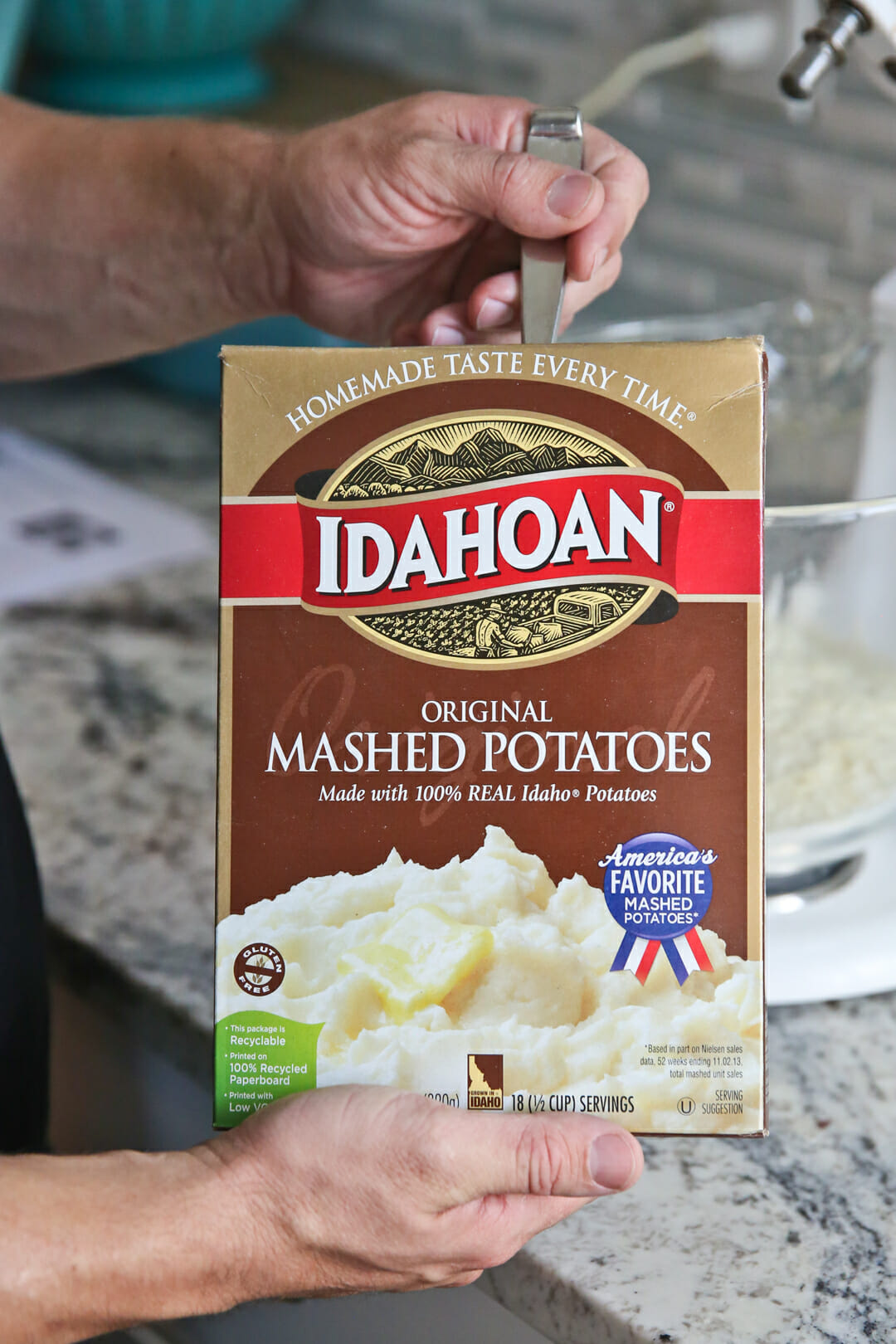 You'll form a "shaggy" dough and let it rest for a little bit.  What's a shaggy dough?  Well look at the texture, and compare it to the photo after this.  See how this is all bumpy?  That's a shaggy dough.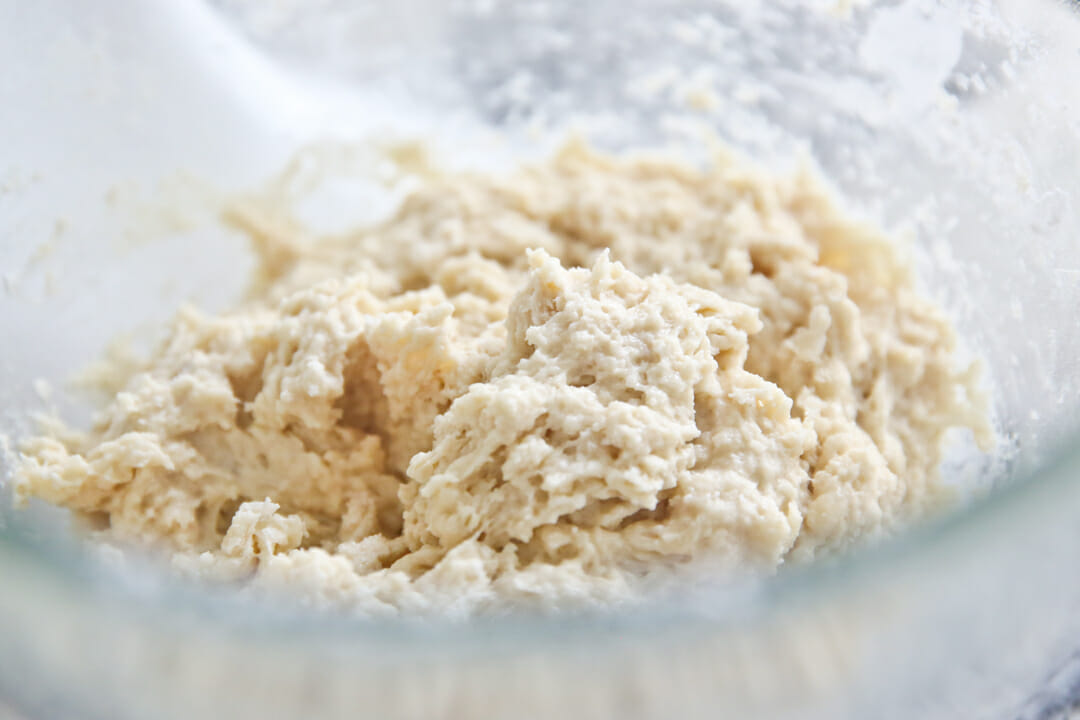 After kneading and mixing it will become smooth and elastic.  Oh, dough.  It's so beautiful!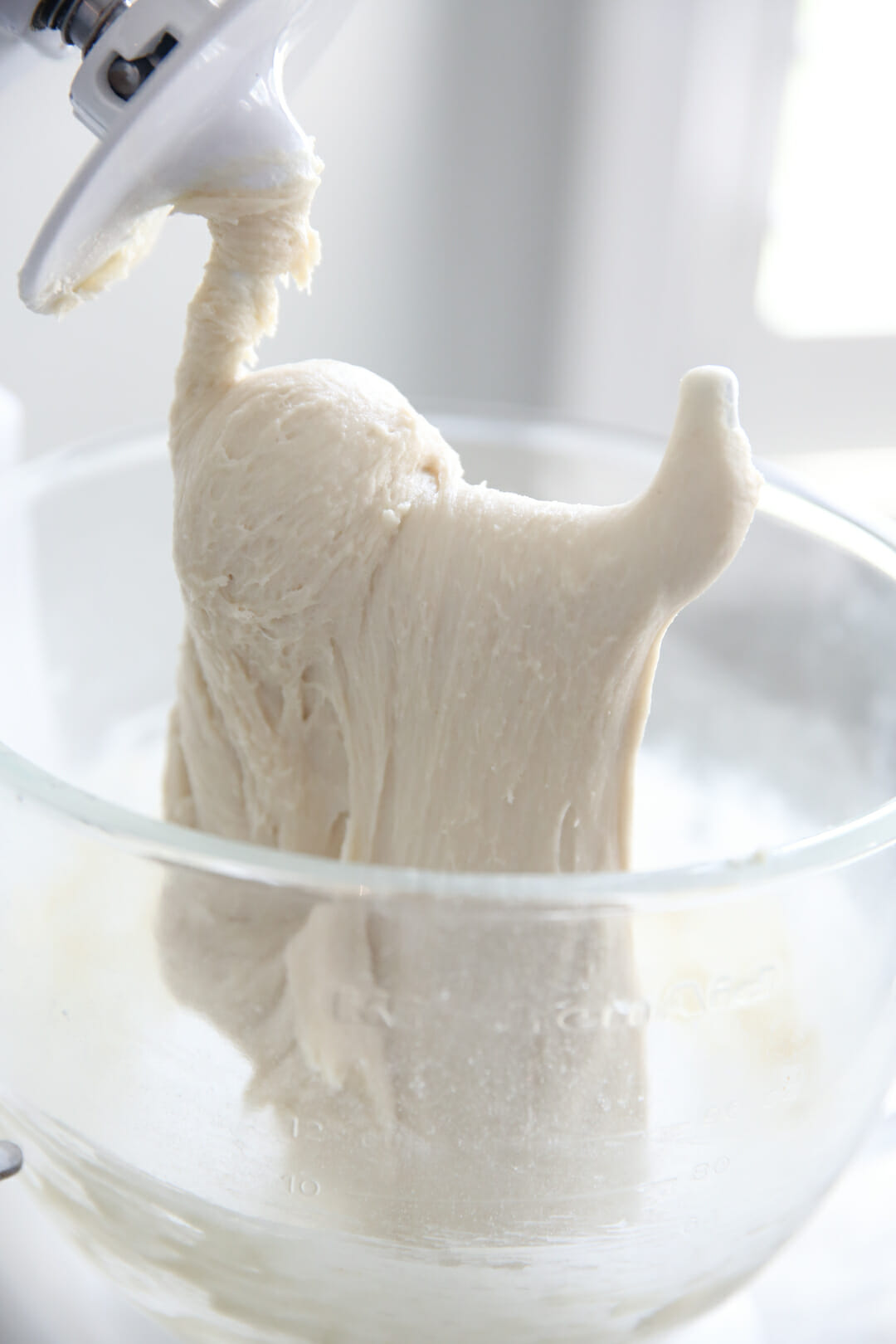 The filling of this dough is basically apple pie filling, made super quick in a saute pan.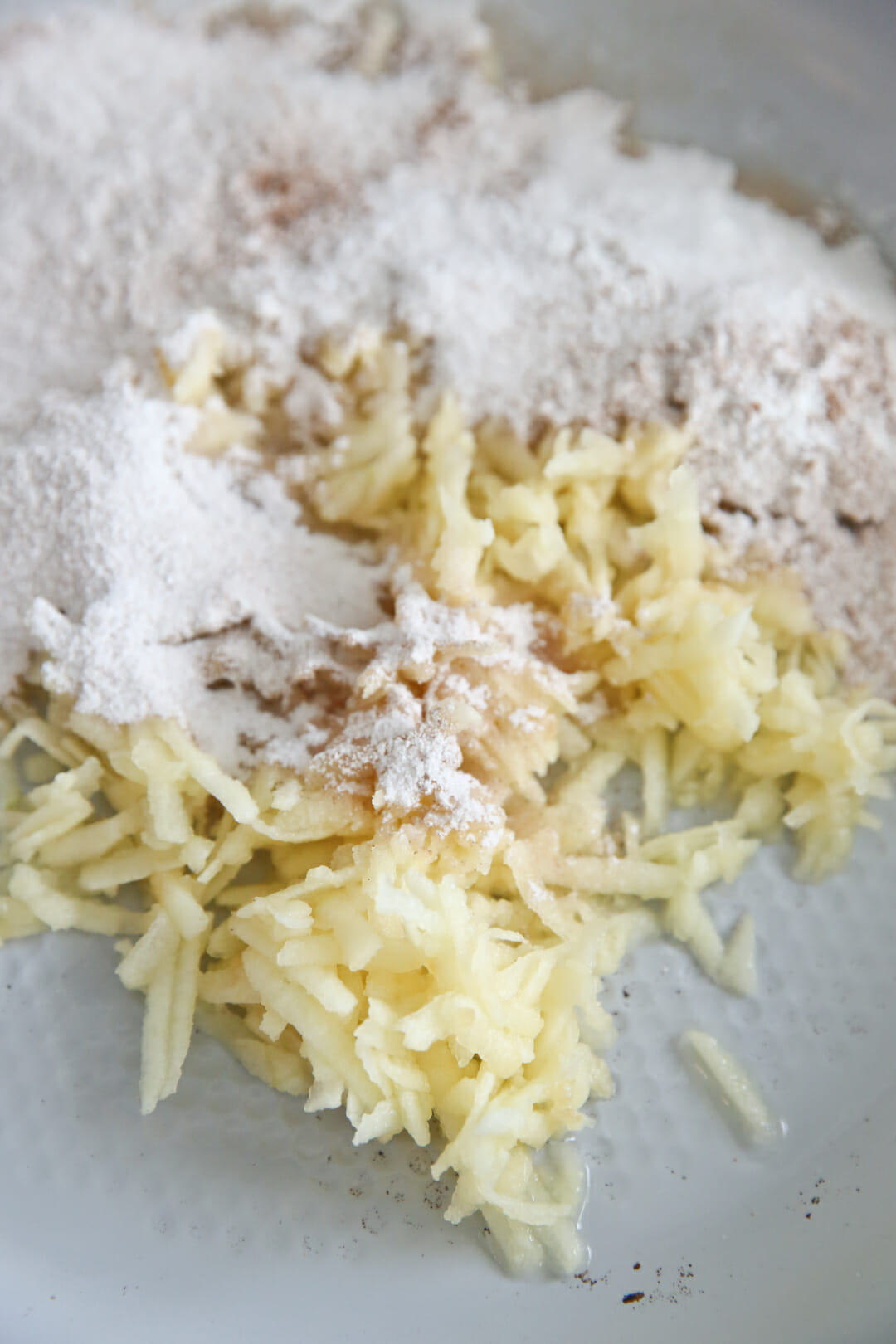 It becomes thickened and sweet and delicious.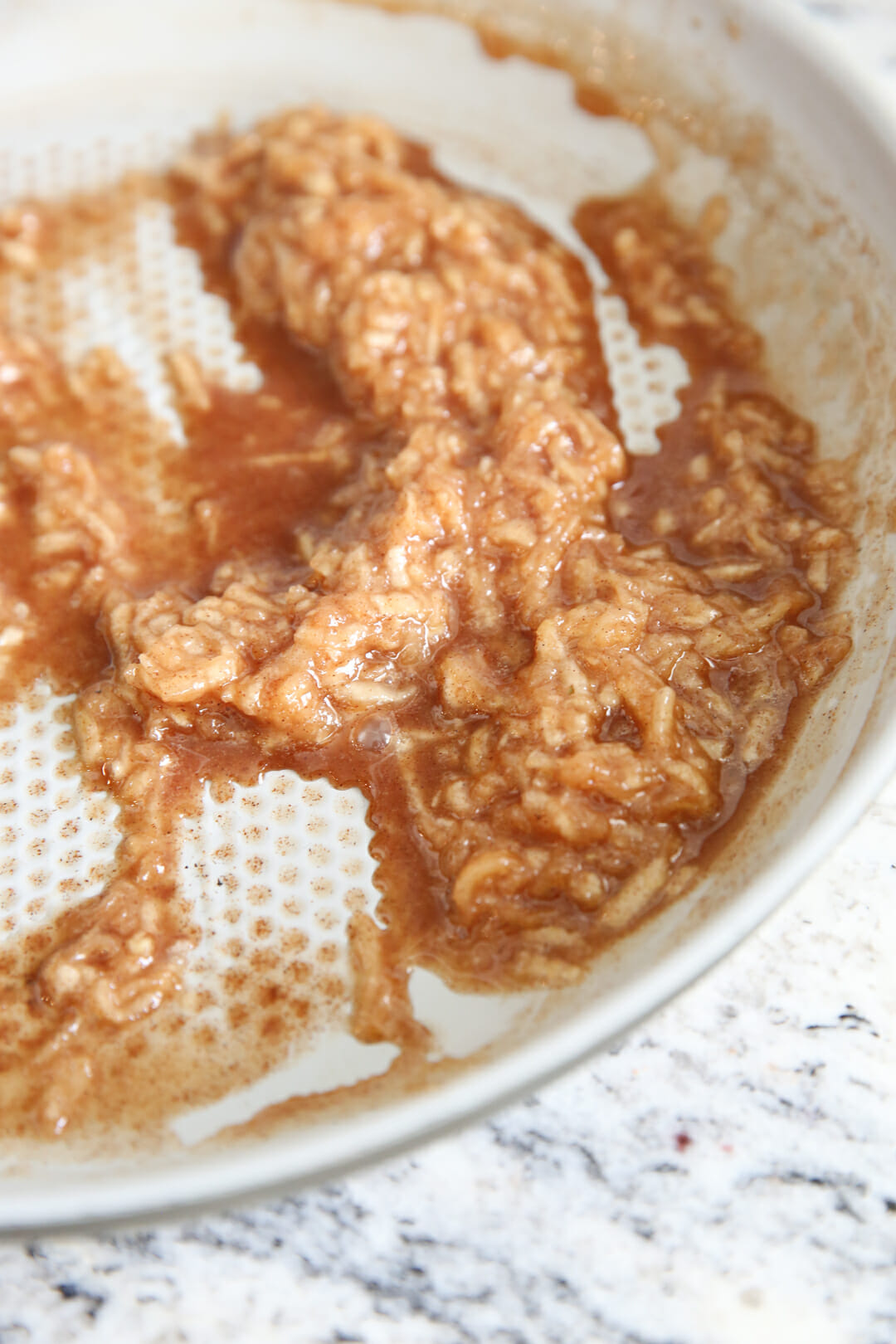 Now, here's the one change I made change from the recipe.  This amount of apple filling is for 2 loaves and I thought that didn't seem like enough so I put it ALL in one loaf, haha.  You could leave it as written, or go nuts like I did.  In the end I thought the apple flavor and texture was amazing. I liked it doubled like this but I think it would be totally fine as written as well.  I do think going extra heavy on the filling like I did might hinder the rise a bit, but it tasted sooo good that I'd probably do it again.  To be clear- the recipe as written is the original.  If you want extra filling like I did, you'll need to double the filling in the recipe!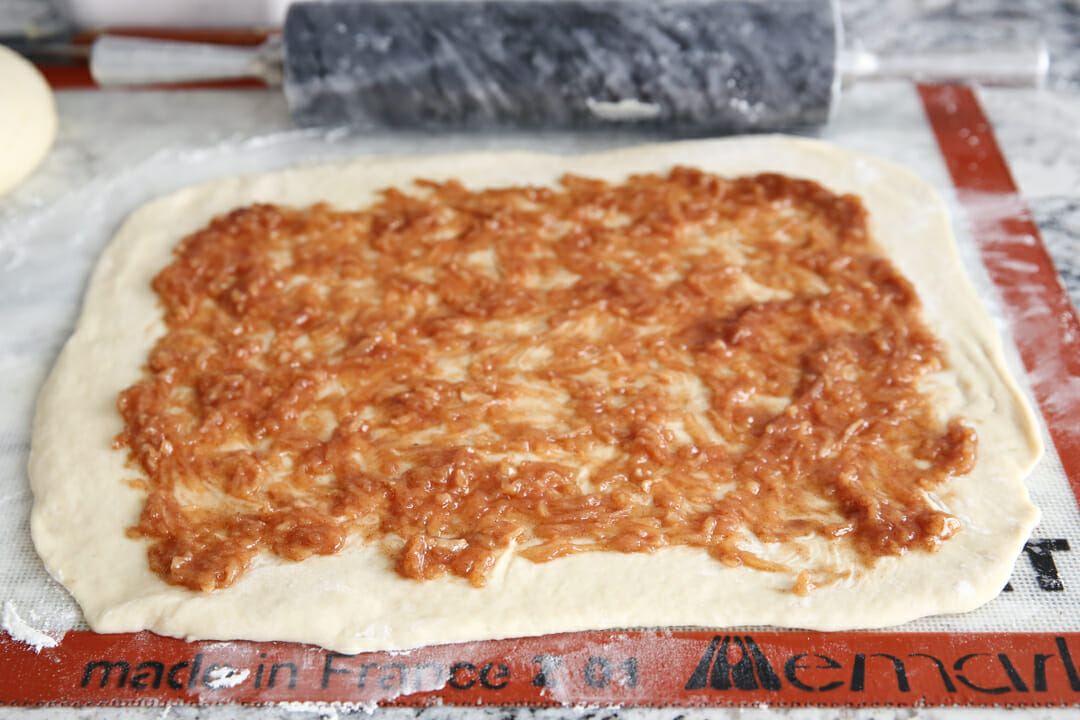 So basically you are going to roll this up like you would for cinnamon rolls and then cut it right down the center like the the photo below, on the left.  Then you'll gently turn your big long pieces so the open cuts are on the top, like the photo below on the right.  Remember mine has twice as much filling as normal (if yours looks different).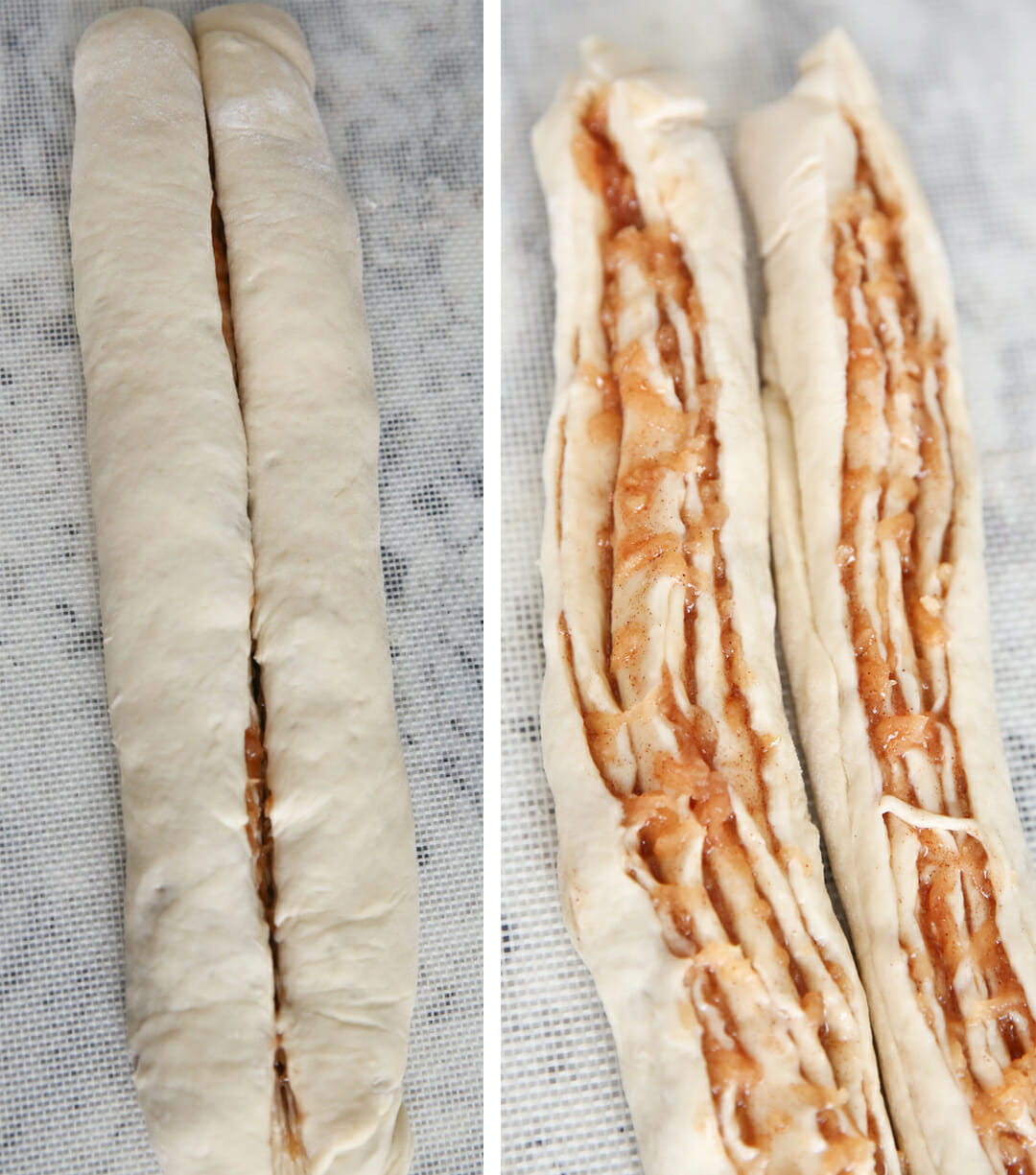 Then you'll carefully take those 2 pieces, keeping the cut sides up, and twist them, tucking in the ends.

You get this gorgeous braided look!  You're so fancy!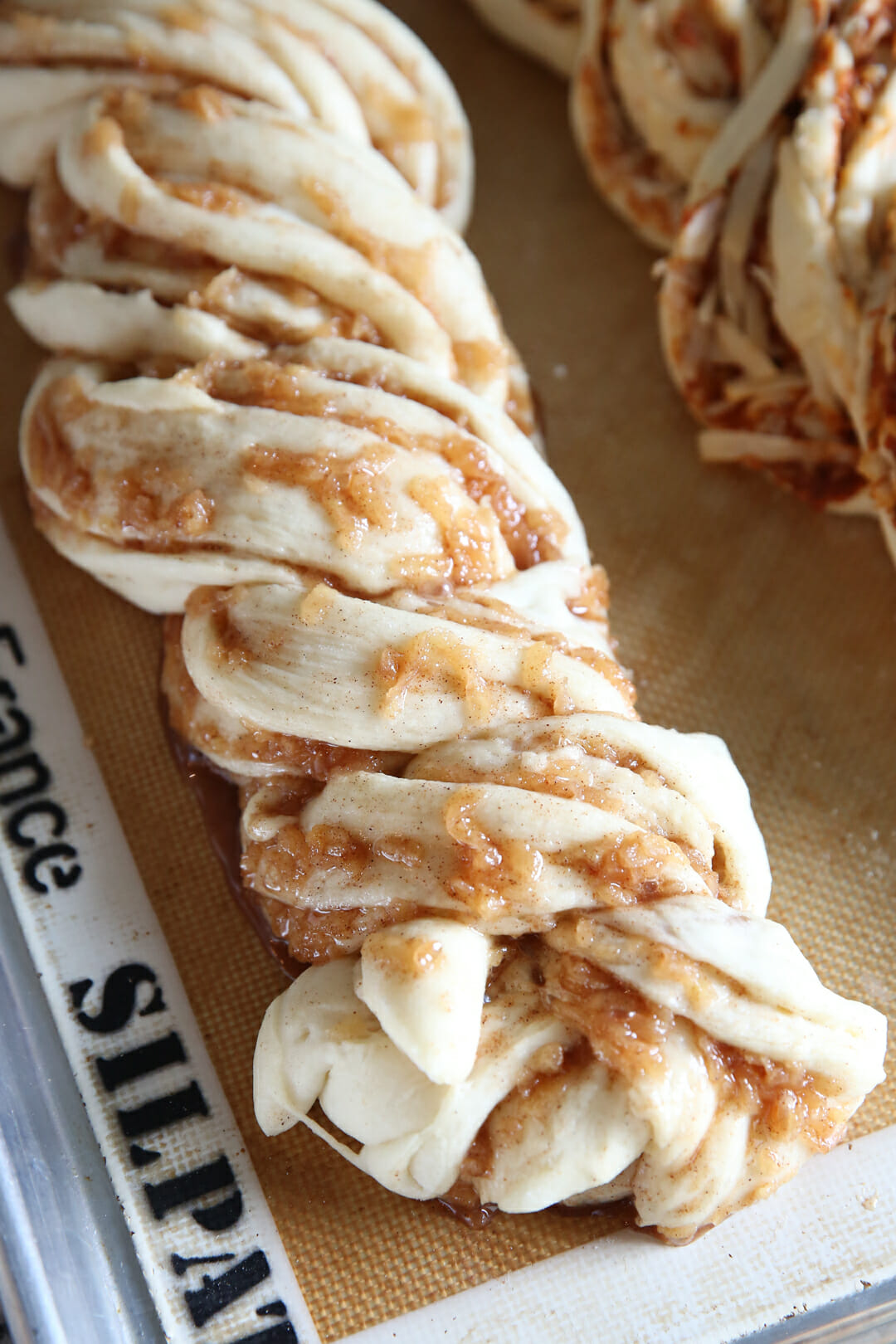 Now since I used up all my filling in one loaf, I decided to fill my other loaf with something different.  I had some left over Roasted Tomato Sauce in my fridge so I spread that on and sprinkled on some cheese and drizzled with Garlic Olive Oil before baking.  SO many possibilities with this great dough recipe and fun braiding method.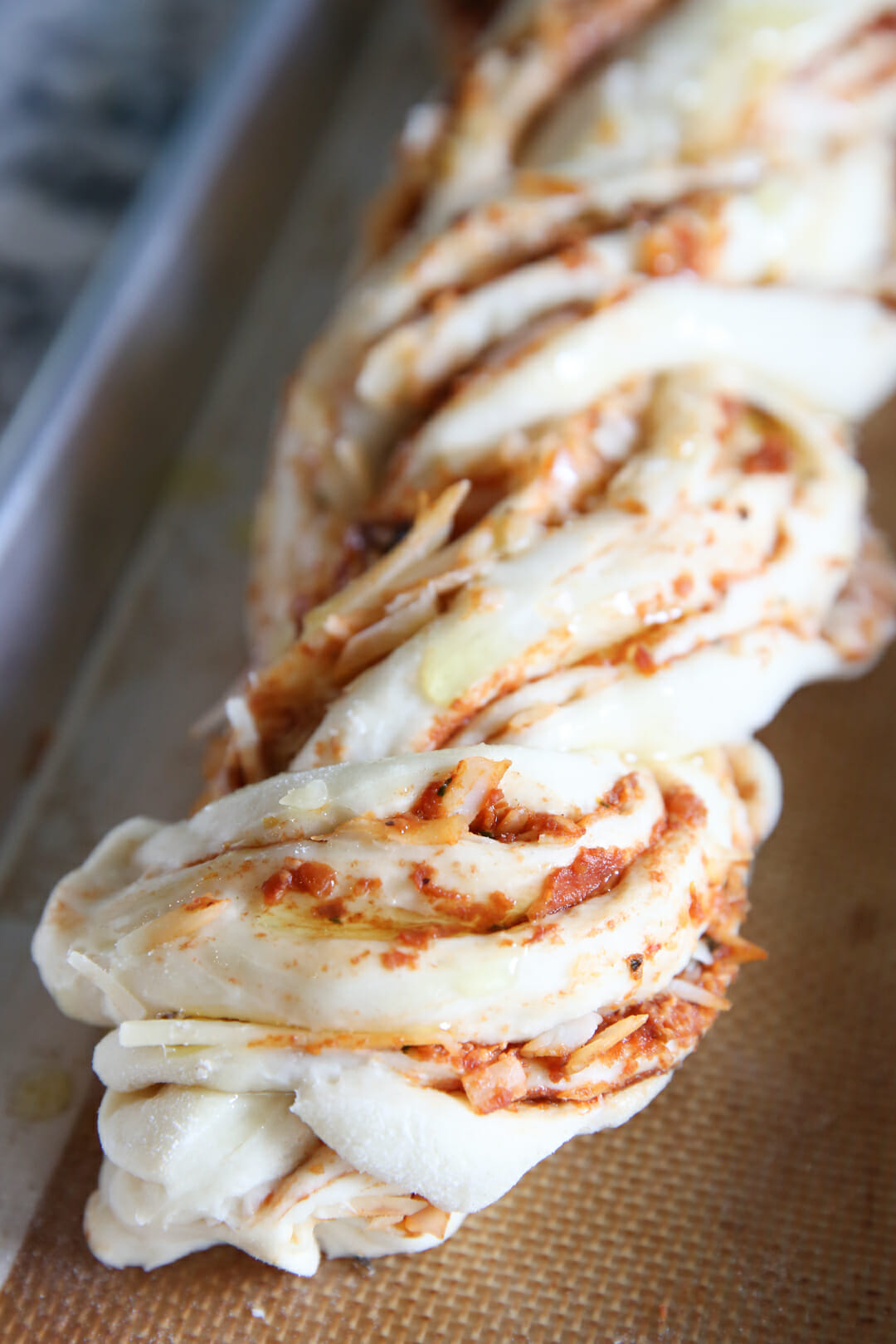 But back to apple pie flavors….  You'll just let your braids rise and then bake them up.  There are even instructions if you'd like to make this a day ahead and then bake fresh in the morning.  This would be so perfect for a holiday breakfast or just a lazy weekend treat.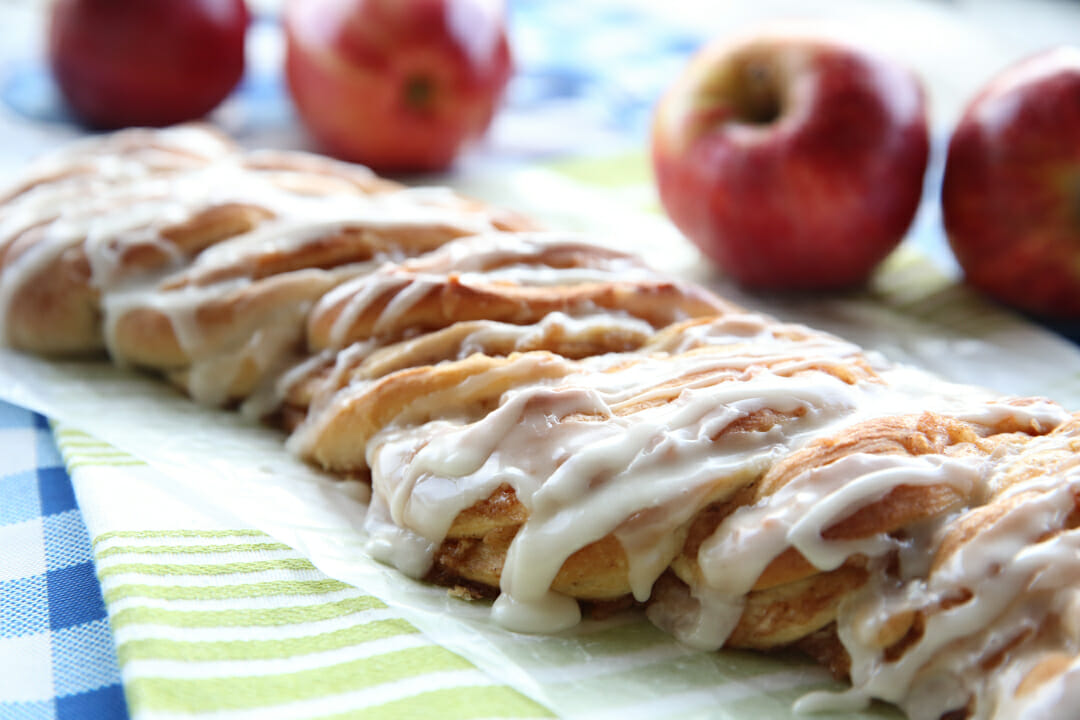 It gets a drizzle of icing and then oh my gosh.  Eat some warm, for sure.  It has those rolling ribbons of apple cinnamon filling and that sweet glaze that just melts in your mouth.   The bread is so soft it's just perfect.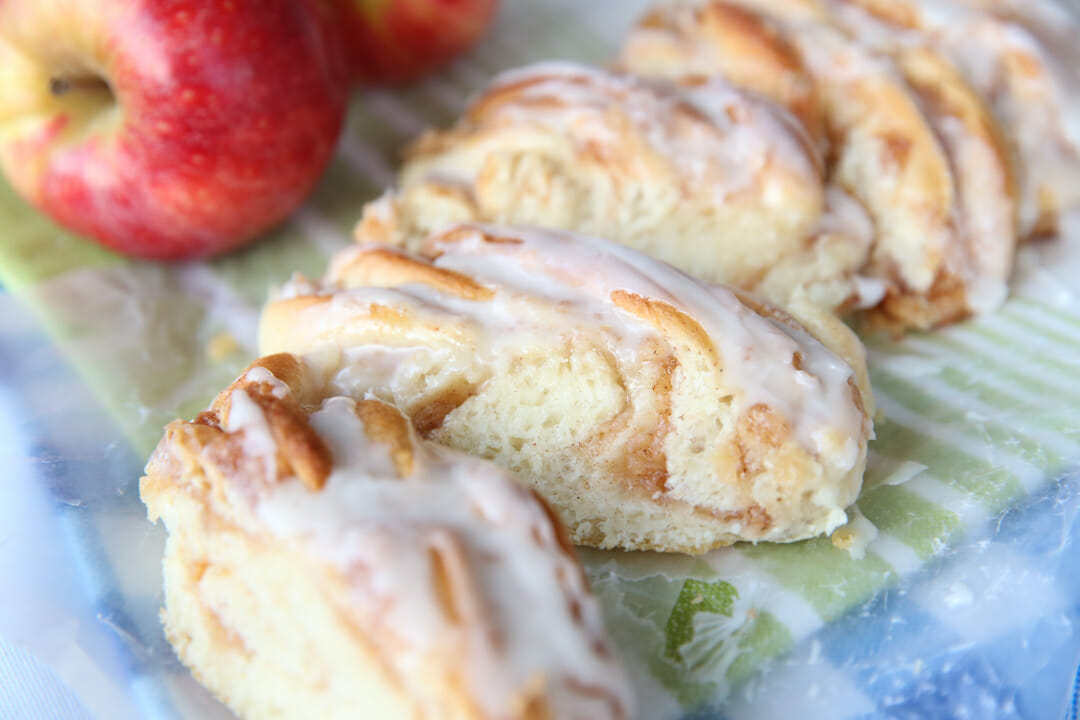 I LOVE recipes that make more than one loaf, too.  This is great for sharing, or for devouring one asap and saving one for later!
And can we just re-visit my Italian version?  When this cheese and tomato one came out of the oven I drizzled it with pesto.
PERFECTION, I tell ya.  So great along side a pot of soup on a chilly fall day.  These are both fabulous and I hope you try it!
Print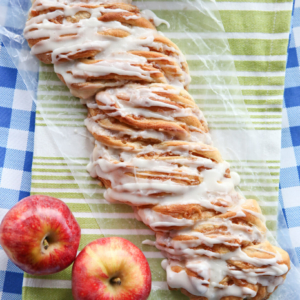 Cinnamon-Apple Twist Bread
Author:

King Arthur Flour

Prep Time:

20 minutes

Cook Time:

30-40 minutes

Total Time:

27 minute
---
Description
A delicious sweet bread with ribbons of fresh apple-cinnamon filling and a sweet drizzle!
---
For the Dough:
3 1/4 cups

All-Purpose Flour

1/4 cup

potato flour OR

1/2 cup

+

1 tablespoon

dry instant mashed potatoes, unflavored*

3 tablespoons

granulated sugar

1 1/2 teaspoons

instant yeast

1 1/4 teaspoons

salt

3 tablespoons

soft butter

1 teaspoon

vanilla extract

1

large egg

1 cup

+

2 tablespoons

room-temperature or lukewarm milk
For the Filling:
1 cup

peeled, grated apple (about 1 large apple, or

1

to

2

smaller apples)

1 tablespoon

lemon juice

1/2 cup

granulated sugar

3 tablespoons

cornstarch or

2 tablespoons

Instant ClearJel

1/8 teaspoon

salt

1 teaspoon

cinnamon

1 cup

chopped walnuts or pecans, optional
For the Glaze:
1 cup

powdered sugar

1 teaspoon

vanilla extract

1/8 teaspoon

salt

1

to

2

tablespoons water or apple juice OR 2 to 4 tablespoons heavy cream
---
Instructions
To make the dough: Whisk together all of the dry ingredients, then add the butter, vanilla, egg, and milk, mixing until a shaggy dough forms. If your schedule permits, let the dough rest for 30 minutes; this resting period allows the flour to absorb the liquid fully, making it easier to knead.

Knead the dough — by hand, using a mixer, or in a bread machine set on the dough cycle — until it's smooth and soft, though still slightly sticky. Place the dough in a greased bowl, turning to coat. Cover the bowl, and let the dough rise until it's almost doubled in bulk, about 1 1/2 to 2 hours. The amount of time this takes will depend on the temperature of your kitchen; yeast works the fastest at about 85°F, but we prefer the flavor the bread gets from a longer, cooler (about 70°F) rise. If you're using a bread machine set on the dough cycle, simply allow it to complete its cycle.

While the dough is rising, make the filling.

To make the filling using cornstarch: Toss the grated apple with the lemon juice in a saucepan. Whisk together the sugar, cornstarch, salt, and cinnamon, and add to the pan, stirring to combine. Cook over low heat, stirring frequently, until the apple starts to release its juice. Increase the heat to medium, and bring to a simmer. Simmer, stirring, until the mixture thickens, 1 to 2 minutes; drawing a spatula across the bottom of the pan should leave a track that doesn't readily fill in. Remove from the heat, and set aside to cool to room temperature; if you want to hasten the process, place in the refrigerator.
To make the filling using Instant ClearJel: Whisk together the sugar, ClearJel, salt, and cinnamon. Toss the grated apple with the lemon juice, then add that to the sugar mixture. Mix well, and set aside.

To assemble the loaf: Gently deflate the risen dough and turn it out onto a lightly floured or greased work surface. Divide the dough in half. Roll the first half into a 10″ x 12″ rectangle. Spread half the filling over the rolled-out dough, leaving a 1/2″ margin clear of filling along all sides. If adding chopped nuts, sprinkle them evenly over the filling.

Starting with a long side, roll the dough into a log, sealing the edge. Use a bench knife, pizza cutter, or sharp knife to cut the log in half lengthwise. Place the half-logs, filled side up, side by side on a well-greased or parchment-lined baking sheet. Keeping the filling side up, twist or "braid" the two logs together, working from the center to each end. Pinch the ends together. Repeat with the second piece of dough. Cover the twists lightly, and set them aside to rise for 1 to 2 hours; they should be puffy but not doubled in bulk. Want to make the bread ahead, then refrigerate overnight and bake the next morning? See "tips," below.

To bake the bread: Bake the loaves in a preheated 350°F oven for 30 to 40 minutes, until they're lightly browned. Check the loaves after 20 minutes and tent with aluminum foil if they're browning too quickly. When the loaves are fully baked, a digital thermometer inserted into a loaf (be sure to position the thermometer in the bread, not the filling) should register about 190°F. Remove the bread from the oven and allow it to cool for about 1 hour before glazing and serving.

To make the glaze: Mix together all of the glaze ingredients. Drizzle over the loaves once they're cool.

Store leftover bread, loosely covered, at room temperature for several days; freeze for longer storage. If you know ahead of time you're going to freeze one or both of the loaves, don't glaze; wrap completely cooled, unglazed bread tightly in plastic, and freeze for up to a month. When ready to serve, remove from the freezer, unwrap, cover loosely with plastic, and let thaw at room temperature. Glaze and serve.
---
Notes
If you don't have potato flour or flakes, substitute 3/4 cup (about 6 ounces) unseasoned mashed potatoes, adding them to the dry ingredients along with the milk. Reduce the milk to 2/3 cup, adding additional flour or milk as needed to create a smooth, soft dough.
For a slightly softer loaf, replace the all-purpose flour in the dough with our Pastry Flour Blend. Reduce the milk in the dough to 1 cup. Want to increase the loaf's shelf life? Add 1 tablespoon granular lecithin to the dough.
Want to prepare this loaf ahead, then bake it the next day? Make the bread up to the point where it's shaped and on a pan. Cover the loaves with lightly greased plastic wrap, and refrigerate overnight (about 12 hours). Next morning, remove the loaves from the fridge, and let them come to room temperature and rise a bit (still covered); this will take 1 to 2 hours, depending on the warmth of your kitchen. Bake and finish as directed.
To make apple swirl rolls: Follow the directions above to the point where you've rolled the dough into a log. Repeat with the remaining piece of dough, then cut each log into 1″ slices. Place the slices cut side up in well-greased or parchment-lined pans, placing them close together (though not touching) for soft-sided rolls, or about 2″ apart for crustier rolls. Allow the rolls to rise until they're puffy. Bake as directed, reducing the baking time to 18 to 20 minutes. Drizzle with glaze.