Before we get to super adorable and ridiculously easy fall-themed goodies I just have 2 things to say:
1.  We're on our way to Phoenix today!  Some of you will see us at the event we're speaking at this weekend.  We've had lots of people ask if we'll sign books at the event and the answer is yes!  Gladly!  We're always seated in the front row, just walk on up during breaks and/or lunch and we'd love to meet you; we'll be there all day on Saturday.  For the rest of you Arizonans (is that what you're called?? lol)  We'll be doing a book signing in Mesa TONIGHT!  That's Friday, Nov. 2nd from 6:30-8 pm.  It's at the Deseret Book Store at 1350 S Gilbert Rd #4 in Mesa.  Hope to see you there, please spread the word!
2.  I almost didn't do a recipe post today (yes, I am in fact calling this post a "recipe".  Don't fight it.)  As I was getting out all of my stuff to photograph I had the news on with coverage of Hurricane Sandy.  A silly little food post seemed like such a completely frivolous and unimportant thing to be talking about with everything happening on the East Coast.  I guess I just want to send my thoughts and prayers out into cyberspace.  I hope all of our readers who have been affected by the devastation are safe, I hope everyone who has family and friends in those areas are feeling comfort, and I hope everyone and everything can be safe, dry, and warm very, very soon.
Now.  Let's talk treats.  Easy treats.  Delicious treats.  Adorable treats.  Halloween came and went so fast.  My family took to the streets on Wednesday as a bunch of Avengers (thanks to suggestions from you guys!)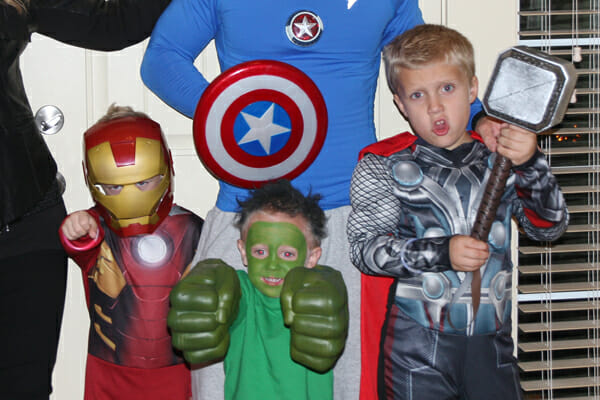 My 2 year old kept at least one giant hand on all night.  I was amazed.  I'm always surprised at how quickly we switch holiday gears after one is over.  Time to start thinking about Thanksgiving and fall treats.  I always need little things like this (ie: easy, cute, yummy, quick) for school treats, little gifts for friends and teachers, and fun things to make with my kids for our weekly Family Night.  I have a thing for acorns, I just think they're so darn cute, so I'm going to show you two different ways to make some edible ones.
You'll need an assortment of deliciousness for this first one (okay, and for the second kind too, but let's not get ahead of ourselves!)  Three of my favorite things:  Nutter Butters (the mini kind), Hershey's Kisses, and mini chocolate chips.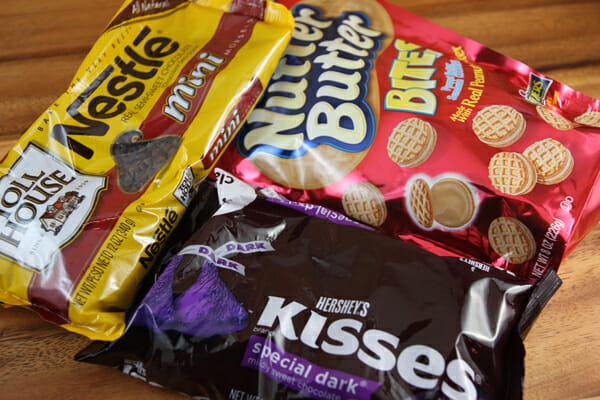 You can use any kind of Hershey's Kisses, just keep in mind you're pairing it with peanut butter, so stick with something that won't taste funky with that.  I used dark chocolate ones, mmmm…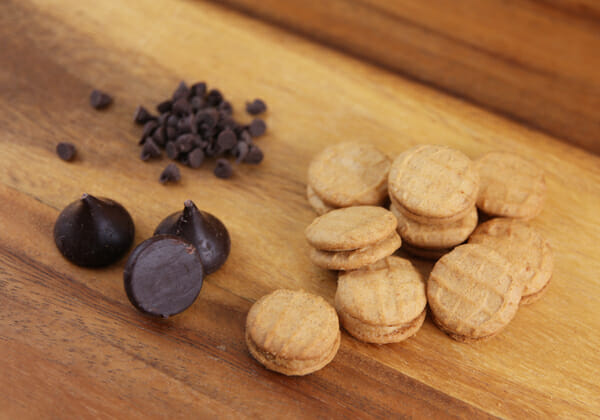 You'll need just a bit of frosting to glue everything together.  You can make a little "paste" of your own with a little softened butter, powdered sugar, and cocoa powder- really, you need very little.  Or, I usually have one of these around for little crafty-foodie projects like this:
Just use a dab of frosting to attach a Kiss to each cookie:
And then pop a little chocolate chip on the top.  I've found it works best to have your frosting in a Ziploc bag with the tip cut off and then you can just scrape your little chip across the opening to get a tiny bit of frosting on it and stick it on there.  You can also use regular sized chips, or peanut butter chips here, I just happen to like how the mini's look.  You can also use a mini Nilla Wafer instead of a Nutter Butter (great option if you've got nut allergies at your house) but again, I like the Nutter Butters because they have that cute criss-cross pattern on top.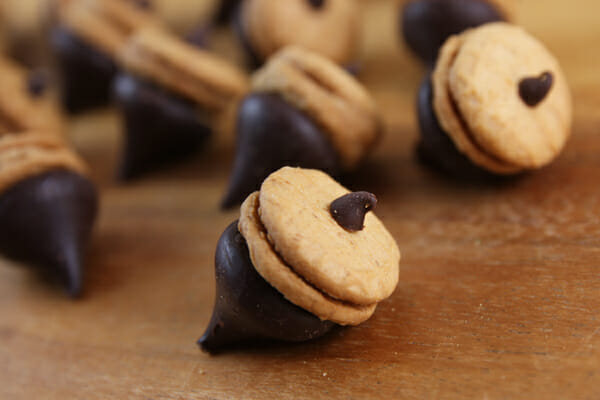 It's easy to make a bunch at once and look how adorable they look when you're all done?  Bonus: no dirty dishes.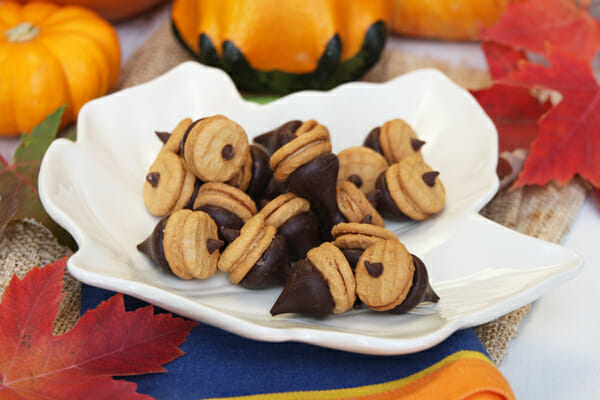 These make clever little gifts if you fill a cute jar or treat bag.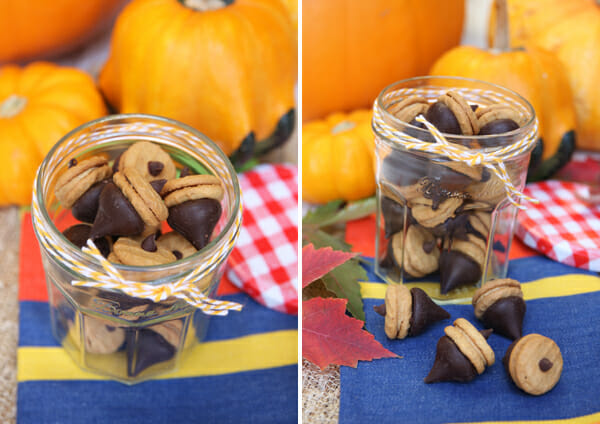 I need a cute little saying to go with these…someone creative come up with a play on "acorn" for me!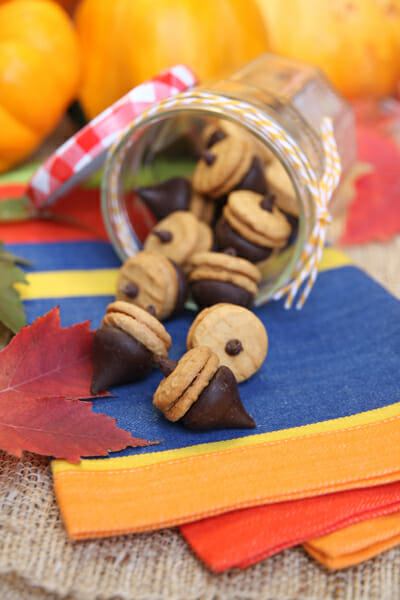 Alright- acorn #2's.
These ones start with doughnut holes.  Side note: Anything that starts with a doughnut hole is already a winner in my book.
Since doughnut holes can be funny shaped sometimes, I often slice the very top off on one end to make it flat.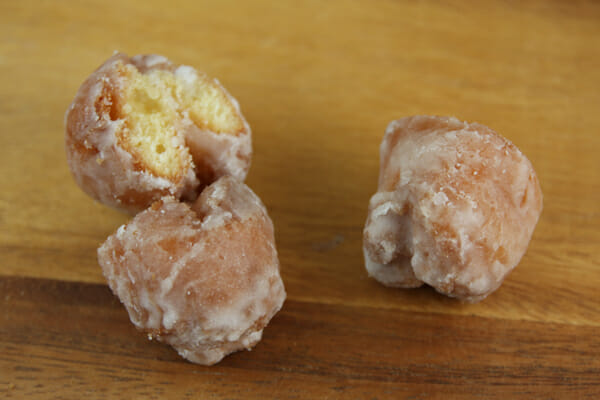 Then you're just going to dunk the one flat end in a little melted chocolate and then in a topping of your choice.  I've used sprinkles, mini chocolate chips, toffee bits, chopped toasted coconut, and more.  I'm using coconut here.  And then just use a little piece of a pretzel for the stem.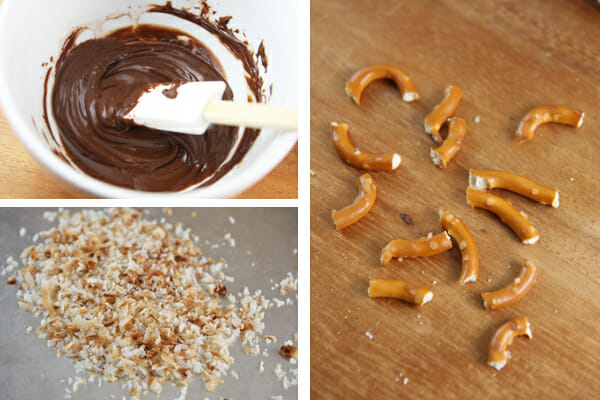 Ta-da!  Instant cuteness.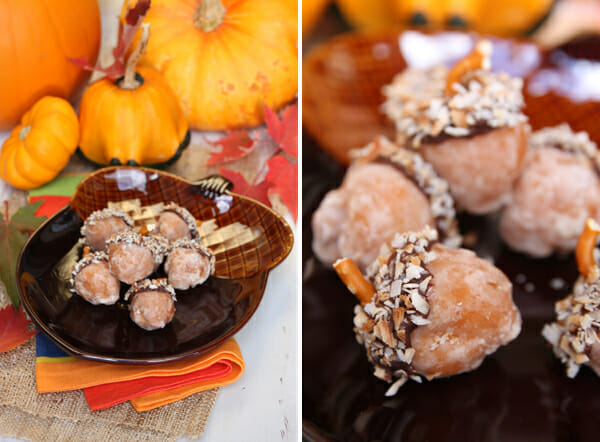 These are fun for party food, or nestled in a cute box for a little gift.
PS: Doughnuts dipped in chocolate and toasted coconut are amaaazing.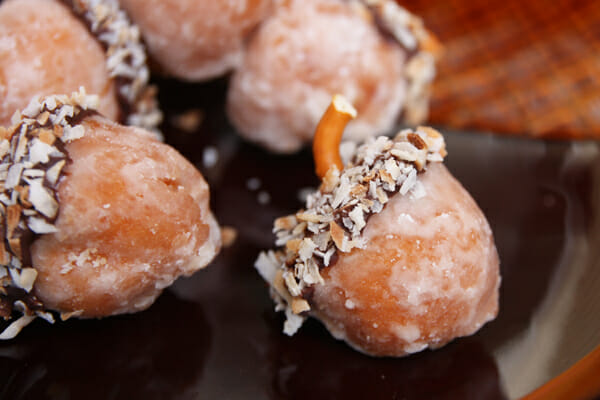 That's all for today- I have to go unpack my suitcase from last weekend so I can pack it again for today.  Hope to see some of you this weekend-  Happy Fall, Y'all!
*Disclaimer: this post includes affiliate links.