Earlier this summer Kate and I got to visit the Ben & Jerry's headquarters in Burlington, Vermont. We still need to show you pictures from that amazing trip! In addition to copious amounts of ice cream, we had some really great food from local restaurants. One day in particular, a giant salad was delivered and I wish I could remember the name of the restaurant it came from. What I do remember was a bottle of homemade dressing to go with it that had a handmade label on it that read "grapefruit vinaigrette". I've made dressings from just about every other citrus (lemon, lime, orange) but never grapefruit! So I thought I'd try and recreate something at home.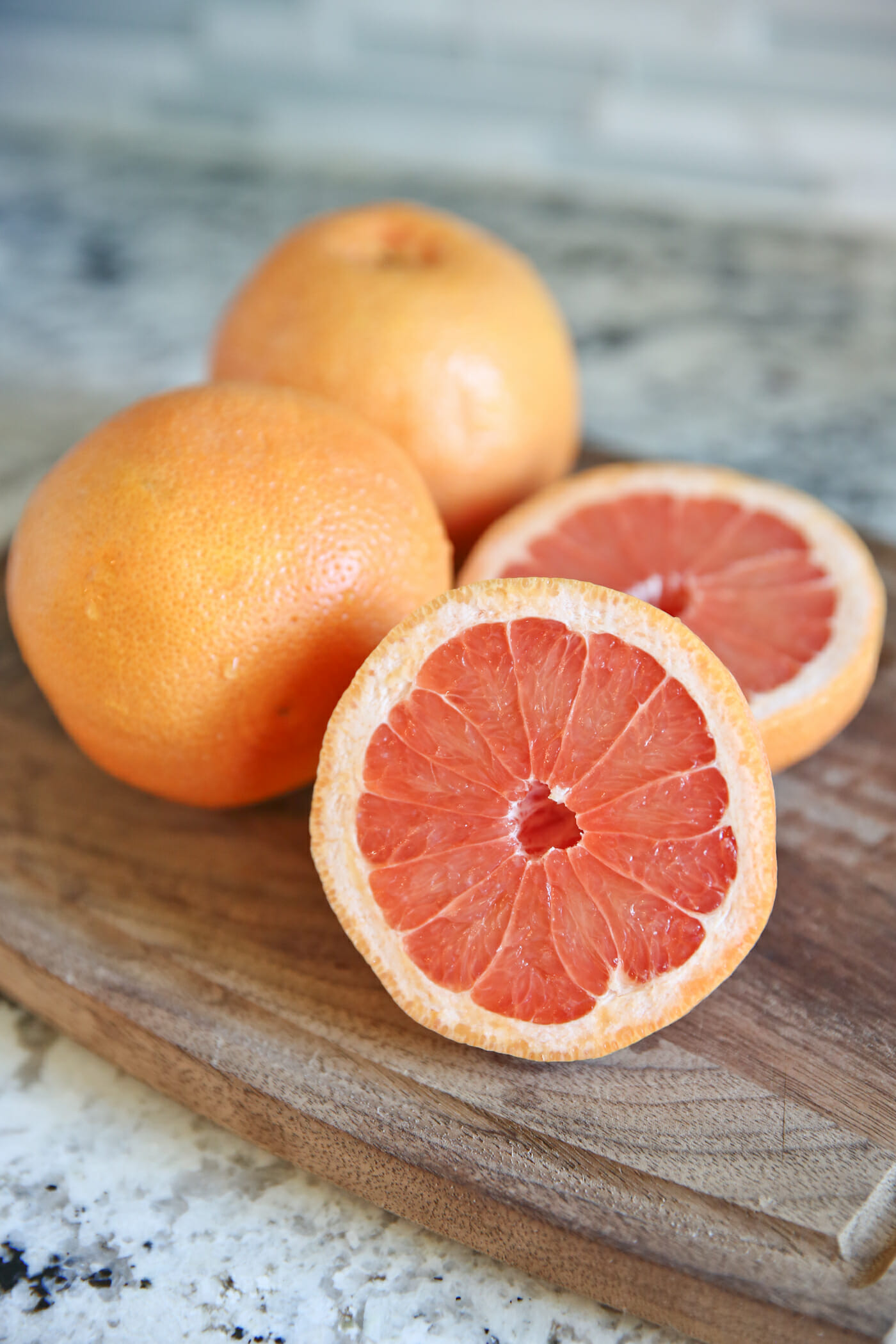 I feel like I should preface this post with one simple fact: I don't really like grapefruit. I like anything and everything grapefruit flavored or scented- it's one of my favorites, actually. But just eating plain grapefruit is never something I've been able to get behind. So if you're like me, keep in mind that the grapefruit is used as an acid here, and when blended with all of these flavors, it's super spectacular.
So. You'll need the juice from about 1 large grapefruit.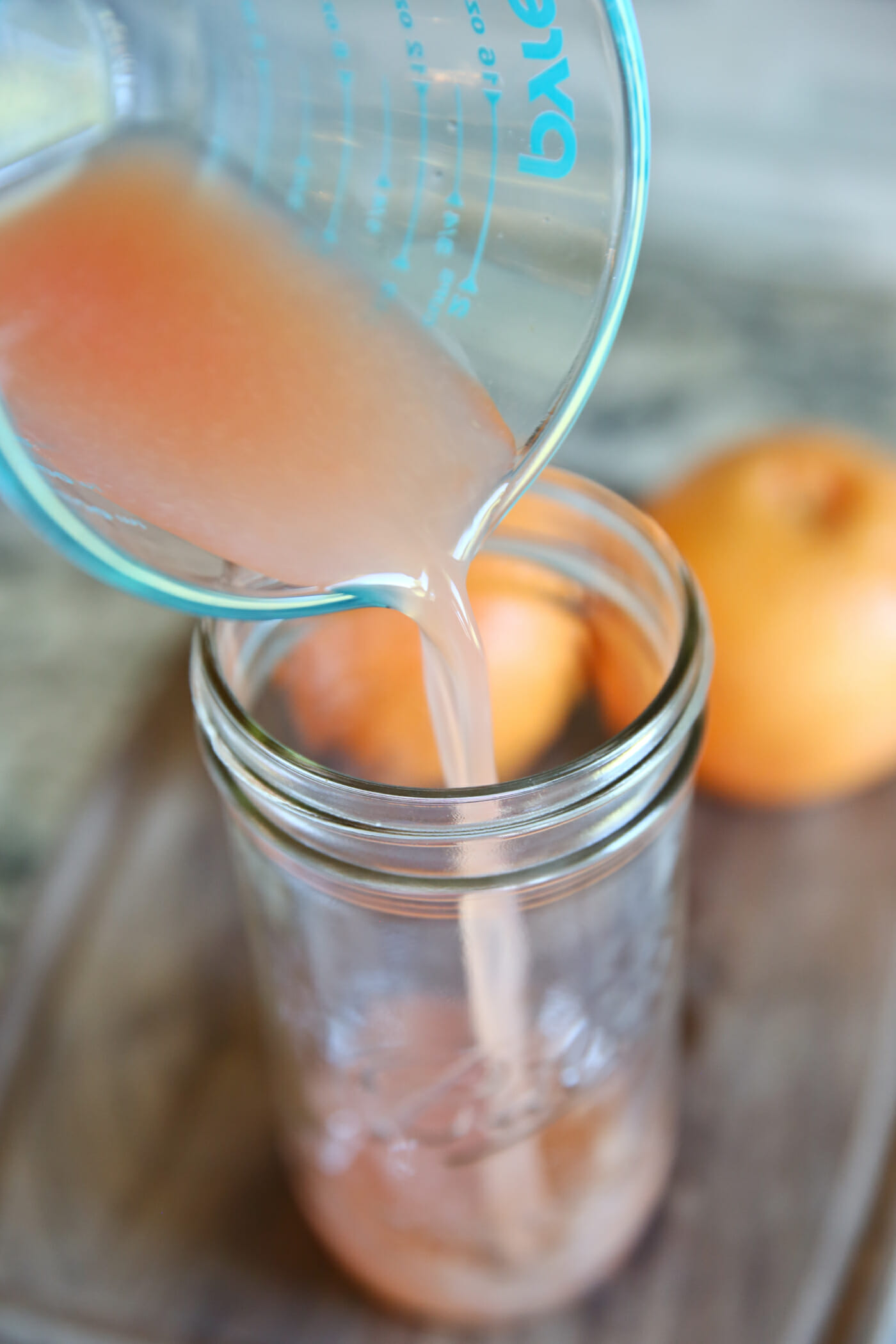 And you'll add some red wine vinegar, a few seasonings, and canola oil. You can definitely play around with different vinegar; I grabbed the red wine because (aside from the flavor) the color works well here and enhances the blush hues.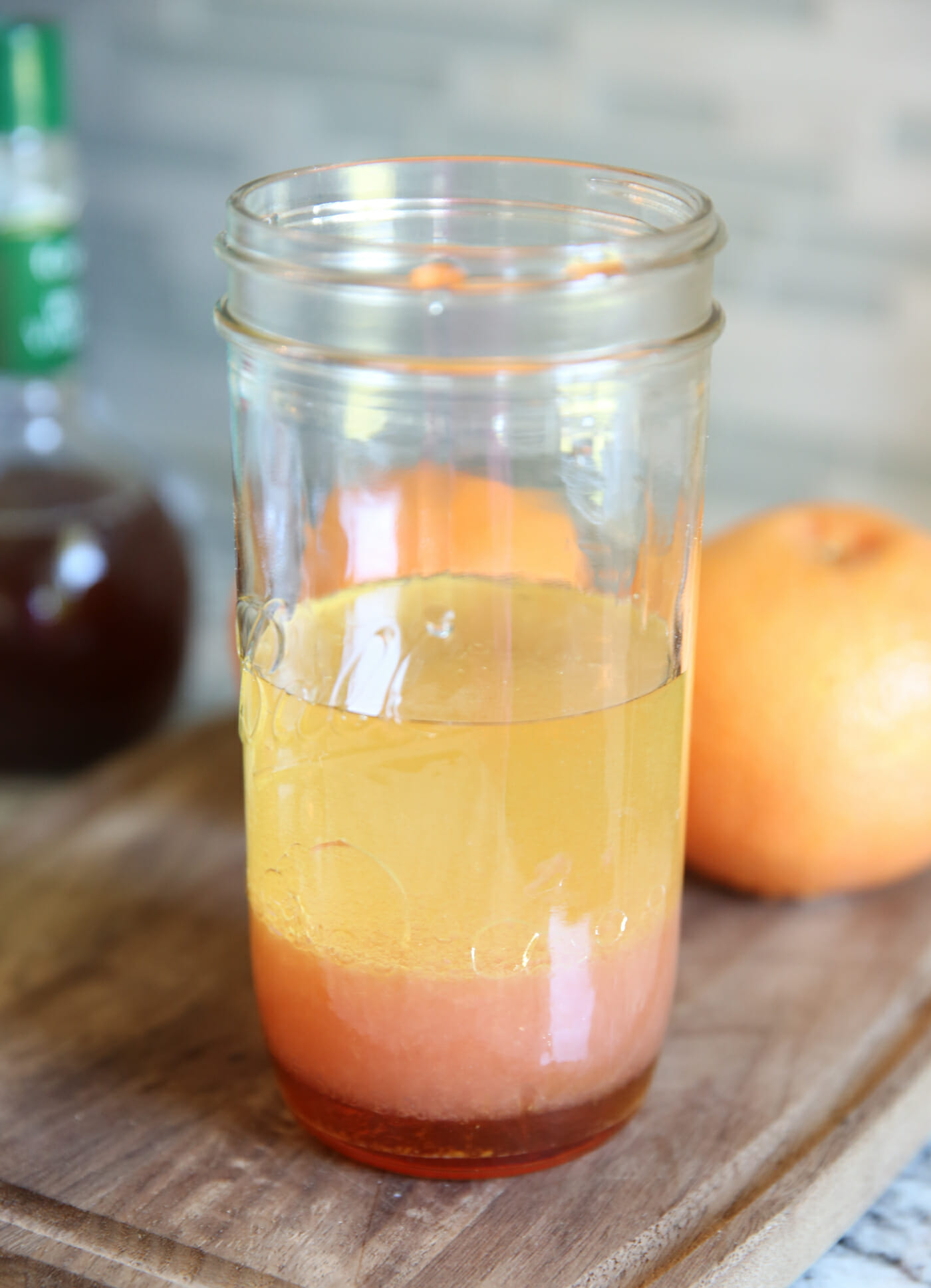 If you're making it in a jar, just shake-shake-shake.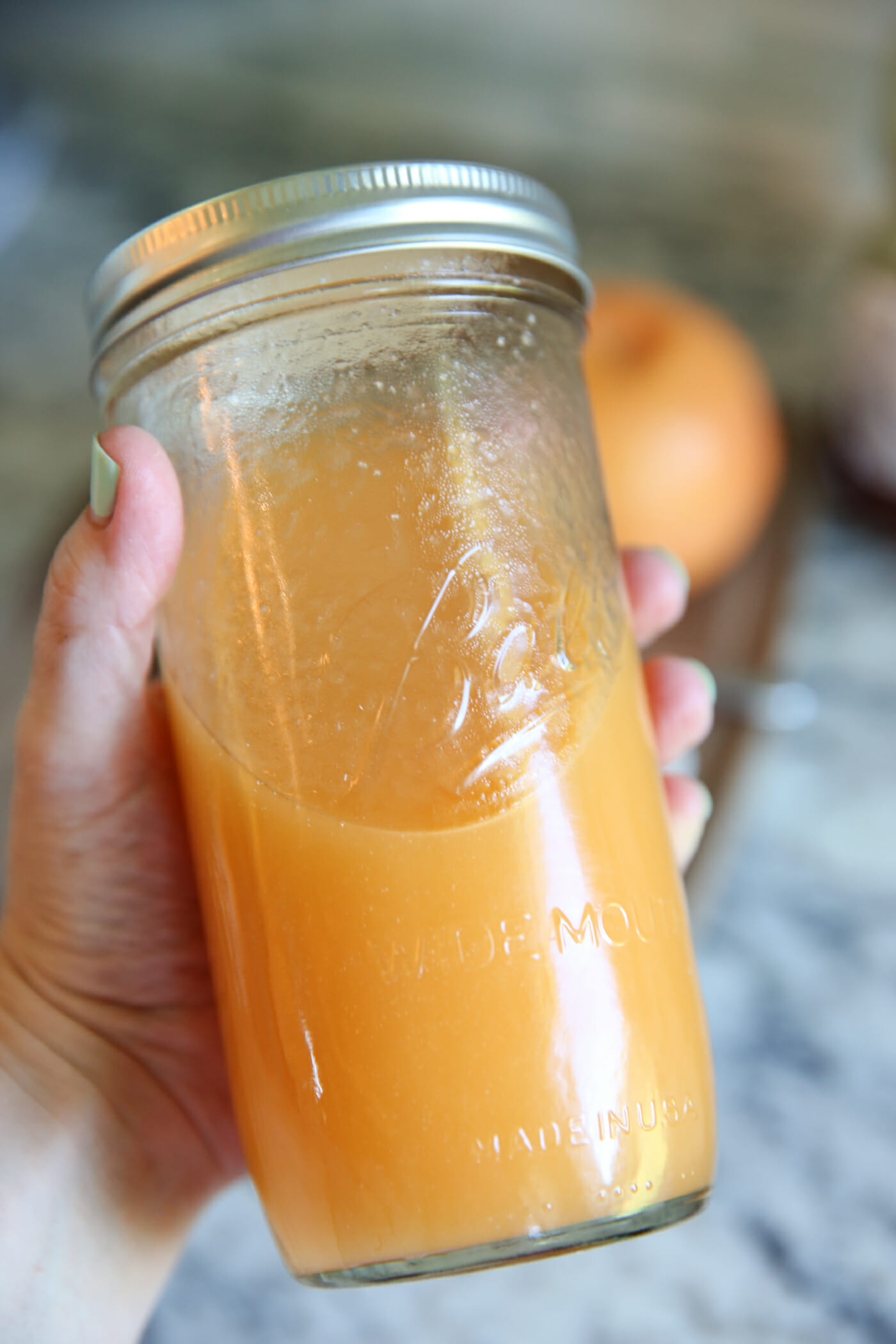 You can also make this in a blender- I've included instructions for both in the written recipe. I just love the gorgeous color and bright, fresh taste!
You can serve it on your choice of salad ingredients but just remember that it's a more delicate dressing, so it works especially well with lighter greens, like a spring mix, spinach or romaine.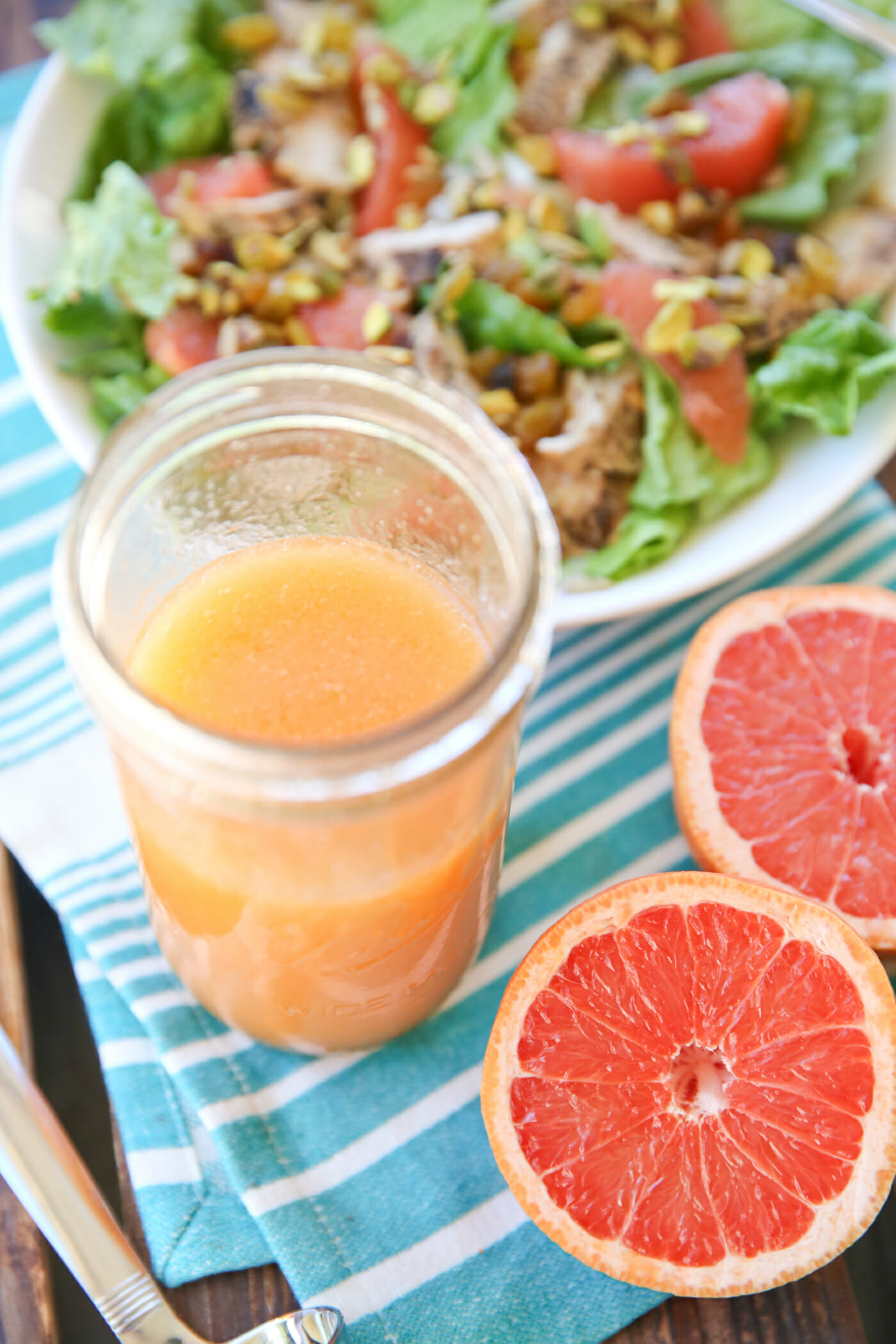 I've got grilled chicken, grapefruit segments, golden raisins, pistachios, sunflower seeds and feta on mine.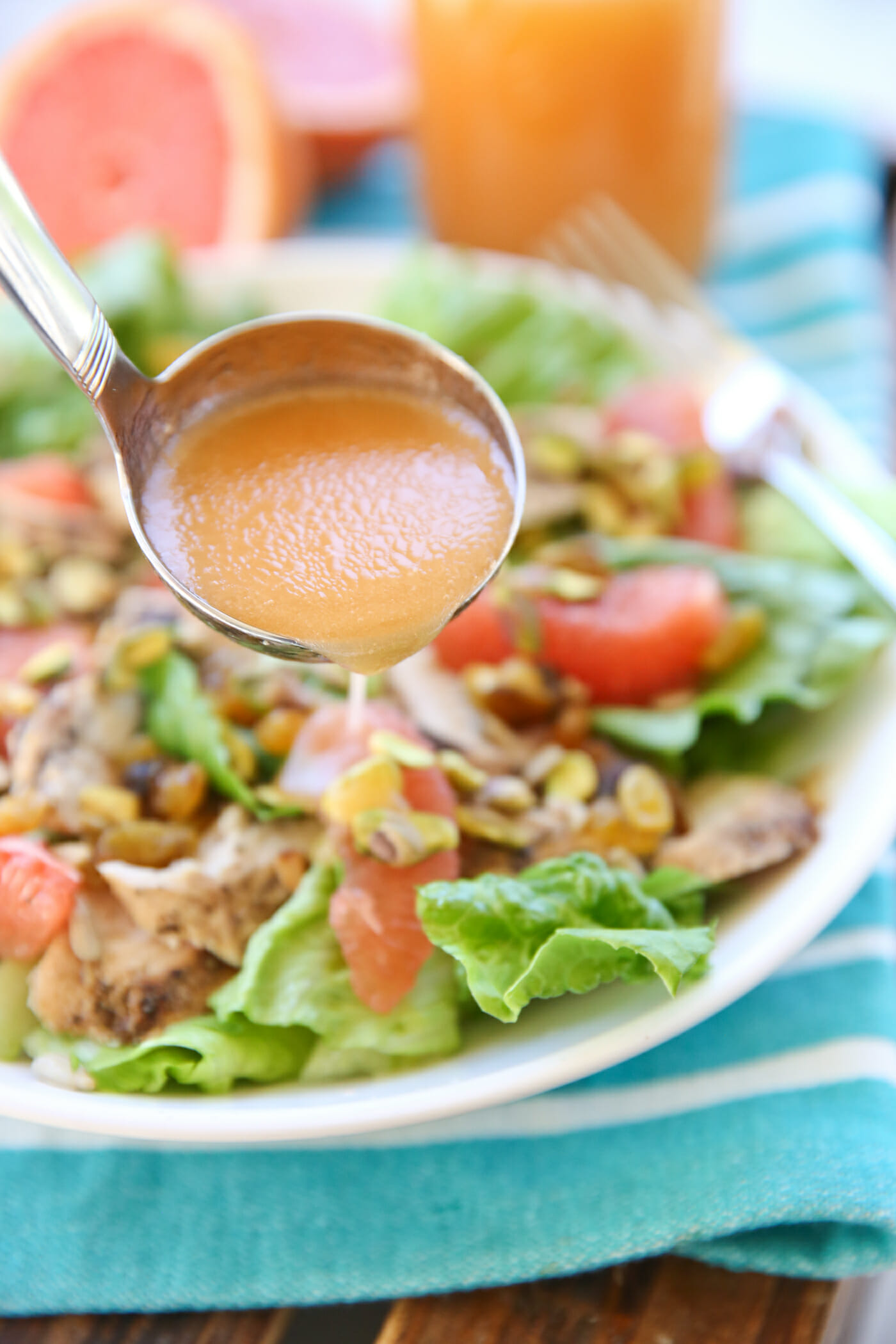 That's a lie. I can see I forgot the feta, but it was going to be on there.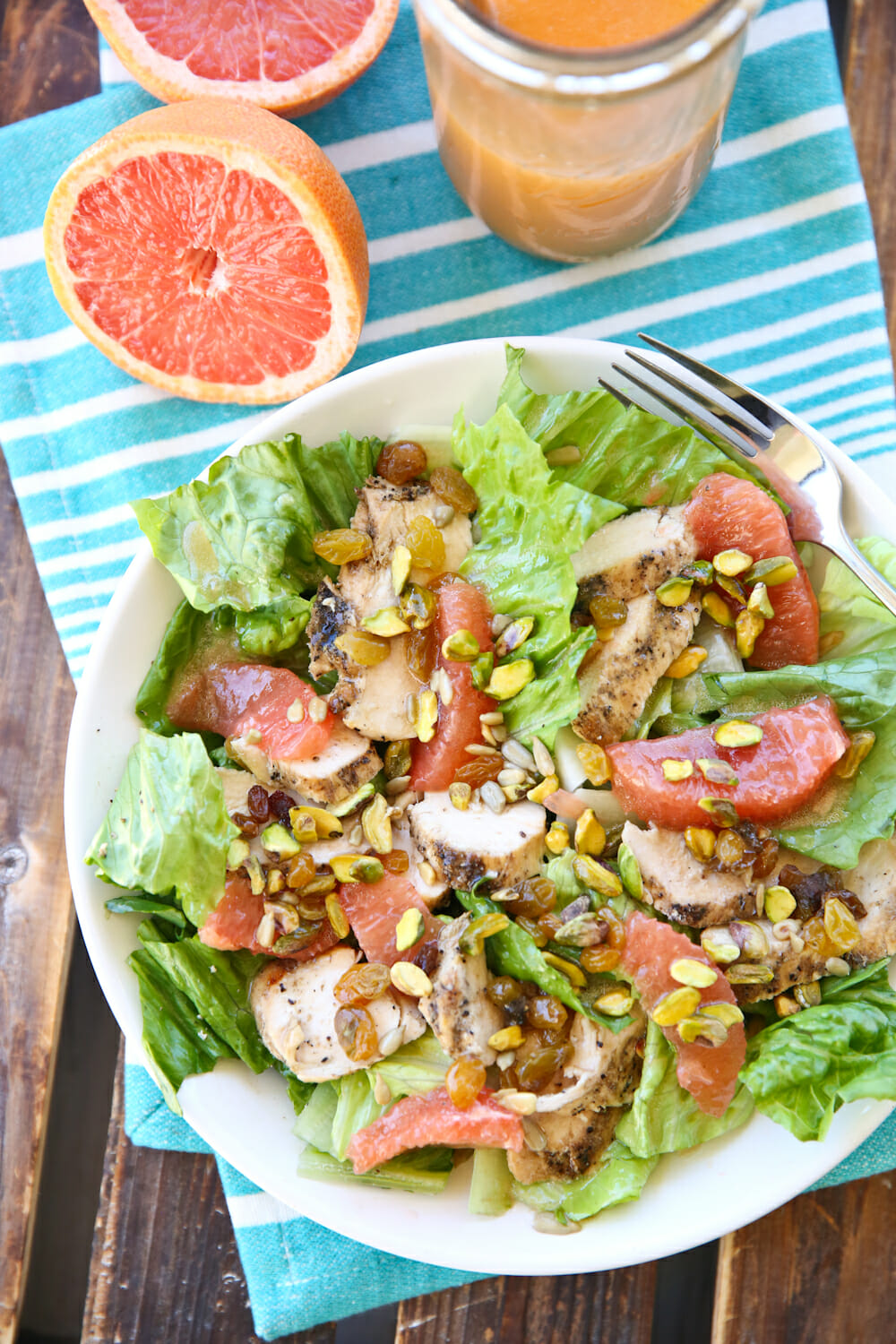 Avocado would also be amazing with all of this stuff. Be creative and try it out. It's perfect for later-summer meals on the patio!
Fresh Grapefruit Vinaigrette
---
Description
A deliciously fresh salad dressing with a gorgeous blush color.
---
1/2 cup

fresh squeezed grapefruit juice (about

1

large)

1 1/2 tablespoons

red wine vinegar

3/4 teaspoon

kosher salt

3 1/2 tablespoons

honey

1/4 teaspoons

onion powder

1/4 teaspoons

garlic powder

1 1/2 cups

vegetable oil
---
Instructions
Combine all ingredients in a mason jar and shake well. Alternately you could blend all ingredients except oil in a blender and then slowly with the blender running, drizzle in oil until combined. Store in fridge.
---
Notes
For extra flavor, add in a little zest from the grapefruit as well.