This Grilled Chicken and Berry Salad is sweet, fresh and summery. It's so simple, full of fresh greens, grilled chicken, strawberries, blueberries, toasted almonds, feta cheese, and a delicious berry vinaigrette. If you want to make it even more hearty, it's also delicious with sliced avocado and/or crumbled bacon. Bonus: It looks as amazing as it tastes!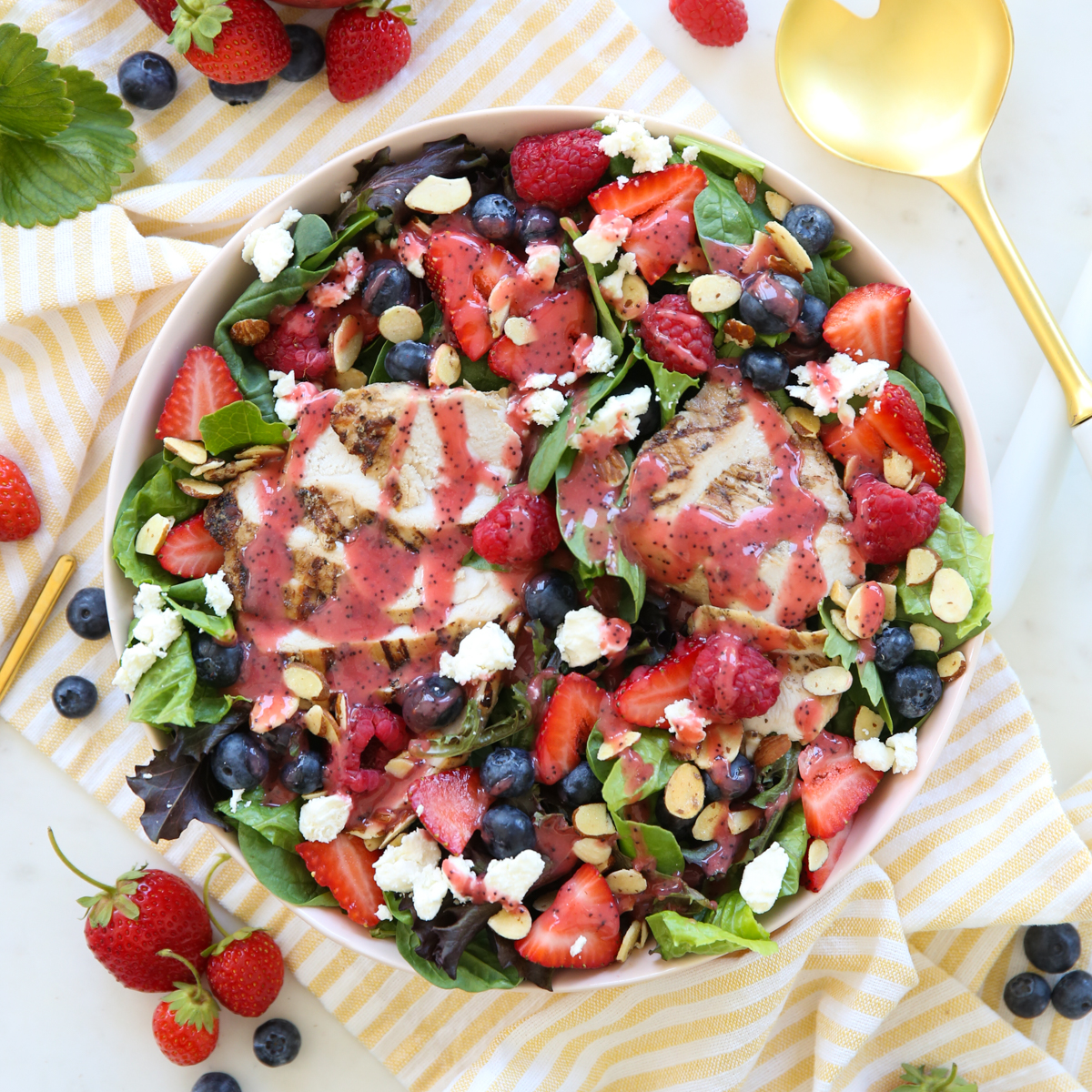 Ingredient Notes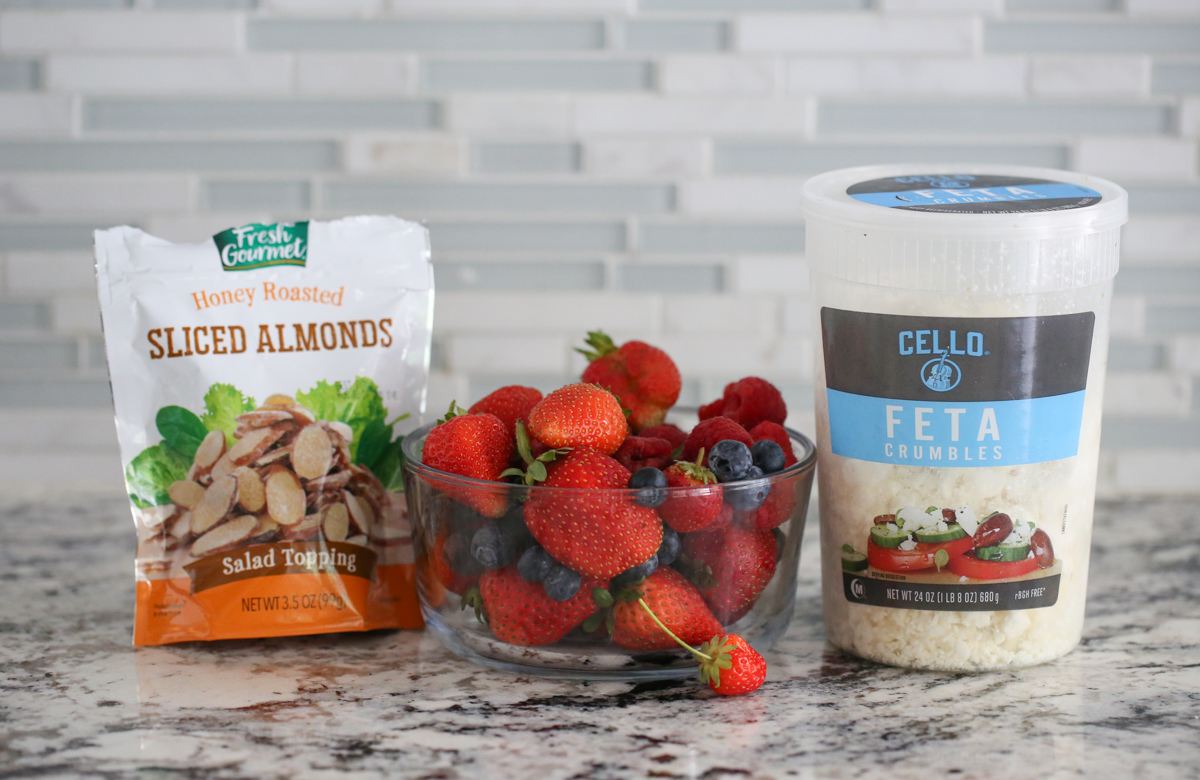 Greens – I use a mixture of romaine and spinach or spring greens, but any favorite leafy greens will do. I would avoid iceberg lettuce in this one. 

Chicken – I marinate 2-3 chicken breasts in Italian dressing and grill them up fresh (or a day ahead) for this salad. Really any leftover chicken will do! Rotisserie chicken is another great option. Simply leave out the chicken for a meatless option. 

Cheese – This recipe calls for tangy feta cheese. If you prefer, you can substitute fresh parmesan shreds.

Toasted Almonds – You can buy almonds already toasted. You will usually find them in the produce section or near the salad dressings on the condiments aisle of your grocery store. I love the honey-roasted ones! If you'd like to toast your own, you can do so one of two ways: 1. Pop them in the oven at 350 for 5-7 minutes, checking on them and stirring every minute or two, or 2. Toss them in a pan over medium heat on the stovetop and move around continuously with a silicone spatula until fragrant and toasty, about 4-5 minutes. Cool before using. 

Berries – This recipe calls for strawberries and blueberries or raspberries, but feel free to mix up the fruit as needed based on what you have on hand. Other berries would be delicious, as would diced peaches or nectarines.

Dressing – This Berry Poppyseed Vinaigrette makes the salad! It's worth making if you have the time. In a pinch, Brianna's brand blush wine vinaigrette would be a delicious variation. It's not interchangeable for the the homemade dressing, but it would compliment the flavors in this salad very well.
How to Make a Grilled Chicken and Berry Salad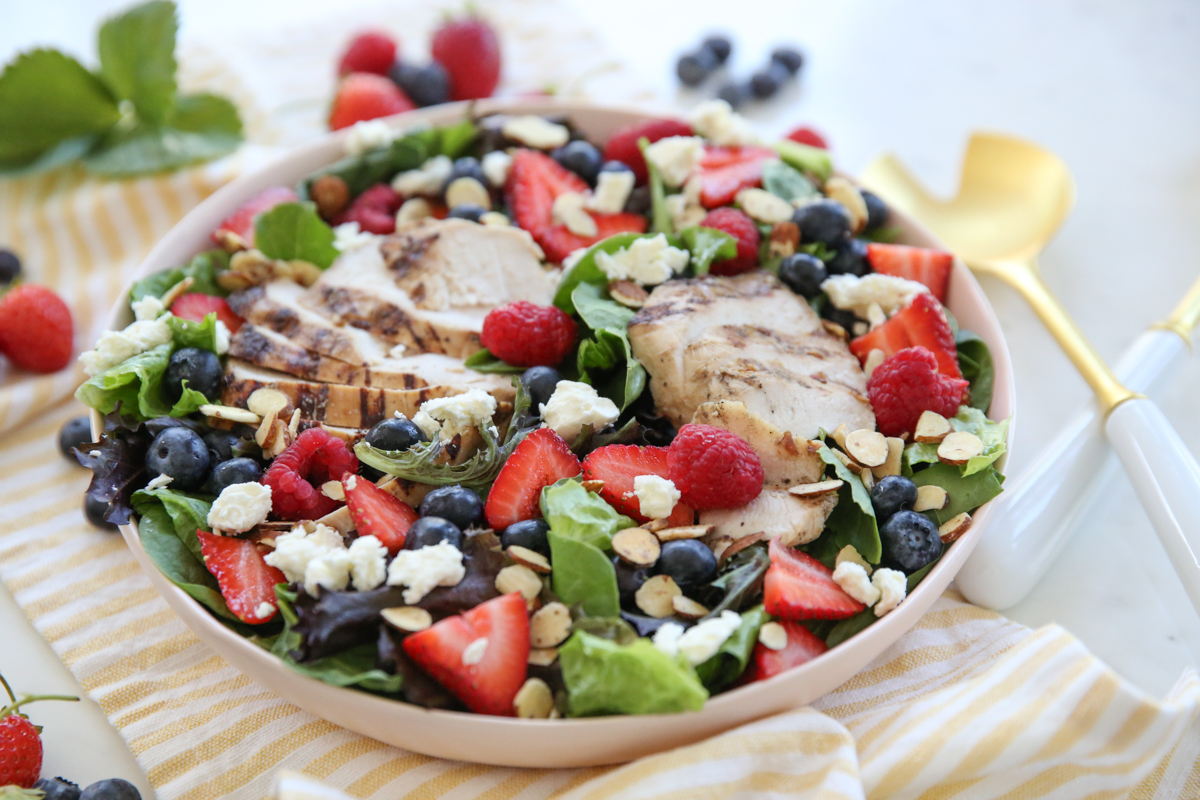 If you're using freshly grilled chicken, be sure to pop your chicken breasts in some Italian dressing or favorite marinade in the fridge for at least 30 minutes (several hours is even better). For quick cooking, consider butterflying your chicken breasts before marinating. Toss your chicken on the grill and toast some almonds if they need toasting.

Rinse your strawberries and blueberries and slice your strawberries. Chop your romaine if necessary.
When chicken is done cooking, set aside to rest while you assemble the salad.

Start with your greens, then sprinkle on some berries and almonds. Slice up your chicken and add that to the top along with the feta.

Add desired dressing (or serve on the side) and enjoy! If you're making this all in a big bowl for a crowd and are serving it immediately, I'd recommend dressing the entire salad just to make things easier.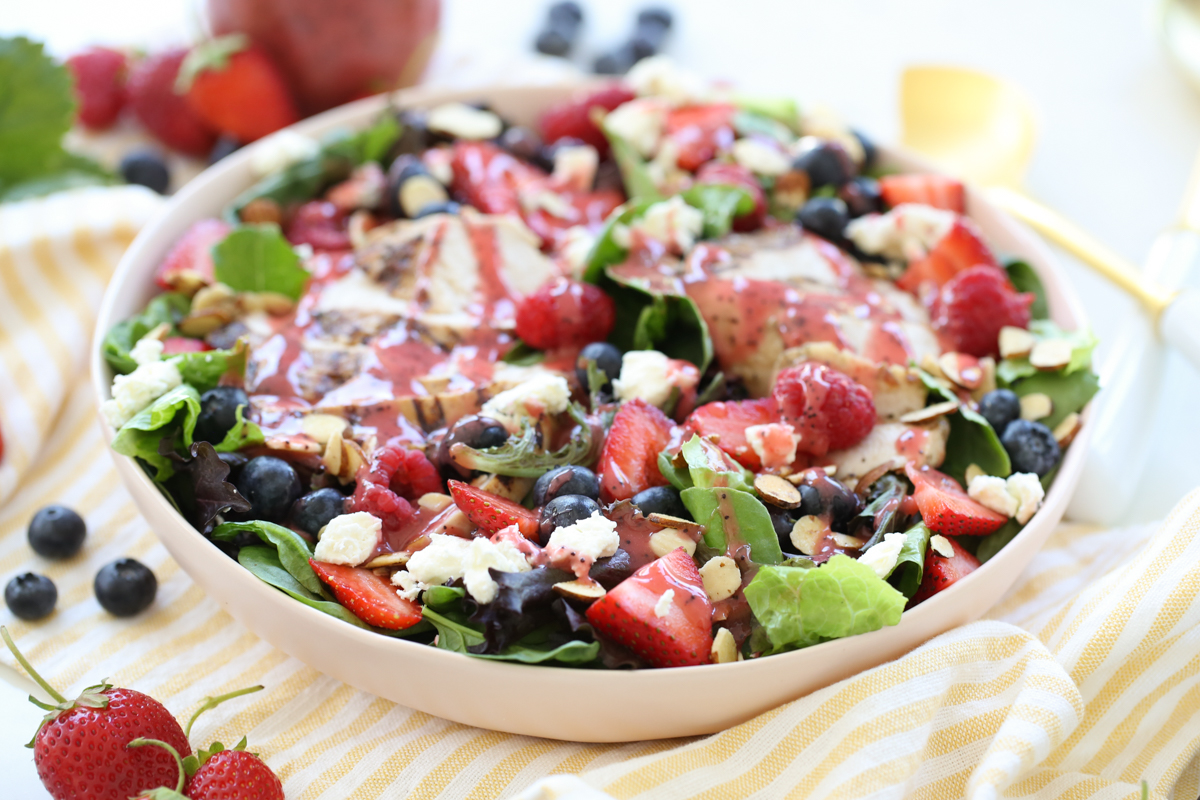 Serving Suggestions
This salad makes a great light meal on its own. If serving company, you could certainly leave out the chicken and serve the salad as a side with a grilled or roasted meat of your choice and a flavorful rice side like this Lime-Cilantro Rice with Pineapple or Lemon Garlic Herb Rice. A refreshing summer drink like Brazilian Lemonade or Virgin White Peach Sangria would be a fun addition as well.
Frequently Asked Questions
Can I prep this salad ahead of time? If you need to simplify putting this salad together, you can definitely take some steps to make it easier. Prepare your dressing a day ahead of time. Buy already washed and chopped romaine and spinach. Buy your almonds already toasted or toast them the day before and keep in an airtight container. I recommend washing and slicing berries within an hour or two of serving just so they don't begin to get mushy. For your chicken, you can either grill it as you start assembling things, grill it the day before and store in the fridge, or use a rotisserie chicken.
Did You Make This?
I'd love to hear from you! Snap a picture and tag me on Instagram, then come back and give this recipe a rating!
Print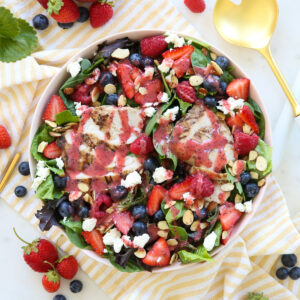 Grilled Chicken & Berry Salad
Author:

Our Best Bites

Prep Time:

15 minutes

Total Time:

15 minutes

Yield:

4-6 main dish
---
Description
Savory chicken, sweet berries, tangy feta, and crunchy almonds round out this salad with greens and grilled chicken with a delicious berry poppyseed dressing!  Salad ingredients are approximate- feel free to make to your liking using the ingredients below.
---
1 head romaine lettuce, washed and torn into small pieces
6-8 ounces baby spinach or spring greens
12-16 ounces chicken, seasoned and grilled
8 ounces strawberries, sliced
8 ounces blueberries or other berries of your choosing
4 ounces crumbled Feta or shredded fresh Parmesan cheese
1 cup sliced toasted almonds 
Berry Poppy Seed Dressing to taste
---
Instructions
For serving a large crowd, toss all the salad ingredients in a large serving bowl and add dressing to taste. For individual servings, arrange ingredients on plates and serve the dressing on the side.  Makes about 8 side dish servings and 4-6 main dish servings.
---
Keywords: salad, berries, summer salads, chicken