Autumn is in full swing here in Boise and it has been glorious. Blue sunny skies, firey reds, oranges, and golds on all our trees and crisp cool air. This is my favorite time of year and I wanted a salad that encompassed all of it! Do you guys remember that Honey Cider Vinaigrette I shared a couple weeks back? Although it's great on lots of things, I created it specifically to go with this salad. This Autumn Harvest Salad is loaded with all of my favorite fall ingredients, but feel free to substitute and alter depending on what you like.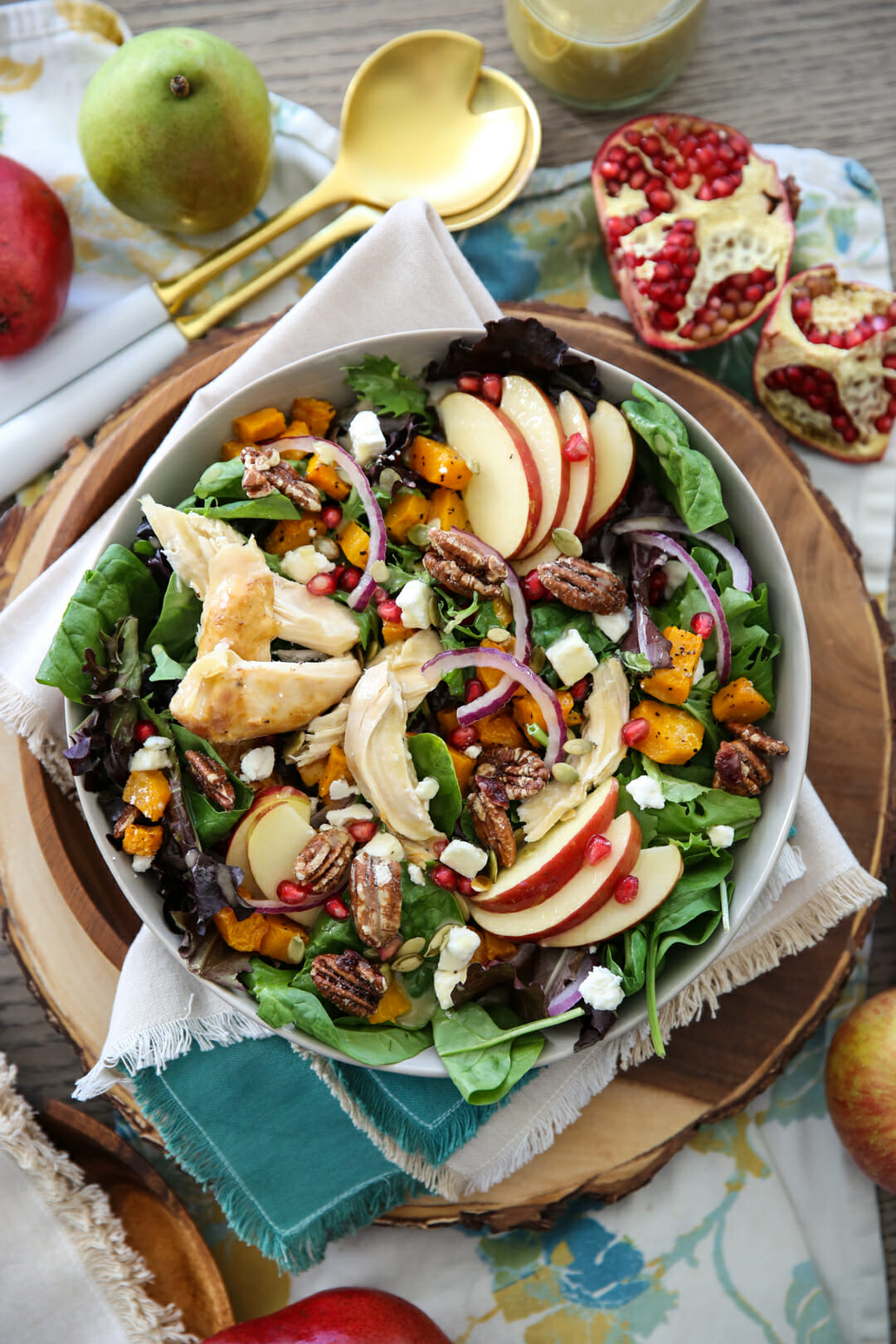 One of my favorite things in here is roasted butternut squash. If that sounds odd to you, you've just got to try it! Roasted squash on salads adds a buttery richness and also some bulk that makes the meal really filling. If you don't have time for the squash you could certainly leave it out, but if you can swing it I definitely recommend it. I always roast squash in the Rosemary Olive Oil from our Shop, it pairs fantastically with butternut and all varieties of squash.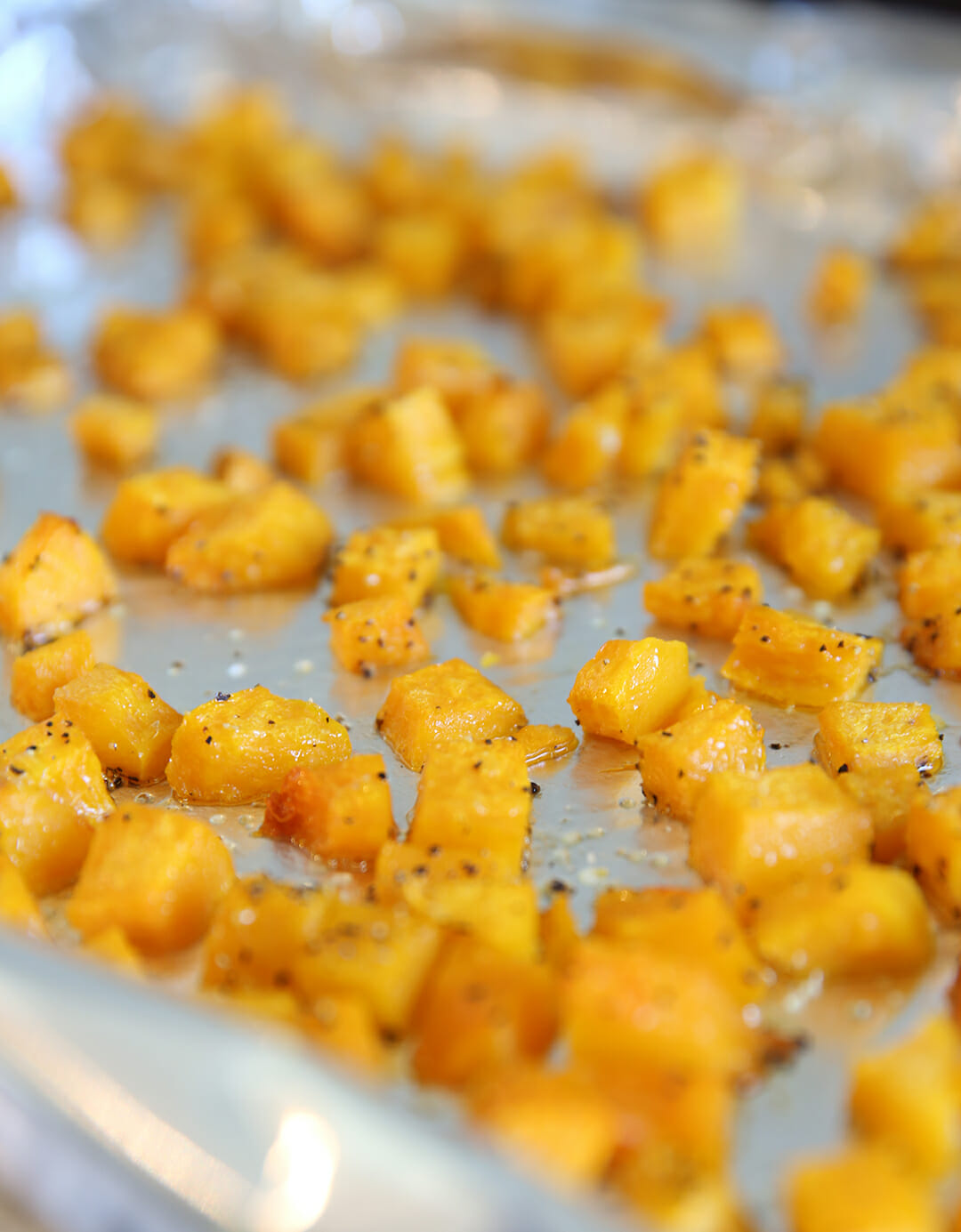 You can toss the squash in warm, or at room temp, or even cold. I usually prep it a little ahead and toss it in at room temp.
Now let's talk about what else is in here. We've got crisp, crunchy apples of course. Pears would work well also, but I love the crunch from the apples.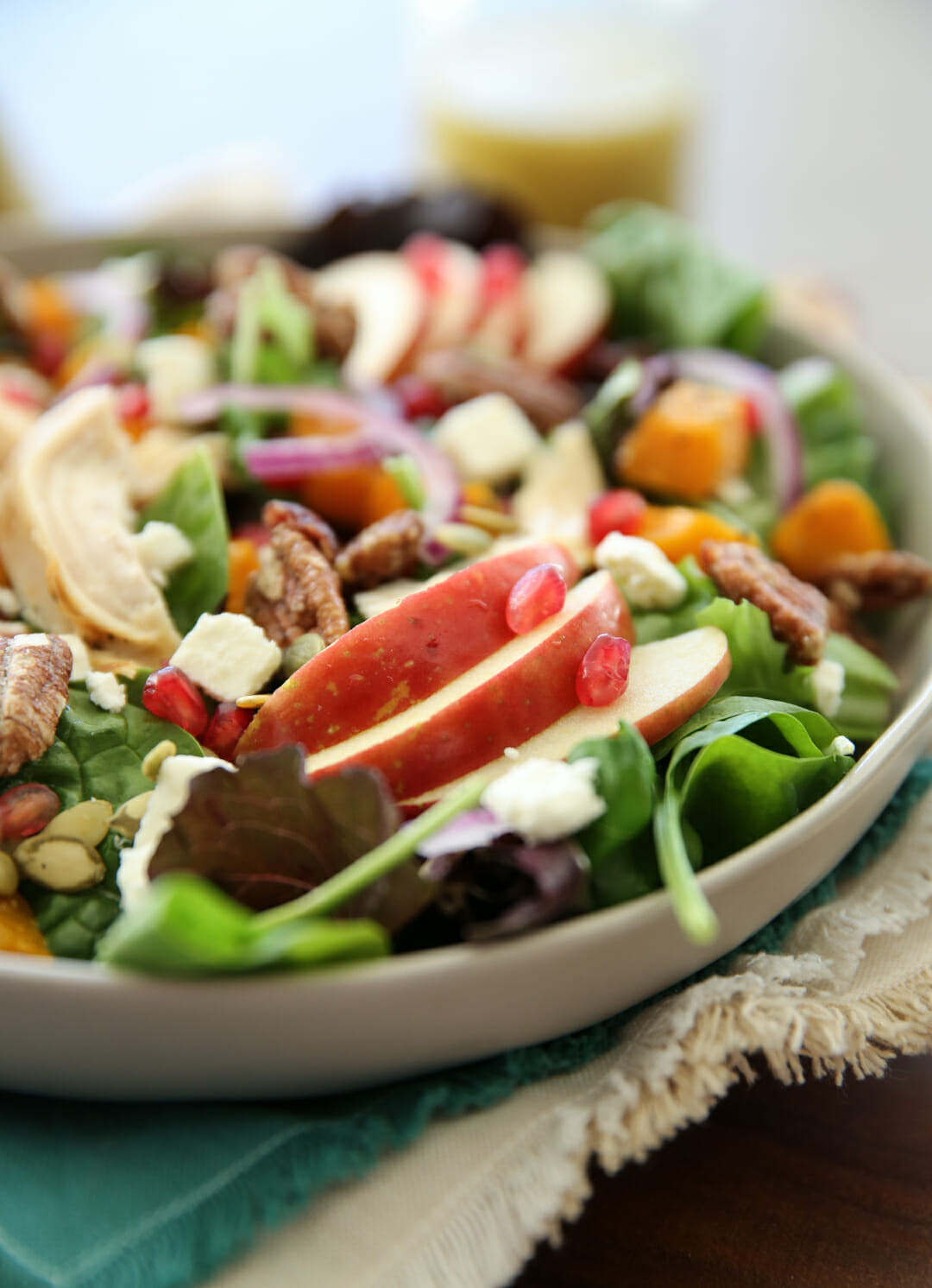 Speaking of crunch, I love a good mix of crunchy and soft things, so I always add a candied nut, which you can make or buy. Pumpkin seeds (Pepitas) are super festive, too!
Feta adds a tangy, salty, bite.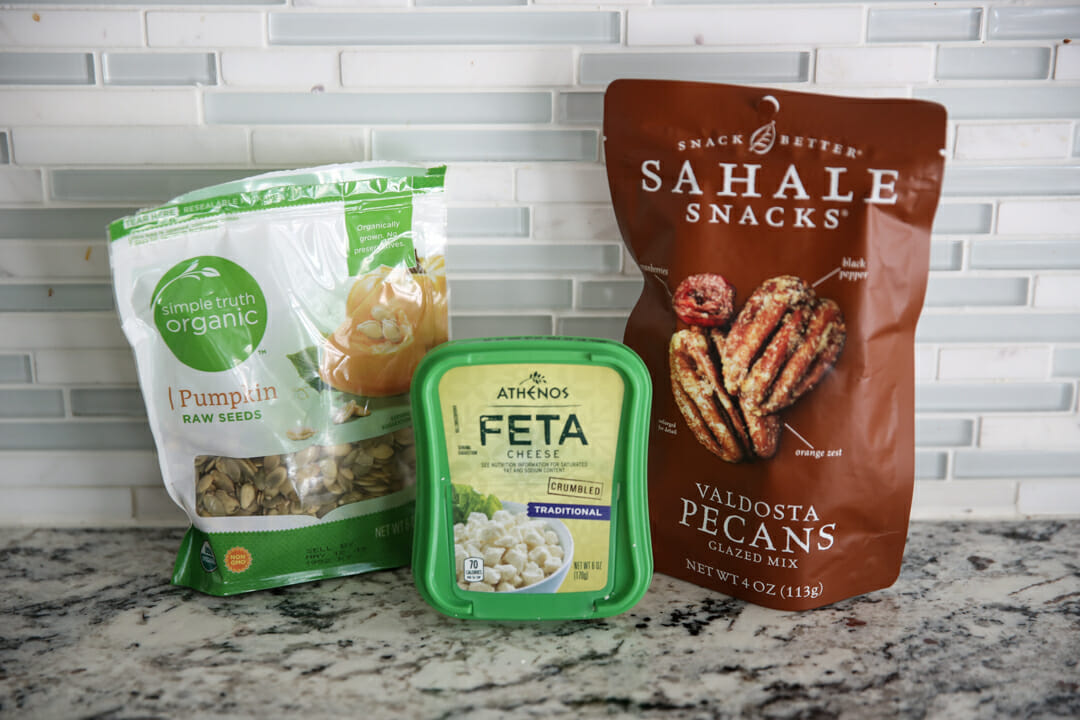 Can we talk pomegranates for a second? I love pomegranates in the fall and winter. If you're not sure how to cut and prepare a fresh pomegranate, click here!
They look SO gorgeous and festive. Can I tell you a little secret thought? I actually don't love them in salads! While I enjoy snacking on them plain- I don't love the texture in a salad, haha. So use those if you wish, or just do what I do and put a few on the very top because it looks so pretty but not enough to take over.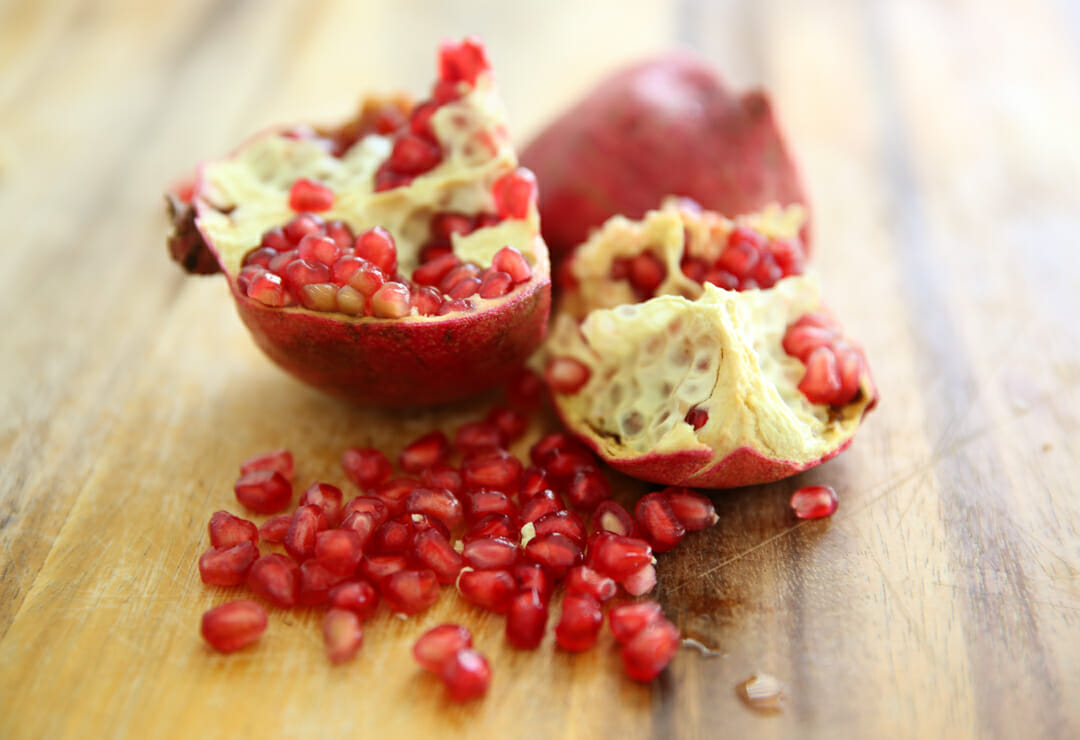 I've also got some red onion in there, and you can add rotisserie chicken if you'd like a protein.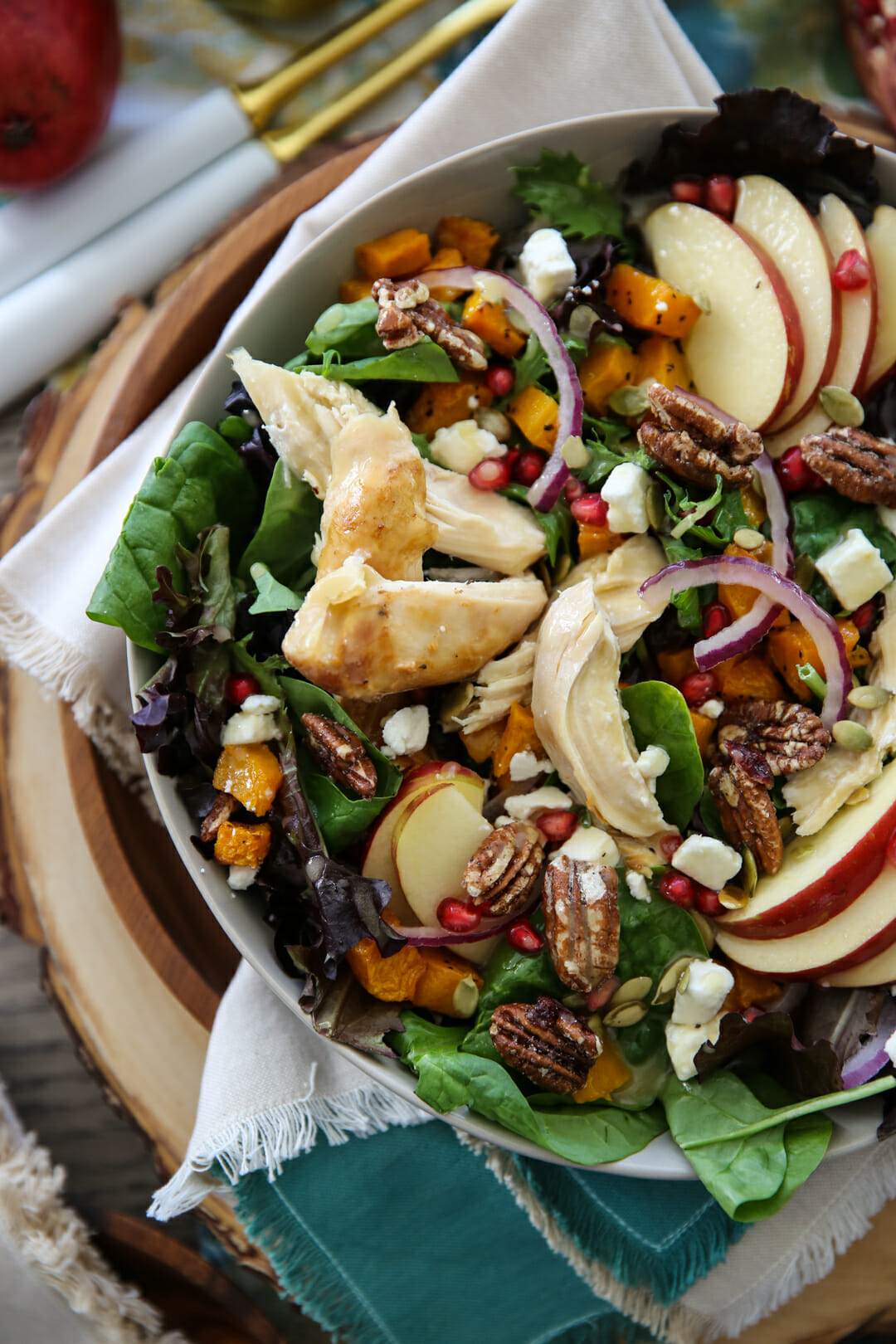 It's all drizzled with my Honey Cider Vinaigrette and seriously this was one of the best salads I've eaten in a long time!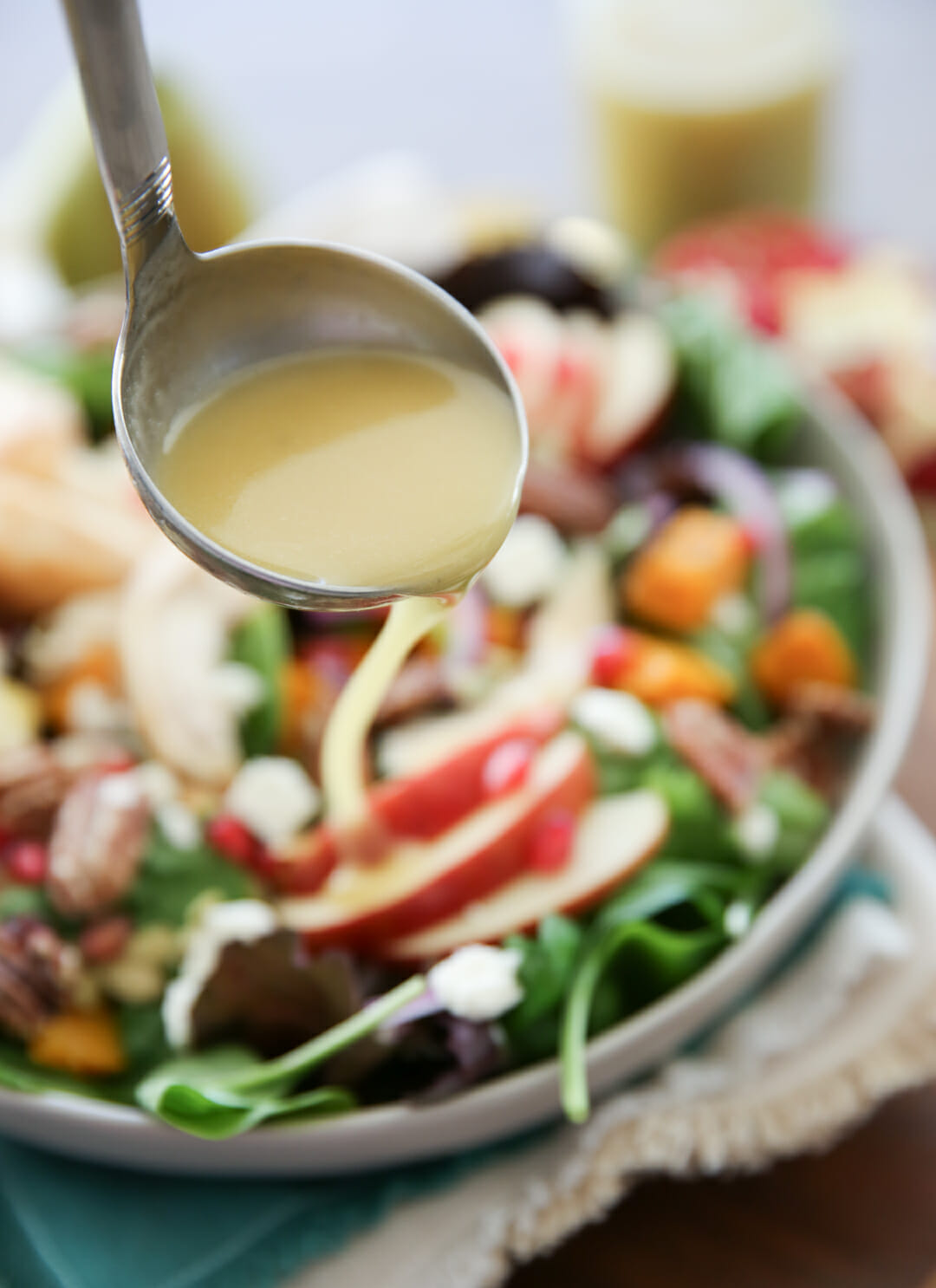 So much goodness in there.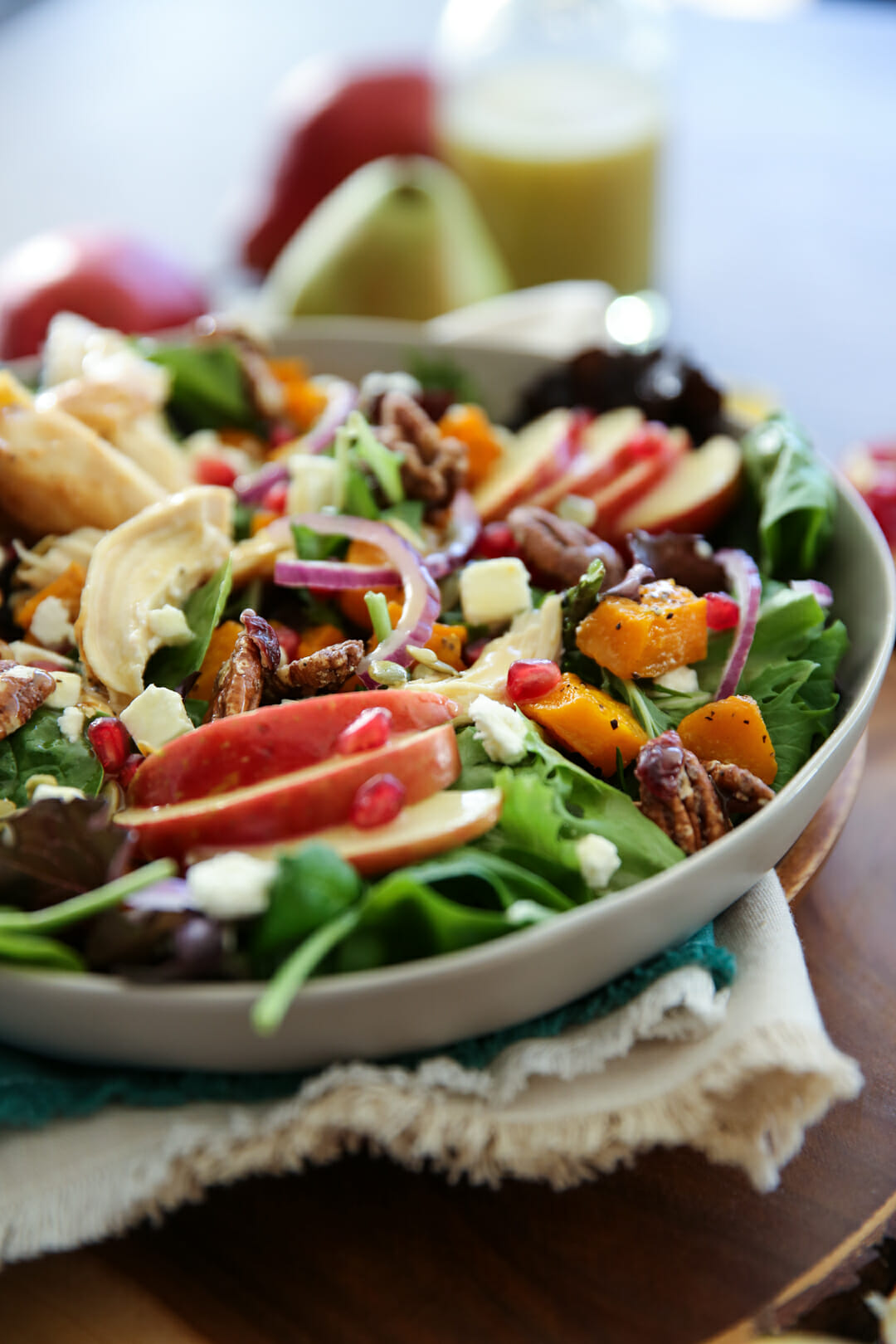 While in all of these photos, ingredients are arranged to be picture perfect- if you're serving this to a large group (it would be perfect and festive for fall baby and wedding showers and any other luncheon type events!) you can just chop everything into uniformly diced pieces. As you can see, that's what happens to dishes like this after photographing, when I get to eat them for lunch 🙂
Hope you can add this one to the rotation and enjoy!
Print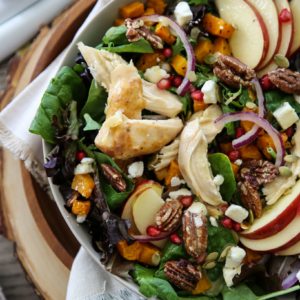 ---
Description
A hearty autumnal salad with seasonal ingredients and a Honey Cider Dressing.  Note:  Ingredient amounts are approximate, like any salad- feel free to add according to your liking!
---
1 large bag greens (spring mix, spinach mix, etc.)
1–2 medium apples, sliced or diced
1 butternut squash, diced and roasted (see note)
1 handful candied pecans or other nut of your choice
1 handful pepitas (pumpkin seeds)
1 handful crumbled feta cheese
1 handful pomegranate arils 
1 small red onion, sliced thin
optional: shredded or diced roasted chicken
Honey Cider Vinaigrette
---
Instructions
Place greens in large serving bowl and top with everything else!  Toss with Dressing and enjoy.
---
Notes
How to prepare Roasted Butternut Squash:  Preheat oven to 400 degrees.
Cut the long top off the squash to separate it from the bottom round part.  Cut each of these two parts in half length wise and use a spoon to scoop out seeds.  Peel and dice squash into bite-size pieces and lay them on a foil-lined baking sheet for easy clean up.  Drizzle with olive oil and toss to coat, and sprinkle with salt and pepper.  Roast at 400 degrees until soft and slightly golden, about 20 minutes.