I honestly feel like it's been an eternity since I've written an actual recipe post.  While I love holidays, and I love having my kids home from school on break, I also love it when it's time to restore order to the world and get back to our old routine.  Or let's be honest- routine in general.  I'm guessing lots of you made goals for the New Year, and I'm sure many of you included at least one about healthy eating in there so here's a recipe to get you started.  This falls into that category I like to call Momma-Lunch.  You'll notice the recipe is written to serve 1, because this is something I whip up while my kids are at school and my toddler is eating chicken nuggets and goldfish crackers.  There's truth in the idea that stocking your fridge well will help you eat well.  Also, a little planning.  One thing I do every few days is bake up several boneless, skinless chicken breasts.  Depending on what we have for dinner during the week, it often works to just cook a little extra of something, or if I'm going to Costco I grab a rotisserie chicken, but otherwise, I just season them with salt, pepper, and garlic, and bake them in the oven.  (Here's a good post on that.)  That way I always have the base for a good lunch.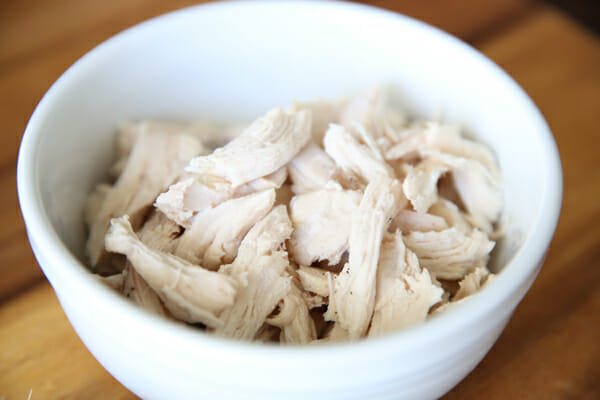 I love salads for lunch, but in order to actually fill me up and not have me rummaging through the pantry an hour later, it has to be a good, filling salad.  That's where all of this comes in.  If you keep some fresh veggies on hand, this only takes a few moments to whip up and it tastes like a fancy, gourmet restaurant salad- without the fancy gourmet restaurant calories.  This little bowl packs a punch with a whopping 40 grams of protein, and at under 400 calories, it fits in perfectly to a healthy diet.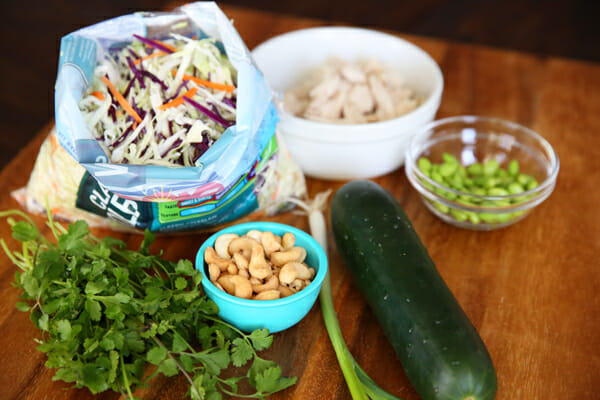 I almost always have a bag of coleslaw mix in my fridge.  I like it because it doesn't wilt quickly, so I use a little bit here and there.  It's great as a base to a salad like this, or tossed into a stir-fry or skillet meal.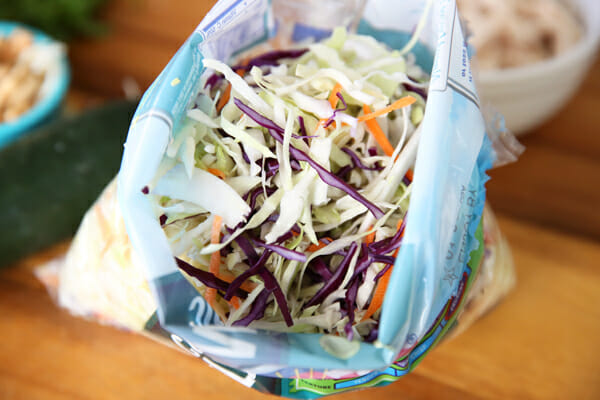 Another thing I often do is keep a container of cooked quinoa in my fridge.  Again, if I'm cooking some anyway for a recipe during the week, I just make extra.  Otherwise, I make a pot and just keep the container in the fridge.  It will last all week and I add it to my morning oatmeal (or you can turn it into an amazing breakfast dish), or a few spoonfuls to a bowl of soup, or mix it with ground beef, or in a salad like this.  With protein, fiber, and amino acids, It's one of the world's super foods, and if you have it all ready to go in your fridge, you'll find yourself using it!  (Click Here for a post all about quinoa- including how to cook it)
So, just toss a big handful of the cabbage mix into a bowl and add shredded chicken and a scoop of quinoa (red or white).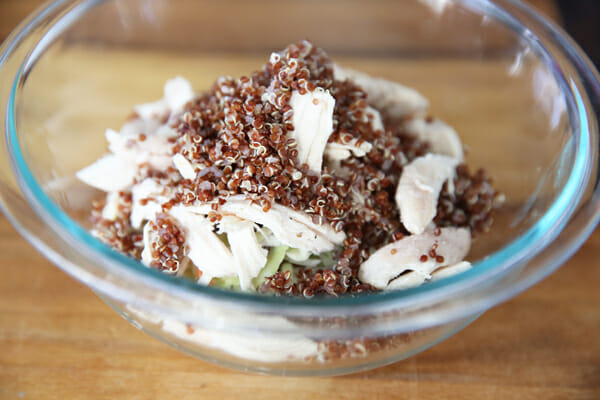 Then toss in some green.  Cucumber, cilantro, green onions, and edamame.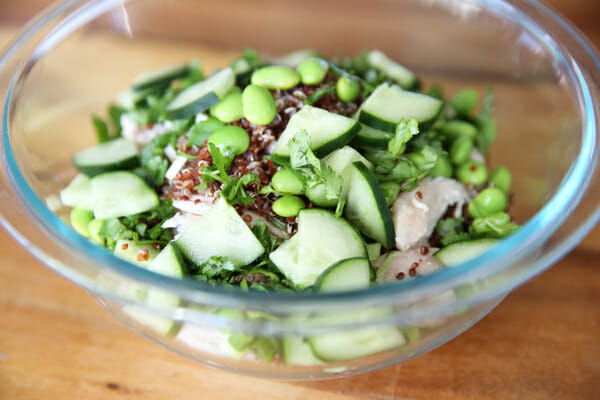 Check the freezer section of your grocery store for bags of shelled edamame like this (not in their pods).  It makes it super quick and easy to just grab a handful and you can add it to all sorts of dishes.  Surprisingly, my kids even like to snack on these.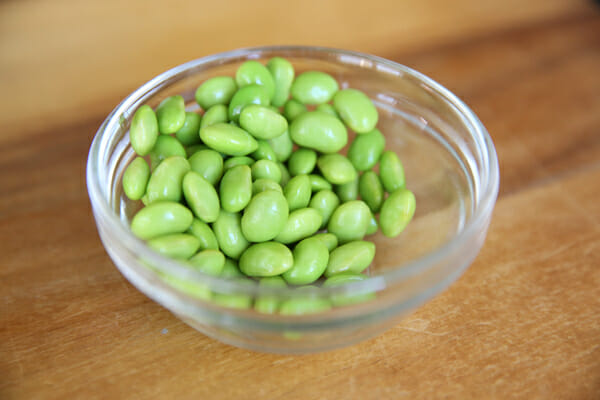 For this Thai-inspired salad, I wanted a peanut flavored dressing.  While nut butters are absolutely a part of a healthy diet (and can certainly be used here) if I want to save on calories I use PB2.  If you've never heard of it, it's basically powdered peanut butter.  It's not some weird peanut-flavored powder, it's actually 100% roasted peanuts that have been pressed and then the oil is removed.  The peanut part is ground up into basically a powder.  You can mix it with water to create peanut-butter consistency, or I just use it in the powdered form to add to things like smoothies.   It has a fraction of the calories of regular peanut butter (85% less fat calories).  I don't use it for things like baking (c'mon, real peanut butter has it's place!) but I do think it works great for things like this. I buy it from Amazon.
I add just a teaspoon of good-for-you olive oil.  This is a perfect place for our Artisan Our Best Bites Garlic Olive Oil.  It allows you to add a hint of garlicky flavor, without having to bust open and mince a garlic glove.  You can check out all of our custom olive oils in our shop!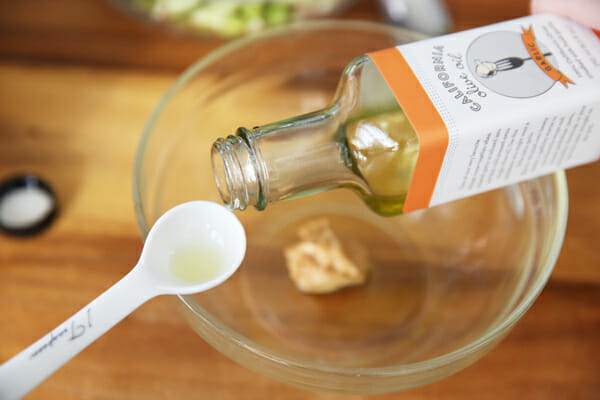 To round out the flavor, I just add a bit of rice vinegar and soy sauce and for a hint of sweetness, a drizzle of agave (honey would work too).  If you want some heat, add a squirt of Sriracha or other hot sauce.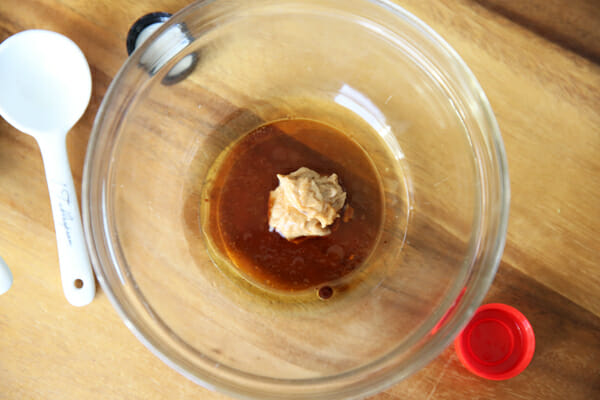 Just whisk it up and pour it over your salad.  If you're used to salads drenched in dressing, this might be new for you.  It's just a light coating, but enough to give everything plenty of flavor, without drowning the good-for-you stuff.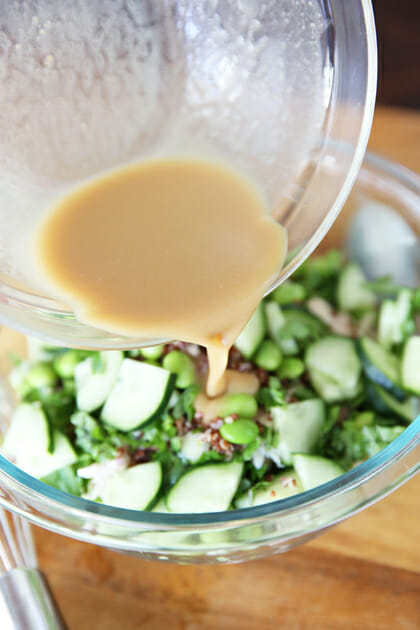 As a finishing touch for both crunch and flavor, toss in a few cashews. I just break them with my fingers as I drop them in.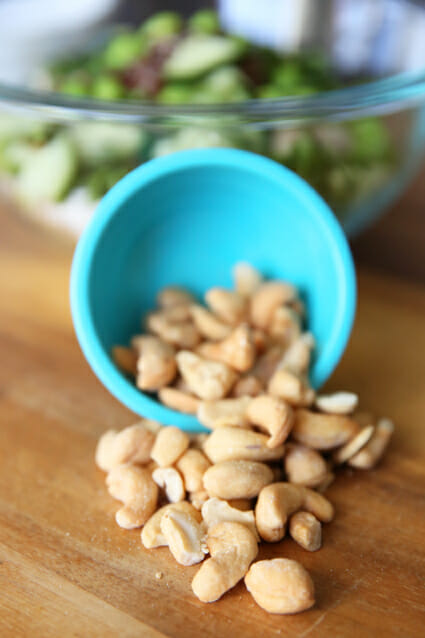 This is a good sized salad (that's not all of it shown in my bowl).  And with not only vegetables, but plenty of chicken, and whole grains from the quinoa, it actually fills you up.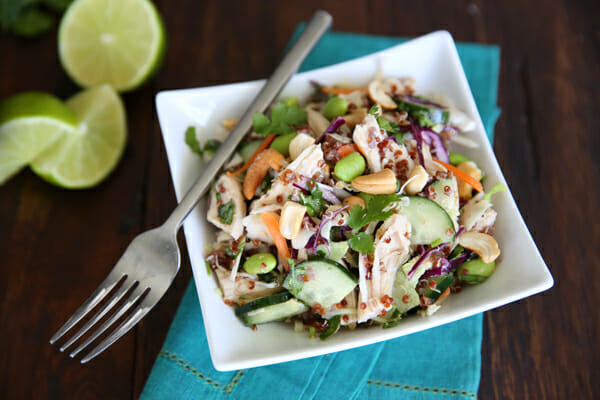 This is a great take-to-work salad as well because it stays rather crisp.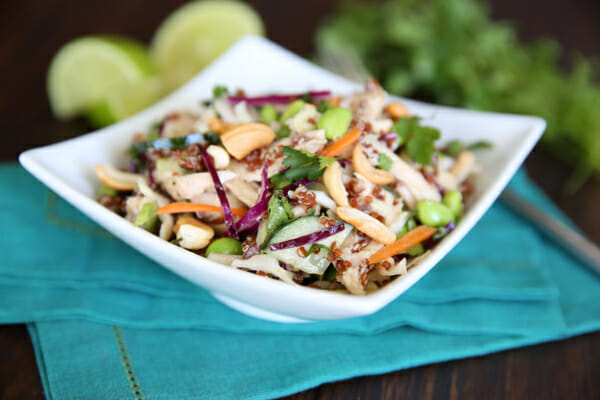 So on your next grocery trip, stock up on some healthy fridge-fillers and be ready to make something wholesome for yourself!
Healthy Thai Chicken Salad (for 1!)
Recipe by Our Best Bites
Ingredients
1 cup coleslaw cabbage mix
1 cup shredded chicken (abt 4 oz)
1/2 cup cooked, cooled quinoa
1 green onion, chopped
1/4 cup edamame
2 tablespoons chopped cilantro
1/4 cup diced cucumber (or celery)
1 tablespoon creamy peanut butter, PB2, or tahini would be good too
1 tablespoon rice vinegar
1 teaspoon olive oil (try our yummy garlic oil!)
1 teaspoon agave or honey
1 teaspoon soy sauce
1 tablespoon chopped cashews or peanuts
Instructions
Combine cabbage, chicken, quinoa, onion, edamame, cilantro, and cucumber.  Whisk together dressing ingredients and toss with salad.  Top with chopped nuts and serve with a squeeze of lime juice.
Nutritional Info (calculated using PB2 and agave):
Cals: 399, Protein: 40, Fat: 14, Carbs 36.3