(If you missed our awesome giveaway post yesterday, check it out here!)
Whenever we do interviews for magazines and newspapers and things like that, we somehow always end up talking about what draws us to food and cooking.  And for me, although the creative aspect is largely appealing, when it comes down to the heart of it, it's all about the emotional connection.  I love how food can bring people together, and soothe hearts, and show those you care about that you love them.   When I was a child, so much of "life" happened in the kitchen and around our table and I still turn to food as a way to show people I care about them.  I think for that reason I'm always especially grateful when people do the same for me.  My life has been a little upside-down recently as my family packed up our house to move into a new place and we've have had a couple months of chaotic living.  Over the past few weeks several of my friends have brought meals over to my family and I can't even express how much that meant to us after weeks of eating fast food and frozen meals in a half-packed-up kitchen.  The other night one of my best friends, Melanie, and her husband Todd dropped by with a hot pot of this delicious soup.  It was a cold, drizzly day and I had spent hours unpacking boxes and I almost cried when I saw an amazing home-cooked meal showing up at my doorstep.  Mel had told me about this soup before, with its cheesy surprise at the bottom of the bowl and it was just as yummy as she had described.  After we finished up the soup, and had it for leftovers the next day, we still had a bunch of the cheesy mixture leftover and I couldn't stand to not use it because it was the best part!  So I tracked down the soup recipe and realized that I had all of the ingredients in my kitchen right then and it was as easy as dumping most of them into a pot, so I made a little more (and snapped a few pics) so we could finish up that bowl of cheesy goodness.  And since this is all I've cooked in a while, this is what we're making today!
I almost always use Turkey Italian Sausage for any recipe that calls for Italian sausage.  Foster Farms (no sponsorship here, I just love it) makes both a "hot and spicy" and a "sweet".  Sweet just means it's not spicy- either one works in most recipes.  You honestly can't tell the difference between the regular stuff and the turkey stuff and turkey sausage is pretty lean so you can put extra cheese on whatever it is you're making 😉  I pretty much always have this in my freezer.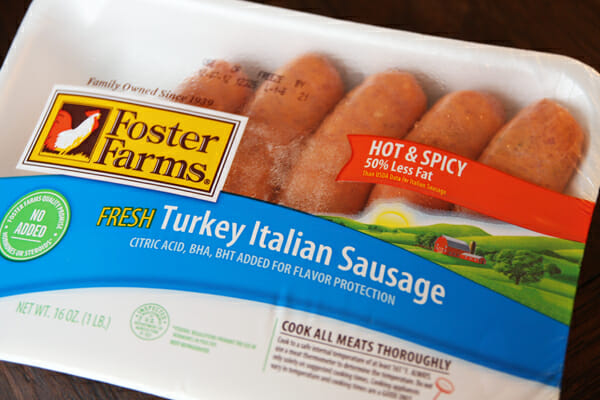 You'll brown up the sausage and then add (in no particular order. Okay, well, there's order in the recipe instructions, just not in my random assortment of photos here) some onion and garlic,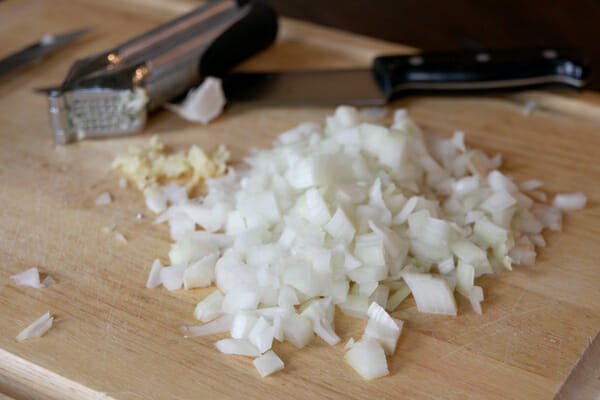 and some dried herbs,
a couple of bay leaves,
some diced tomatoes and chicken broth, and some tomato paste.
Quick tip on the tomato paste:  It's kind of annoying when recipes use only 1-2 tablespoons of something like tomato paste. If you're like me, you put the rest in a container and freeze it and then end up throwing it out next time you clean out your freezer.  Or the next time you need it, you need another tablespoon and now you have a big frozen block you have to chip away at.  What I usually do is spoon it out into 1 tablespoon measurements, either on a piece of waxed paper like you see in the photo, or into an ice cube tray that's been lined with plastic wrap.  Once they're frozen, place them in a ziplock bag in your freezer and next time you need some, you can just grab the amount you need, all measured out and ready to go.  I do something similar with chipotle peppers, which you can read about here.
While the soup in simmering away, you can whip up the cheese mixture.  I did not whip this up, my friend Melanie did and I'm just photographing her fine work.  Well done Mel, well done.  Ricotta, shredded Parmesan cheese and seasoned with salt and pepper.
This soup includes noodles too, and you can put them in the soup towards the end of simmering to cook them, or do as I did (and Melanie, when she brought this to me) and cook them separately.  Noodles in soup are sometimes tricky, and end up sucking up way too much of the broth, and getting soggy in leftovers, etc.  So I like to sometimes just cook them separately and add them to the individual servings.
To assemble the soup for serving, spoon a generous dollop of the cheese mixture into the bottom of the bowl and add some pasta if you cooked it separately.
Then ladle the hot soup over the top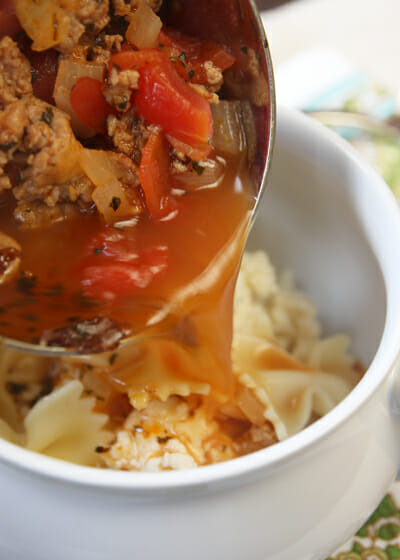 and this is where it works its magic.  Just let it sit for a minute or two and by the time you're ready to eat,
It's like a treasure chest of ooey gooey melted cheese down there.
Do yourself a favor and serve this with a loaf of crusty rustic bread you can dip and spread the cheesy love with.  And then make a pot for a friend!
Print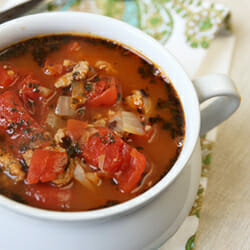 Lasagna Soup
---
Description
Gooey, delicious, and perfect for a wintry day, this Lasagna Soup never disappoints. Just be sure to make enough to share!
---
2 teaspoons

olive oil

1 1/2

lbs Italian Sausage (I use Italian Turkey Sausage)

3 cups

chopped onions

4

garlic cloves, minced

2 teaspoons

dried oregano
optional: 1/2 teaspoons crushed red pepper flakes

2 Tablespoons

tomato paste

28

-ounce can diced tomatoes, preferably fire roasted

2

bay leaves

6 cups

chicken broth

8 ounces

fusilli or mafalda pasta (or other pasta of your choice)

1/2 cup

chopped fresh basil, or a heaping tablespoon dried basil
salt and freshly ground pepper to taste

8 ounces

ricotta cheese

1/2 cup

shredded Parmesan cheese

1/4 teaspoon

salt
a few cracks of black pepper
optional: shredded mozzarella for sprinkling on top
---
Instructions
Heat olive oil in a large pot over medium heat. Add sausage, breaking up into bite sized pieces and cook until browned and cooked through. Add onions and cook until softened, about 6 minutes. Add garlic, oregano, and red pepper flakes. If you're using dried basil, add it at this point. Cook for about a minute. Add tomato paste and stir well to incorporate.
Add diced tomatoes, bay leaves, and chicken stock. Stir to combine. Bring to a boil and then reduce heat and simmer for 30 minutes. You can add the dry pasta to the soup in the last 8-ish minutes of cooking, or do as I prefer, and cook the pasta separately and add to individual servings. Right before serving, stir in fresh basil if you're using fresh, and season to taste with salt and freshly ground black pepper.
In a small bowl, combine the ricotta, Parmesan, salt, and pepper.
To serve, place a generous dollop of the ricotta mixture in each soup bowl, add pasta if you cooked it separately, and ladle the hot soup over the cheese. Let it sit for a minute for the cheese to get all melty, sprinkle mozzarella on top if desired and eat up.
---
Still shopping for Christmas gifts?? Click here for a great idea!
Save