Someone please tell me what happened to summer break.  It's August.  We're officially on the back-to-school countdown; my kids head back to the classroom in about 2 weeks and I think Kate's are starting at the end of this week.  I grew up in Seattle, where school never started before Labor Day, so all of this go-to-school-during-August stuff really throws me off.  It's like pumpkin candles in July; just seems out of place. (That doesn't stop me from lighting pumpkin candles in July; I also eat candy canes in April, but forget that-I'm making a point here.)   I'm not ready for the crayons and lined paper to be replacing the BBQ and outdoor furniture section at Target yet!

That being said, I'm trying to mentally start switching gears and start thinking about all of the stuff I need to do, like buying 47 bottles of glue for each of my kids' classes (WHY SO MUCH GLUE?) and making sure they have shirts and shoes since they've pretty much been living barefoot and shirtless since June.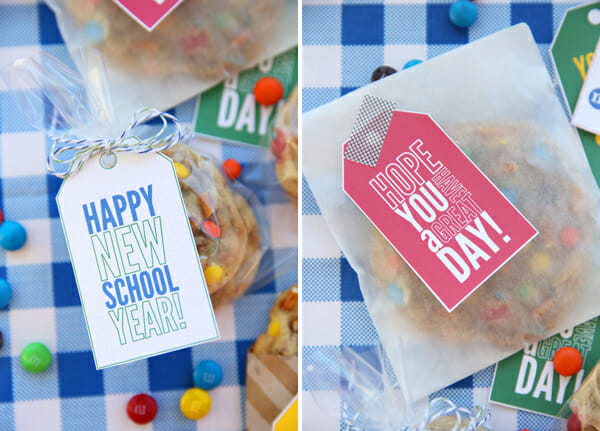 And then I get on the internet and see all of the super-mom stuff I'm for sure not thinking of, like themed first-day-of-school breakfasts and beginning of the year teacher's gifts (Huh?  That's a thing?)  So if anyone else is in that boat- here's an easy one for you.  Super-duper easy.  For everyone who wants to take advantage of their kids being young enough to not be embarrassed by an adorable note tucked in their lunchbox- these are for you.  Go ahead, be super-mom.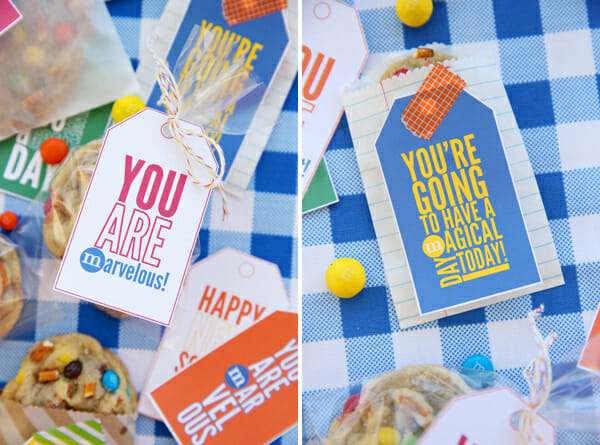 Tie it onto a little treat and imagine the smiles they'll deliver when they see it tucked away in there.  Insta-love from Mom or Dad.  I still remember the random days when my Mom would slip in a ding-dong.  It didn't happen often, which is why it was like, the best day ever when I spied a little glimmer of tin foil at the bottom of my lunch box.  A cute little note might be just what your little someone needs to get through the second half of a big day, especially at the beginning of the year.
(If you want to this post, just remember- all you need to do is hover your mouse over any image in this post and the Pin button will appear!)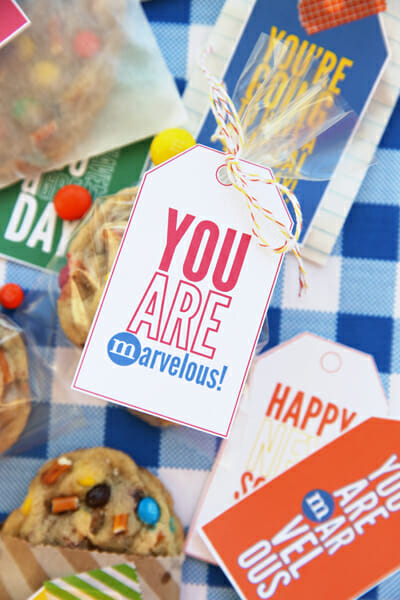 You can print off these darling tags and you get all of these awesome designs on one sheet (custom made by my talented designer-friend Ashley because let's face it, she's better, faster, and more stylish that me.)  Keep them near your lunch-packing supplies and grab one on a moment's notice!  These bright, fun colors make me happy just by looking at them.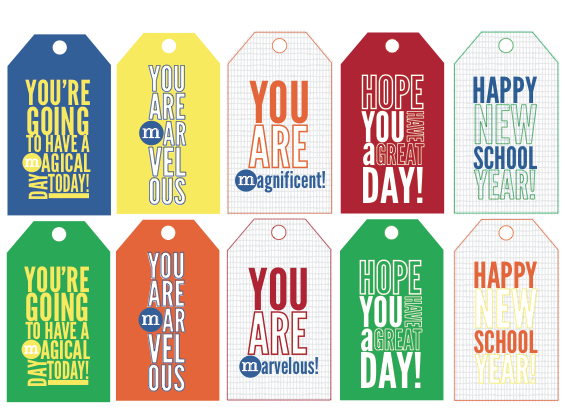 Print away and make a kiddo's day 🙂
Click Here to Download Lunchbox Printables!