My husband and I have been having a few of the same "discussions" our whole marriage: 1) the fact that he is seemingly incapable of throwing anything away. 2) the fact that I can't ever remember where _________ is/are (insert your item of choice here–keys, pens, immunization cards, my purse, my cell phone, the house phone, my engagement ring…well, the engagement ring thing only happened once, but it was a tense couple of hours. Turns out I'd used it as a bookmark the night before when I was falling asleep reading. Tip: for the sake of your relationship, never use your engagement ring as a bookmark.) 3) the fact that I love folksy rock music that he finds pretentious and that he likes Katy Perry for more than her voluminous bosoms (not that liking her for her bosoms is any better). And 4) the fact that I like chocolate, but I only eat/make chocolate desserts maybe 50% of the time whereas for him, if there's not chocolate in his dessert, it's automatically knocked down a few pegs. I mean, this is the man who makes his root beer floats with chocolate ice cream.
So imagine my shock and, I'll admit it, a little bit of horror when we had these Mississippi Mud Brownies not too long ago and he told me they were…wait for it…too chocolatey.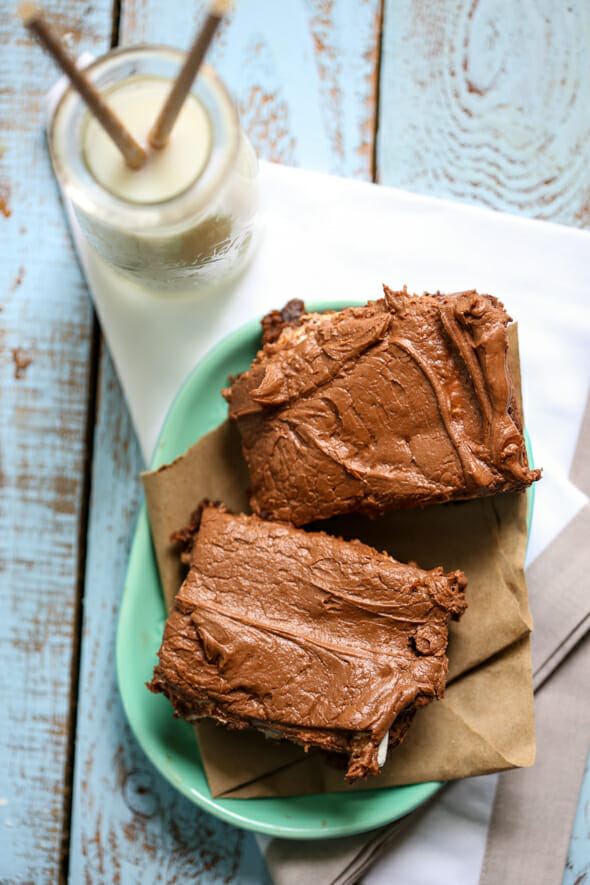 *Gasp* What was more shocking was that I completely loved them and did not think they were too chocolatey and that when they were coupled with a Diet Coke, they formed the New Breakfast of Champions.
What was bad is that I tried adding a graham cracker crust (which ended up not being a great idea–let's not mess with perfection here) and I thought it would be weird to send my husband to work with a big pan of brownies along with instructions to scrape off the bottom layer, so I was stuck with a whole 9×13″ pan of the most devilishly awesome brownies that my life partner had deemed "too chocolatey." I finally had to just fill the whole rest of the pan with water so I'd stop cutting off a little corner every time I walked by (which ends up being quite often when you're a food blogger).
It starts out with a really fabulous brownie recipe. You'll need all-purpose flour, sugar, unsweetened cocoa powder, baking powder, salt,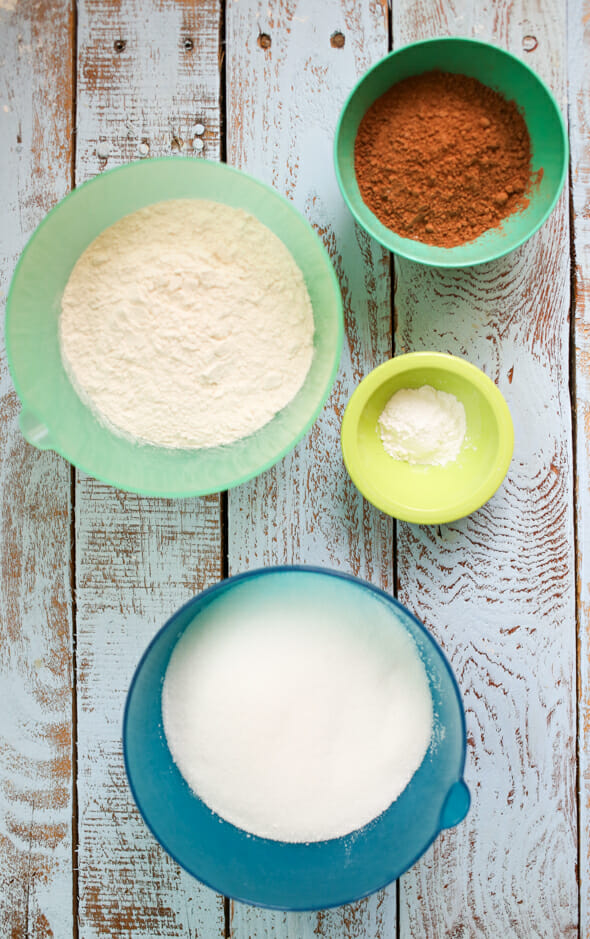 melted butter, eggs, and vanilla.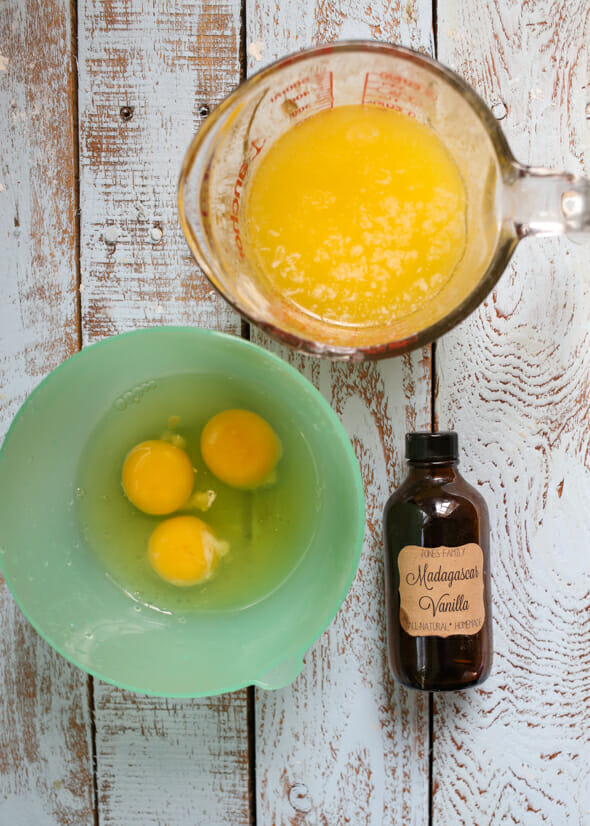 The recipe I use calls for chopped pecans, but I think nuts in brownies are an abomination, so I replaced them with dark chocolate chunks. Of course.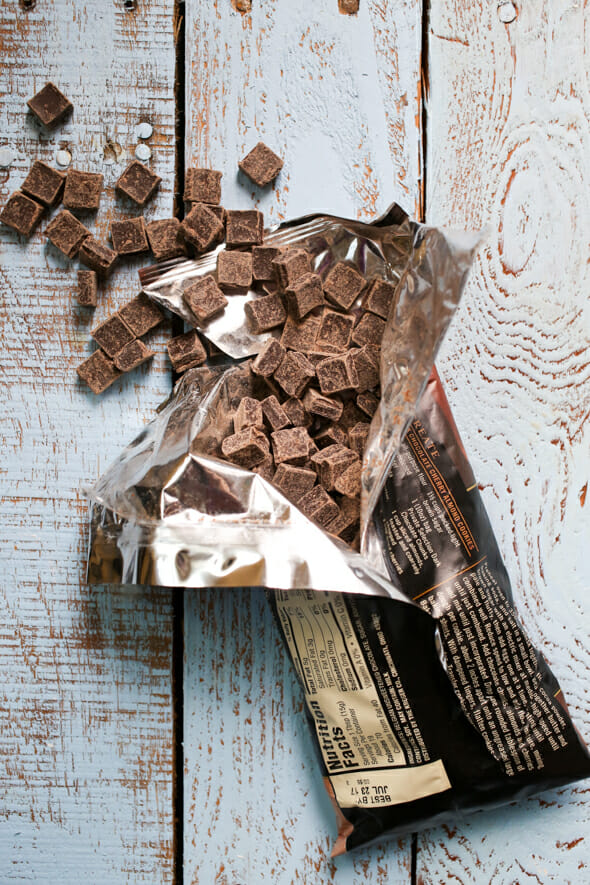 Preheat your oven to 350. Lightly grease a 9×13″ pan and set it aside.
Combine the flour, sugar, cocoa powder, baking powder, and salt in a large mixing bowl or the bowl of your stand mixer.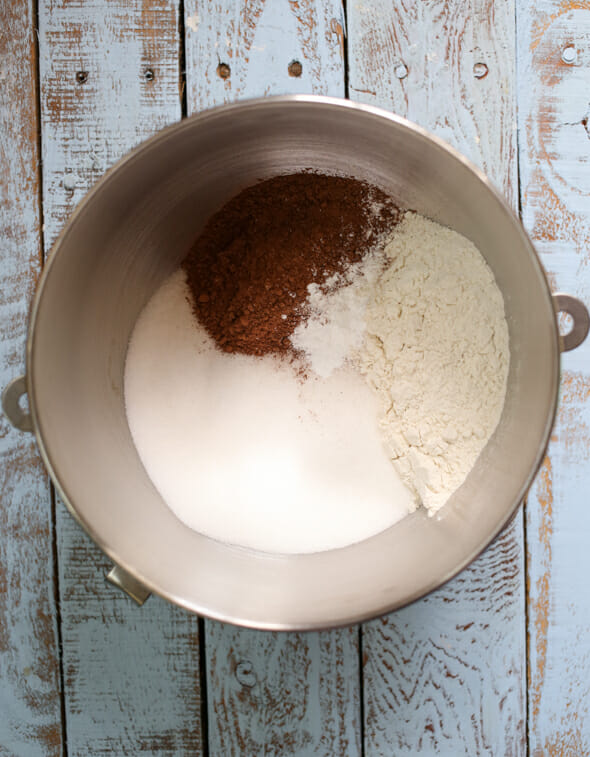 Pop the sticks of butter into the microwave,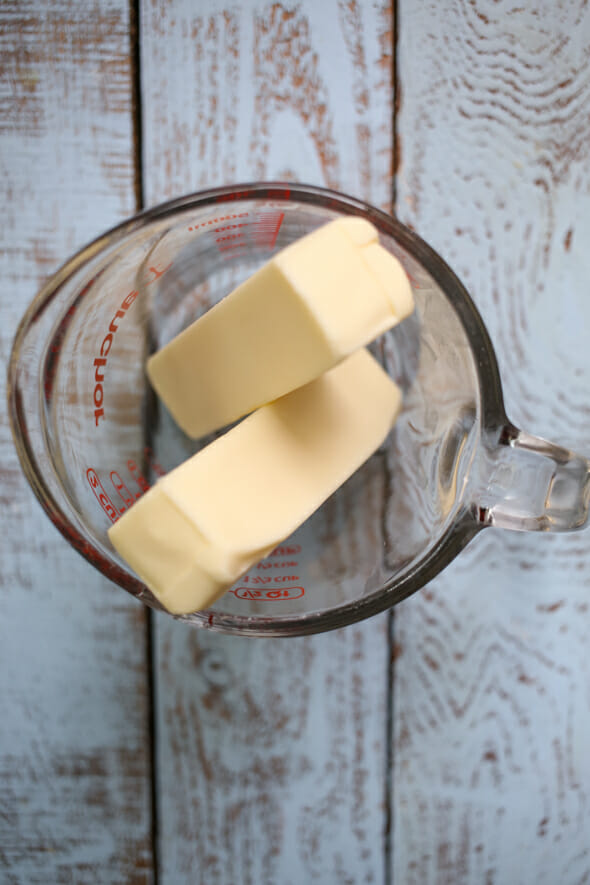 melt it, lightly beat the eggs, and add those to the flour mixture along with the vanilla. Spread the batter into the prepared pan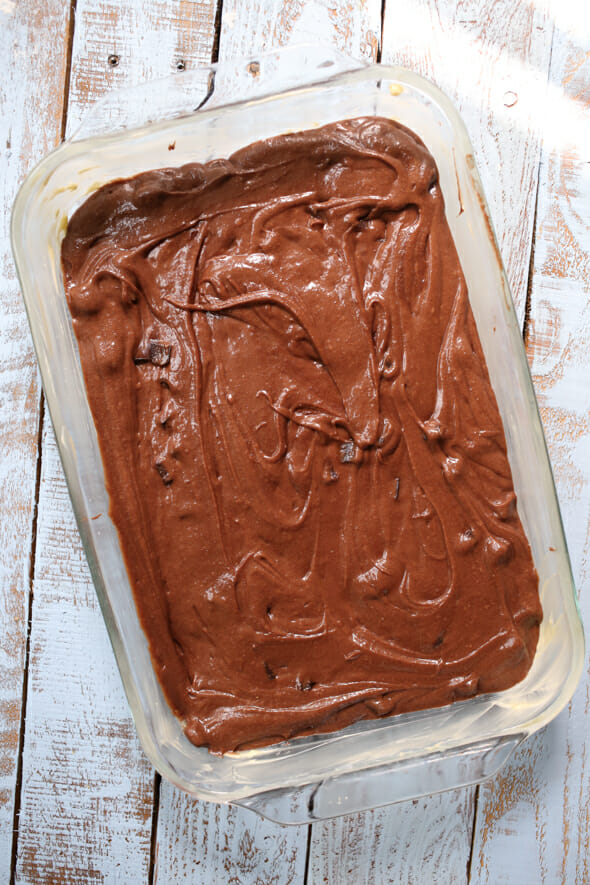 and bake it for 25-40 minutes or until a pick inserted into the center comes out clean. Now…there's been a little debate about how long these brownies need to bake, and unfortunately, I don't have the perfect answer. Here are the facts:
-These brownies should be very moist and fudgy.
-The original recipe says to bake them for 30 minutes.
-I am essentially at sea-level and bake these is a glass Pyrex 9×13 pan.
-At 25 minutes (because I always check a few minutes before they're supposed to be done), my brownies were JUST starting to firm up around the very, very edges of the pan and were completely liquid inside.
-I checked them every five minutes and they were done in the 45-50 minute range.
-Other people have had them come out dry at 30-35 minutes.
I wish, wish, wish I could give you a more accurate baking time, but there are just too many variables. I do know that if you're baking them in a metal pan, they'll take less time, especially if it's a dark metal pan. Usually things at a low elevation bake faster, but apparently not in this case. Bottom line is that there are so many variables in the science of baking, many of which we're generally not aware of and can vary from day to day, so while it's a pain, until you know how your oven and baking equipment bakes these brownies, you should start checking on them around 25-30 minutes and keep checking every 5 until the toothpick just BARELY comes out clean.

Any-who. When the brownies are done, take some marshmallows and spread them over the hot brownies.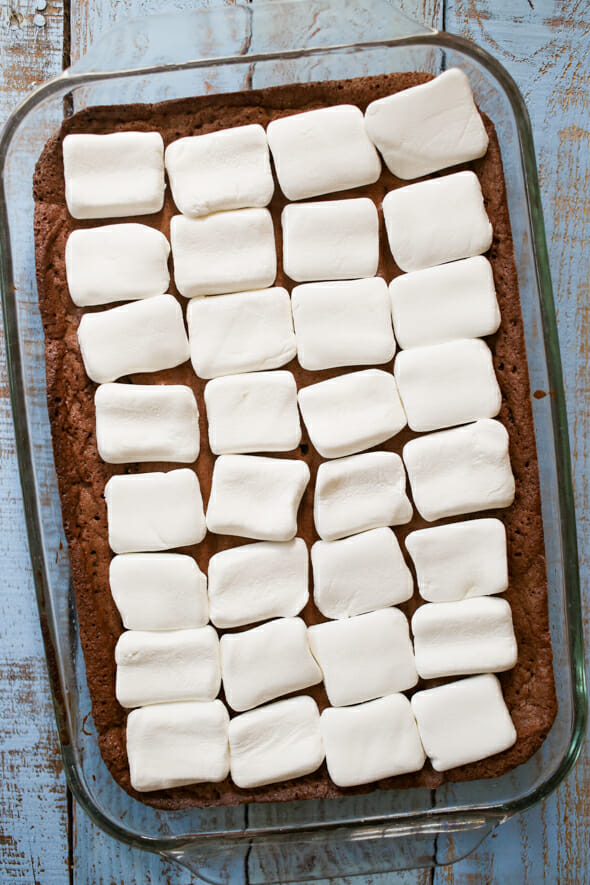 Have you seen those flat marshmallows from Kraft? They are awesome (and Kraft is totally not paying me to say that).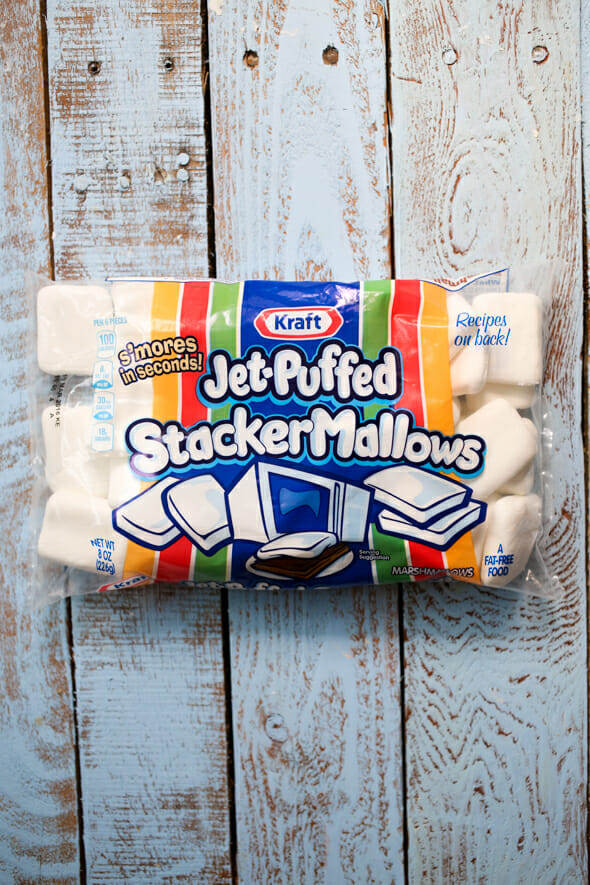 I like them so much better than mini marshmallows because they're already in the shape that you want them for brownies, but if mini marshmallows are all you have, you'll need about 3 cups of them.
Pop the pan back into the oven and bake it just long enough for the marshmallows to puff up.
Allow the brownies to cool completely. While they're cooling, we get to the naughtiest part of the brownies: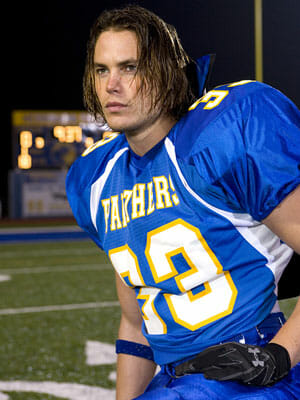 Oh, goodness, Tim Riggins what are you doing here in my blog post? No, seriously, like Tim Riggins, the frosting is totally the, "Oh, no, I shouldn't, thank you, please, can I have some more?" part of these brownies.
You'll need powdered sugar, more cocoa powder, more butter, more vanilla, and evaporated milk, which is a GREAT way to add richness to frostings without adding a ton of calories. But seriously, who's counting at this point??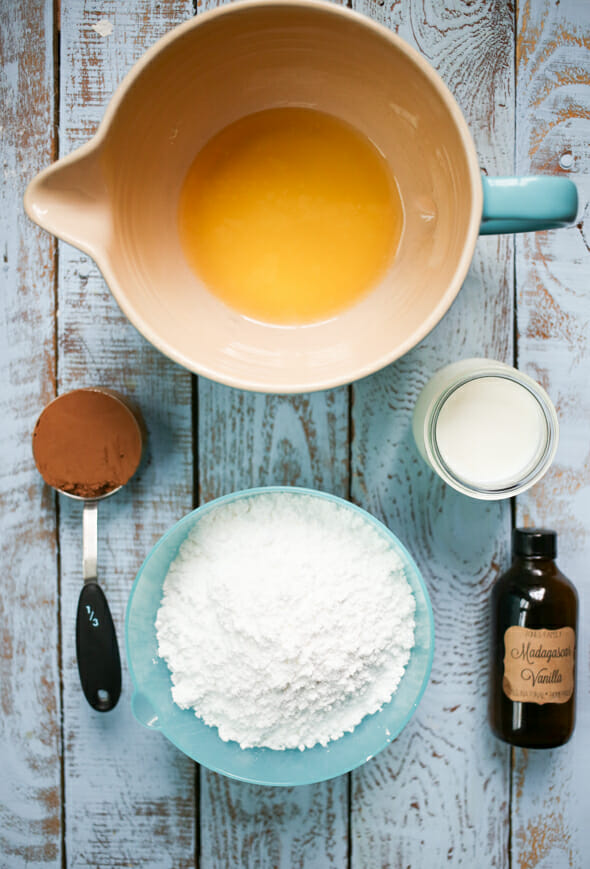 Melt the butter and then combine it with the rest of the ingredients and beat with an electric mixer until it's light and fluffy. Then, when the brownies are cool, spread it all over the marshmallow layer.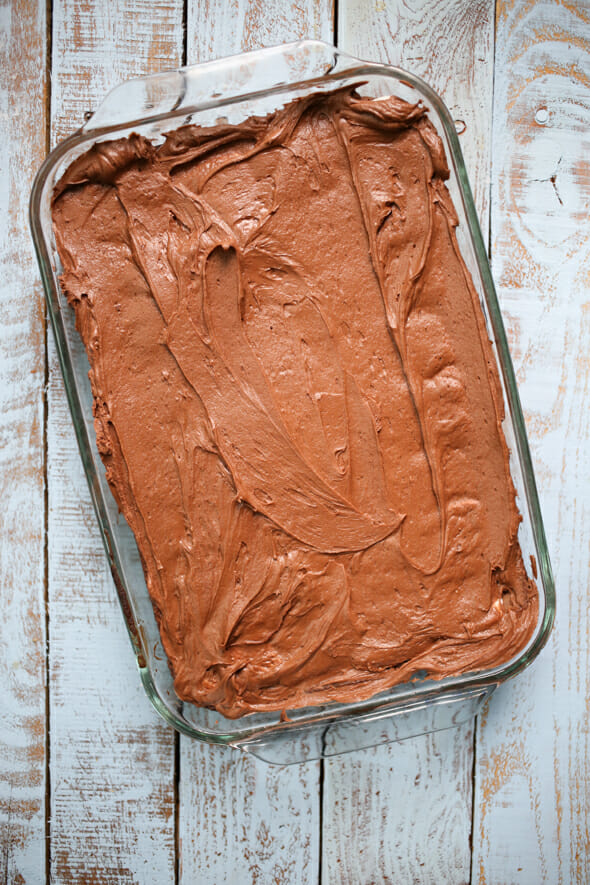 These can be kind of a pain to cut, especially getting the first few out, but just take your time and make firm, straight-down cuts (to make sure the marshmallows are getting cut), wiping the blade often. A plastic knife (just the disposable kind) actually works better than just about anything else.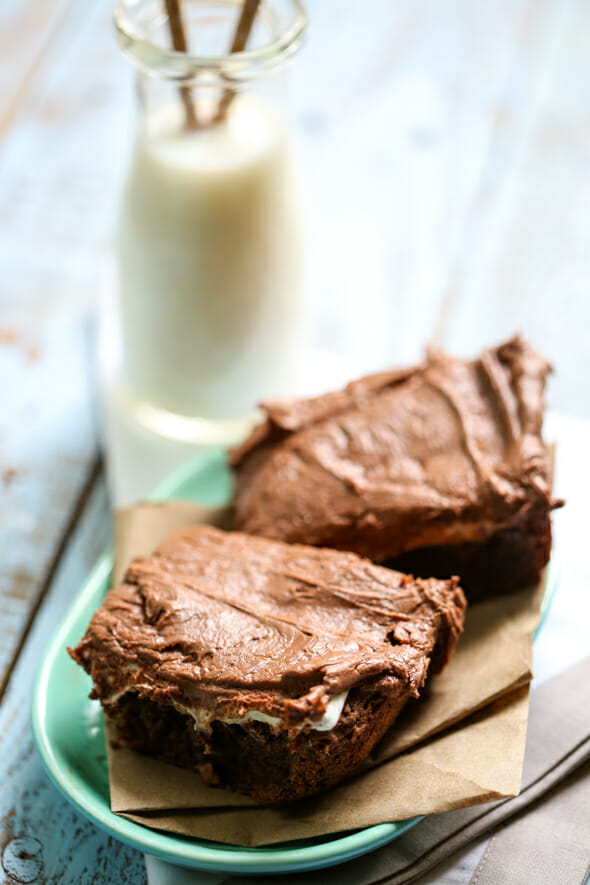 This recipe makes about 24 brownies, which will mean 24 brand-new best friends. Well, 23, unless you count yourself.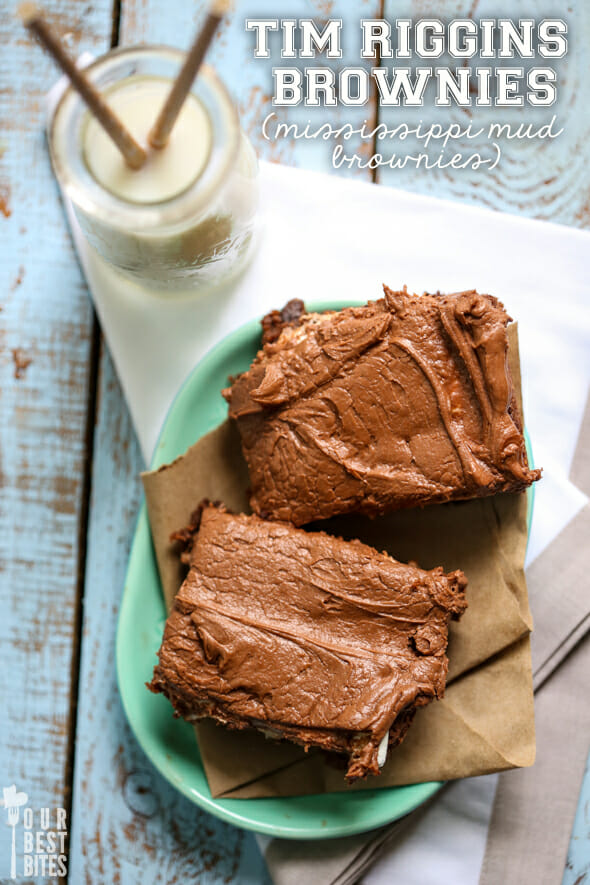 Print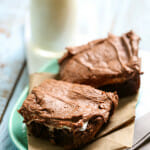 Mississippi Mud Brownies (Tim Riggins Brownies)
Prep Time:

10

Cook Time:

30

Total Time:

40

Yield:

24
---
Description
These Mississippi Mud Brownies are affectionately referred to as Tim Riggins Brownies because they are extra in every way and so bad but so, so good.
---
1 1/2 cups all-purpose flour, lightly spooned into measuring cups and leveled with a knife
2 cups sugar
1/2 cup unsweetened cocoa powder
2 teaspoons baking powder
1/2 teaspoons table salt
1 cup (2 sticks) melted butter (no substitutions)
3 eggs, lightly beaten
1 tablespoon vanilla extract
1 cup dark or semi-sweet chocolate chips or chunks
3 cups mini marshmallows (or enough flat marshmallows to cover a 9×13″ pan)
FROSTING
1/2 cup melted butter
1/3 cup unsweetened cocoa powder
1/3 cup evaporated milk or whole milk
1 pound powdered sugar
1 teaspoon vanilla
---
Instructions
Preheat oven to 350. Lightly grease (and flour, if desired) a 9×13″ pan and set aside.
Combine the flour, sugar, cocoa powder, baking powder, and salt in a large bowl or the bowl of your stand mixer. Add the melted butter, whisked eggs, and vanilla. Beat on medium speed for about 3 minutes, scraping the bowl occasionally. Add in the chocolate chips and spread the batter in the prepared pan. Bake for 25-40 minutes (or a little less if using a metal pan; please check out the notes on baking times in the post because they can vary as wildly as a drunken party at Tim Riggins' house) or until a pick inserted into the center of the brownies comes out clean.
When the brownies are done, remove from the oven and spread the marshmallows on top. Return the pan to the oven for 2-3 minutes or until the marshmallows are puffed. Remove from oven and cool completely.
While the brownies are cooling, beat together the frosting ingredients on high speed until light and fluffy. Spread over the cooled brownies and cut into squares. Makes about 24 brownies.
---