I'm starting a contest to see how many Asian salads I can accumulate on Our Best Bites.  And I'm crushing it.  I actually started cooking the day I made this, with the intention of replicating a really yummy orange poppyseed dressing I had had, but when I opened my cupboard and saw the sesame oil sitting next to the rice vinegar, I was swayed.  I'm a sucker for Asian salads (which should be quite obvious by now.)  The thing is, I have different types for different occasions.  There's the naughty Asian salad, with deep fried wontons, that I make for things like baby showers, and then there's the super light detox salad, with hardly any oil in it, that I love eating for a week after road trips.  And then there's the amazing Thai-inspired, uber protein packed salad for 1 that so many of you have fallen in love with.  I made this salad to remind me of a good restaurant salad.  The kind with an amazing dressing that's piled high with all sorts of goodness.  This dressing is killer, and you can be creative with your salad fixings to make it just the way you like it.  This is a great party salad, or dinner salad for a hot summer night when you don't want to turn on the oven.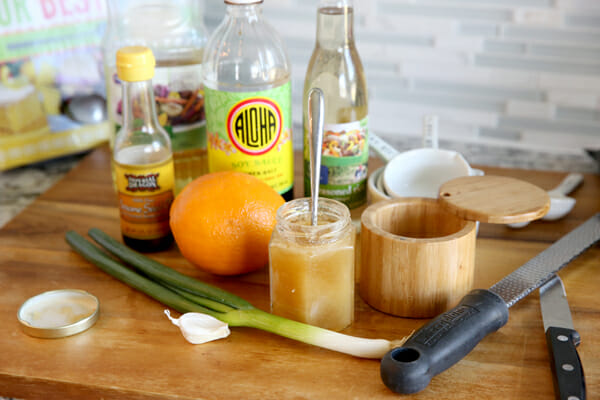 To start, zest an orange and set the zest aside.  If you don't have a Microplane zester, seriously.  Just order one!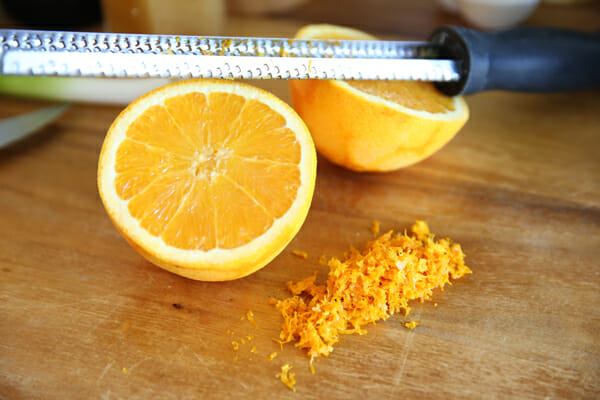 Then pour that freshly squeezed juice into a blender, and add a little rice vinegar.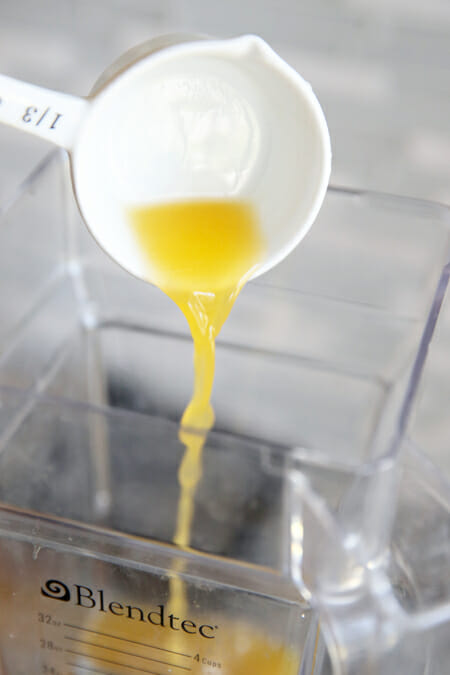 We'll sweeten it up with a little honey,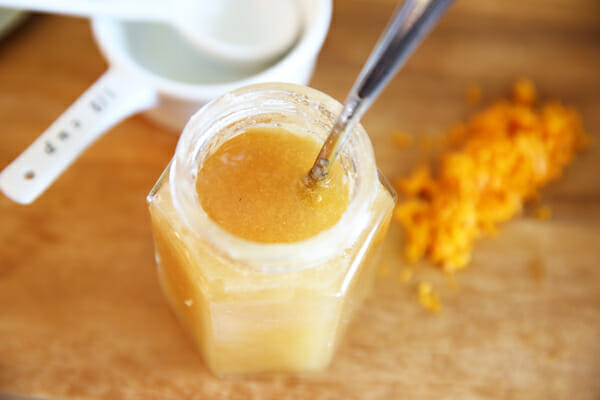 and add some flavor with garlic, and green onions.  For the dressing, we're just using the firm white ends of the onion.  Save the rest for the salad because you'll need it then.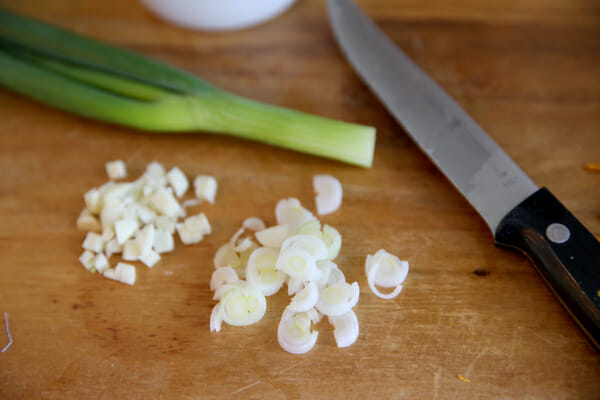 A splash of soy sauce and sesame oil give it that distinctive Asian flair.
After zipping it all up in a blender with the oil, add in that orange zest and pulse a couple of times to distribute it throughout the dressing.  I love how those little flecks of orange show throughout.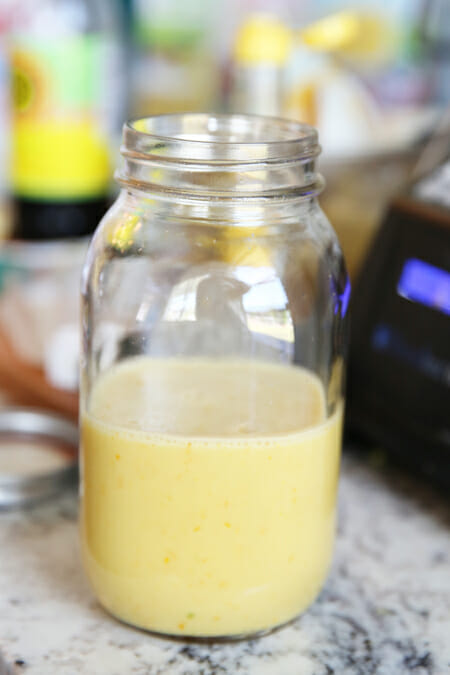 Place your dressing in a jar and toss in some toasted sesame seeds.  If your sesame seeds are un-toasted, just pop them in a dry pan on the stove top and shake them around over medium heat until they're golden brown.  Cool them off before putting them into the dressing.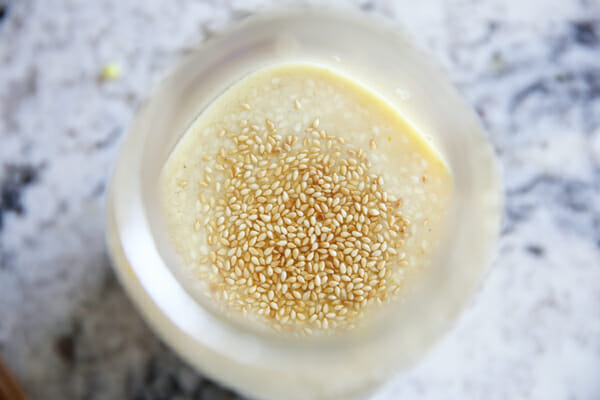 For the actual salad, you can really use whatever you like.  This makes about 2 cups of dressing, so it's plenty for a big ol' salad.  I like super crunchy romaine with a little sliced purple cabbage in there as well.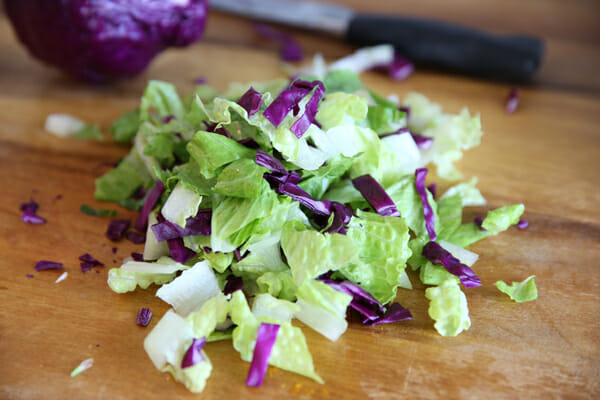 For most recipes, I'm constantly telling you guys to not take the time to pick cilantro leaves off the stems, just chop it all up, but here's an exception.  In this case, the leaves are used as one of the salad greens, so pull those little guys off the stems and into a big fluffy pile.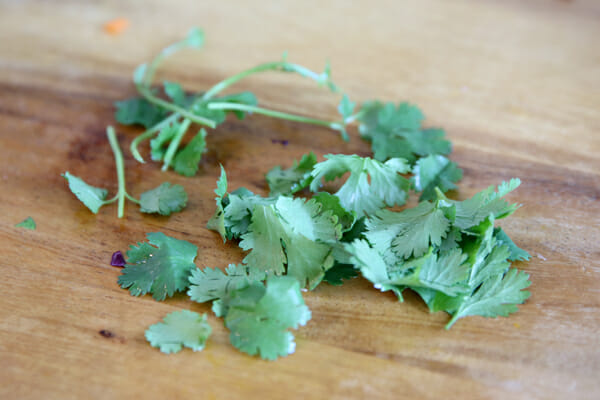 You can also chop up the green onions that you started using for the dressing,
and also some sliced cucumber.
When it comes to carrots, sliced carrots are way to thick and crunchy, but shredded or shaved carrots seem to thin and weak.  I've found a perfect happy medium with a cheese slicer.  It's a little thicker than a vegetable peeler, but thinner than my knife skills, so it works beautifully.  I just take long slices, and chop them into shorter pieces.
I also throw in cooked, shredded chicken.
and some fresh citrus.  You can go old-school with a can of mandarin oranges, but I like the updated taste of a fresh, juicy orange.  If you don't know how to segment fruit, click here.  I suggest doing that over a bowl so you can reserve the juice (and even use it in your dressing if you need it.)
Lastly, the one thing every good Asian salad needs is some crunch.  Fried won-ton strips are always a hit, but if you want something easier, a can of crunchy Asian noodles are great.  I combine that with some cashews for both crunch and flavor.
Toss it all together and you've got a restaurant quality salad right on your own dinner table.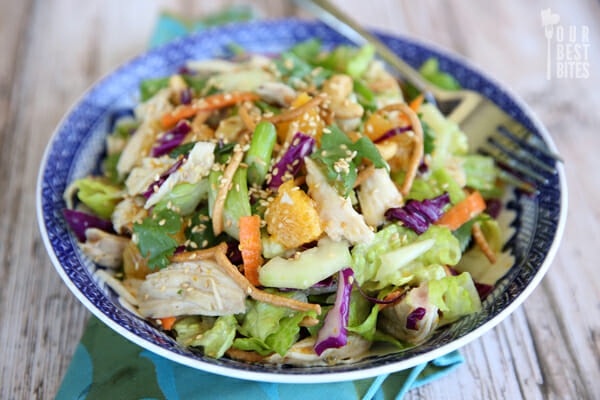 This is so fresh and bright, and makes a great salad for upcoming summer get-togethers, or just a great weeknight dinner when you don't want to heat up the oven!  Grab a rotisserie chicken and you're set.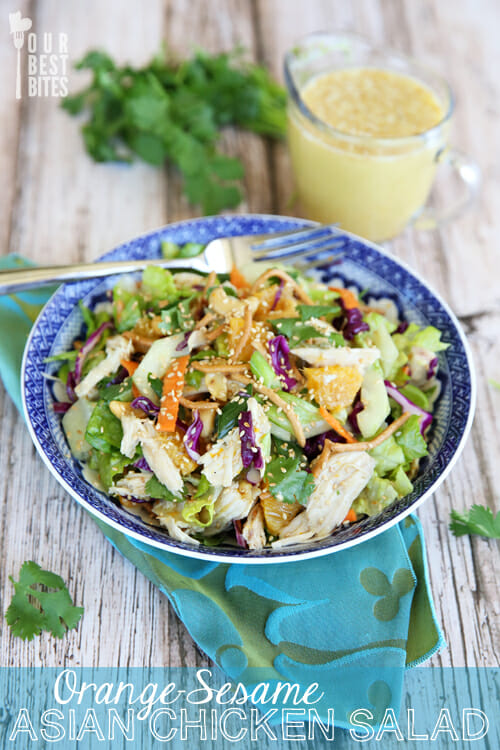 Orange-Sesame Asian Chicken Salad
Recipe by Our Best Bites
Dressing
zest from one medium-large orange
1/3 cup fresh orange juice
6 tablespoons rice vinegar (seasoned or unseasoned is fine)
4 tablespoons honey
1 tablespoon chopped green onions, white ends only (reserve green parts for salad)
2 cloves garlic, roughly chopped
1 tablespoon sesame oil
1 tablespoon soy sauce
3/4 cup canola oil
1 tablespoon toasted sesame seeds
Salad Ingredients
Switch up as you like, and measure according to taste!  This recipe makes about 2 cups dressing, which is plenty for a very large party salad.
romaine lettuce
purple cabbage
cooked chicken, shredded or diced
cilantro leaves
chopped green onions
sliced, shredded, or julienned carrots (see tip in post)
sliced cucumbers
segmented orange slices, or chilled canned mandarin oranges
cashews or peanuts
crunchy Chinese noodles
Prepare dressing.  Wash and zest orange, and set zest aside.  Place orange juice, vinegar, honey, onions, garlic, sesame oil, and soy sauce in blender and blend until smooth.  If necessary, use a spatula to make sure honey is not stuck in bottom of blender.  With blender running on low, slowly drizzle in oil in a small, steady stream, to emulsify.  Add orange zest and pulse to combine.  Place dressing in a lidded jar and add sesame seeds, shaking to combine.  Refrigerate until ready to use.
Mix salad greens and vegetables.  Right before serving, add orange slices, nuts, and noodles.  Toss with dressing and serve.
Great deal available in The Shop.  Our most popular Garlic (now in an extra large bottle!) paired with our extra large Extra Virgin.  Make sure you select the large bottle of Garlic from the drop down menu!