I want you all to know that I liked pumpkin way before it was cool to like pumpkin. Like, my middle school friends just looked at me weird when I about passed out at the discovery of a pumpkin spice lip gloss. Long before Pinterest, and some e-cards, and Starbucks decided pumpkin was cool, I knew pumpkin was cool. I just have to get that out there.
Fall is in the air where I live. I busted out my leather boots and long sleeve sweaters this week and have been enjoying cool, sun-shiny days watching the leaves just start to change colors. As soon as the temperatures start dropping, my oven temps start rising. I love cooking more casseroles, soups, and stews, and on cool weekend mornings, I love making special breakfast dishes that we can lounge around and eat in our jammies.
This weekend I took one of my favorites: Our Overnight Baked French Toast, and gave it an autumn-y makeover. It's got the subtle warmth of pumpkin, and homey spices that scream fall time. I added an improved streusel crumb topping that knocks it out of the park, and when drizzled with melted butter and real maple syrup and topped with a dollop of whipped cream, this is pure heaven.
You'll need a bunch of eggs- and let's just remember these are in there during that moment when you realize this is basically dessert for breakfast. It has eggs so it totally counts.

Crack 8 eggs and whisk them up.
Now for the pumpkin. I'm packing a double punch here, first with straight-up pumpkin puree, and then….with this: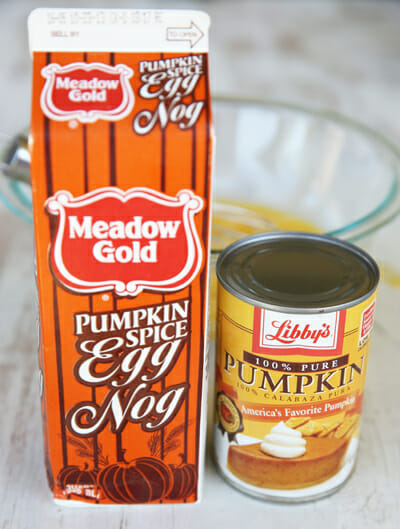 You can find pumpkin spice egg nog at most stores right now. If you look at the egg nog, the first 5 ingredients are: milk, cream, sugar, pasteurized egg yolks, and pumpkin puree. Basically everything that goes into a dish like this! The eggs add to the creamy custard, the cream adds richness, and then you get the extra pumpkin spice flavor.
So start by opening up a can of pumpkin puree (or you can use homemade, using this tutorial.)

Whisk some pumpkin into the eggs so it's a lovely orange color and nice and smooth. We're using 1 cup of pumpkin, but keep the rest around. I have a recipe coming later this week that uses the exact amount you have left. (Or make a Pumpkin Pie Milkshake!)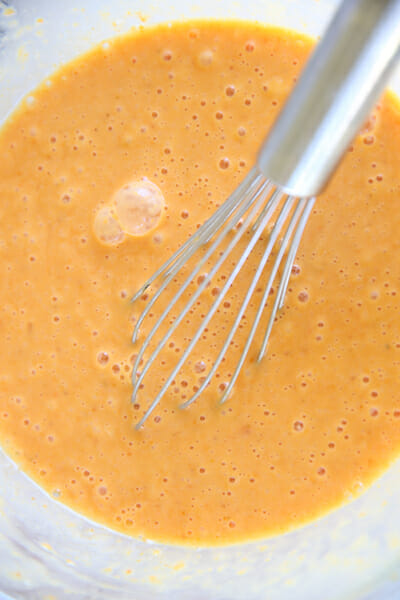 Then whisk in the pumpkin egg nog.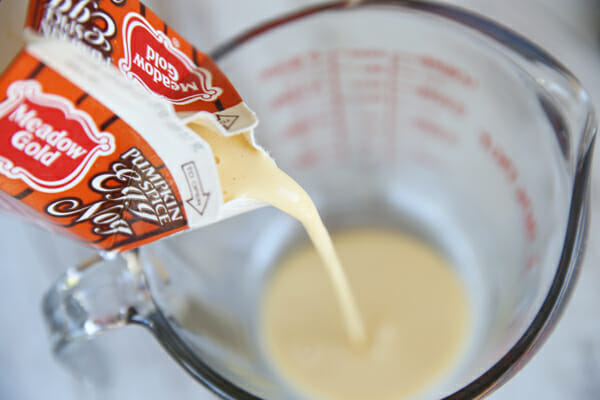 Combine it until it's nice and smooth,

and then we'll add in some additional flavor.

Whisk in a generous dose of vanilla, some dark brown sugar, and some pumpkin pie spice. Also some cinnamon.
We're going to pour this over some diced bread. I just grab a loaf of french bread from the grocery store bakery. I try and get it 2-3 days before I'm going to use it, and just leave it bagged and whole until you're ready to use it. Then dice it up into 1-inch cubes.

Your egg mixture is going to be especially thick, because egg nog is considerably thicker than regular milk. Pour the mixture over the bread cubes. Now, usually I just pour the mixture right into the pan (like I'm doing here in this photo) but if you have a bowl large enough, I would suggest gently tossing the bread and egg mixture together in a bowl first, letting it sit for a couple of minutes and then tossing again, just to help all of those bread cubes get covered and soaked. Then you can pour it all into a buttered pan.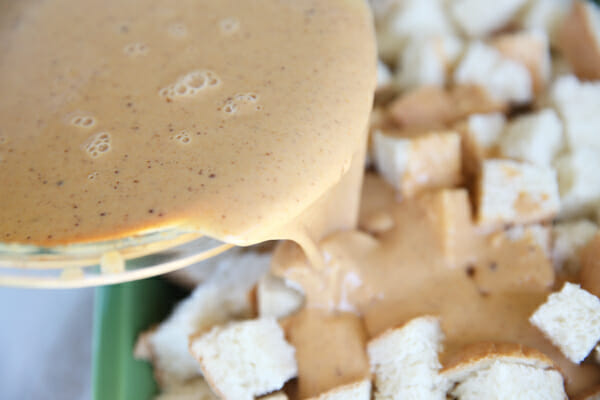 That pan goes into the fridge overnight so it can have lots of time for the bread to absorb the liquid. When that's all done, mix up a little topping. It's a quick blend of brown sugar, white sugar, a touch of flour, pumpkin spice, cinnamon, and mozarella cheese.

JK dudes, I just grated my cold butter with a cheese grater. Seriously- don't put cheese in there. Then just use your fingers to crumble it all up. Place this little bowl in the fridge overnight.

In the morning, pull your pan out while your oven is pre-heating and sprinkle the crumbly topping all over the top. Also, eat some of the crumbly topping, but try not to let anyone see you.

Bake it in the oven for about 45 minutes and it will get puffed and golden on top.
Hello Gorgeous.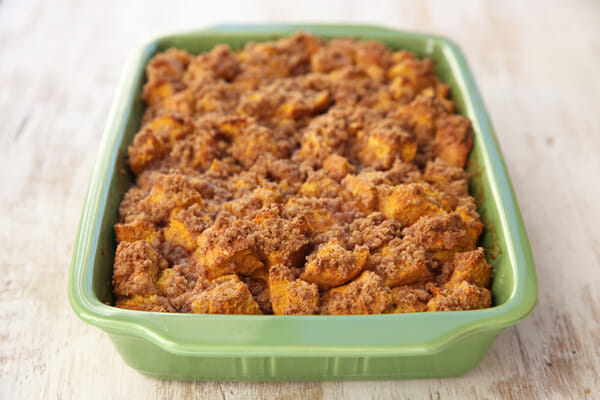 The topping gets crispy and crunchy, and the sugary crumbles are such an awesome contrast to the smooth custardy french toast below. Let it cool for a few minutes and then cut it into squares and serve.
I'd definitely recommend drizzling with 100% real maple syrup here.
And just because it probably doesn't have enough calories yet, I really, really, love some melted butter on there too. I mean, it's french toast- it's only natural.
Annnnd since we're going all out here, top with a little whipped cream (or Cool Whip) and sprinkle on some pumpkin pie spice.
Oh my gosh, I die.
This makes a perfect weekend breakfast during these cool autumn months, or it would be really fun on Halloween or Thanksgiving morning!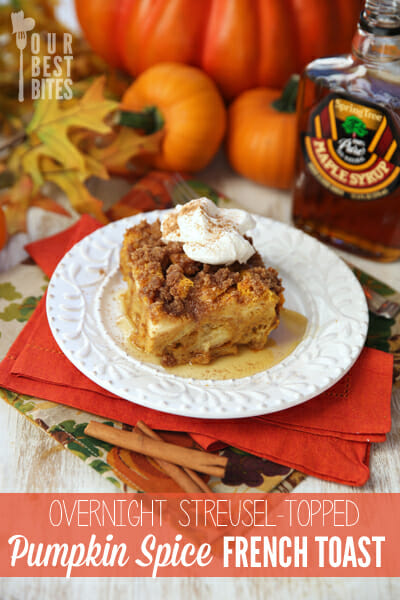 Print
Overnight Baked Pumpkin Spice French Toast
---
Description
Easy breakfast and brunch dish that's prepped the night before for easy cooking in the morning! Packed with autumn flavors like pumpkin, cinnamon, and brown sugar.
---
1

lb loaf french bread, diced into

1

-inch cubes

8

eggs

1 cup

pumpkin puree

2 1/2 cups

pumpkin spice egg nog

4 tablespoons

brown sugar (dark brown if you have it)

1 1/2 teaspoons

pumpkin pie spice

1 teaspoon

cinnamon

1/2 teaspoon

salt

1 tablespoon

vanilla
butter for greasing pan
Topping

1/4 cup

packed brown sugar (preferably dark brown sugar)

1/4 cup

white sugar

2 tablespoons

flour

1/2 teaspoon

pumpkin pie spice

1/4 teaspoon

cinnamon

2 tablespoons

cold butter
---
Instructions
Butter sides and bottom of a 9×13 pan and set aside. Place bread cubes in a large mixing bowl.
In a separate bowl, whisk eggs together and add pumpkin puree. Whisk until smooth. Mix in pumpkin spice egg nog. Add brown sugar, pumpkin pie spice, cinnamon, salt, and vanilla and whisk until combined. Pour mixture over bread cubes and very gently toss until covered. Let sit for 2-3 minutes and then toss again, making sure all bread cubes get covered in some of the egg mixture. Place entire mixture in prepared 9×13 inch pan, cover, and refrigerate overnight.
In a small bowl, combine brown sugar, white sugar, flour, pumpkin pie spice, and cinnamon, Either grate butter with a large-hole cheese grater, or cut it into small chunks, and use fingers to crumble mixture together. Cover, and place crumb topping in fridge overnight.
In the morning, take french toast pan out and set at room temperature while you preheat the oven to 350 degrees. Uncover pan and sprinkle crumb topping evenly over the top. Bake for 45-55 minutes, until puffed and golden all over. (Mine usually takes closer to 55 minutes). Remove and let cool for 10 minutes or so and then cut into squares and serve.
Serve with softened or melted butter, 100% real maple syrup, and sweetened whipped cream sprinkled with pumpkin pie spice.
---