First of all, today is cause for celebration. It's December 21st and the world didn't come to an end. Take that Mayans.
christmas morning memories
Right about this time every year we start getting emails and Facebook requests asking us what we serve in our own homes on Christmas morning. At my house growing up and now with my own little family it's always been an "overnight meal." Everything is made the day before so all that needs to be done on Christmas morning is popping things into the oven. I have vivid memories of being a kid and running downstairs to see what Santa had delivered.
After opening a few gifts after that, the oh-so-familiar smell of our traditional Christmas dishes started wafting through the house. As soon as we could smell it, we knew it was time to take a break from presents and run to the table. Without exception, we have this Overnight Sausage and Egg Casserole. It's usually accompanied by Almond Poppyseed Bread, fresh fruit, and the Overnight Sticky Buns from our first cook book. Another go-to breakfast dish is this overnight Baked French Toast. It has all of the sweet and savory flavors of traditional french toast, but in an easy-to-make and serve casserole form.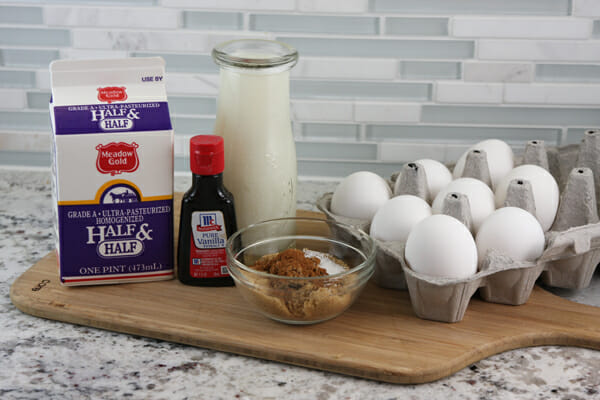 let's make it!
Start by cracking a bunch of eggs in a large mixing bowl and whisking in some half and half and some milk. I use 2 parts half and half to one part milk (whatever I have on hand) but you could also use all whole milk if you've got that around. Or 1 part cream 2 parts milk…you've got options. Just don't use all skim milk for the liquid, you need to have the fat in there to get a nice creamy custard.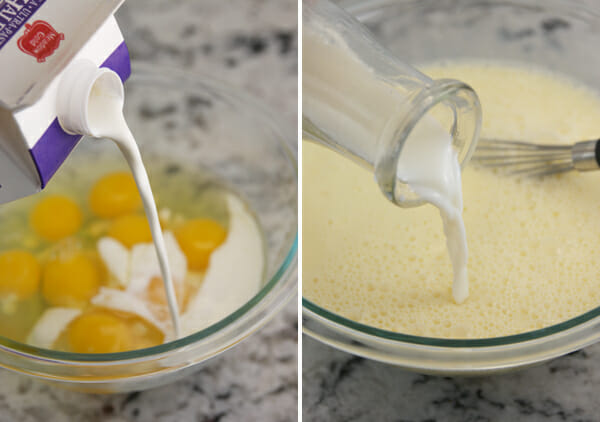 Once that's smooth, add in a little flavor. I keep it nice and simple so you can go crazy with the toppings. Flavor the egg mixture with a little brown sugar, cinnamon, and salt.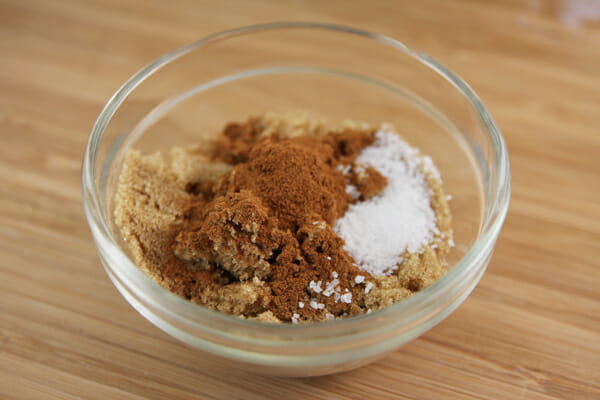 And also a generous spoonful of vanilla.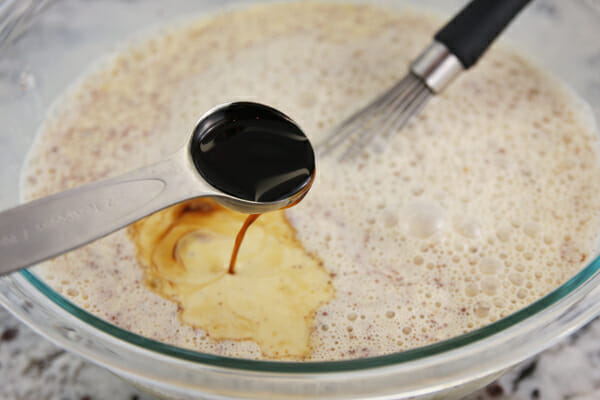 You can use a number of different breads in this. A loaf of french bread works great; that's what I usually use, but feel free to use something like brioche, challah, or any other good french-toasty bread. You can buy it a day or two ahead of time because slightly dry bread absorbs the liquid really well. Don't fret if you have fresh bread though, I often don't dry out my bread and it works great; I actually like it extra soft like that. If you'd like to dry out your bread, you can pop it (already chopped) into a 350 degree oven for about 10 minutes.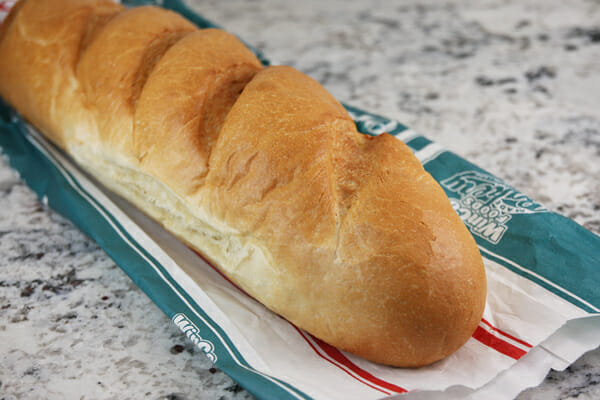 Instead of slicing the bread, I like to cut them into large chunks. Place them all in a buttered casserole dish and then pour the egg mixture evenly over the top. Use a spatula to very gently toss the bread a little bit, moving the bread from the bottom to the top, and making sure the pieces on top all get dunked. If your bread is fresh, it will quickly fall apart so be gentle.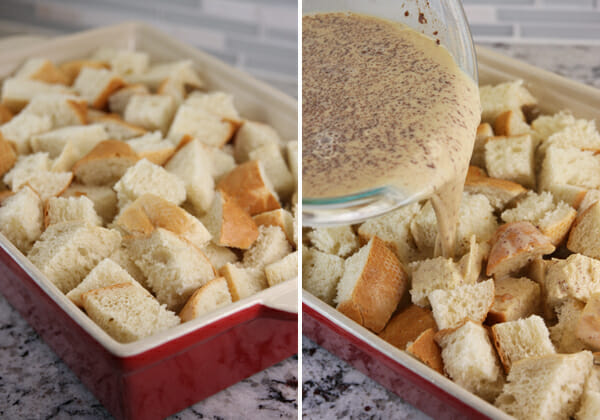 I know what you're thinking. This looks like bread pudding. When I was plating this batch to photograph, our friend stopped by. I served him up a plate and he said, "This looks like bread pudding, why are you calling it french toast?" My response: "Because if you put syrup on it and call it french toast, then it becomes a perfectly acceptable breakfast food." I'm all about justification when it comes to eating dessert for breakfast.
Alright, cover the baking dish and pop it in the fridge overnight. We're also going to mix up a little topping- I just put it in a dish and leave it in the fridge as well and sprinkle it over the dish right before baking in the morning. It's brown and white sugars, cinnamon, nutmeg, and a little butter. When it bakes, it creates a nice crunchy-sweet topping and kind of slips in between the cracks of bread.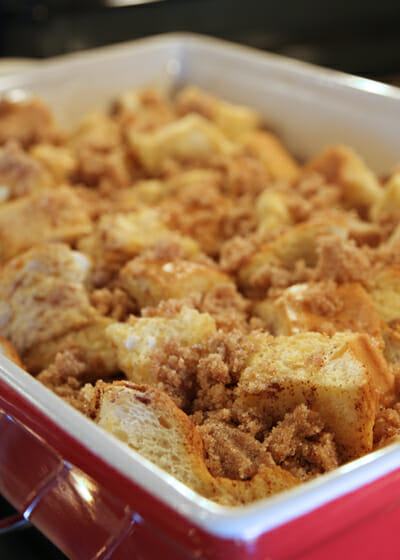 You can serve this a million and one ways. It's great with crumbled bacon and maple syrup, or fresh fruit and whipped cream, or really whatever you feel like dumping on top.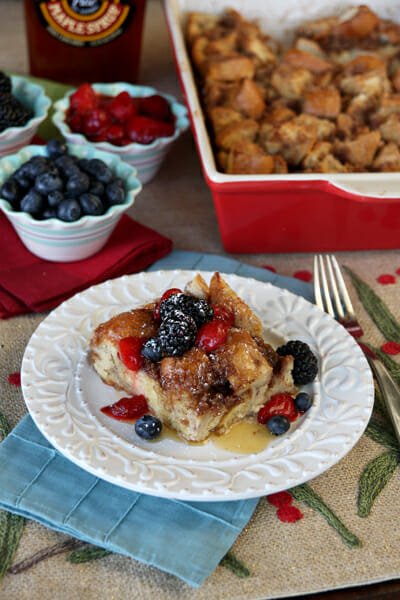 My favorite is a drizzle of melted butter, a drizzle of pure maple syrup, and fresh berries.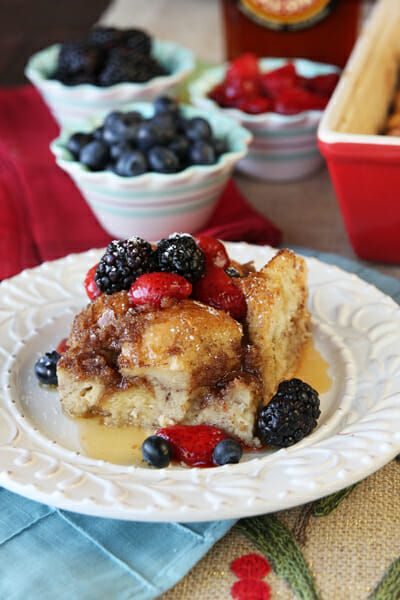 Since fresh berries are pricey this time of year, frozen work well too. Just thaw them (and drain if you want) and mix them with a little sugar before serving since frozen berries tend to be tart.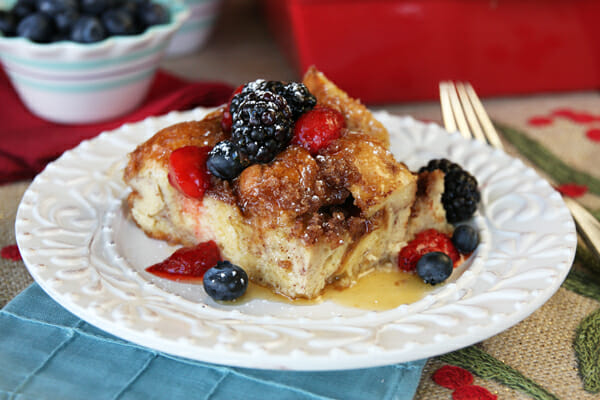 The sweet juicy berries combined with melted butter and syrup is perfect with the warm, soft bread.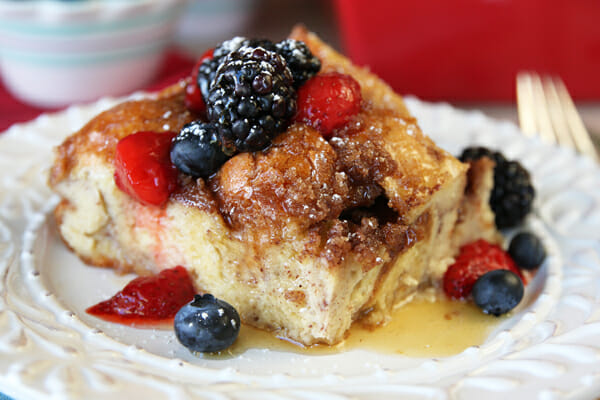 Oh, and whipped cream. Yeah, put some of that on there too.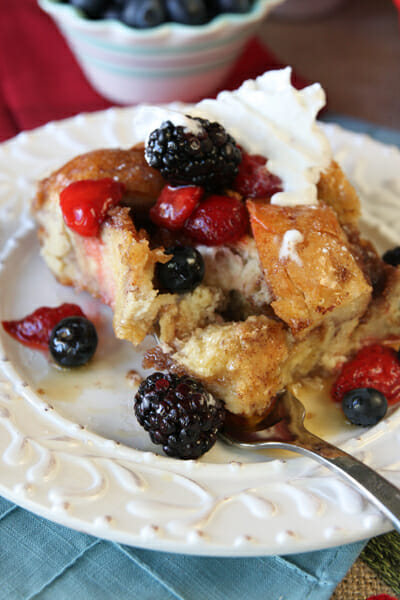 And you shall have a very merry Christmas indeed!
Print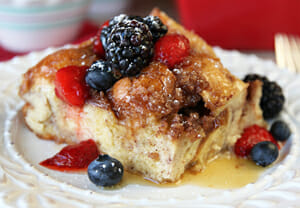 Overnight Baked French Toast
---
Description
This overnight baked French Toast with crunchy brown sugar topping comes together in just a few minutes the night before, then bakes in the morning for an easy, festive breakfast treat!
---
8 eggs
2 (1 pint) cups half and half
1 cup milk (whatever kind you have on hand)
6 tablespoons brown sugar
1 1/2 teaspoons cinnamon
1/2 teaspoon kosher salt (a little less if using table salt)
1 tablespoon vanilla extract
1 lb. loaf of French bread
softened butter for greasing baking dish (2-3 tablespoons)
Topping
4 tablespoons packed brown sugar
4 tablespoons white sugar
1/2 teaspoon cinnamon
1/4 teaspoon ground nutmeg
2 tablespoons cold butter
For Serving
melted butter
maple syrup
powdered sugar
berries
whipped cream
---
Instructions
Crack eggs into large mixing bowl and whisk to combine. Whisk in half and half and milk. Add brown sugar, cinnamon, salt and vanilla. Set aside.
Use softened butter to butter bottom and sides of a 9×13 baking dish. Cut bread into 1 inch chunks and place in dish. Whisk egg mixture one more time and then pour evenly over bread. Use a rubber spatula to very gently toss bread, moving bread on bottom to top, and making sure all of the piece on top get dipped in egg mixture. Spread out evenly, cover dish, and place in fridge overnight.
To make topping, place brown sugar, white sugar, cinnamon and nutmeg in a bowl and stir to combine. Cut cold butter into very small pieces and add to bowl. Use clean hands to break up butter and combine mixture until crumbly. Cover and place in fridge until morning.
When ready to bake preheat oven to 350 degrees. Remove plastic from dish and sprinkle topping evenly over top. Bake for 40-50 minutes or until top is golden brown. You can stick a knife or skewer in the casserole to make sure the egg mixture is set on the bottom. *Note I have left a generous baking time window because it varies on ovens and the size of your bread cubes. I used to cook this closer to 60 minutes at my old house, but in my new convection ovens it's done closer to 45. Keep an eye on it and let me know how long yours takes to bake!
Let cool for 5-10 minutes before cutting into squares. Drizzle with melted butter and syrup, top with berries, whipped cream and a sprinkle of powdered sugar if desired.
---