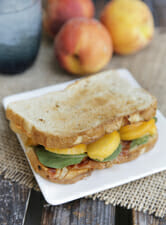 You'll notice here at Our Best Bites, our recipes sway with the seasons.  We love using what's fresh and in-season to take advantage of the best flavors.  In most places around the country, peaches are in full swing.  They're extra sweet and super juicy this time of year and people are constantly emailing us asking for ideas to use them!  This unique sandwich is one perfect solution.  It's like a twist on a classic BLT, offering fresh flavors and surprising contrasts.  Try it for a quick lunch for one, or whip them up in bulk with some fresh fruit and a side salad for a great summer dinner.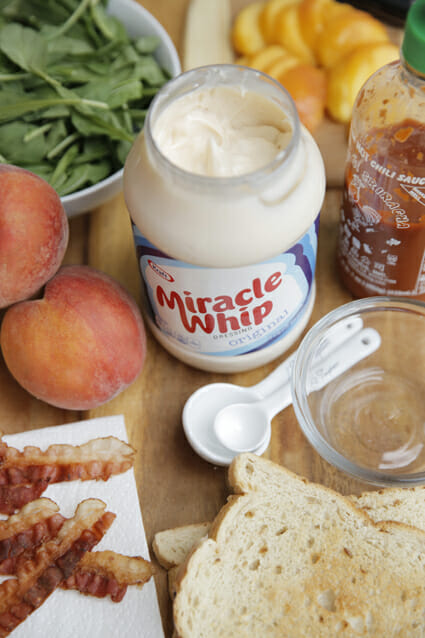 Start by mixing up a quick tangy-spicy sauce.  Two ingredients is all it takes.  Miracle Whip adds a little tang, without needing extra ingredients like vinegar, and Sriracha brings the heat along with a little pepper flavor.  If you're not too keen on spice, feel free to dial down the Sriracha to start and add more to taste until you reach your perfect heat level.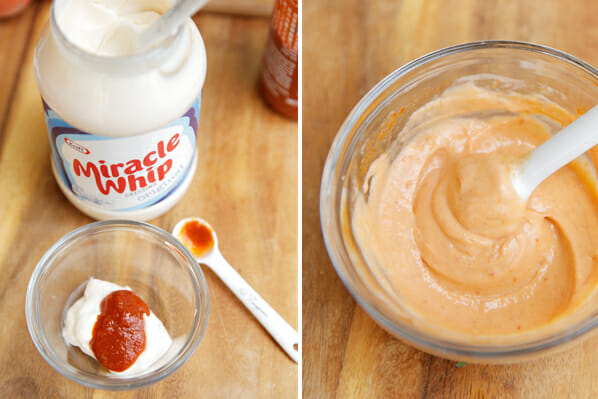 Spread some sauce on 2 slices of toasted bread.  Pile on a bed of arugula, and a few pieces of crisp bacon.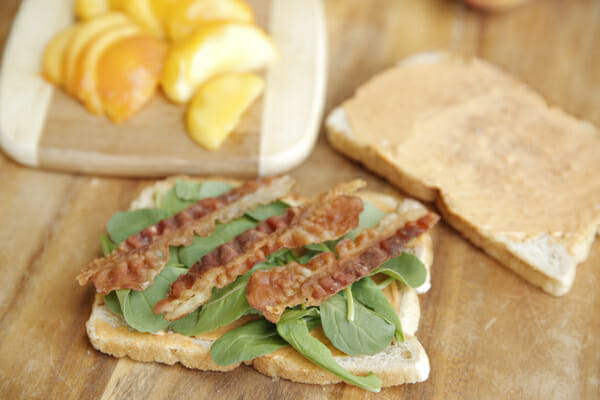 As you can see, this is building up similar to a BLT, but instead of tomatoes, we're using sweet, juicy peaches.
The peaches really pair well with the tangy sauce,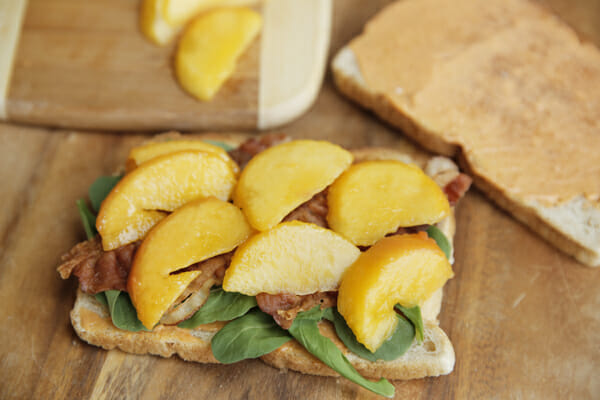 and the savory bacon balances the sweetness for a great flavor combination.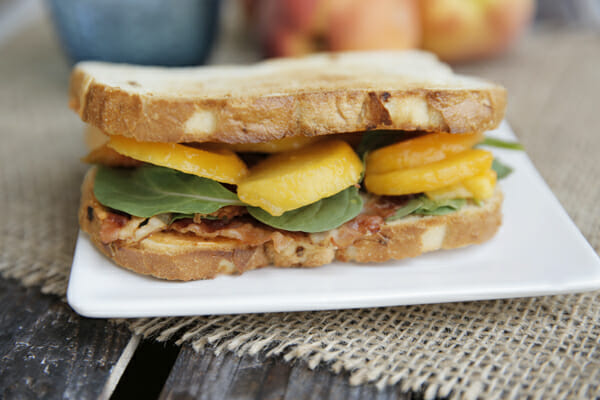 I love the textures in the sandwich, too.  Toasted bread adds a crunch, and the soft peaches with the crumbly bacon and smooth sauce in your mouth combine so well.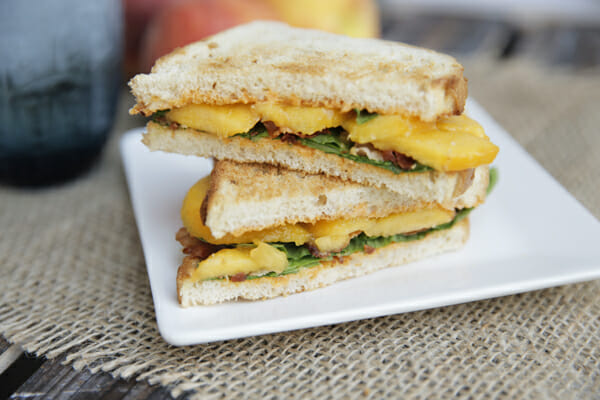 This makes a super quick and easy lunch for one,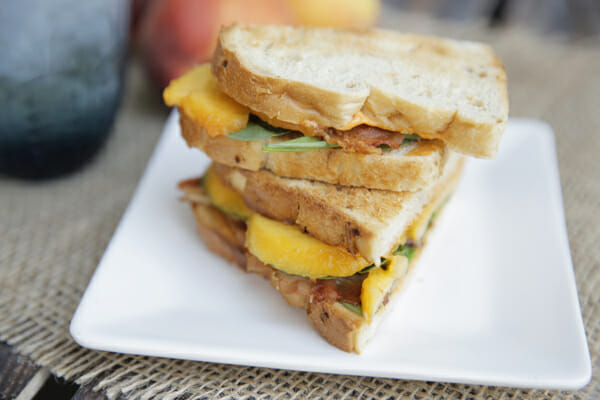 Or make them in bulk and cut them small for a perfect party appetizer or game-day snack.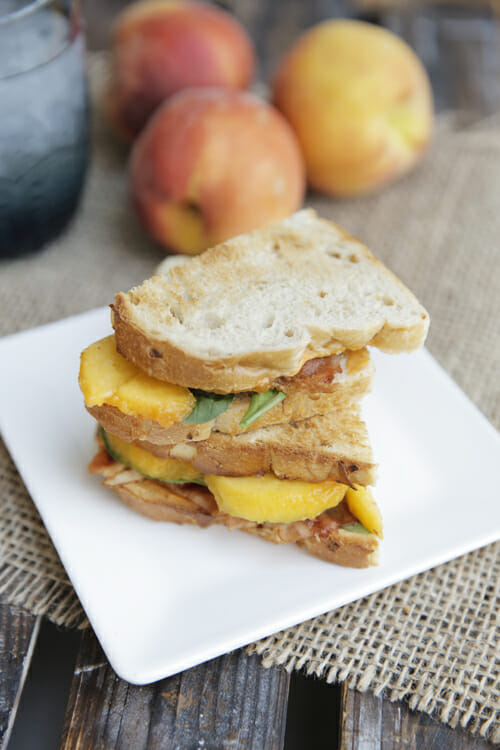 Either way, it's a great twist on a classic!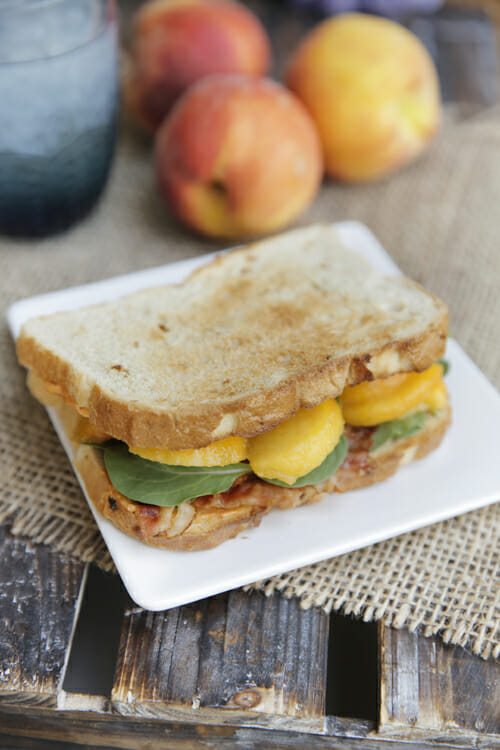 Peachy Bacon Sandwich
Recipe from Kraft
Ingredients
2 tablespoons Miracle Whip
1 teaspoon Sriracha sauce
4 slices Italian bread, toasted
2 peaches, thinly sliced
6 slices cooked OSCAR MAYER Bacon
1/2 cup tightly packed arugula
Instructions
Mix dressing and Sriracha sauce until blended; spread onto toast slices.  Fill with remaining ingredients to make sandwiches.