BBQ ribs will forever remind me of my little sister, who when other 5-year-olds were ordering mac n' cheese off the kids' menu at restaurants, would order a big ol' rack of ribs.  Can't blame the kid; everyone loves a good plate of saucy ribs.  For me, ribs have always been a special occasion food.  My favorite way to cook them was long and slow in the crockpot and then charred on the grill or under the broiler, like this popular recipe that many of you love.  However after pulling out my pressure cooker, I made a dangerous discovery: you can make tender, juicy, fall-off-the-bone ribs pretty much every night of the week in under an hour.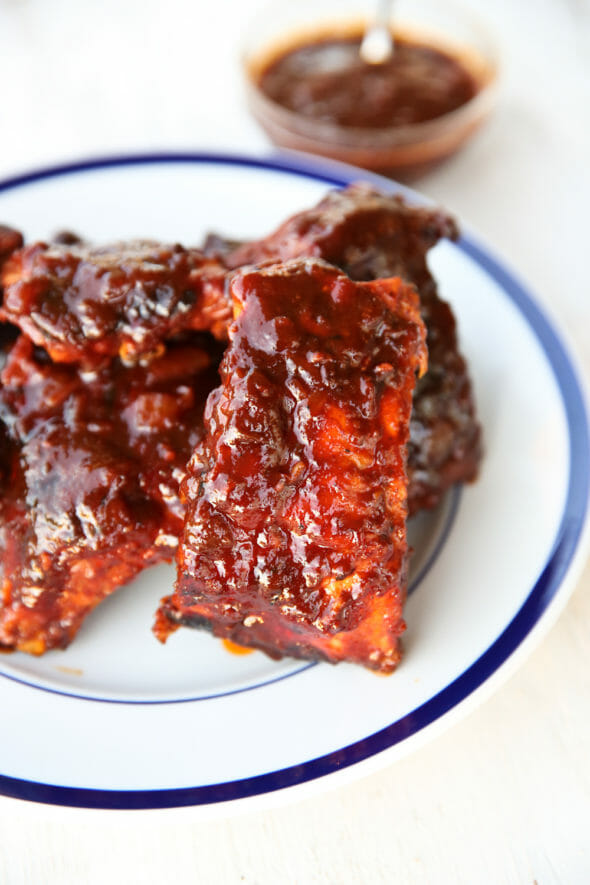 With only 30 minutes of pressure-cooking time, the meat is so tender and the sauce so flavorful, you will be amazed.  And then you will make ribs 3 times a week and not even feel a tiny bit bad about it.
Start with a sweet and savory dry rub of smoked paprika, brown sugar, chili powder and a little salt and pepper and rub it all in.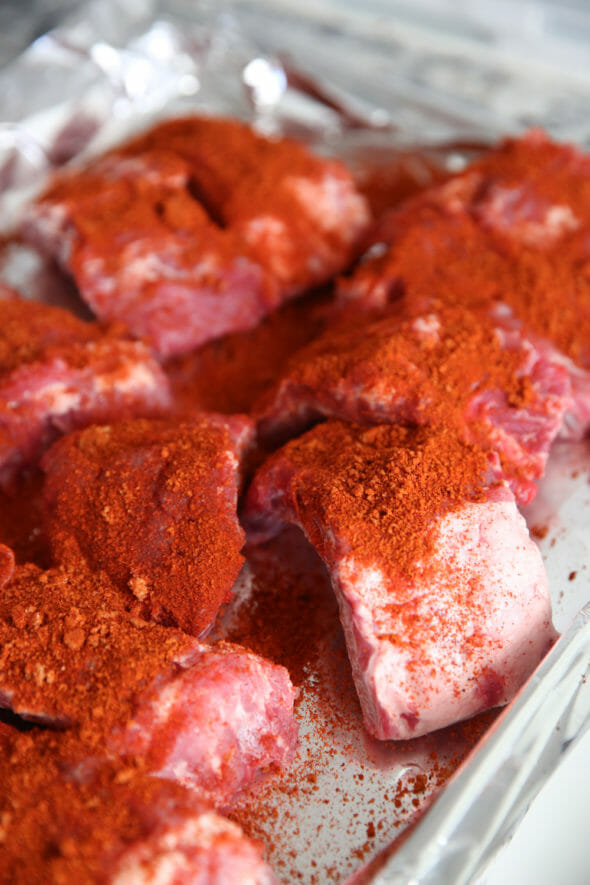 You'll build your sauce right in the pressure cooker.  Start with a little oil- I'm using our Bacon Extra Virgin Olive Oil, which is pretty much made for this recipe.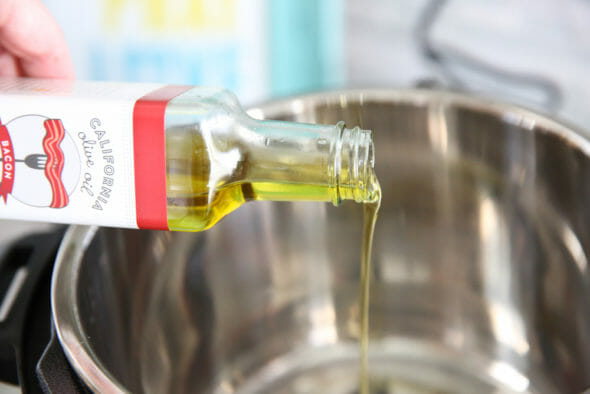 It adds a really nice, subtle smoky flavor here.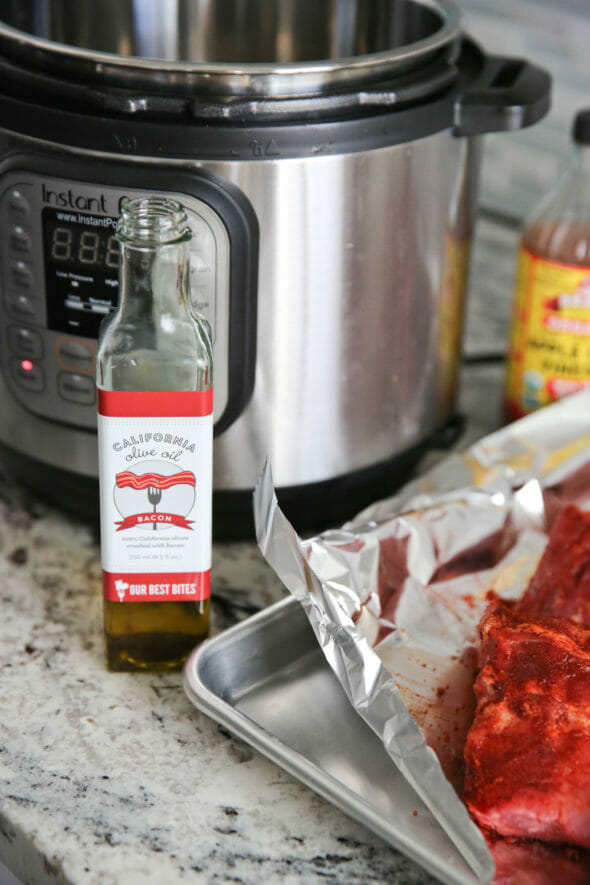 Next goes in: ketchup, brown sugar, Worcestershire sauce (sidenote:  I've literally never correctly spelled that word in my life.  I always just spit out a bunch of semi-related letters and hope that spellcheck picks it up), apple cider vinegar (use a good one- I recommend Bragg's), dry mustard, and kosher salt.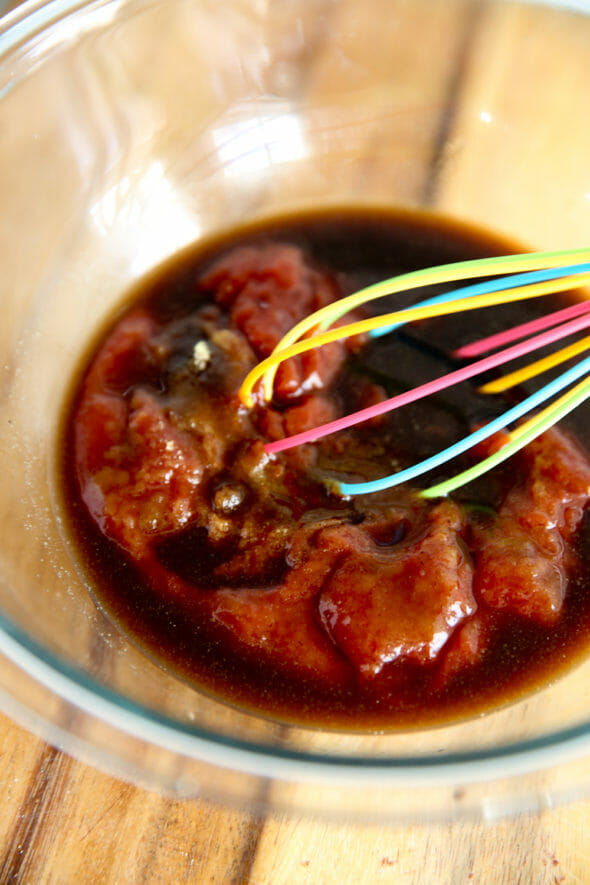 Stir the sauce all together and then add a few ribs at at time and gently coat them in the sauce and then arrange them upright with the meat-side facing out, like this: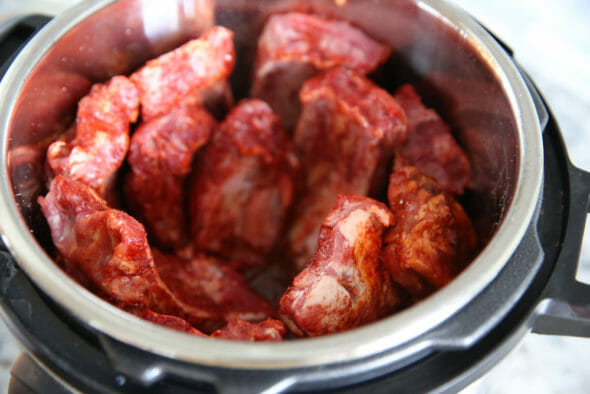 If you can reach down to the bottom of the pot with a spoon, grab some of the sauce and pour it on top of the ribs.  Then secure the lid and cook on high pressure for 30  minutes.  Take the ribs out and then turn the saute feature back on your pot and bring the sauce to a simmer for about 10 minutes to thicken, if needed.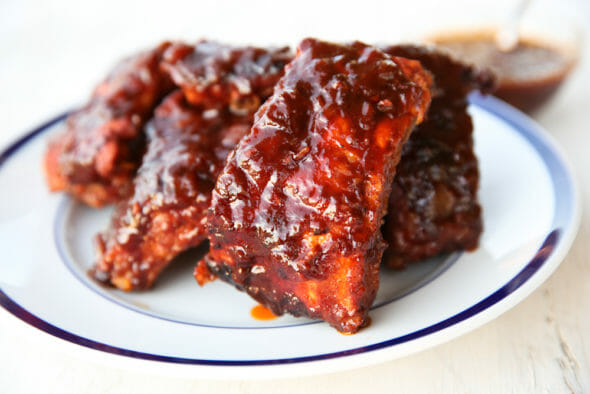 If you like, you can place your ribs under the broiler for a few minutes to brown and char the tops a bit.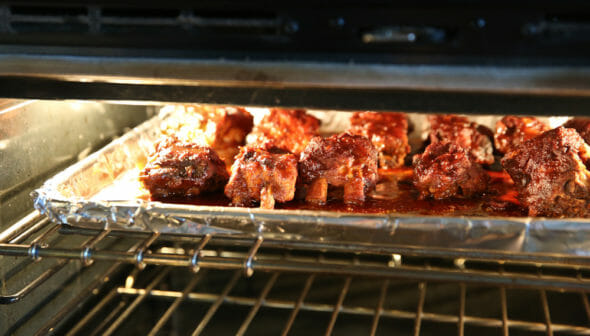 Because the meat cooks IN the bbq sauce, the sauce becomes super flavorful.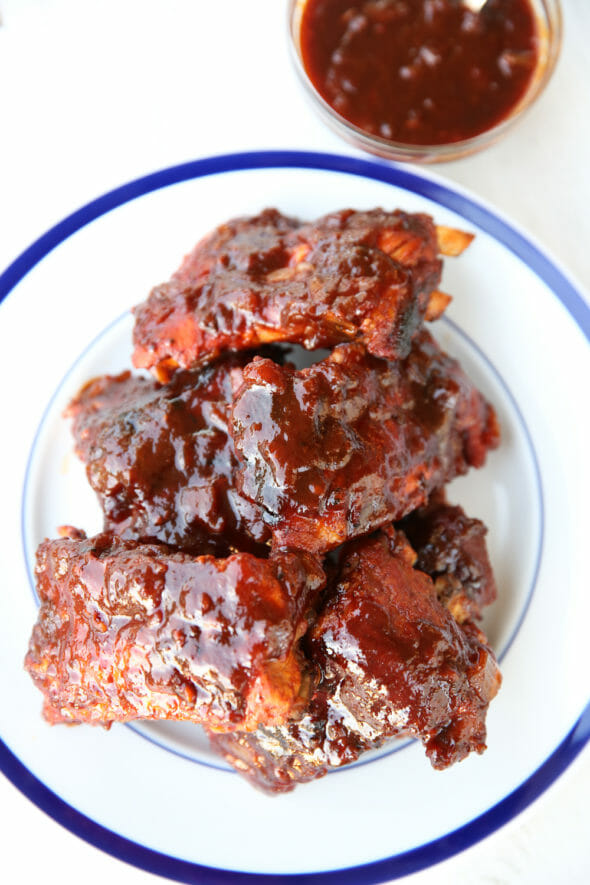 Serve any extra sauce on the side, but make sure to slather lots on top!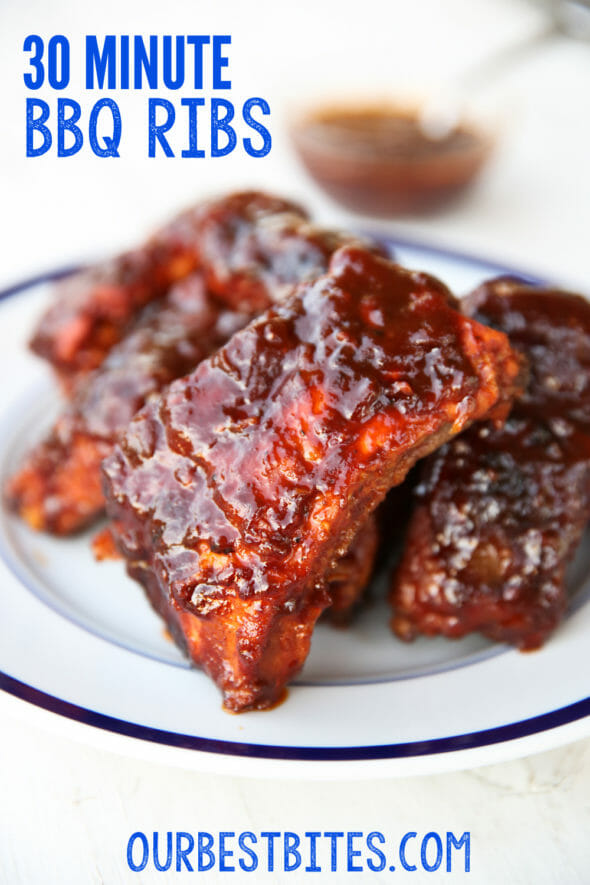 This is the pressure cooker I have, and I love it!  —> Instant Pot Electric Pressure Cooker
Print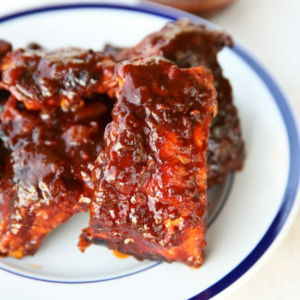 ---
Description
Tender, juicy ribs with a quick homemade bbq sauce. All done in about 30 minutes cooking time!
---
2

racks baby back ribs (about 1.5-2lbs each)
Rub
2 tablespoons

smoked paprika

2 tablespoons

brown sugar

1.5 tablespoons

chili powder

1 teaspoon

kosher salt

1/2 teaspoon

black pepper

1.5 cups

ketchup

3 tablespoons

brown sugar

3 tablespoons

Worcestershire sauce

3 tablespoons

apple cider vinegar

1 teaspoon

dry mustard

3/4 teaspoons

kosher salt

1 tablespoon

vegetable or olive oil (our bacon oil is fabulous here)

1

large onion, diced

4

cloves garlic, minced or pressed
---
Instructions
Line a large baking sheet or cutting board with foil (for easy clean-up). Cut ribs into 2-rib sections and lay out on foil.
Combine all rub ingredients and sprinkle over ribs. Use hands to rub into both sides of meat. Set aside.
In a mixing bowl, whisk together ketchup, 3 tablespoons brown sugar, Worcestershire sauce, apple cider vinegar, mustard powder and 3/4 teaspoons salt. Heat pressure cooker to saute function and add oil and onion. Saute for 3-4 minutes, until soft. Add garlic and cook for another 30 seconds, stirring often. Add the ketchup mixture and stir to combine. Add a few ribs at a time and use tongs to gently coat them in sauce. Then arrange ribs standing upright with meat-side facing outward (see blog post for visual).
Secure lid on pressure cooker and set to high pressure for 30 minutes cook time.
When finished, turn pressure cooker off (or remove stovetop pressure cooker from heat) and let naturally release pressure for 15 minutes. Manually release any remaining pressure and then open pot. Place ribs on platter and coat with sauce.
Optional: Arrange cooked ribs meat-side up on baking sheet and broil for charred exterior.
---
---