Mashed potatoes. I feel like they're kind of like chocolate chip cookies in the way that everyone has their version of perfection. Some like them smooth, some like them chunky, some like skins, others are horrified by the skins (#teamskin, for the record). Then you've got a plethora of add-in options like garlic and cheeses, herbs, and more. When it comes to Thanksgiving I feel like simple is the way to go. Classic, buttery, creamy, perfect potatoes. But I will tell you one thing I hate, hate doing: peeling potatoes. Also bringing an enormous pot of water to boil on my stove top. Also boiling a giant pot of potatoes. So I have a few methods to save time, sanity, and stove-top real estate this Thanksgiving! I'm going to talk about pressure cooking in this blog post, but you can find my easy slow-cooker instructions in the printable recipe! Both methods are very much set-it-and-forget-it.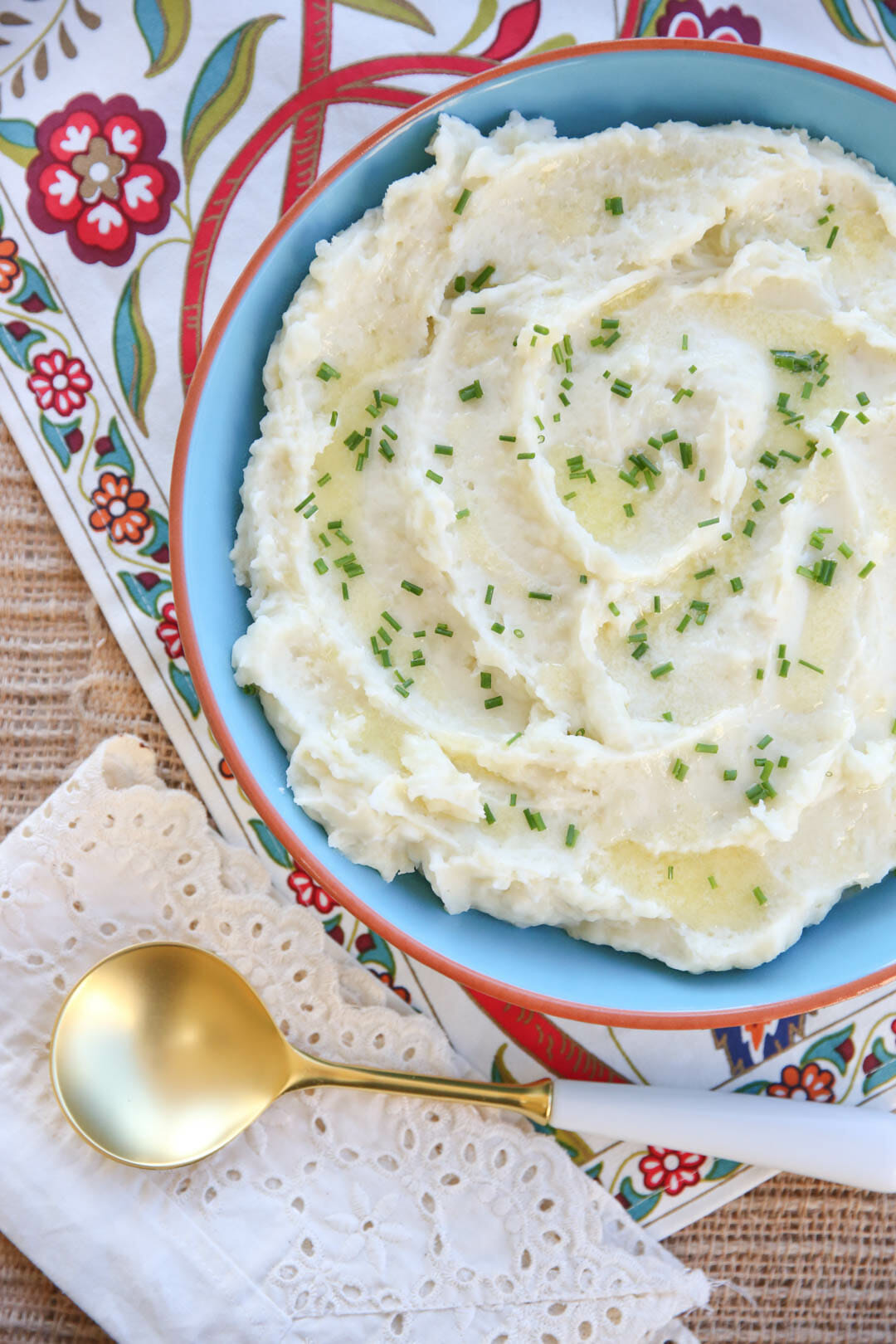 A pressure cooker can be your knight in shining armor on big meals like Thanksgiving and Christmas when you really don't have time to be babysitting a big giant pot of boiling water, and it's SO quick and easy to cook an enormous amount of potatoes!
I'm using russet potatoes, from Idaho (duh!). I bought a 10lb bag for .88 CENTS. I got home and my husband reminded me that we had about 20 pounds of potatoes sitting in our garage that had come straight from an Idaho farm nearby. Oops. I was so excited about an .88 cent bag of potatoes that I forgot we already had potatoes coming out of our ears. So we are having mashed potatoes every day for the next month, if you're wondering.
So here we go. I'm not peeling these potatoes. You absolutely can if you'd rather do that to start, but I leave the skins on, because remember I hate peeling potatoes?? I have a trick to peeling them after!
Cut each potato in half across the equator. If you have a rack, place the rack on the bottom of your pressure cooker so the potatoes won't sit in the water. Add 1 1/2 cups water.
You can read all about pressure cooking, here. I have an Instant Pot and a stove-top Rikon Kuhn pot and I have always wanted a Fagor because they are so highly rated by America's test Kitchen. I love my Instant Pot, and I kind of think of it as my trusty Honda, while this gorgeous new Fagor is more like a BMW. It even comes in pretty holiday colors (copper! Silver! Champagne!) I've been really impressed with it. It's not only beautiful to look at, but it cooks like a dream, with a user-friendly control panel.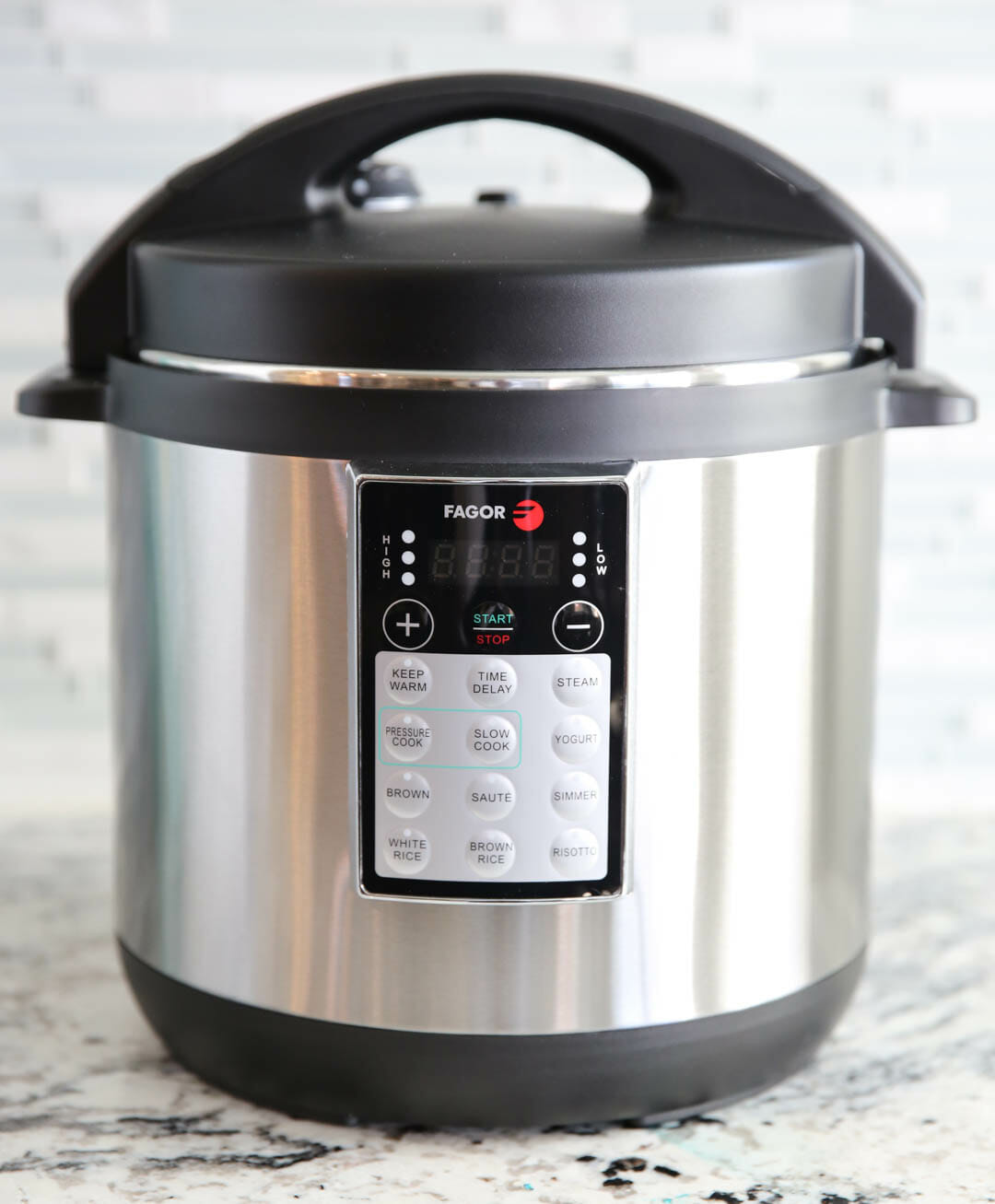 To cook the potatoes, process on high pressure for 12 minutes and then quick release the steam. The potatoes will be VERY hot at this point, so you can let them cool for just a minute, but not too long! I use a paper towel and grab the potato and just squeeze the flesh out of the skin. Most of them pop right out very easily! Keep in mind this method really works best with russet potatoes. This wouldn't work with a thin-skin like red or yukon gold. If you're using that variety either peel them first, or mash them with the skins still on.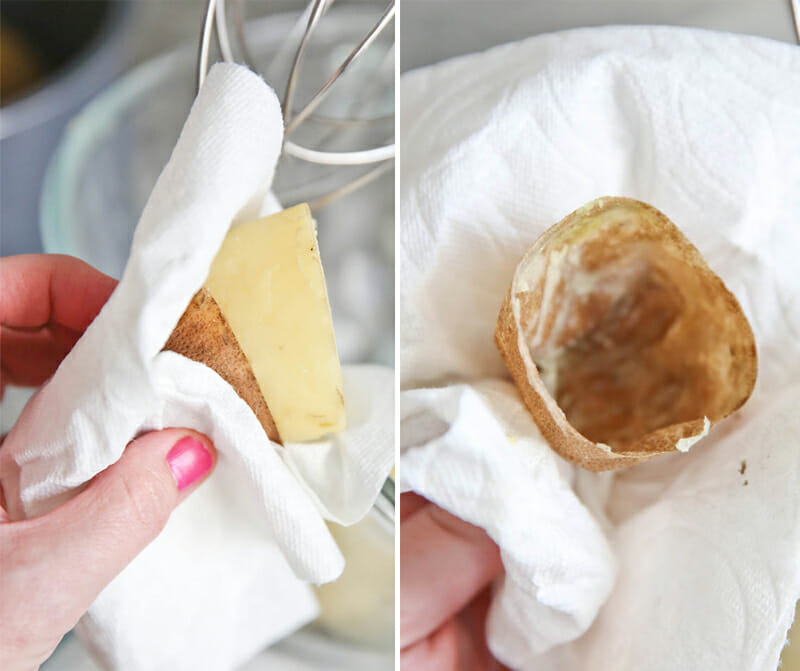 I make mashed potatoes in my stand mixer; I find it to be super easy and it yields a smooth creamy texture with a few chunks in tact, just how I like them. It also whips air into the potatoes, giving russets a light, fluffy texture.
While they're still hot, pour in a full stick of melted butter and some whipping cream. These are holiday potatoes, people! For every day potatoes I tend to use low fat milk and less butter, but on holidays I go all out with the butter and cream. Just go for it. You're going to eat tons of pie after this so it's a lost cause. I melt the butter and then pour the cream into the butter so the mixture is warm when it goes into the potatoes.
I feel like consistency is really personal, and a little different depending on the variety of potatoes you use, so from here you'll want to add more according to taste. You can either pour in about another 1/2 cup cream, or I often use sour cream as well. You really want to do this part to taste. Lots of sampling should occur. The other important aspect is salt. Salt makes the biggest difference in the overall flavor of your potatoes. Add kosher salt and then mix and taste and repeat until it's perfect! You can also add a few big cracks of black pepper.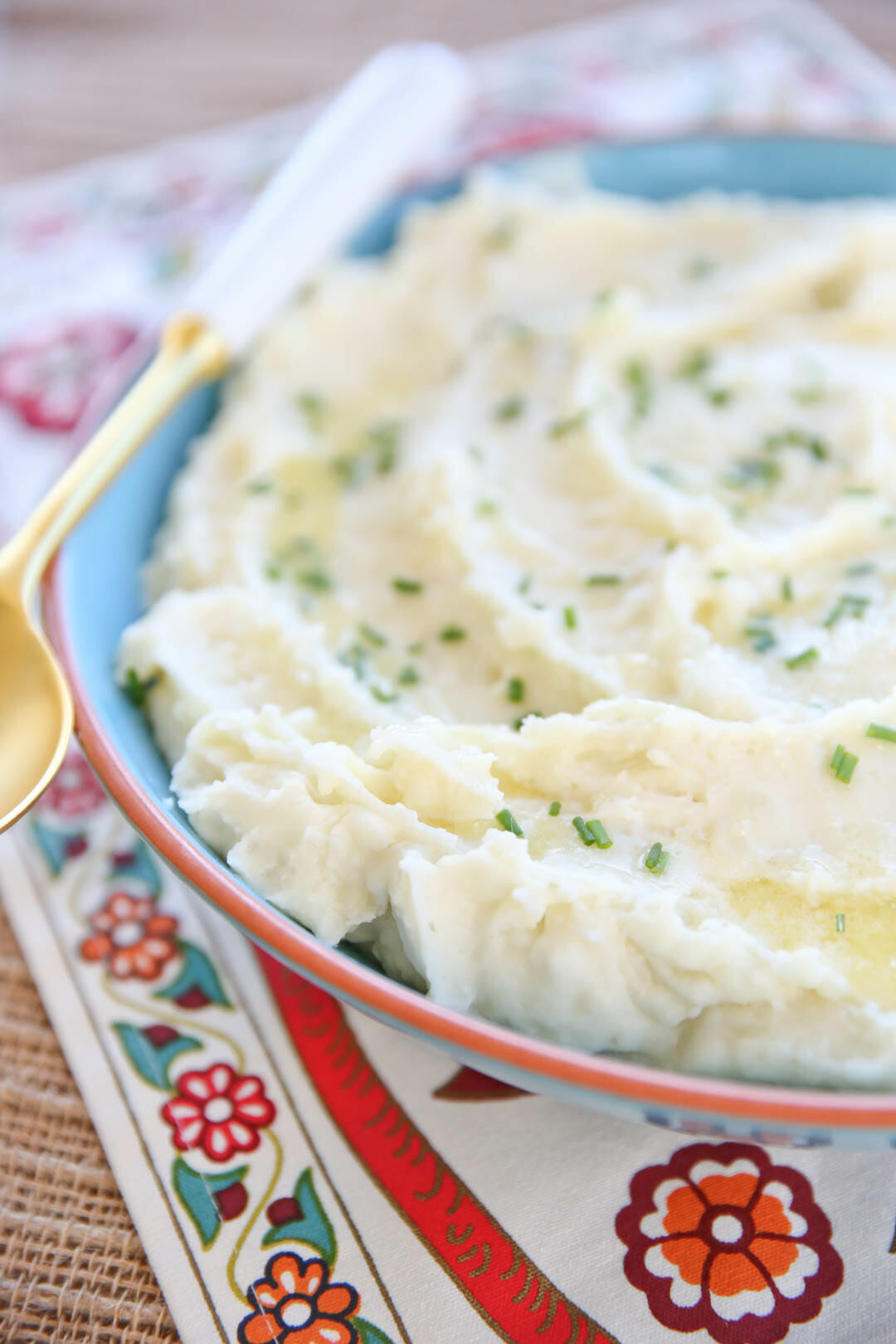 I like to garnish my potatoes with additional melted butter and fresh chives.
They'll be smooth and creamy, and rich and buttery and perfect for slathering in gravy!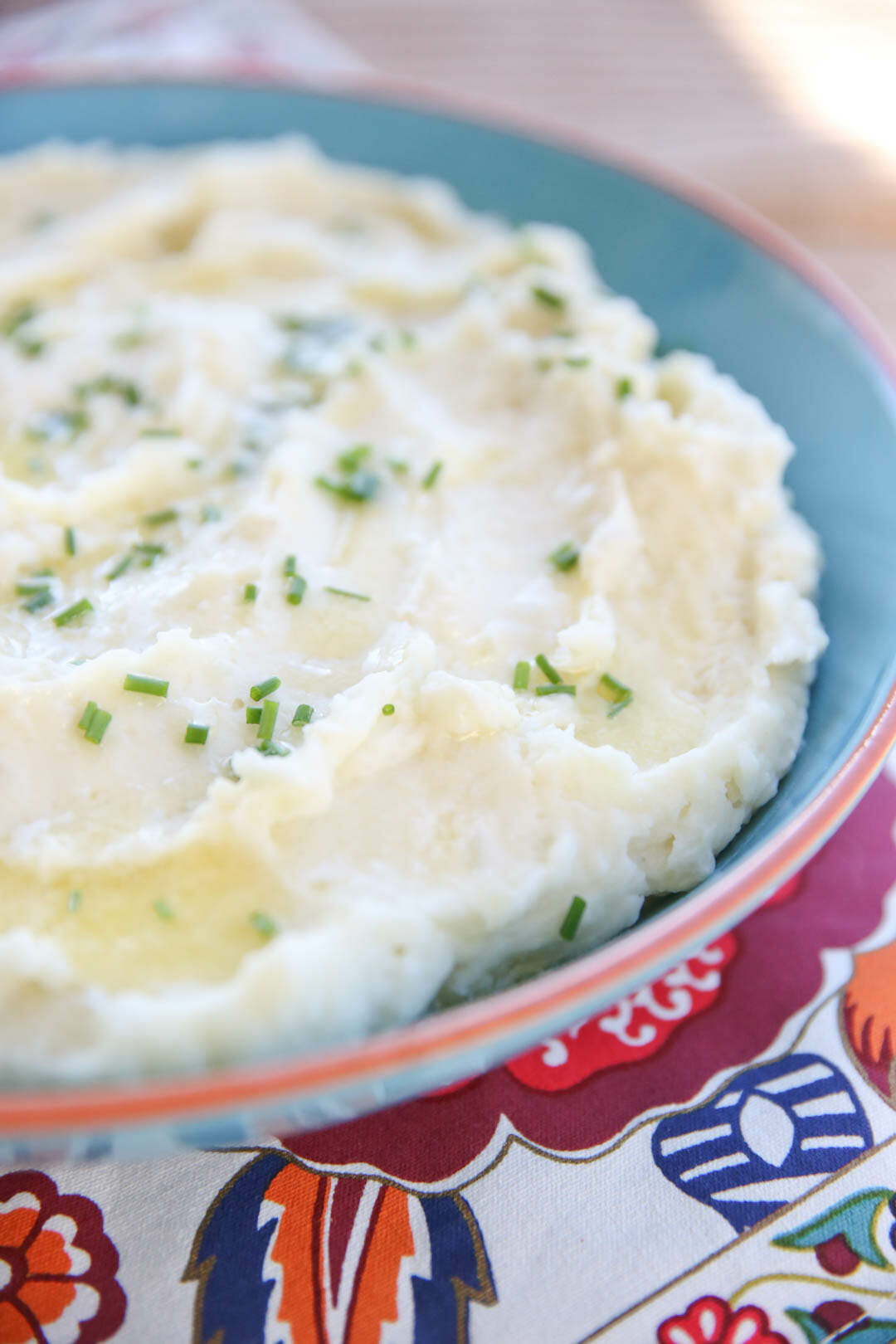 Speaking of- do you know how to make gravy?? It's SO easy! You can even make it ahead of time and freeze it for Thanksgiving. Check out my tutorial right here!
NOTE: Slow Cooker Instructions (for some reason these are not showing up on the recipe card so I'll write it here!)
Spray slowcooker with cooking spray and place whole potatoes inside. Cook on high for about 3 hours. Either slip peels off of russets (or scoop out flesh with a spoon), or smash other varieties with the skins still on. Easy peasy!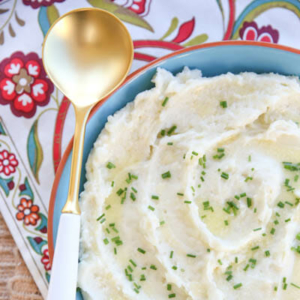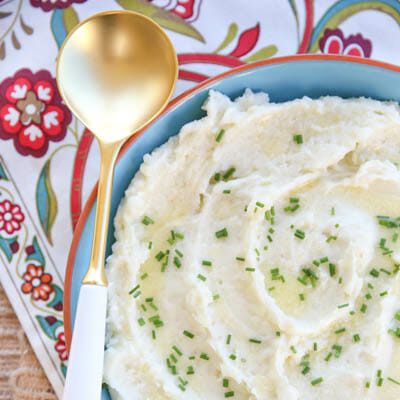 Pressure Cooker Mashed Potatoes
---
Description
And easy way to cook mashed potatoes, in just minutes in your pressure cooker. Slowcooker instructions also included in notes.
---
5

lbs russet potatoes

1 1/2 cups

water

1/2 cup

(

1

stick) butter

1/2

–

1

cup whipping cream
optional: 1/2 cup sour cream
kosher salt and black pepper
Chives, if desired
---
Instructions
Cut each potato in half across equator. Place rack (if you have one) in an electric pressure cooker and place potatoes on top. Do not exceed the "max fill" line (in my pot, 5lbs potatoes fit perfectly). Add water.
Secure lid on pot according to directions and cook on high pressure for 12 minutes. When finished, quick release steam and open pot.
Heat butter in microwave until melted. Stir in 1/2 cup cream (this helps warm the cream).
Potatoes will be hot, but use a paper towel to grab them and squeeze the potato out of the skin and into a bowl. Using an electric mixer, stand mixer, or hand-masher, whip up potatoes and add butter and cream. Add either additional 1/2 cup cream, or sour cream, a little at a time until desired consistency is reached. Add 1-2 teaspoons kosher salt (to taste!) and several generous cracks of black pepper.
Place potatoes in bowl and garnish with chives, and a little extra melted butter, if desired.
Yields 8-10 large servings or 10-12 smaller ones.
---
I also joined up with a bunch of other bloggers who have all made holiday dishes in their Fagor Pressure Cookers. You can check out all of their delicious-looking recipes, below!
This post is not sponsored. I was just provided with a Fagor pressure cooker to try out. This post does contain affiliate links, learn more about them, here.