Can we talk about sheet cakes for a minute? I love a good sheet cake. They're easy, casual-yet-classy, and best of all, feed a crowd. Most sheet cakes you can serve in big squares and eat with a knife and fork, or cut in small bars and serve as finger food.
This spiced pumpkin version is one of those recipes that everyone should have in their repertoire. And I bet lots of you do have it in your repertoire. It's been around forever in old recipe binders in kitchens across the country. My copy is handwritten on an old piece of paper and I genuinely have no idea where it came from. But it's one of those go-to, everyone-loves-it, can't-go-wrong recipes. If I have to take something to a family dinner, potluck or party during the months of October or November, this is what I make 90% of the time. So quick, so easy and so, so, so good.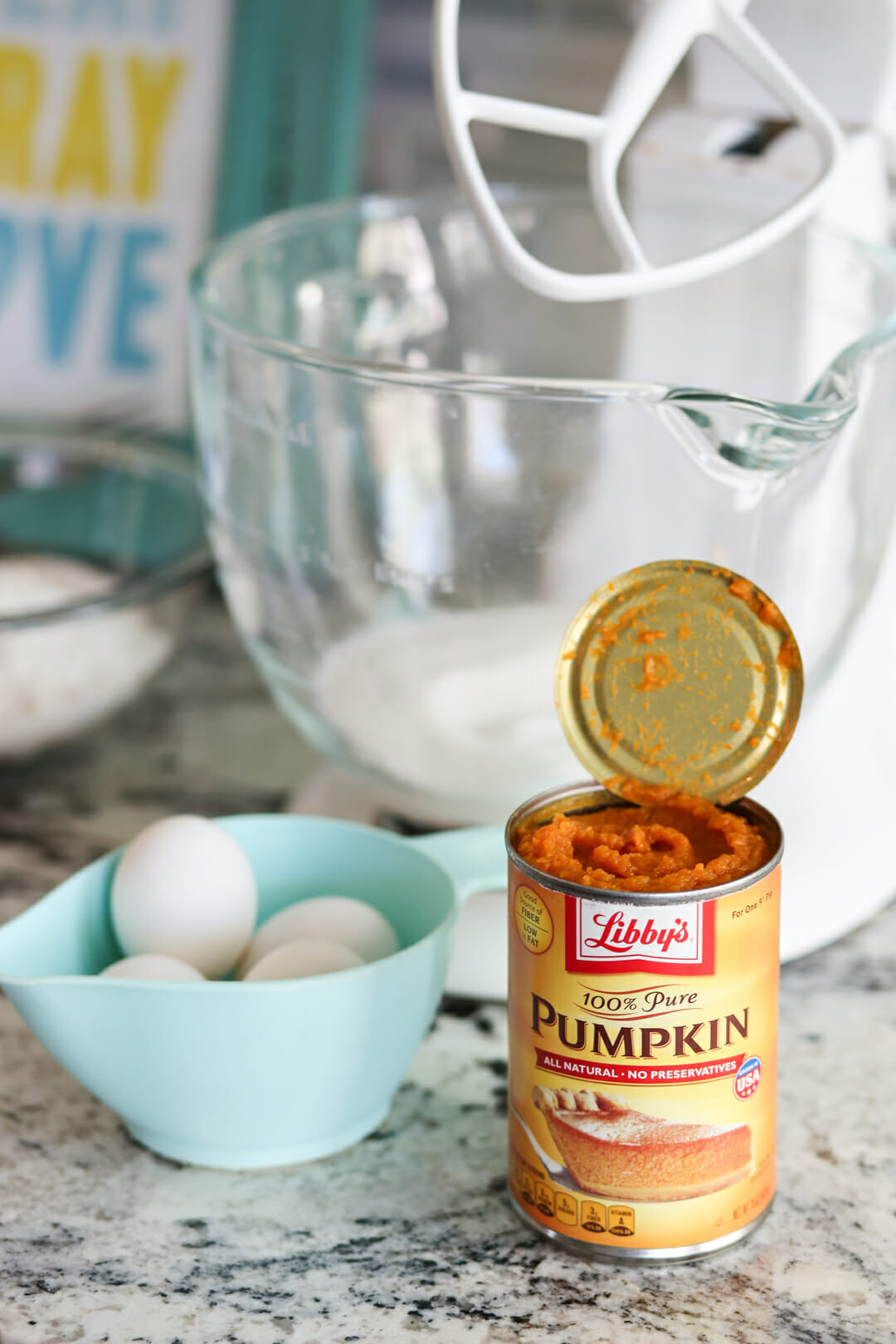 There's no fuss here. Everything just gets dumped in a bowl and mixed on up.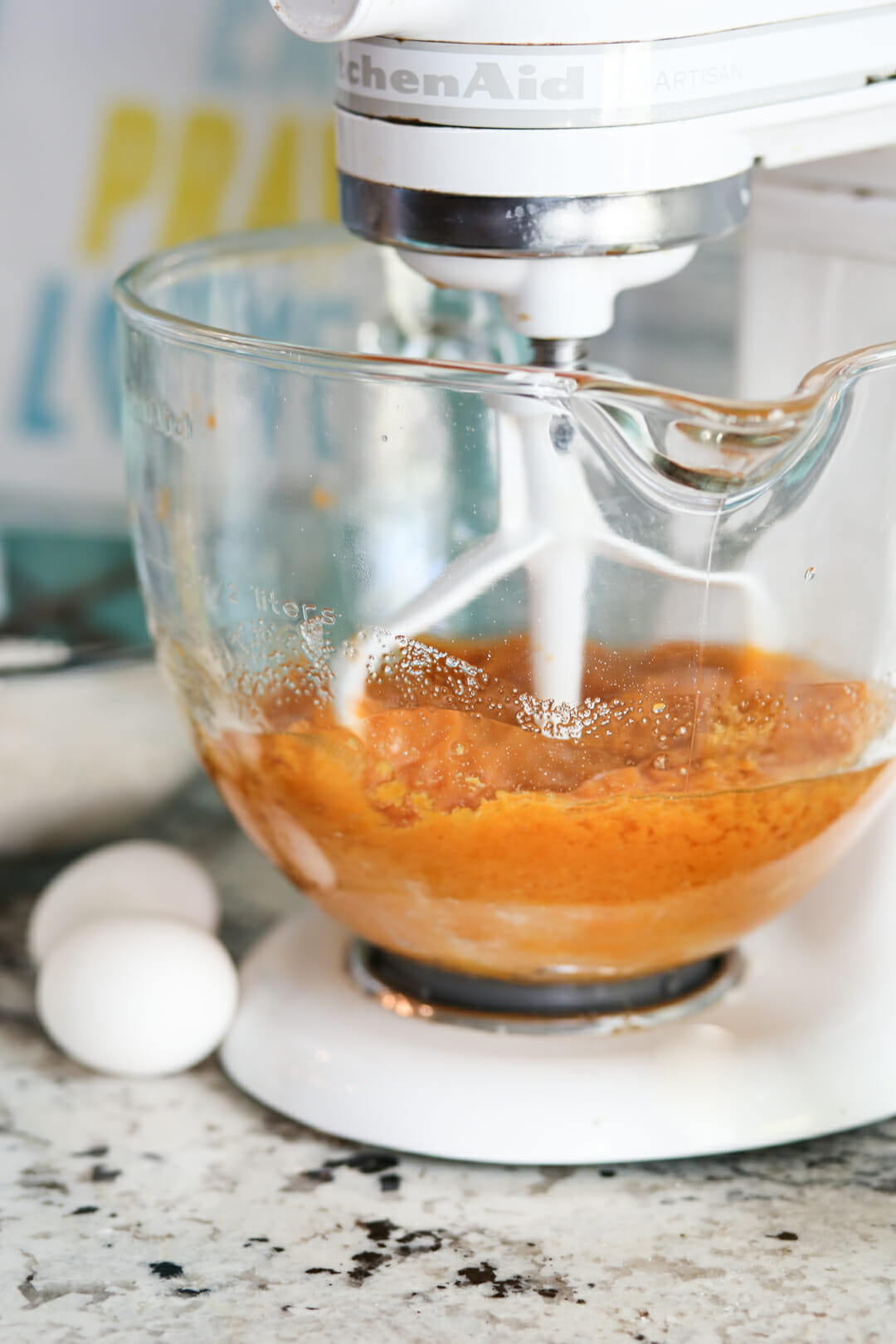 You can really customize the spices in this cake to your liking. I've included the easiest method in the instructions, which is just to use pumpkin pie spice.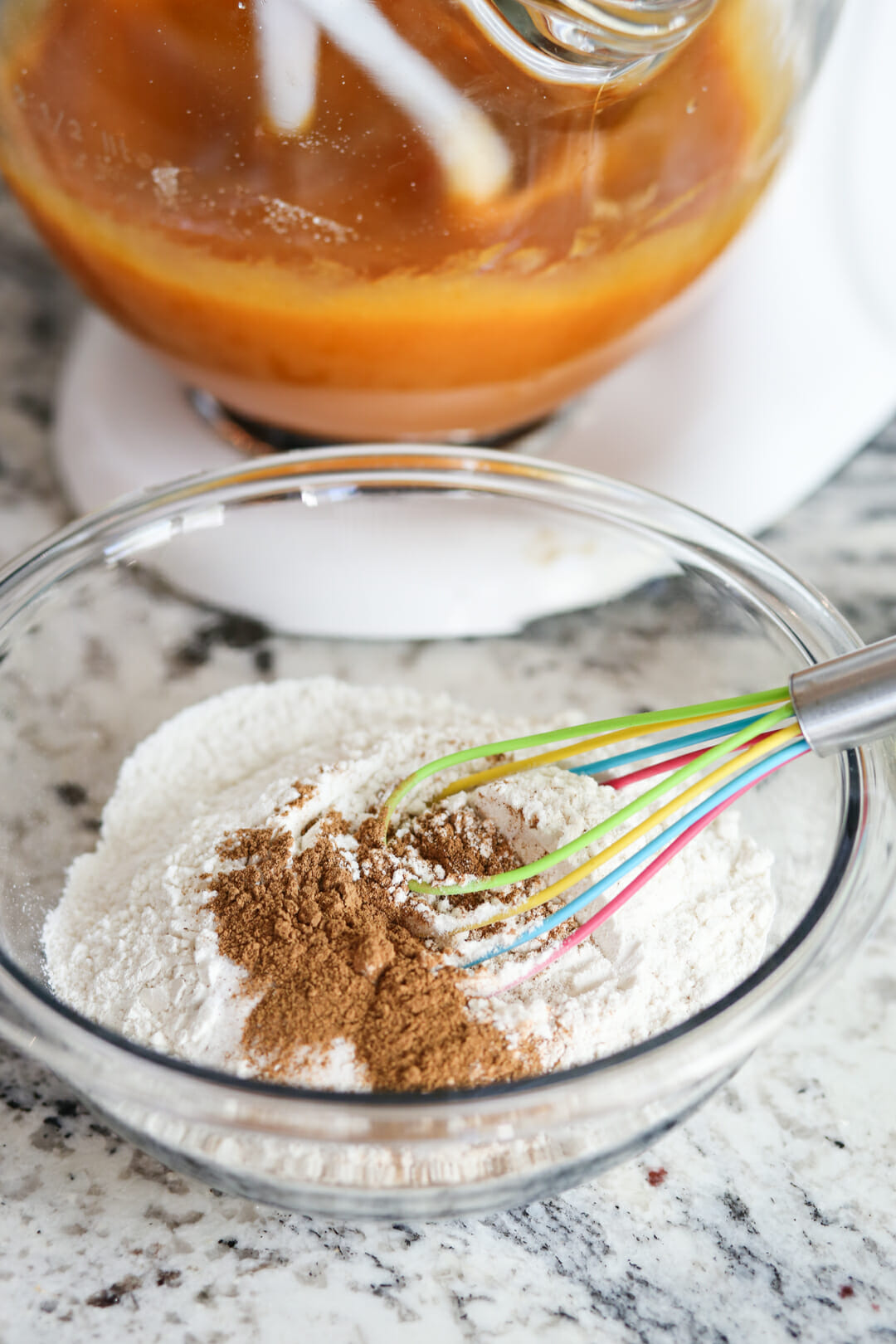 Even when I use pumpkin pie spice, I usually add in a little extra nutmeg and cloves. I just eyeball it, but I feel like sometimes the pre-mixed spice jar lacks a little oomph.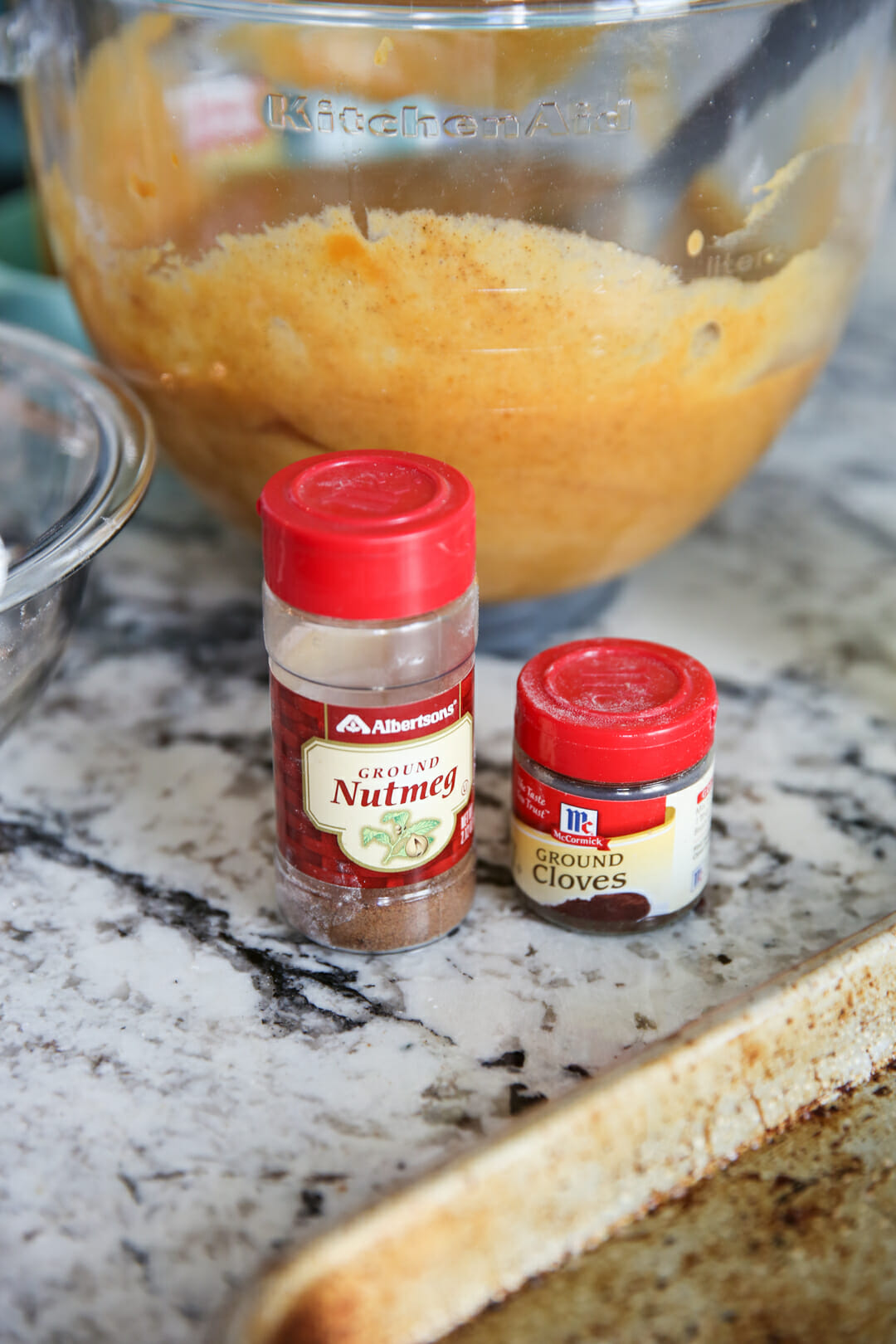 Spread the batter out onto a sheet pan and bake it until just done. Since sheet cakes are thin, they can go from perfect to overcooked in just a minute, so make sure you check it and take it out just when moist crumbs are attached.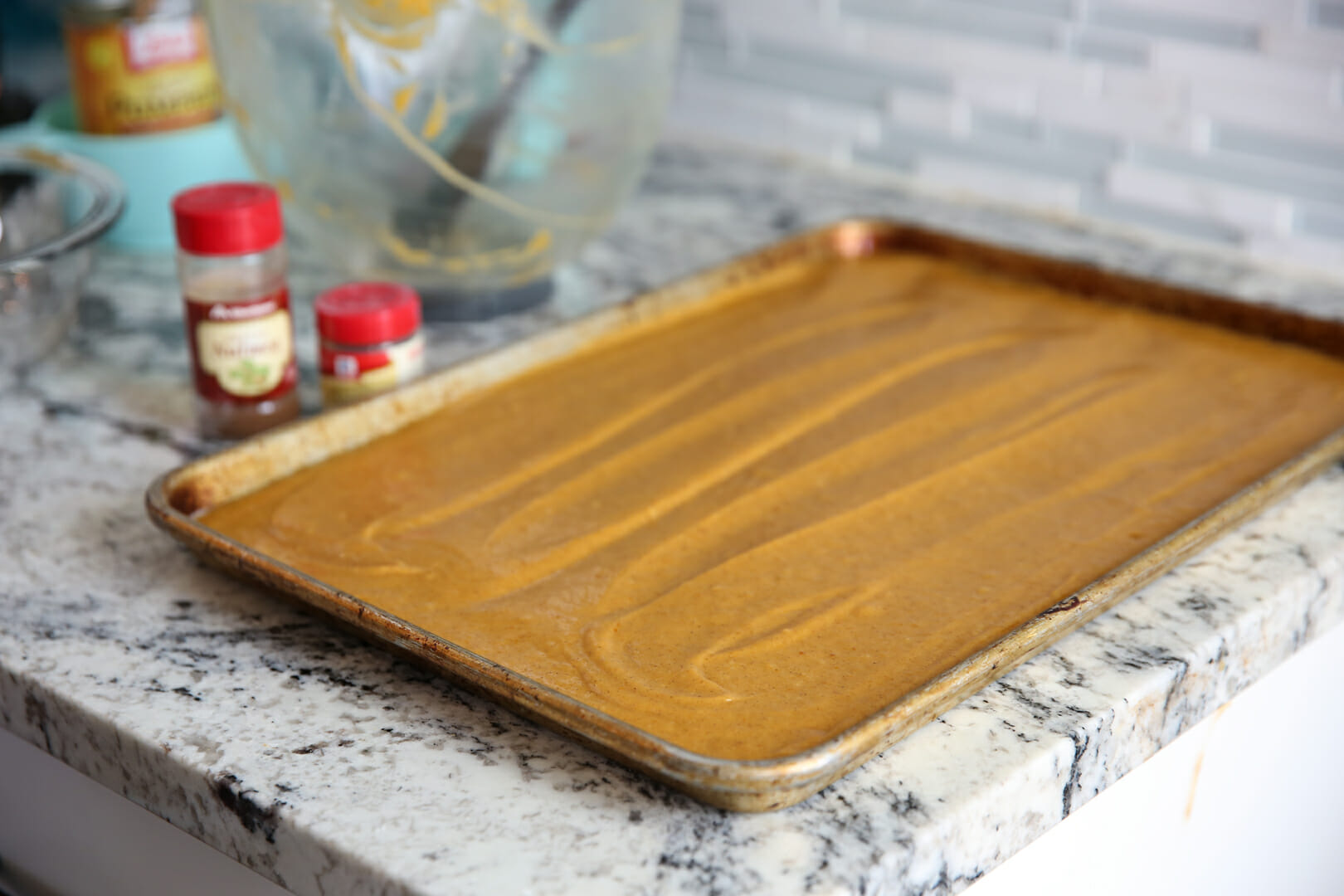 Now remember that Brown Sugar Caramel Frosting from last week? These were meant for each other. Although if you prefer, you could go for a Cream Cheese Frosting or Brown Butter Frosting. All of those would be amazing here.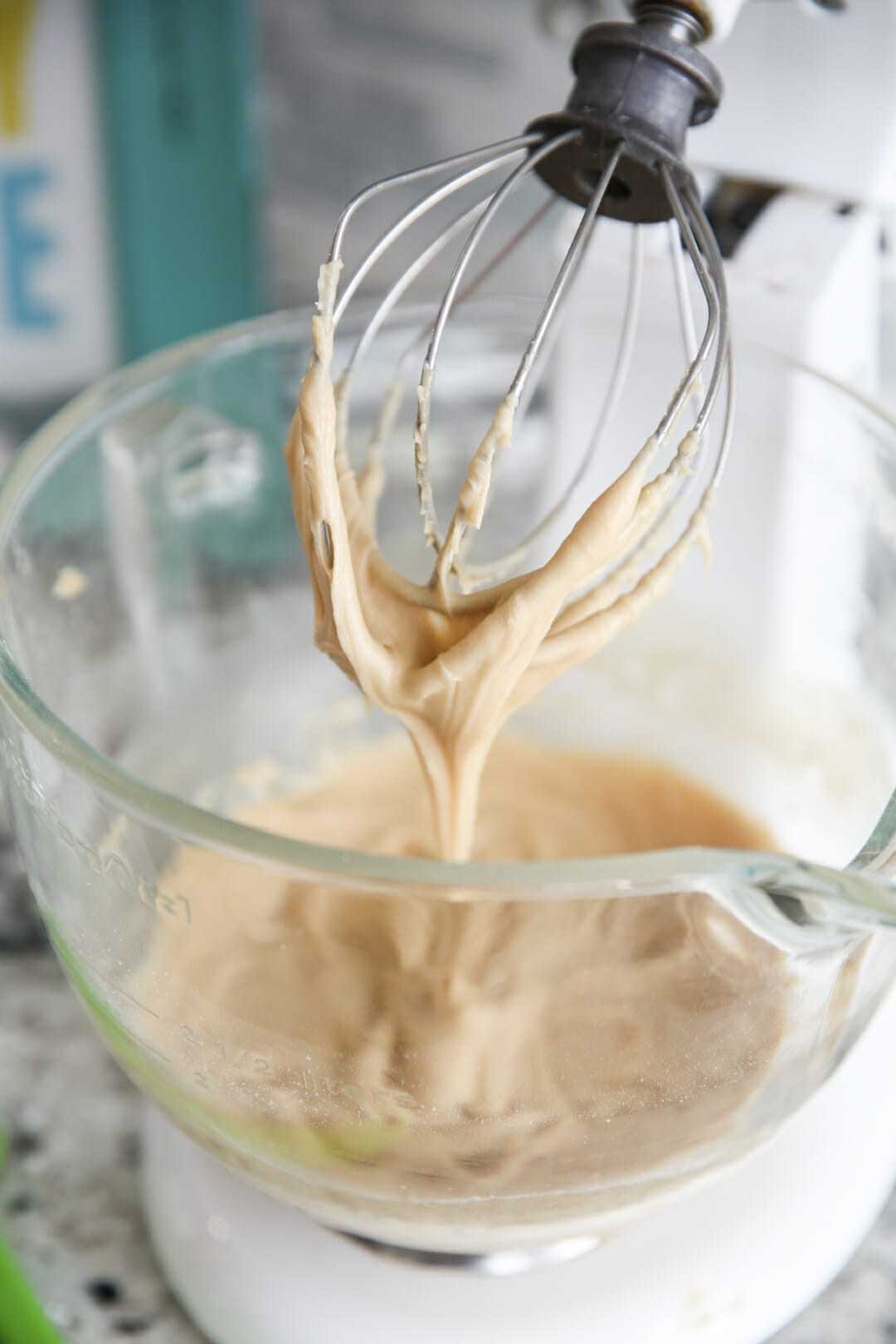 Notice I just have a thin layer on this cake. Since sheet cakes are thinner than a traditional cake, you don't really need to pile it on high or it's overwhelming. This sweet layer is absolute perfection with the mellow spice cake.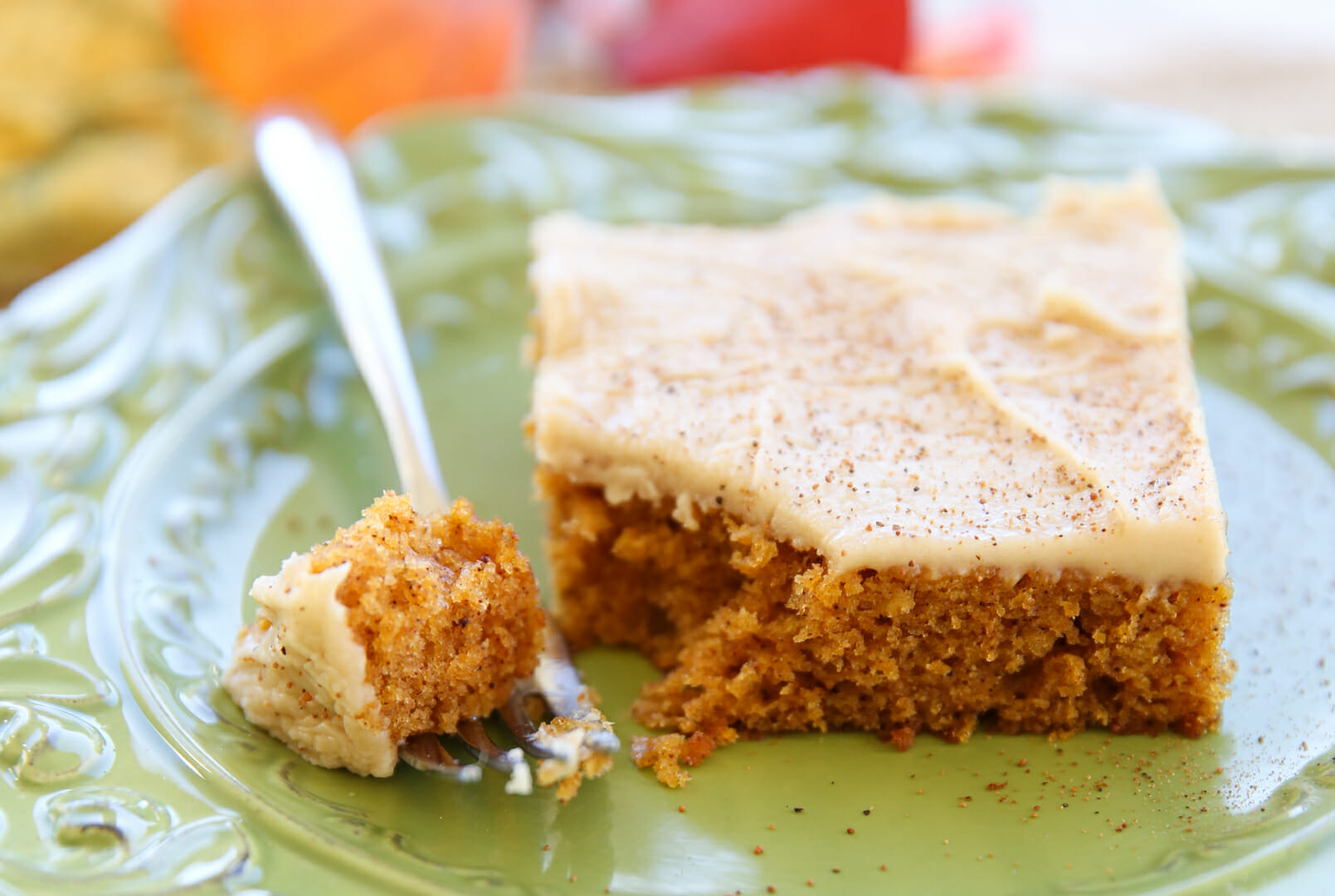 I like to sprinkle a little cinnamon and a teeeeny bit of nutmeg on top. You can serve this with a knife and fork, or also, after it all sets up, these work great as finger food if you cut them smaller.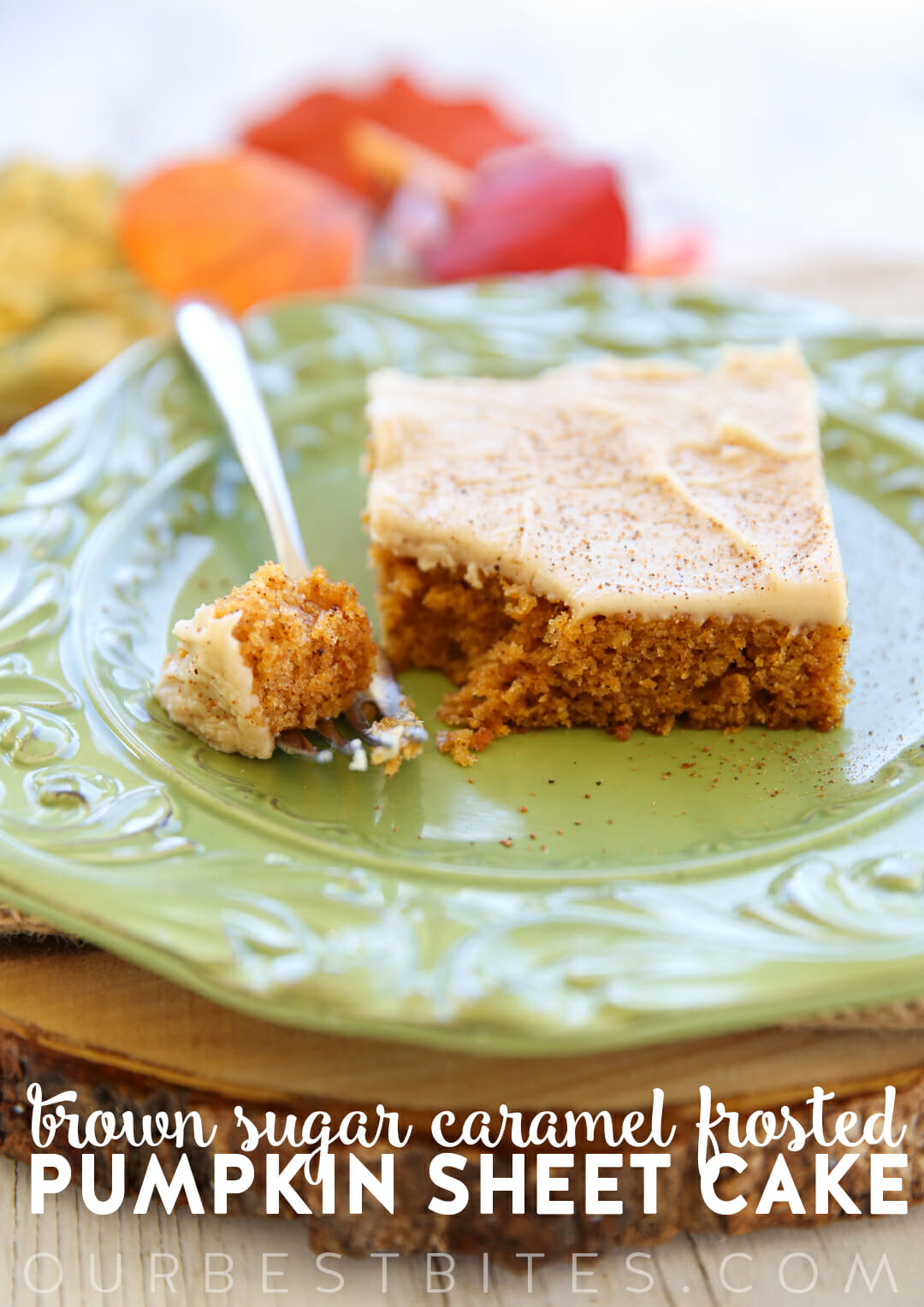 Print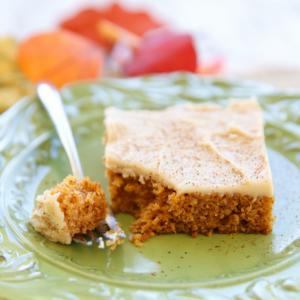 Pumpkin Sheet Cake
---
1

15 ounce can pumpkin puree (not pie filling)

2 cups

white sugar

1 cup

vegetable oil

4

large eggs

2 teaspoons

vanilla

2 cups

flour

2 teaspoons

baking soda

1 1/2 tablespoon

pumpkin pie spice

1/2 teaspoon

salt
optional: a few dashes nutmeg and cloves
Frosting
1/2 cup

(

1

stick) butter

3/4 cup

brown sugar

4 tablespoons

cream (or milk)

1/4 teaspoon

table salt

1 teaspoon

vanilla

2 cups

powdered sugar
---
Instructions
Preheat oven to 350 degrees and spray a rimmed baking sheet with nonstick spray. My original recipe specifies a 15 x 10-inch pan, but my pan is about 13 x 17, so anything in that arena shoud be good. Set pan aside.
In a mixing bowl, beat pumpkin, sugar, oil, eggs, and vanilla.
In another bowl, combine flour, baking soda, pumpkin pie spice and salt. Add dry ingredients to the pumpkin mixture, and beat until mixed.
Pour batter into prepared pan and bake for 20-30 minutes, until tested with toothpick and just moist crumbs attach.
Right when cake comes out of oven, begin frosting.
Heat butter, brown sugar, cream, and salt in a pot until melted and combined. Bring to a boil and then turn down to a simmer for about 3 minutes. Remove from heat and pour into a mixing bowl. Let cool to luke warm (about 10 minutes) and then beat in powdered sugar and vanilla. Adjust consistency by adding more powdered sugar to thicken, or more cream or milk (little by little) to thin. Use immediately as frosting will thicken upon standing.
Frost when just barely warm and sprinkle lightly with cinnamon to garnish.
---
Notes
This cake is also fantastic with a classic Cream Cheese Frosting or our Brown Butter Frosting.