The name of this recipe implies it's one of those weird healthy things where someone tries to tell you to eat this instead of an actual steak.  So let's get one thing straight- that's not what this is.  (However it would be amazing sitting along side an actual steak.) What we're doing here is slicing through a whole head of cauliflower to make "steaks," roasting them in a super hot oven so they get caramelized and kind of crispy, and topping them with delicious things (in this case, pesto and cheese.) Basically the way every vegetable should be eaten.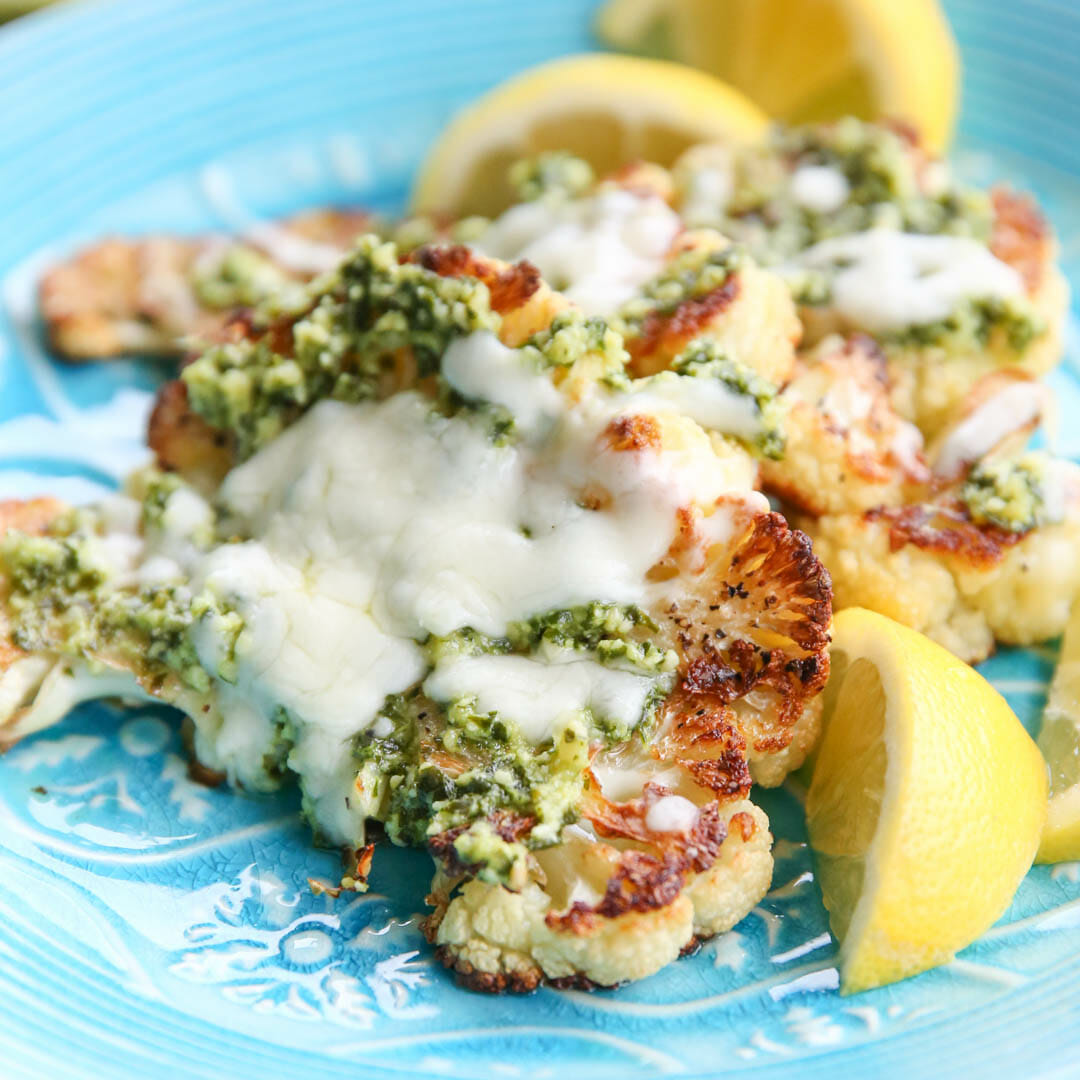 These make a great side dish, paired with a simple protein like grilled chicken, seafood, or the aforementioned beef.
To make them, start with a whole head of cauliflower and remove all of the leaves and green stuff.  Then slice off the stem.  In my photo there's a little too much of the stem taken off; I usually keep it level with the bottom of the cauliflower but I got a little overzealous here.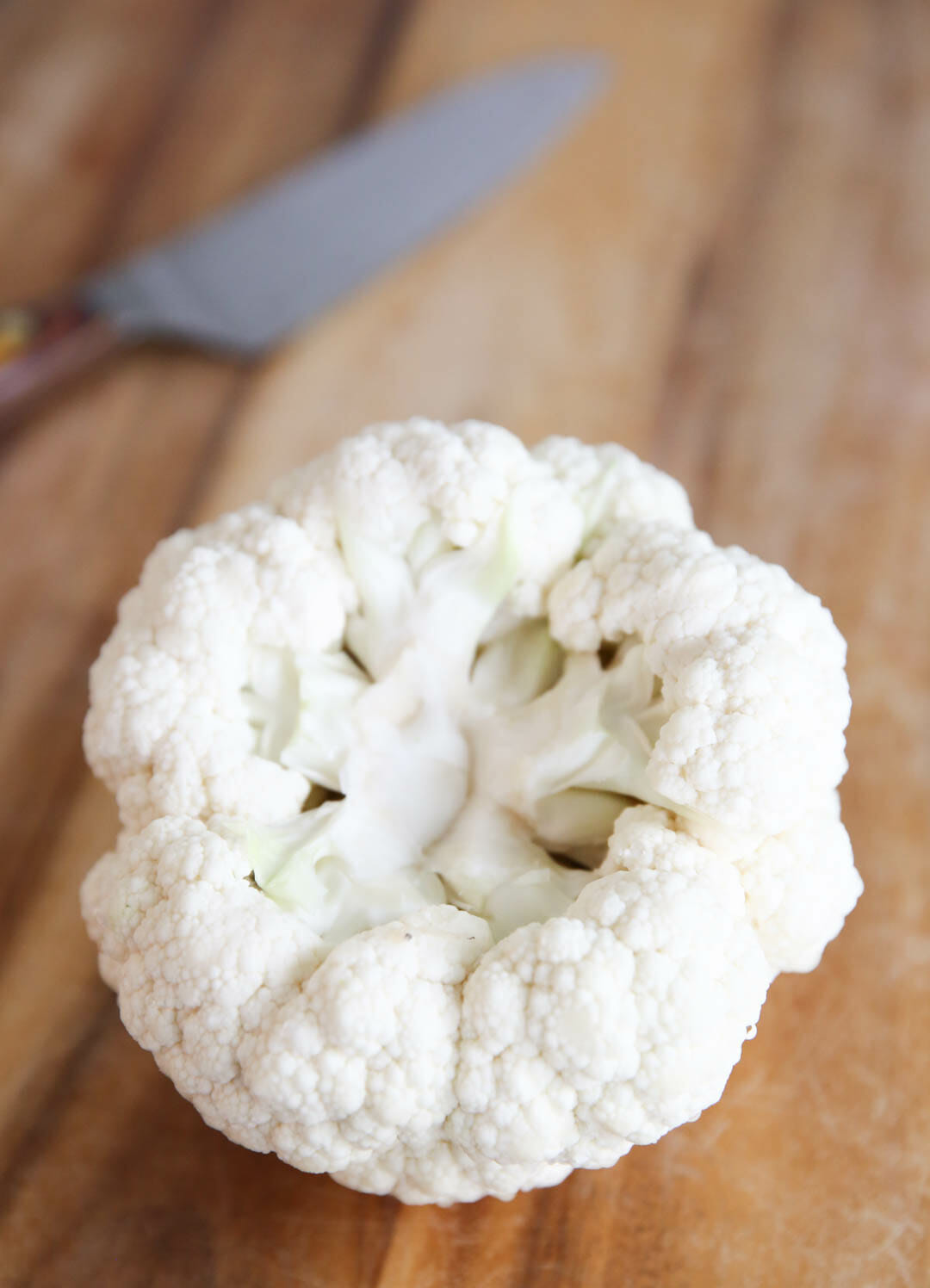 Then with a large knife, start cutting into slices about 3/4-inch thick.  Obviously you will get "steaks" from the part where the florets are attached to the stem, so on both end pieces you'll get lots of pieces that just fall off.  I'm explaining this so you don't start this recipe and say "Dang Sara, this recipe sucks!  My cauliflower crumbled all over the place!"  Plan on having a bag of leftover cauliflower pieces that you can chop up and save for another meal.  I usually get 3-4 "steaks" per head so I grab 2 heads if I need to make a larger batch.  Also keep in mind you could make this exact same recipe with chopped cauliflower florets and it would be delicious.
Brush the entire surface of the cauliflower wit olive oil.  I'm using Basil Olive Oil from our shop.  You don't need it drenched in oil, but you do want most of the surface covered for best caramelization, so brush it lightly all over.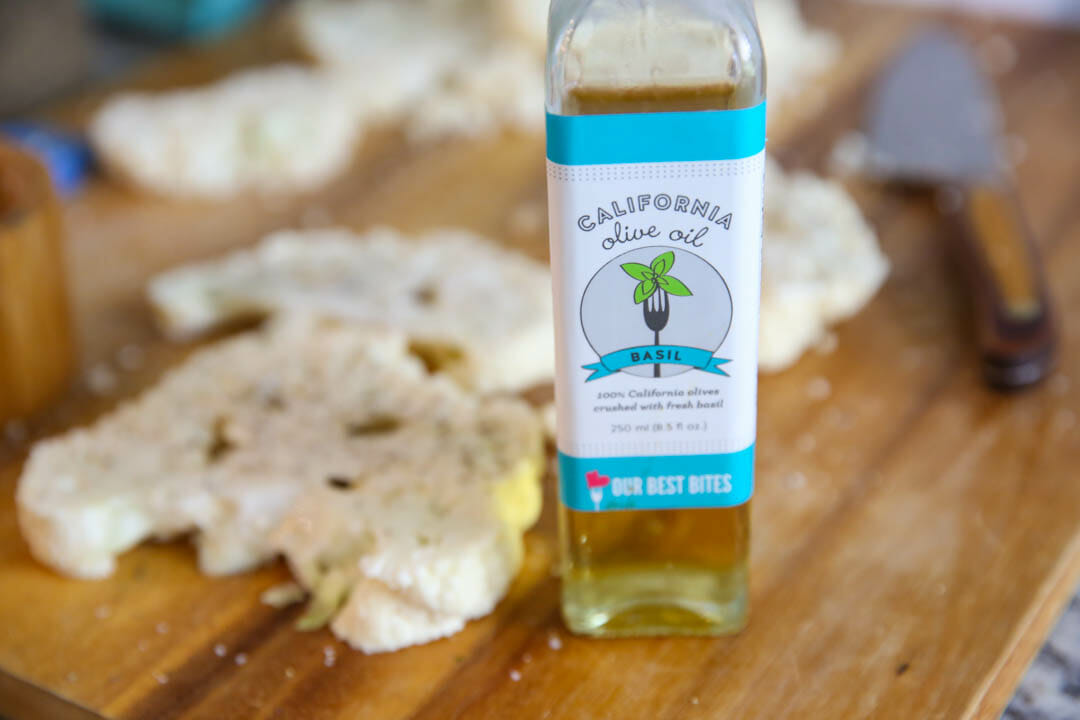 Grab that hot pan out of the oven and place your cauliflower steaks oil-side-down on there (they'll sizzle!) brush the remaining side with oil, season, and pop that pan back in the oven.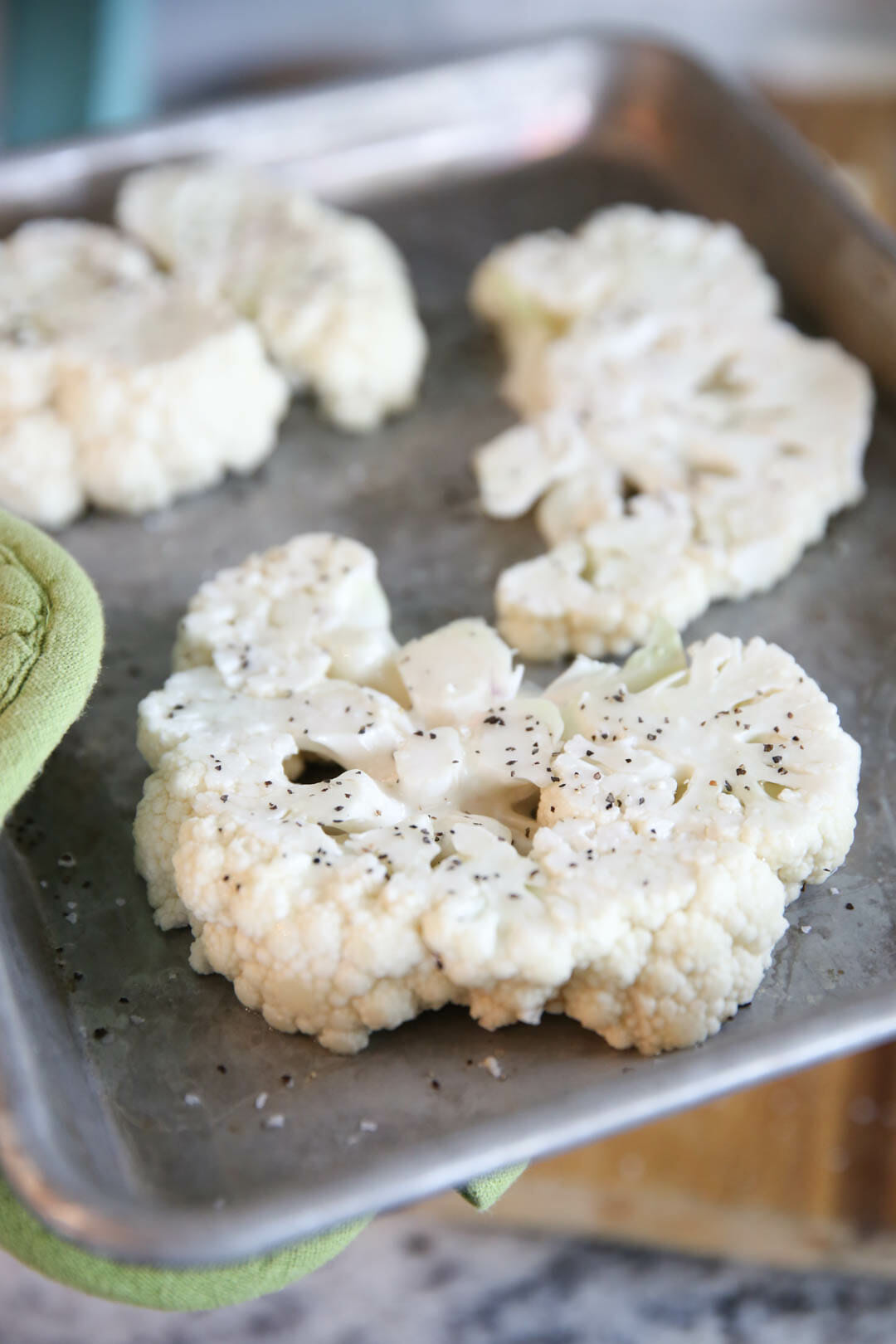 You'll give them one flip during cooking and they'll come out looking all tanned and gorgeous.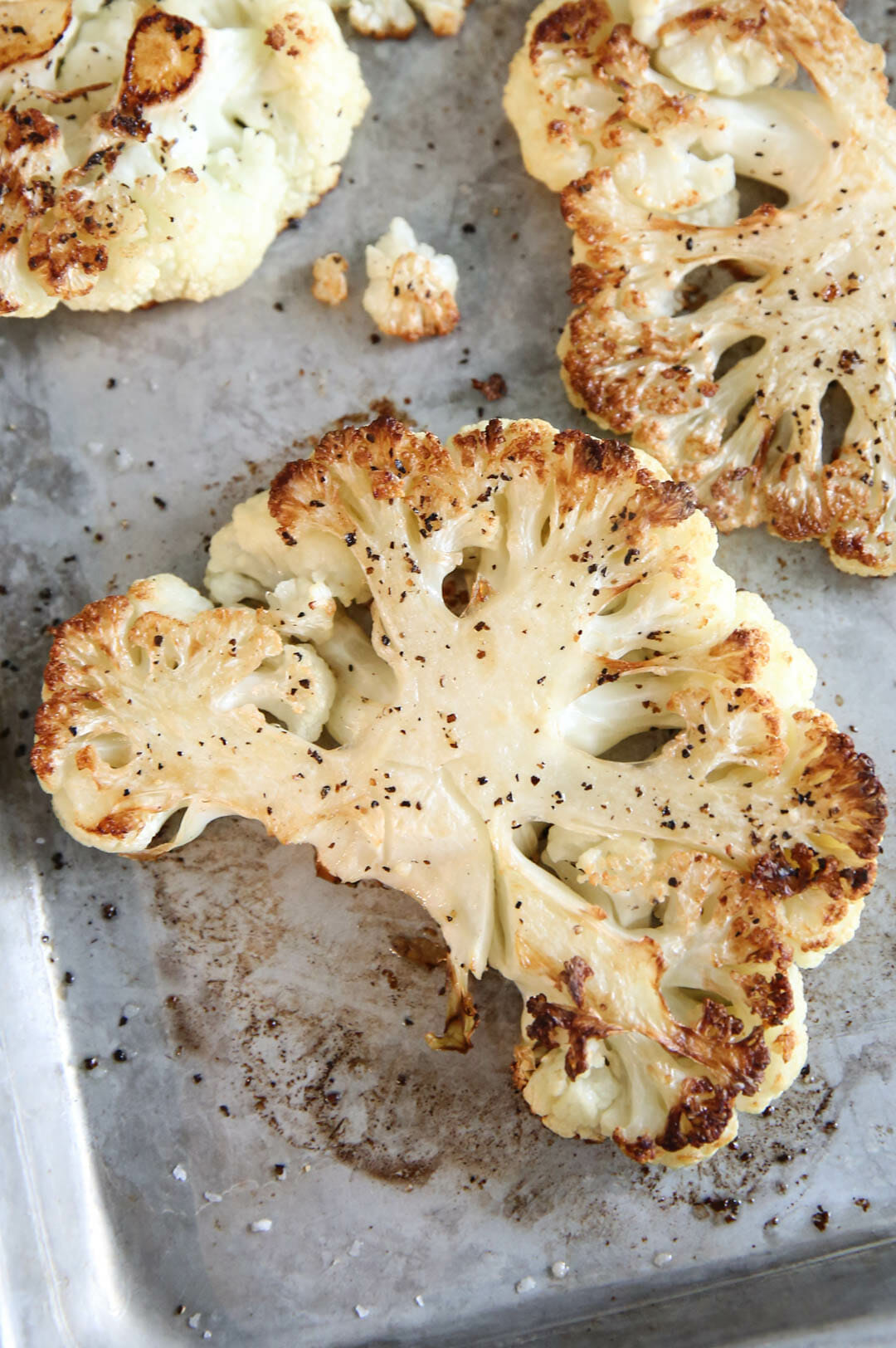 Spread a little pesto on top and sprinkle each one with some mozzarella cheese.  Just a note for everyone thinking about planting a garden.  Basil is really easy to grow and I make small batches of pesto all summer long and pop them in my freezer.  This is actually my very last container, my stock piling lasted us all year!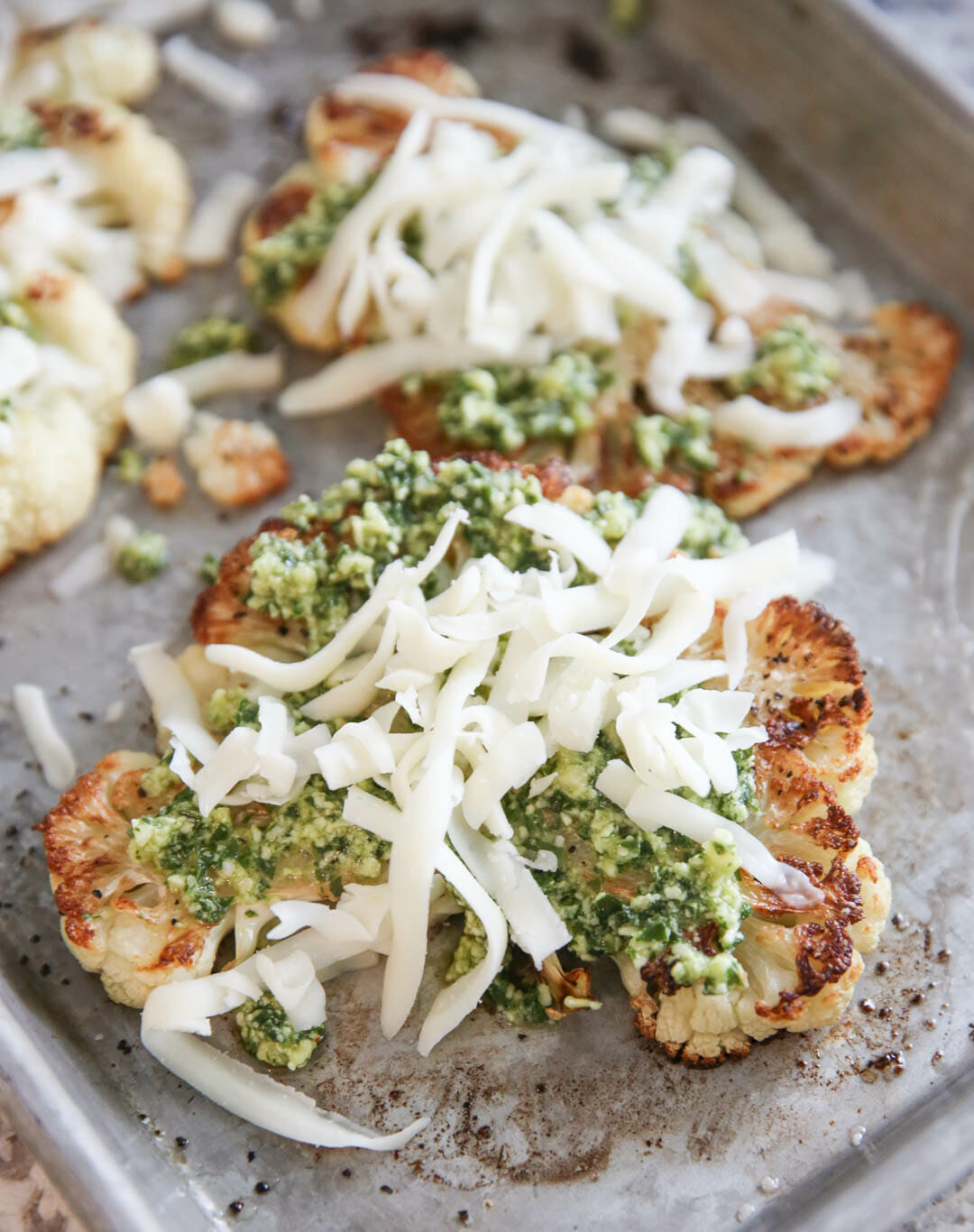 Pop them back in the oven just until it's melted (so like, a minute or less) and hello beautiful…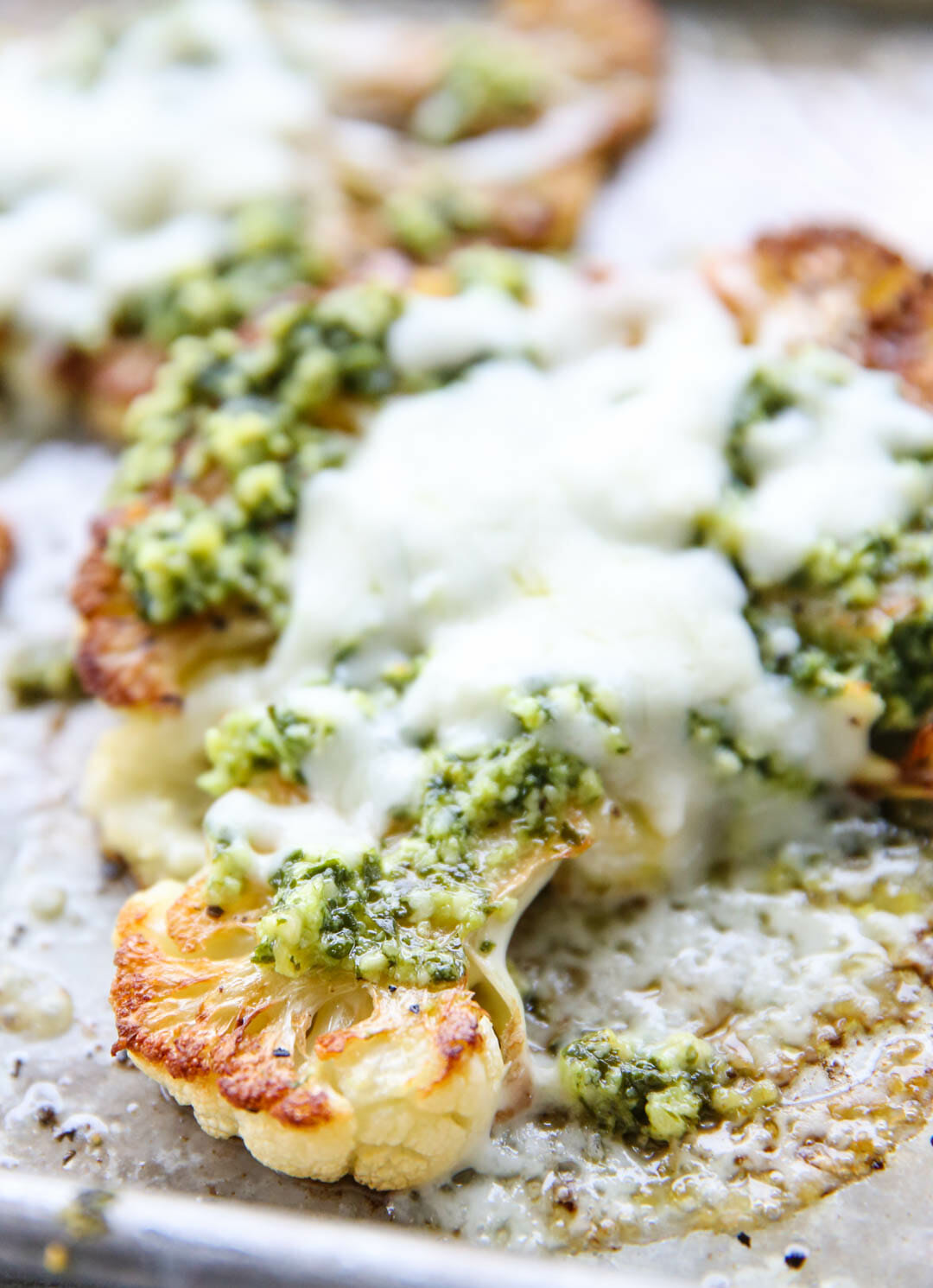 I like to serve with lemon wedges and give them a little squeeze right before eating.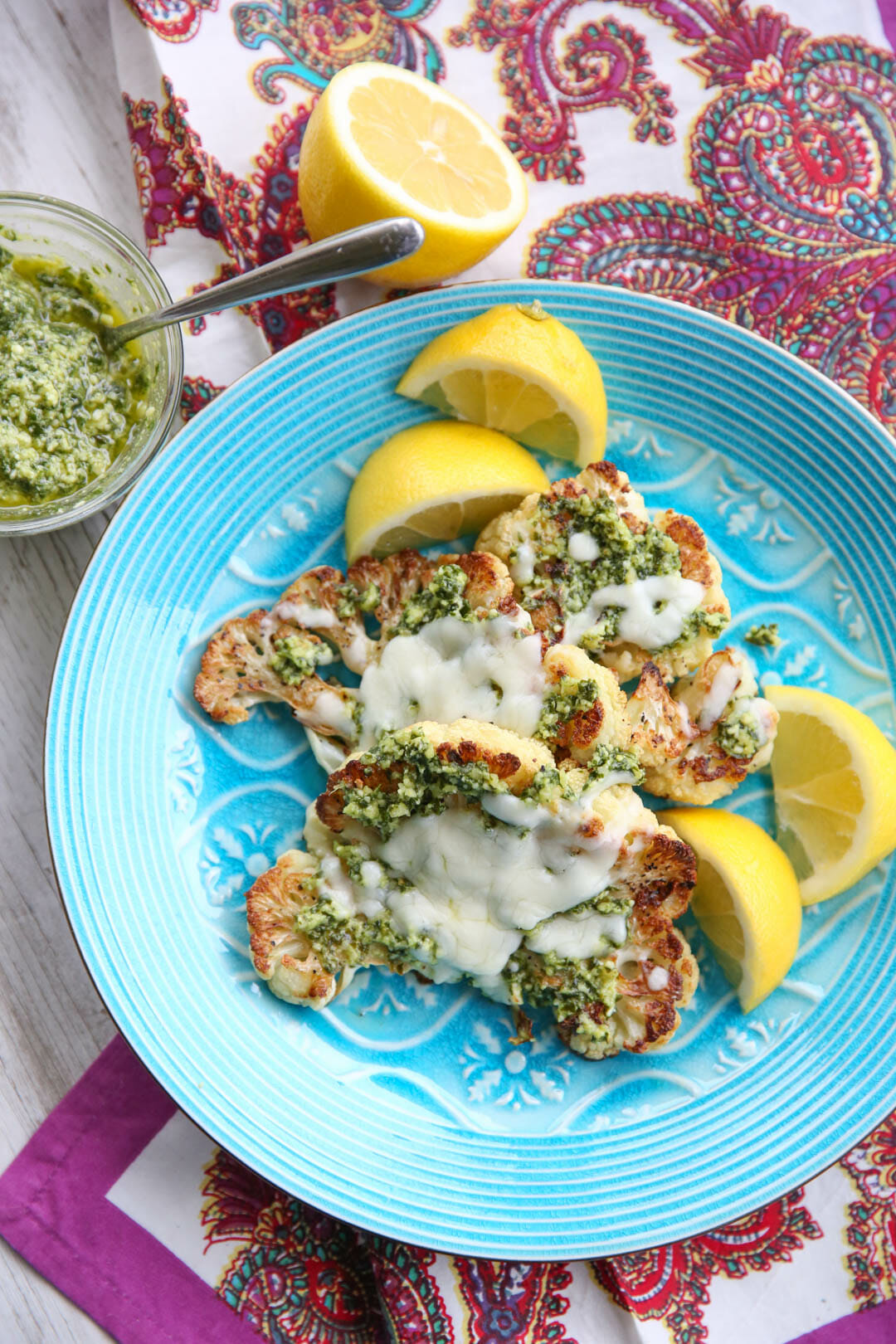 These are really pretty, and well- like I said, pretty much all veggies should be dipped in pesto and sprinkled with cheese.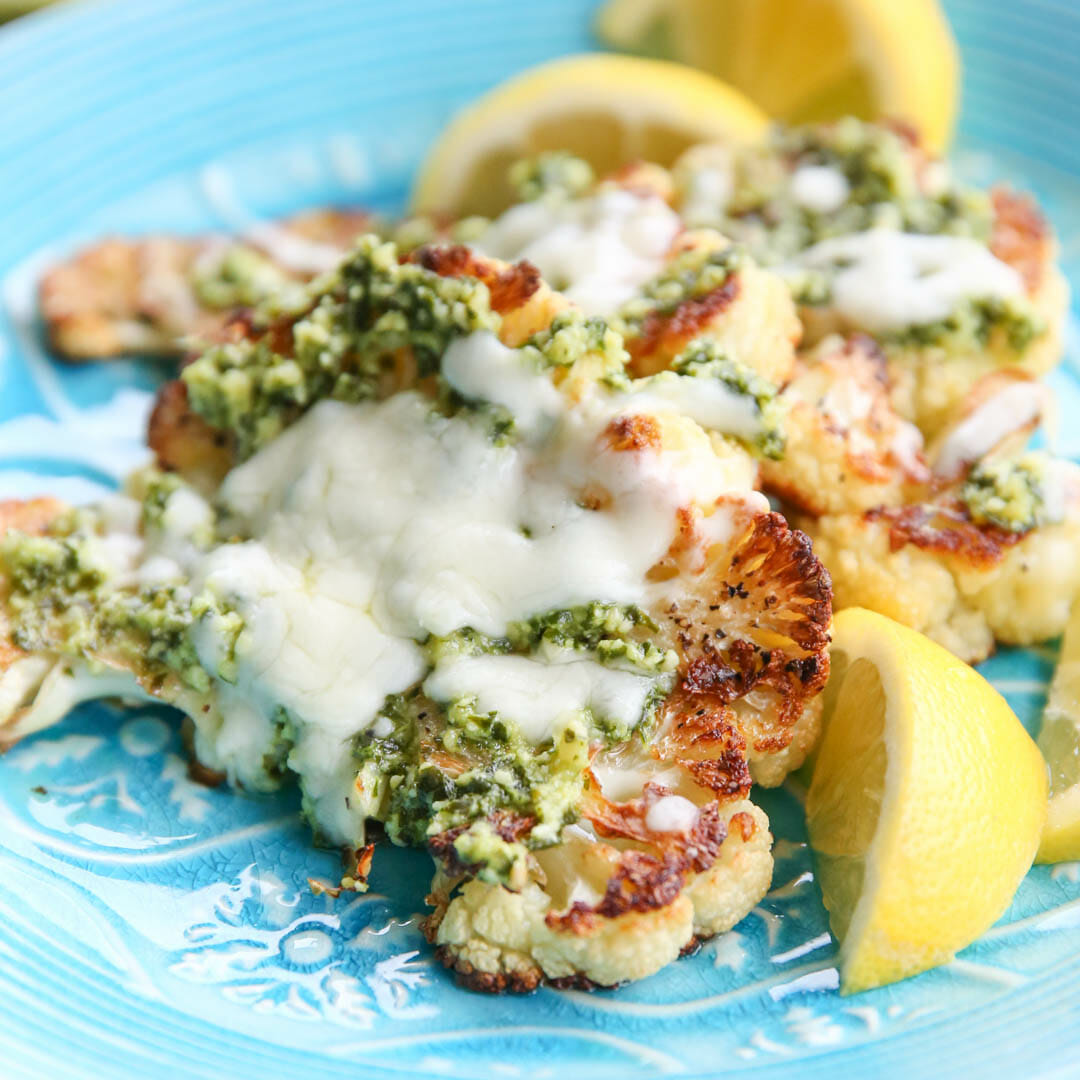 Print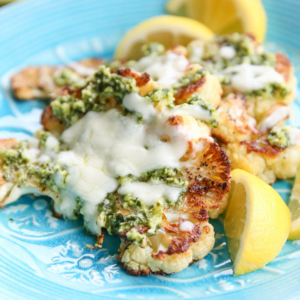 Roasted Cauliflower Steaks with Pesto and Mozarella
---
Description
Easy and delicious side dish!
---
1

head cauliflower
extra virgin olive oil
kosher salt and black pepper

6 tablespoons

pesto

1/2 cup

shredded mozzarella cheese
---
Instructions
Place a metal cookie sheet in the oven and preheat to 425.
Remove leaves from cauliflower and cut off stem. Using a large knife, slice vertically through cauliflower in 3/4-inch slices. Save crumbled florets for another use. Generally you can get 3-4 steaks from a medium head of cauliflower.
Brush each cauliflower steak with olive oil and sprinkle with salt and pepper. Carefully remove hot baking sheet from oven. Place cauliflower oil-side-down on the pan. Lightly brush the remaining sides with oil and sprinkle with salt and pepper and return pan to oven.
Roast for about 12 minutes and then carefully flip. Roast for an additional 7-8 minutes or so. Tops should be browned and crisp on the edges, cauliflower should look tender. Remove pan and spread some pesto on each steak and sprinkle with cheese. Return to oven just until cheese is melted (a minute or so should do it.) If desired, squeeze some fresh lemon juice over the top before serving.
---