I've decided that the way I survive summer in Louisiana is to disappear for a good chunk of July. If you follow me on Instagram, you probably know that we just got back from a vacation to the Big Island of Hawaii that was magical and adventurous and filled with delicious, delicious food. But this post isn't about the food we ate there (trust me, there are plenty of those on the way). This was about coming home to the delightful slow suffocation of summer in the deep South after being awake for a good, solid day and a half. And being hot and hungry and tired and dying for something that didn't come from a diner or an airport or a fast food restaurant along the road.
This salad did the trick. It's served cold, it's loaded with feel-good awesomeness like brown rice, extra-virgin olive oil, garlic, and creamy avocado. It's flavorful but not overpowering, something that you could serve as a side dish or for a light lunch. I've talked SO many times about how lunch is the hardest meal for me. I hate it. If I were a Kardashian, I would totally have a lunch person whose sole job would be to take care of my lunch every day (and it wouldn't be my kids' uneaten food.)
To make the dressing, you'll need extra-virgin olive oil, honey, the juice and zest of a lime, ground cumin, and some garlic.
Combine the ingredients in a small bowl…
and whisk together until smooth and combined. Set aside (the dressing can be made and refrigerated up to 48 hours before serving).
In a large bowl, combine the rice from this recipe (the exact amount), a chopped jalapeno (seeded or partially seeded if you're worried about heat; every time I've made this, I've completely seeded the jalapeno and the salad hasn't been hot at all), a diced avocado, and 10 ounces of grape tomatoes, halved.
Set aside.
Chop 5-6 green onions and a handful of cilantro…
and toss to combine. Add to the rice mixture and toss (gently–you don't want to mangle the avocados or de-juice all the tomatoes). Add the dressing and toss again. Season with salt to taste (or allow people to season their own salads). Refrigerate any leftovers immediately. Makes 6-8 servings.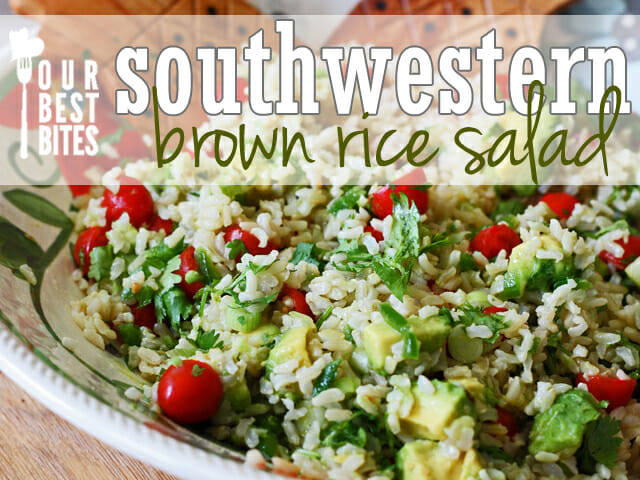 Print
Southwestern Brown Rice Salad
---
Description
A light salad, served cold, made with rice and traditional southwest flavors.
---
1 recipe of this brown rice, cooked and cooled to room temperature (about 3  3/4 cups cooked brown rice)
2  1/2 tablespoons extra virgin olive oil
juice of 1 lime (about 2 tablespoons)
zest of 1 lime
2 teaspoons honey
2 cloves garlic, minced
1/2 teaspoon ground cumin
10 ounces grape tomatoes, halved
1 medium avocado, diced
1 jalapeno, diced (seeded if you want; I pretty much always want)
1/4 cup chopped cilantro
5–7 green onions, chopped
---
Instructions
In a small bowl, combine the olive oil, lime juice, lime zest, honey, garlic, and cumin. Set aside.
In a large bowl, gently toss together the rice, tomatoes, avocado, and jalapeno. Add the cilantro and green onions and toss. Drizzle with the dressing, salt to taste, and serve immediately (or refrigerate…this will be good until the avocados start getting iffy, so about a day.)
---