Classic Potato Salad.  This isn't a fancy recipe. There's no ingredients you've never seen before.  This is here because time and time again I come to my own blog to find my recipe and it's not here!  This Classic Potato Salad recipe is in our very first cook book and it's one I pull out mostly during the summer months. Potato Salad is something that's super nostalgic for me. My Mom only made it on special occasions like 4th of July BBQ's so for me it's attached to lots of good memories.  I vividly remember sneaking into the fridge and taking little bites out of the bowl before it was time to eat!  I've updated this recipe a bit to show how I often make it in my pressure cooker and cook both the potatoes and the eggs all at once!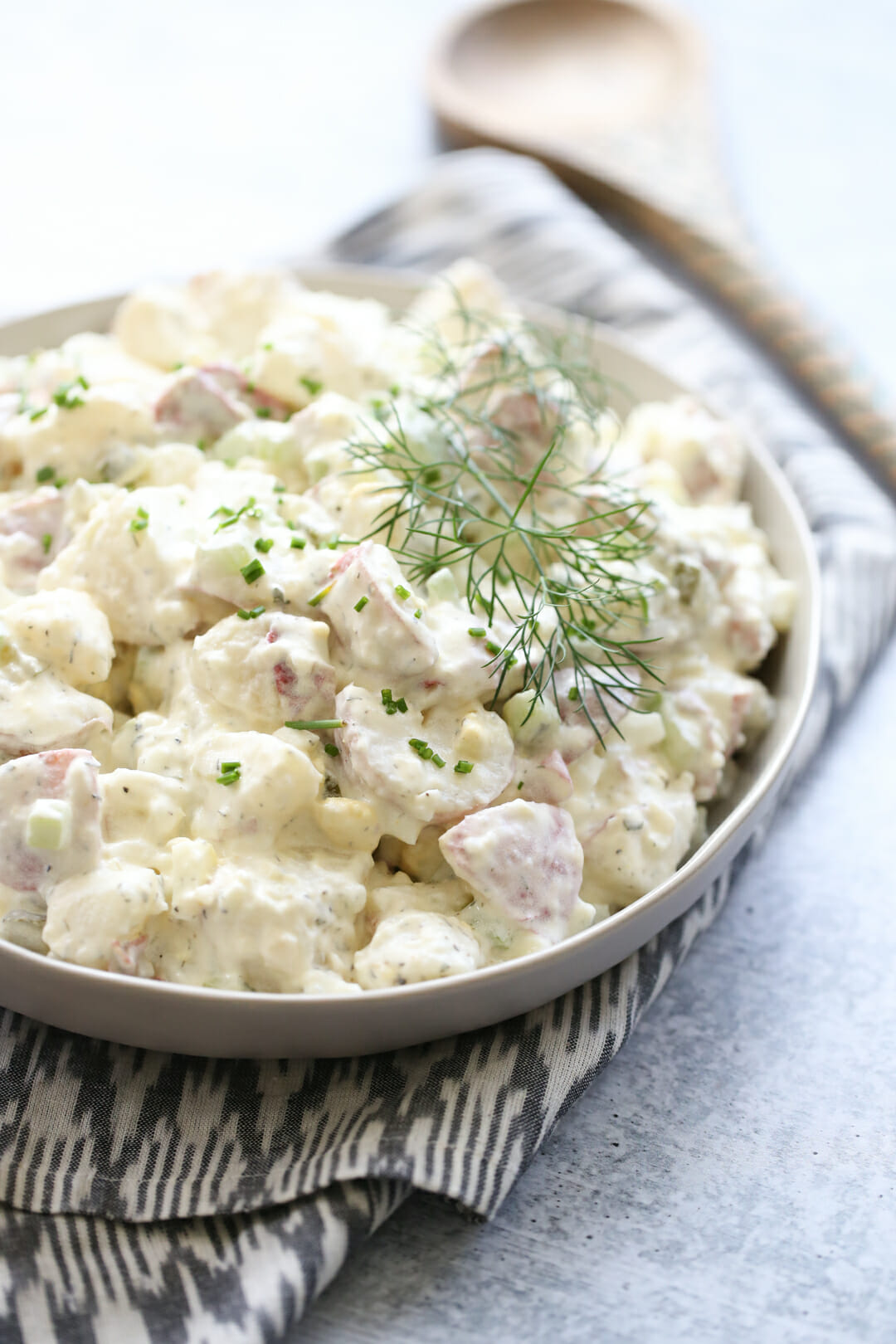 You can cook your potatoes and eggs the traditional way, but the pressure cooker is super handy, here, just like it is with mashed potatoes.  You'll need your potatoes to be chopped already, in order to cook them in the same short time as the eggs. If I'm using red potatoes I leave the peels on, and if I'm doing something like russets, I'll peel them first.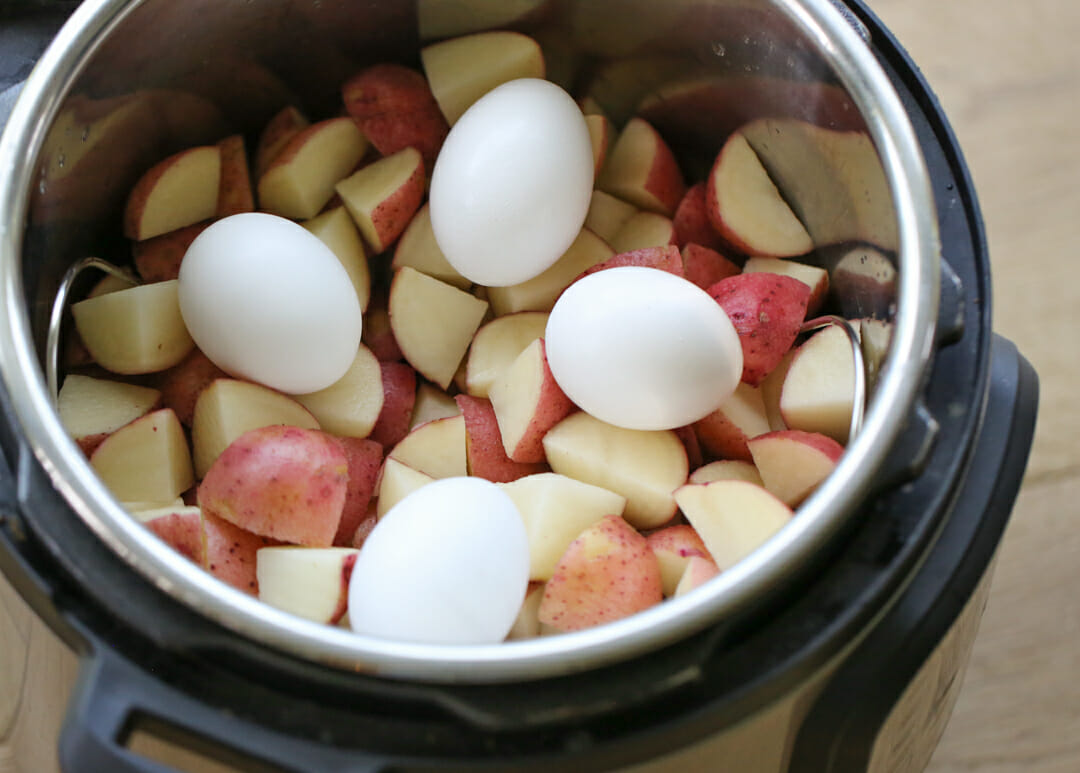 The dressing is simple, classic flavors, and you can customize if you like.  I use a mix of mayo and sour cream and I prefer mine really tangy so I usually add extra vinegar!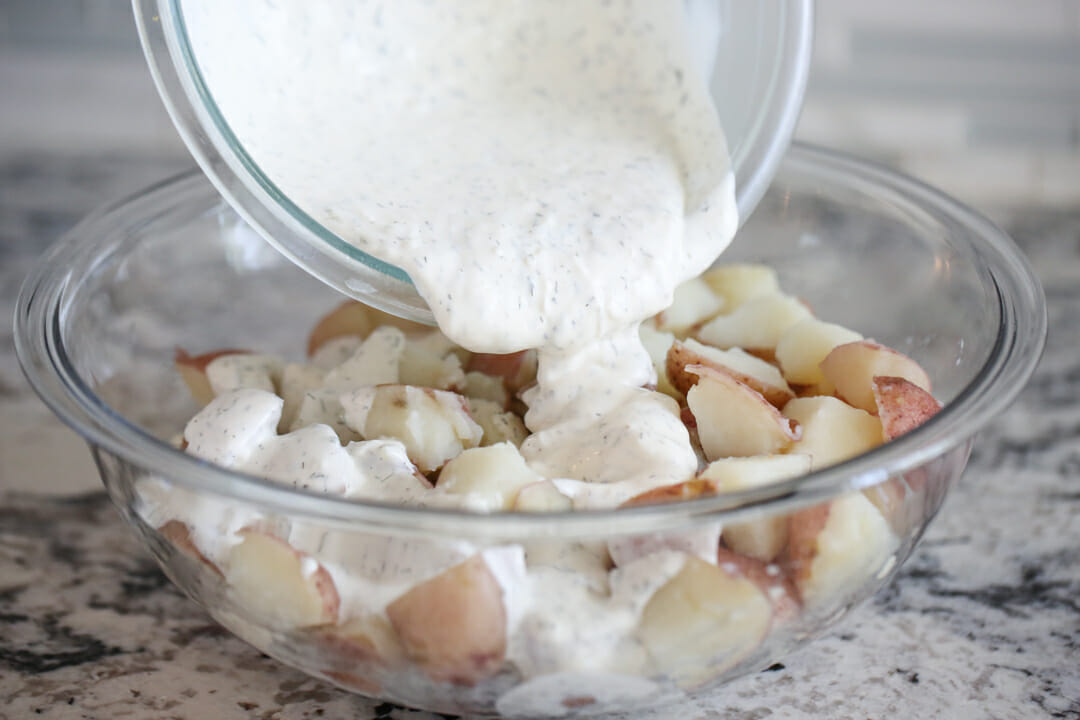 One tip I have for the sauce is that I always use grated onion.  It gives such a better flavor than onion powder, but you don't want big chunks of raw onion in there.  So I literally take an onion and just grate it with a cheese grater and it gives you a kind of onion pulp that's perfect for sauces.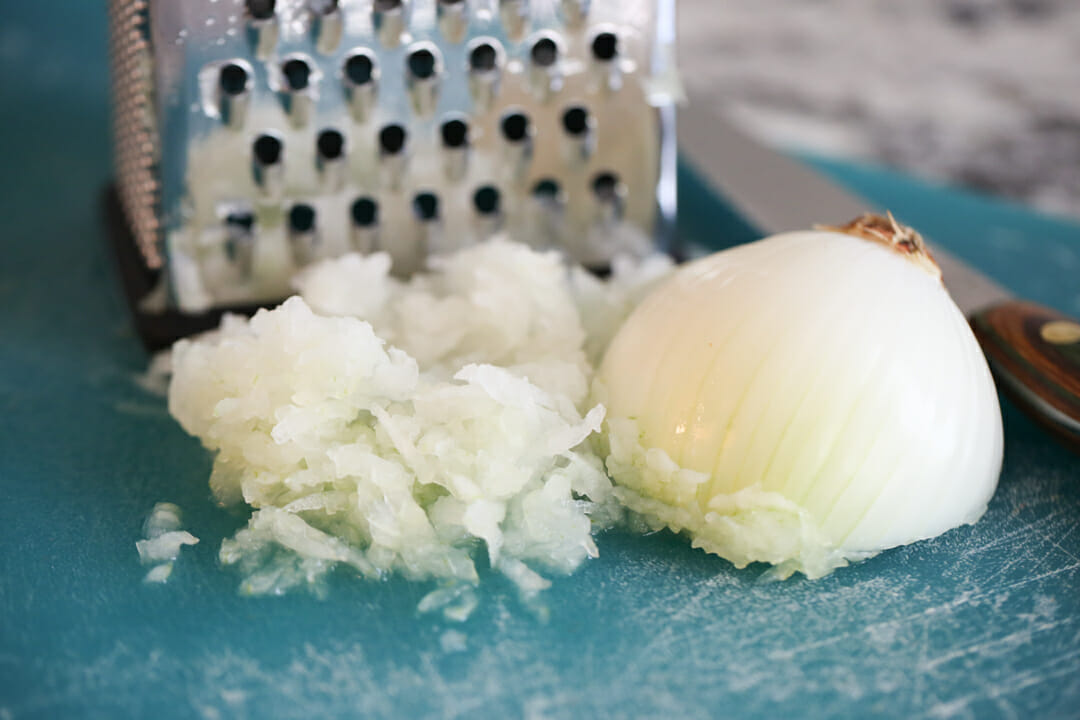 I also love my potato salad really crunchy so I'm all about the crispy celery and pickles.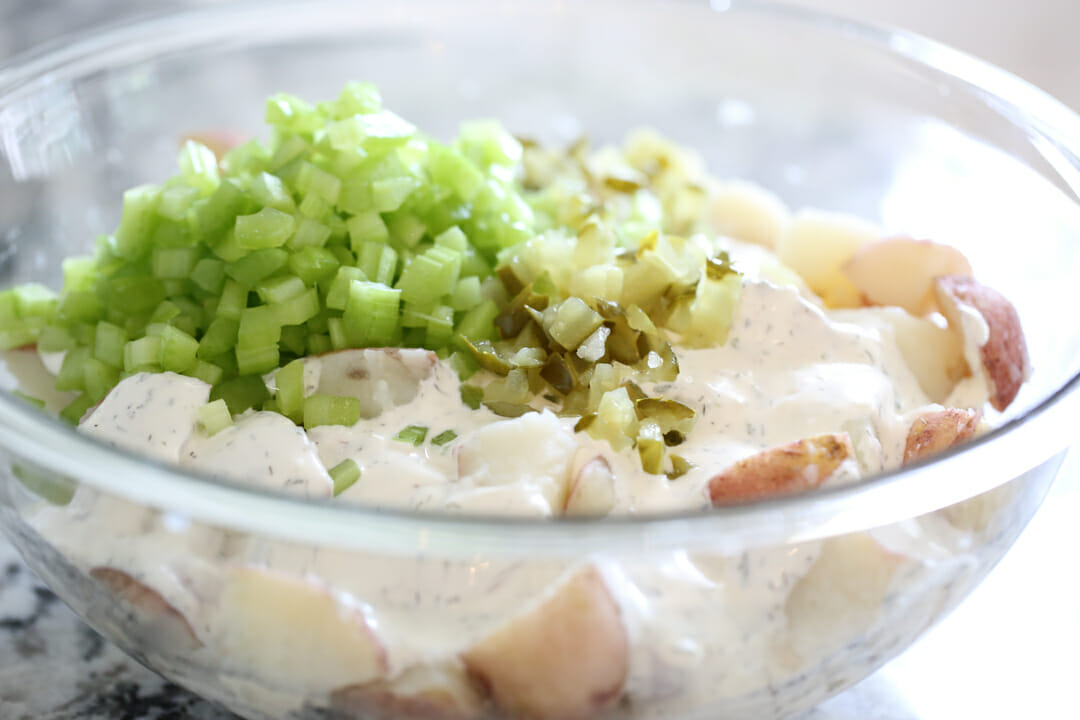 And last of all, mix in those hardboiled eggs.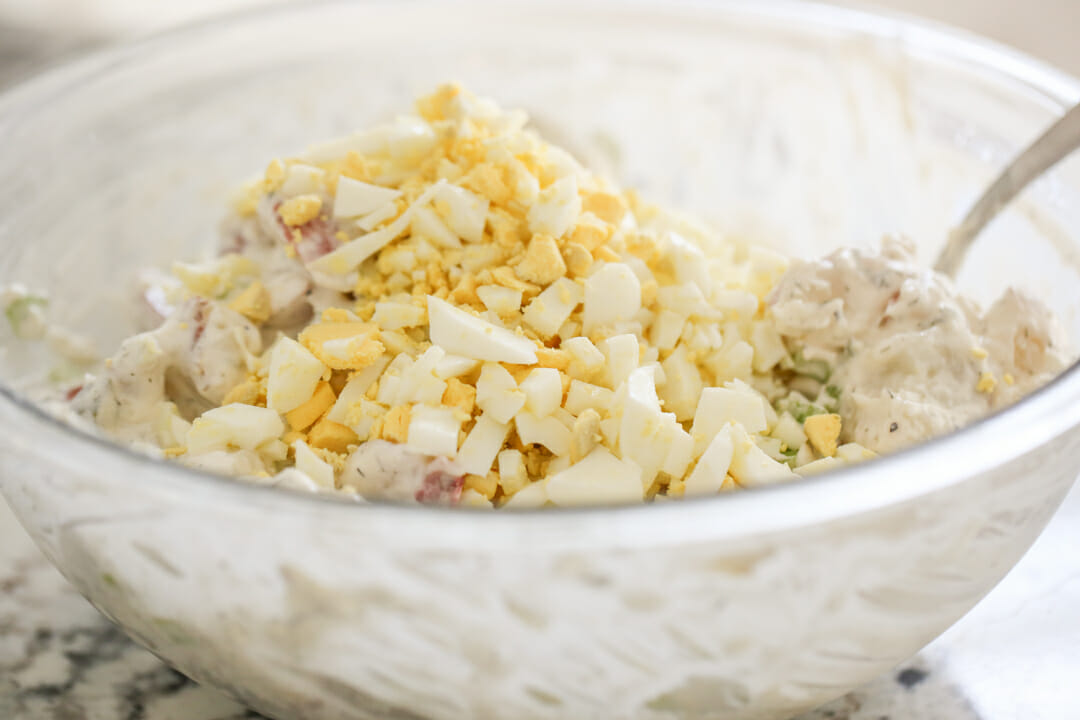 Super duper easy, perfect for pot lucks, bbq's and summer meals!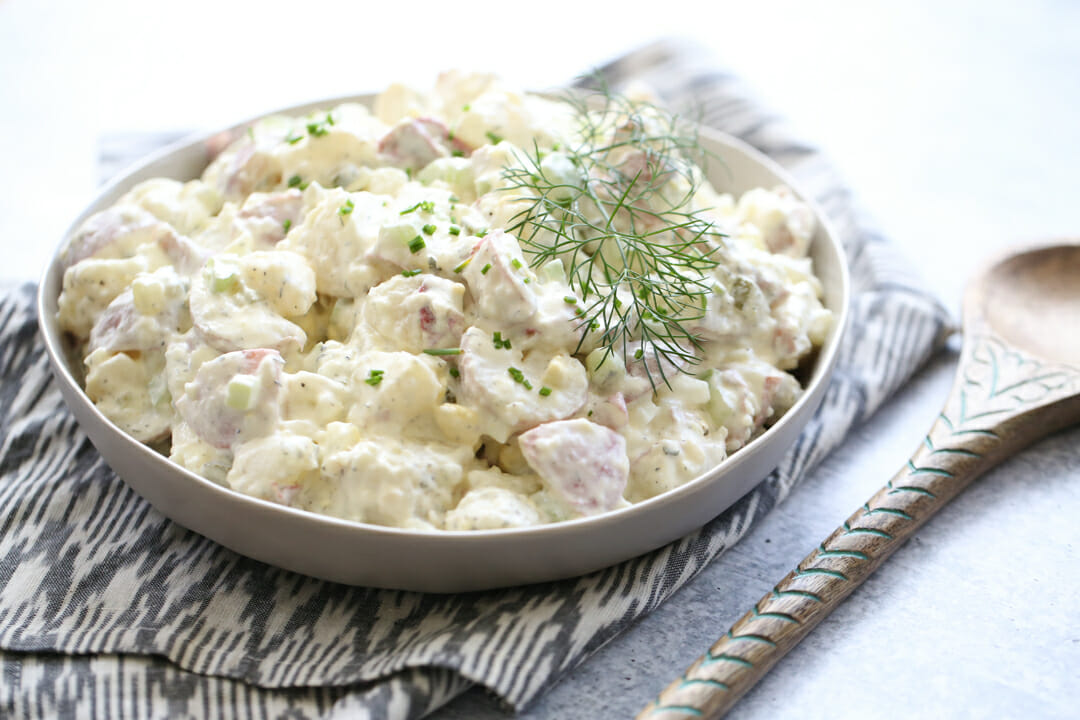 Print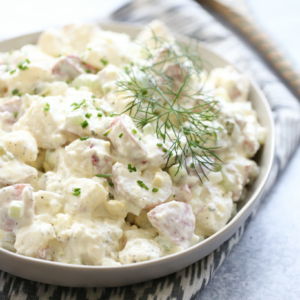 ---
Description
A classic creamy potato salad, perfect for customizing, if you like!
---
3 pounds potatoes, peeled and cut into 3/4-inch chunks (*see note)
1 cup mayonnaise
1/3 cup sour cream
3 tablespoons white vinegar OR dill pickle juice
1–2 teaspoons sugar
1 teaspoon kosher salt
1/4 teaspoon black pepper
2 tablespoons grated onion
1/2 teaspoon dried dill
1 teaspoon dried parsley
1 1/2 cups diced celery
3–4 hard boiled eggs
optional: 1/4 cup finely chopped dill pickle
---
Instructions
Place the potatoes in a large stock pot and cover with water.  Bring to a boil and then reduce heat to a simmer.  Cook potatoes 10-15 minutes or until fork-tender.  Drain and cool to room temp.
In a large mixing bowl, whisk together mayo, sour cream, vinegar, sugar, salt, pepper, onion, dill and parsley.  Add potatoes and celery and stir to cover potatoes evenly with dressing (you may not use it all).  Dice eggs and fold into potato mixture.  Chill for at least 3 hours before serving.
---
Notes
Pressure Cooker Instructions:  If you'd like to cook both the potatoes and the eggs at at the same time in the pressure cooker, place 1 1/2 cups water in your pressure cooker.  Place potatoes in a steamer basket if you have one, and then nestle the eggs on top of them.  Cook on high pressure for 4 minutes and then let rest for 5 minutes before releasing pressure. Place eggs in ice bath to stop cooking and spread out potatoes on a baking sheet to cool and get rid of extra moisture. Let potatoes cool to room temp or chill before mixing up salad.