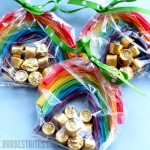 Remember when I said I was posting Mexican food today? Yeah, just in case you couldn't tell from the title, this isn't Mexican food. It's Friday. I'm tired. It's been a long week filled with those "Aw, crap, I'm a grown-up now" moments (believe me, when I was 18 and told my parents I couldn't wait to move out, applying for a new sewer tap was not #1 on my list of things I envisioned myself doing). I am highly motivated by sugar, cuteness, and easy food-related crafts and de-motivated by marinating pork loins and cutting up whole pineapples. I'm a promise-breaker, what can I say?
In case you didn't know, unless I'm struck by magic craft lightning, I glean pretty much all of my crafty ideas from other people. That's okay as long as I fully acknowledge that fact, right? I saw these little St. Patrick's Day rainbows here at Maple Memories and decided to make some of my own. My kids thing they're pretty dang awesome, even if (okay, especially that) they contain about 10 days worth of sugar in one little package.
You'll need Rolos, Rainbow Twizzlers, crafty cellophane treat bags, and green ribbon.
I also made some "clouds" out of cotton candy,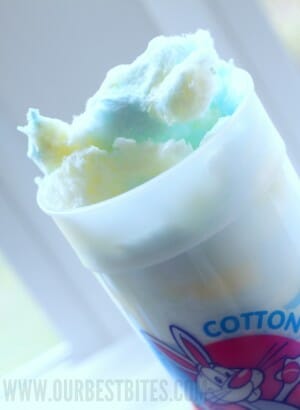 but because I live in a freaking unventilated shower stall, unspeakable things started happening to my cotton candy. They were cute while they lasted. They didn't last for very long.
The awesome thing about the Rainbow Twizzlers
(and Twizzlers is not paying me with money or Twizzlers for saying this) is that they are actually in equal amounts of rainbow colors–like you really do get your red, orange, yellow, green, indigo, and violet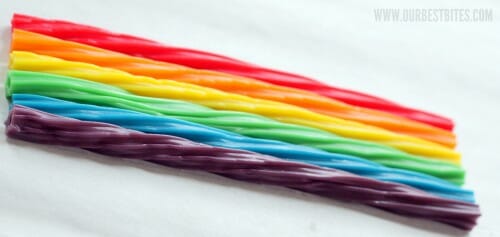 (which was a tough pill to swallow for a girl who grew up thinking the rainbow colors were red and yellow and pink and green, purple and orange and blue). And, because you have equal numbers, you can make a whole bunch of your own little complete rainbows.
So…these are super tricky. Totally my kind of craftiness. Now…you can use cotton candy here if you want, either as a little cloud at the bottom of the rainbow, or as a backdrop for your rainbow. Then take a handful or Rolos and pop them into a cellophane treat bag.  With the bag laying flat, fold the purple piece of licorice into a rainbow shape and slip it into the bag. Repeat with the blue, green, yellow, orange, red pieces of licorice, making your rainbow.
Tie the bag with a piece of green ribbon…
and voila! Happy St. Patrick's Day! In 15 days!
If you want to make these extra cute, check out some of these rainbow printables that you could cut out and tie onto the bags (some of them may need to be re-sized):
Simple as That
It Is What It Is
The Swell Life
Happy March! Happy spring (I know it's technically not spring, but March is spring in my book)! Have a great weekend!