I shared some feelings about Frosted Graham Crackers  on Instagram recently, and then again in a recent newsletter (if you're not signed up for our newsletter yet, click here!) Buttery graham crackers spread with creamy frosting is one of life's most simple and delicious pleasures.  It was my Mom's go-to treat for us when we were growing up.  She'd often whip them up after school or for a quick treat on our weekly Monday night "family nights".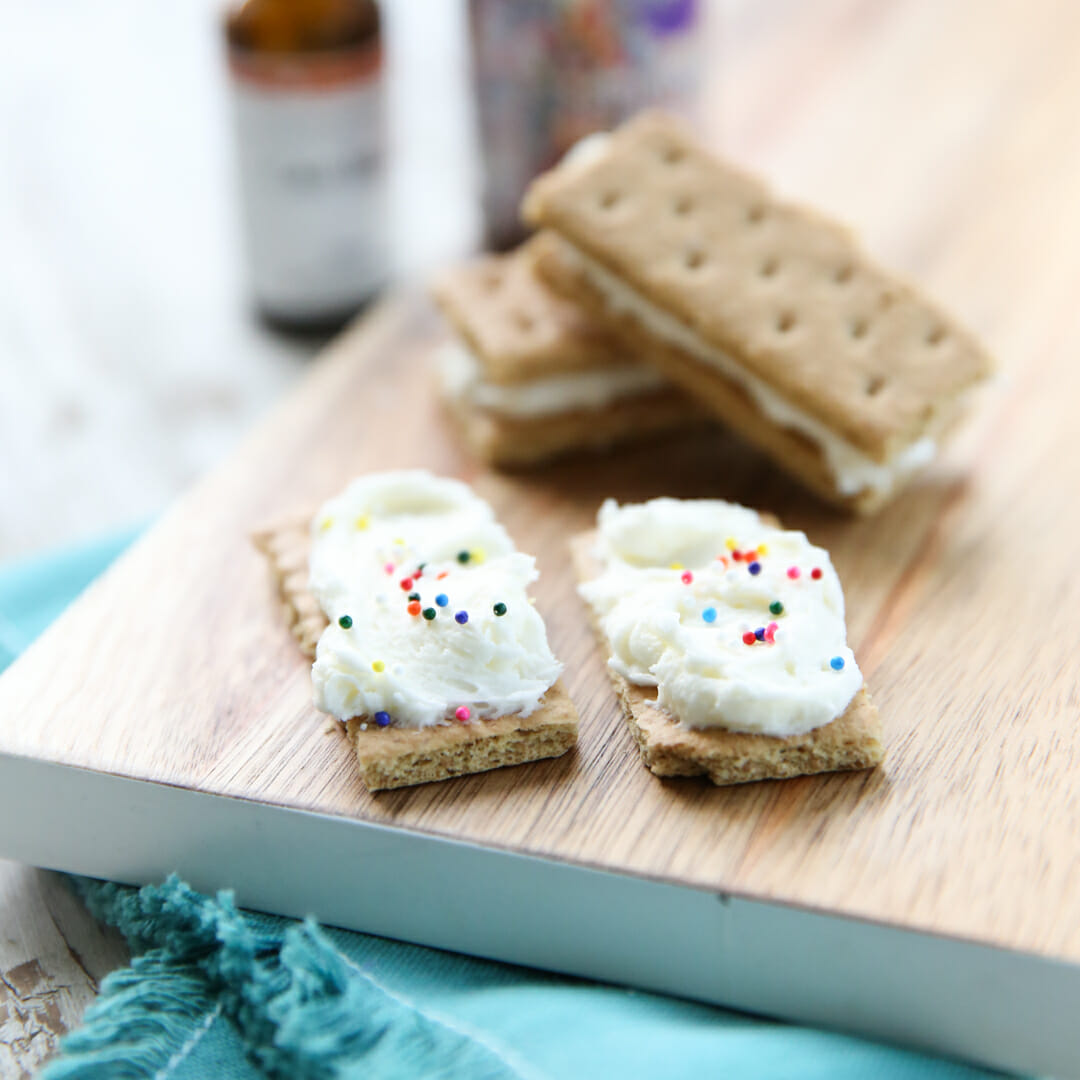 Frozen Frosted Graham Crackers
When I shared this photo recently on Instagram, so many of you mentioned that you grew up on frosted graham crackers as well but lots of you mentioned one thing I've never done- freezing them!  How have I never done that before??  You probably all know I love mint chocolate- and this is a great twist that's especially handy for St. Patrick's Day coming up.  You know what I'm talking about- when you realize it's March 17th and your kids come home from school expecting a giant green parade and you're all "oh yeahhhh…." Well you can whip these up in 10 minutes, throw some green sprinkles on there and be super mom.  You can eat them with or without the chocolate drizzle and frozen or at room temperature.  I will say there's something extra delicious about eating mint flavored things cold.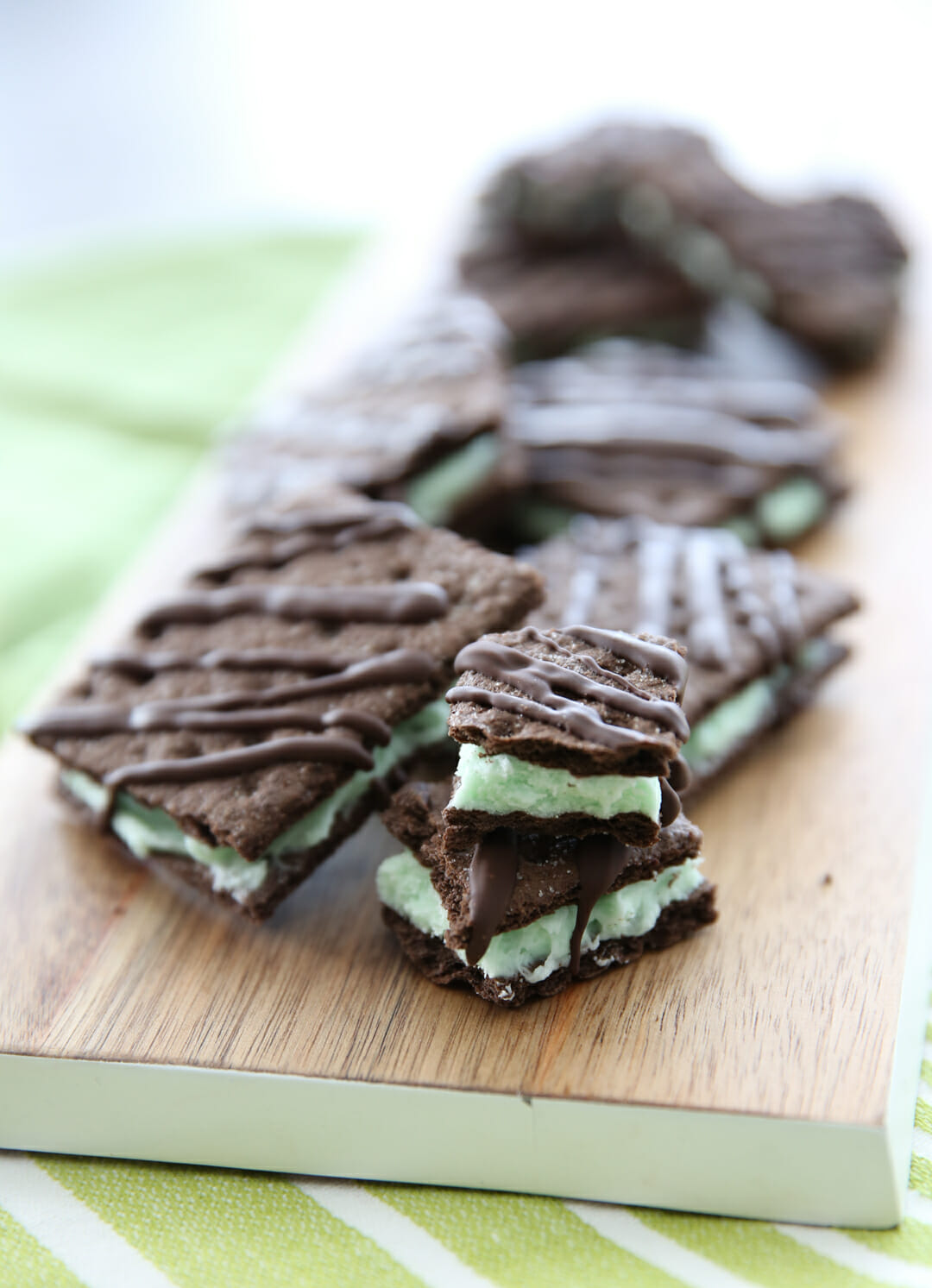 Make the Frosting
The first thing you'll need for frosted graham crackers  is that frosting.  No tricks here, just real butter, powdered sugar, milk, and peppermint extract.  Beat it until it's light and fluffy.  I think it's helpful to keep it on the thick side to stand up to those crackers.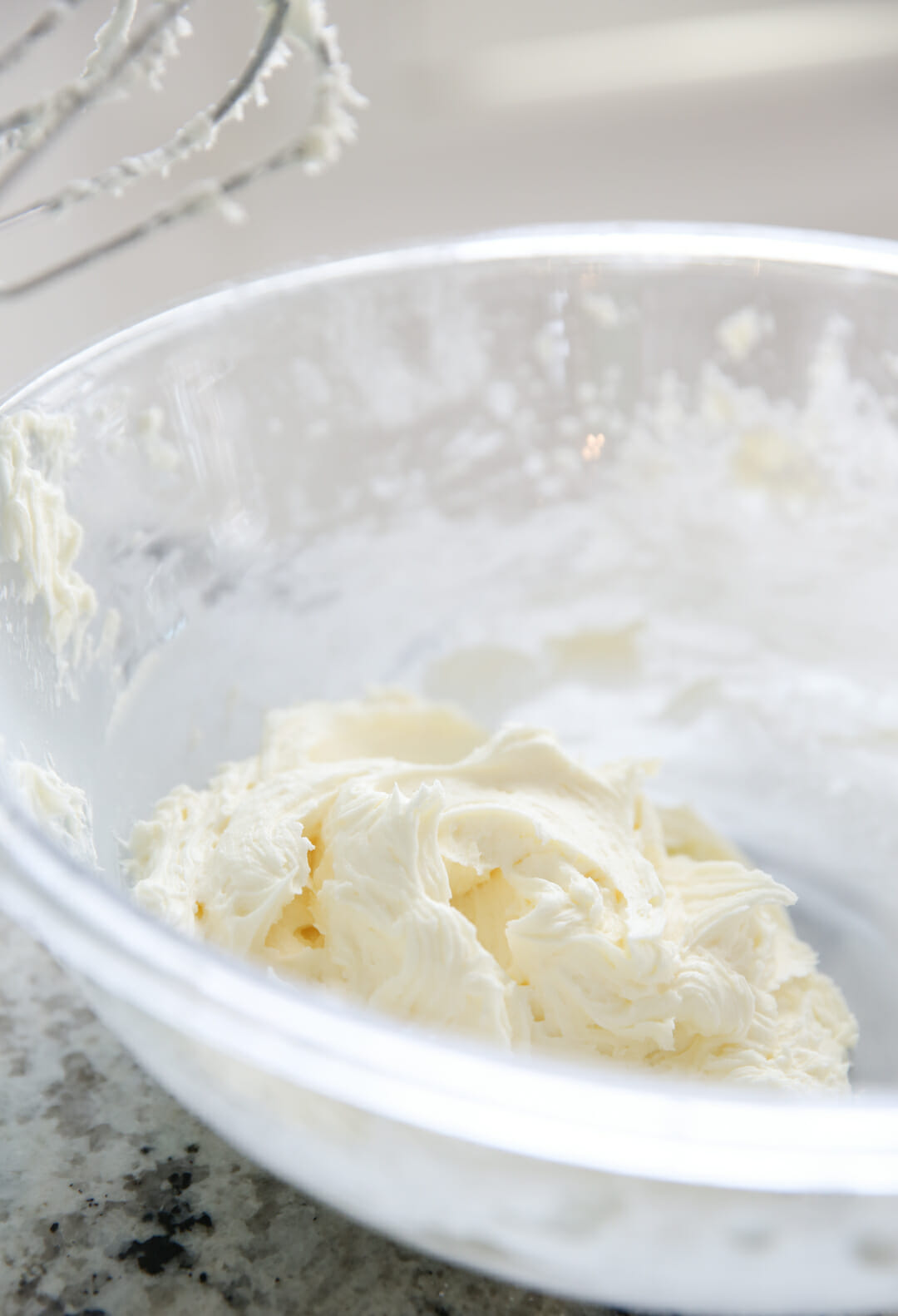 I know people have strong feelings about mint flavored things being green or not green, but I like green here.  However I like my mint ice cream white.  What can I say I'm a complicated person.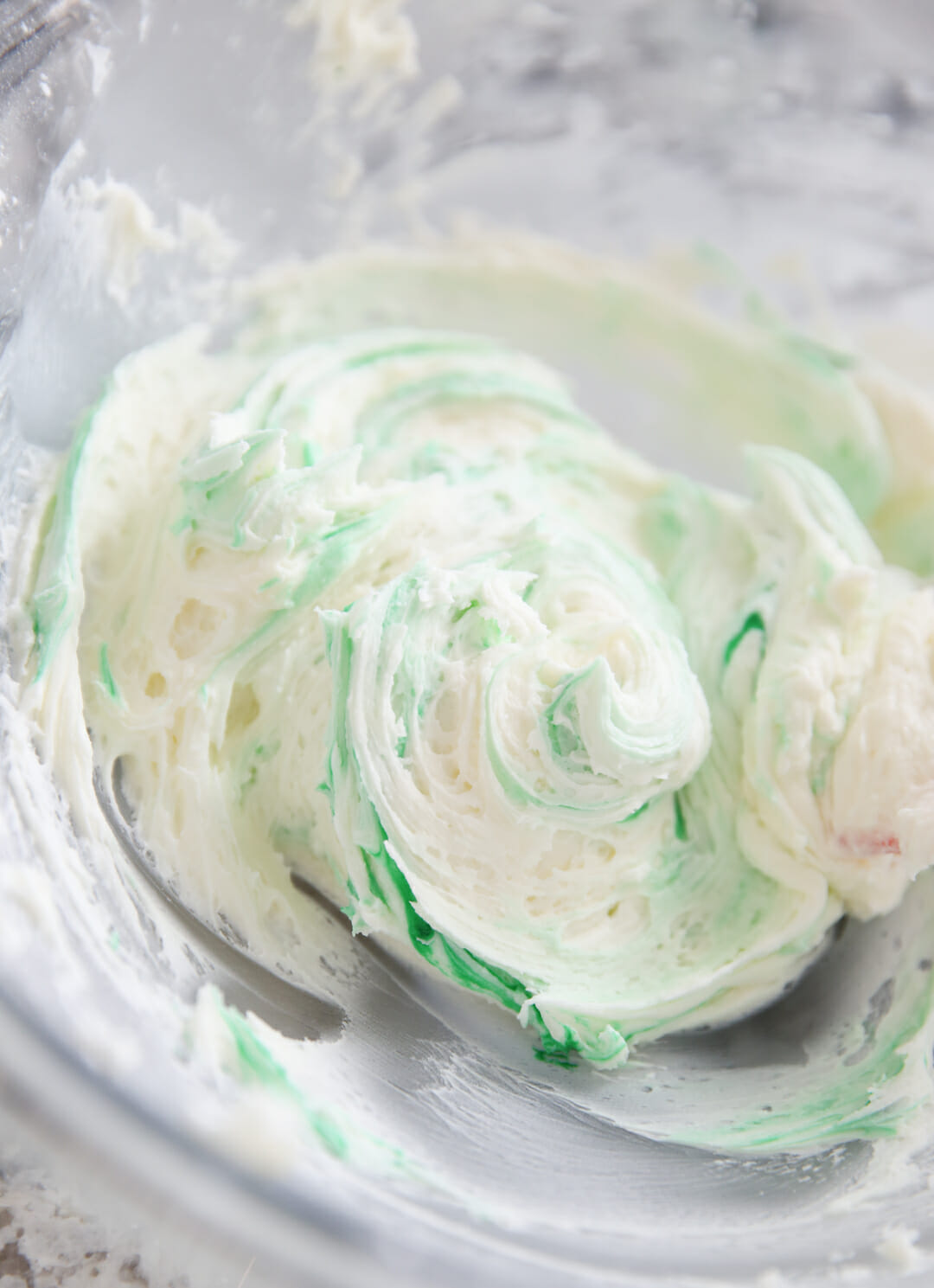 I've found the chocolate grahams to be a bit more delicate than the regular so break them carefully.  It also helps to use a sharp knife to gently score them for a clean break.  You can do them in squares, or I personally like the smaller rectangles because I just feel like they're easier to eat.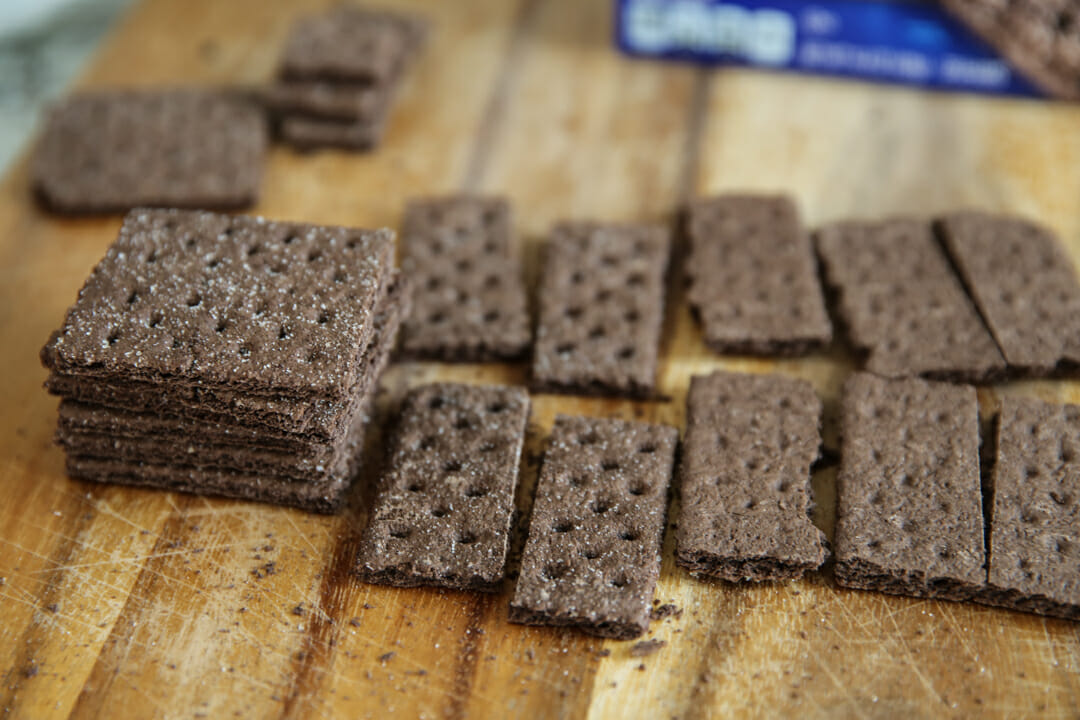 Sandwich the Crackers
Sandwich those cuties together.  You can definitely choose to be done right now and just eat them like this!  Leave them in a covered container for a few hours if you like them soft, or just sit on your couch with a bowl of frosting and dunk 'em.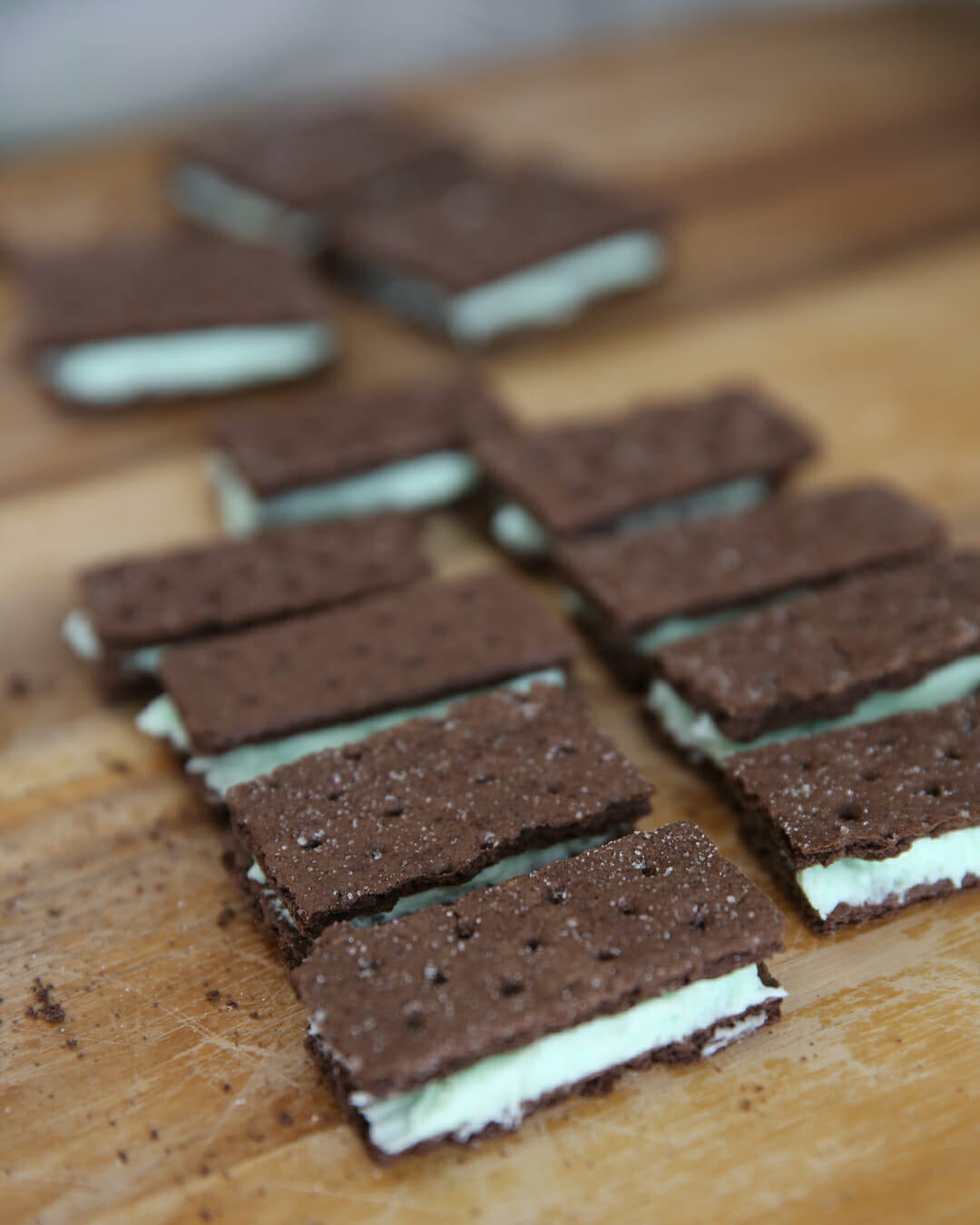 Drizzle with Chocolate
If you want to take it a step further, you can dunk the ends in melted chocolate, and add sprinkles if you're feeling festive.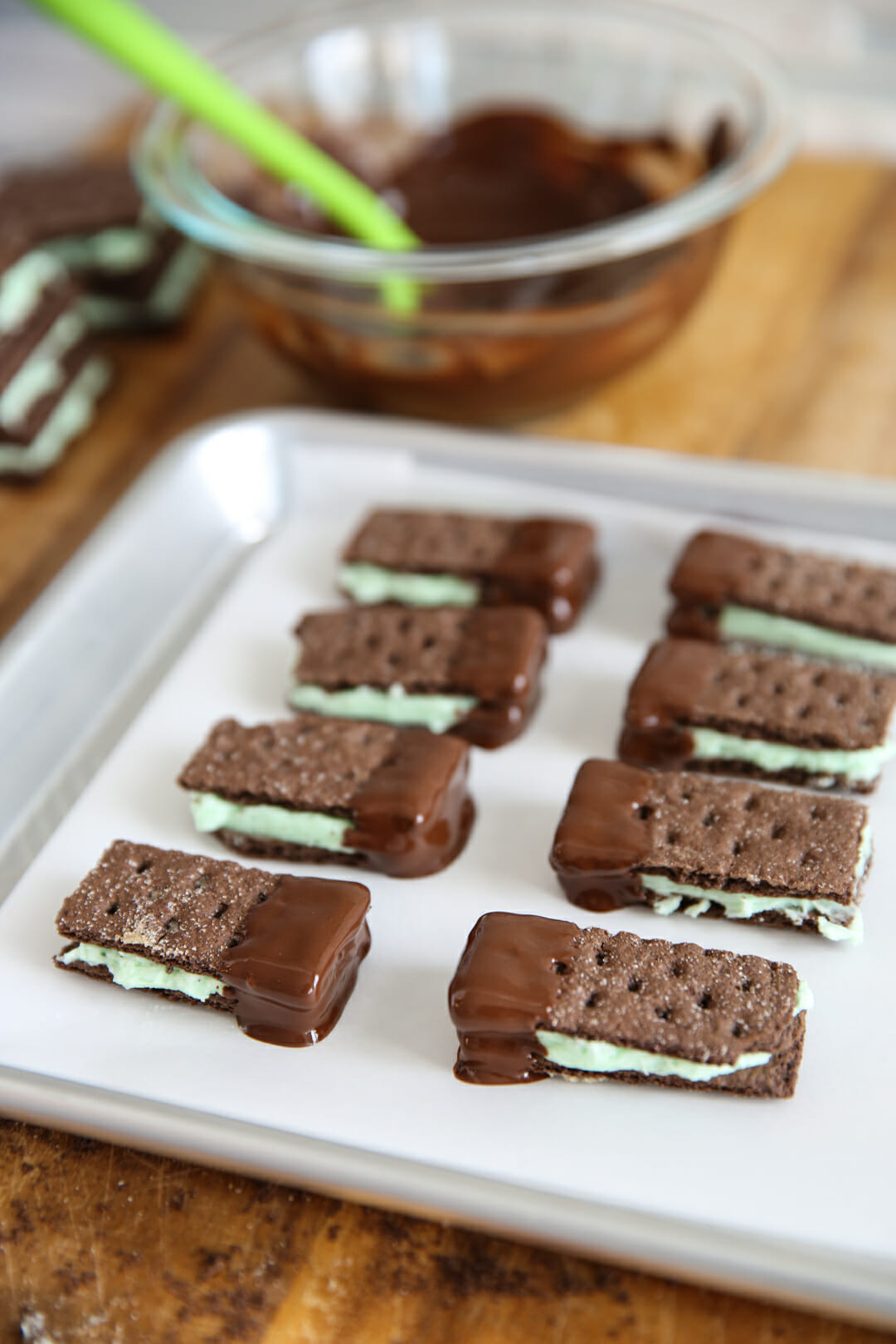 My favorite is to just hold them above the bowl and give them a quick drizzle like this and then put them on a parchment lined tray in the freezer.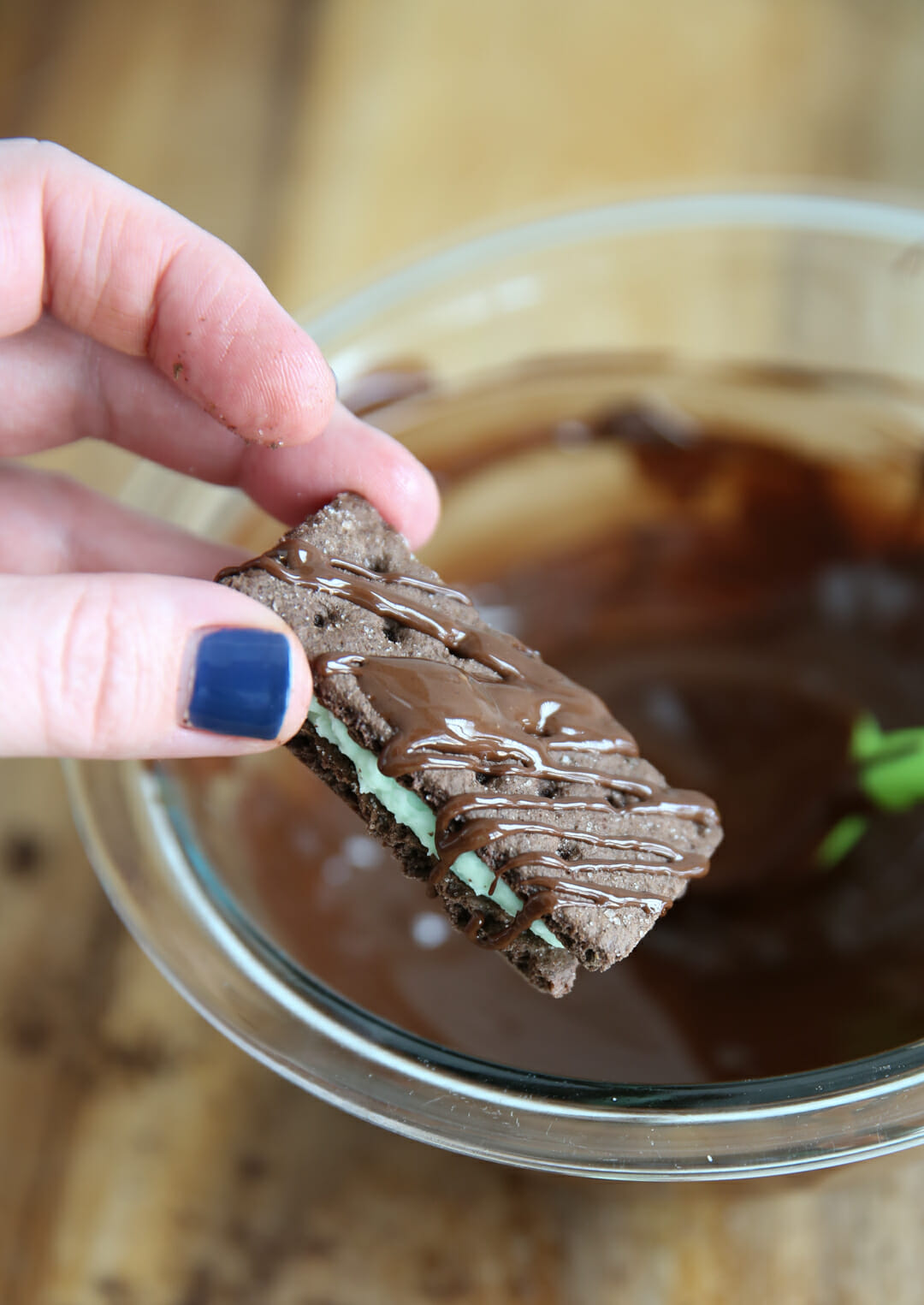 They freeze really fast and then you can pop them in a container and don't tell your family you made them and go treat yourself every time you do a load of laundry or remember to shower or feel like eating chocolate.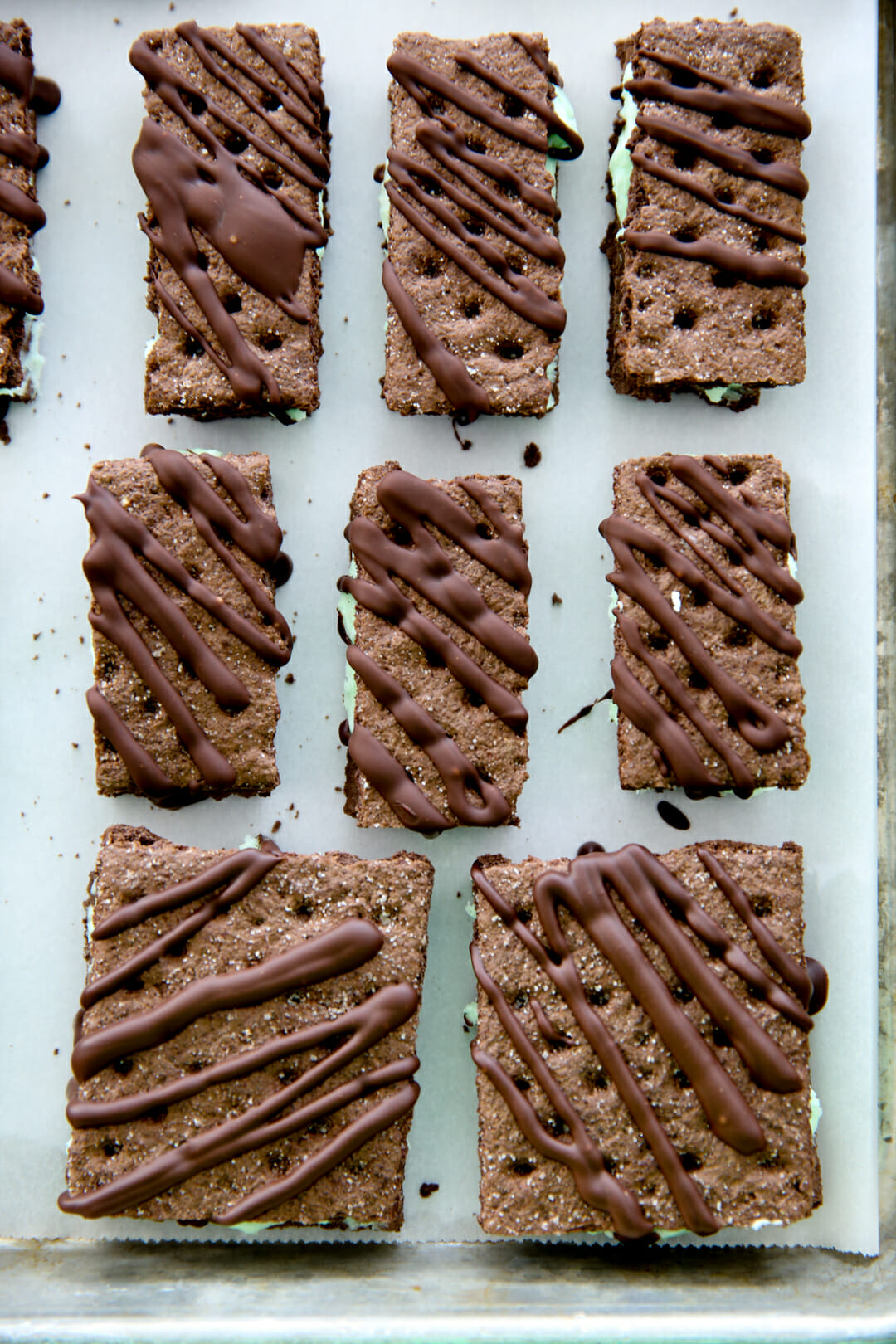 Either way frosted graham crackers are amazing. And so stinking easy.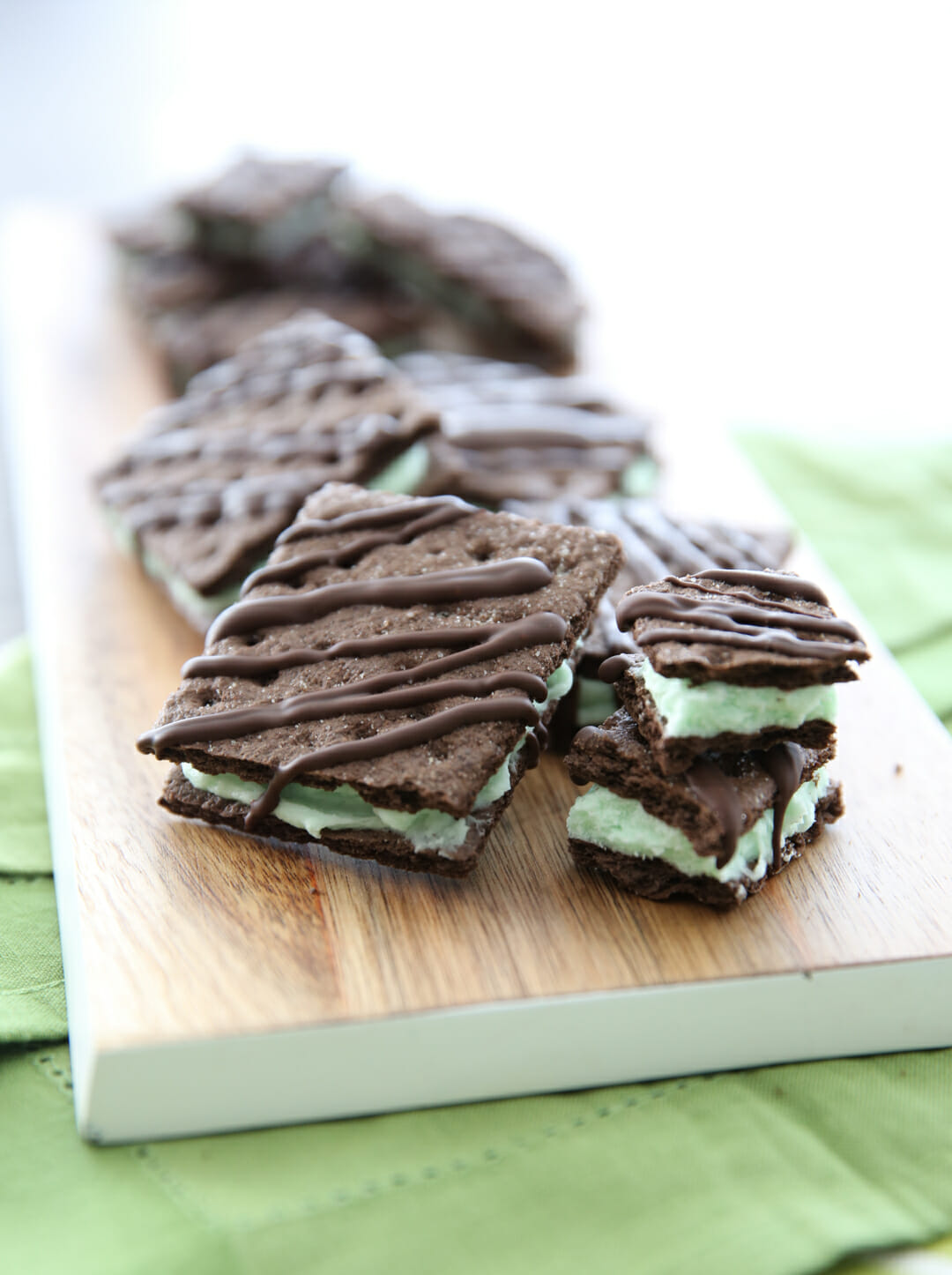 In the mood for Mint Chocolate?  Here's a few other favorites!
Print
Chocolate Mint Graham Cracker Sandwiches
---
Frosting:
1/2 cup

softened butter (salted)

3 cups

powdered sugar

1 tablespoon

cream or milk

1 teaspoon

peppermint extract (more if desired)
green food coloring
Additional Ingredients:
2

sleeves chocolate graham crackers
Optional Ingredients:
3/4 cup

chocolate chips

1 teaspoon

coconut oil
festive sprinkles
---
Instructions
Place butter and 1 cup powdered sugar in mixing bowl and blend until smooth.  Add remaining powdered sugar, milk, and extract and beat for a full minute until light and fluffy.  Frosting will be thick, add additional milk a TEENY bit at a time (like 1/2 teaspoon) if you need to thin it out just a bit.  I suggest keeping it on the thick side.  Add more extract if desired, I like about 1 1/2 teaspoons.
Gently break graham crackers into segments.  It helps to use a sharp knife to score first if they are crumbly.
Spread frosting on crackers and sandwich with another cracker.  Place finished sandwiches in freezer.
If desired.  Melt chocolate chips and oil in the microwave in 30 second intervals until smooth.  Drizzle over cookies and return to freezer.
You may alternately eat unfrozen or simply dunk crackers in frosting like a dip 🙂
---