I was walking through the grocery store yesterday and saw this new flavor of Rice Krispie cereal and without hesitation put them in my cart and went straight to the baking aisle to get marshmallows because hello – Strawberry Rice Krispie Treats! I was happy to see they were flavored and colored with natural ingredients so I feel like they have more of a natural strawberry flavor (as opposed to like, strawberry chapstick, ya know?) These are gooey and sweet and I studded them with little bits of fresh (freeze-dried) strawberries. My family all agreed that this was one of their favorite Rice Krispie treat versions, yet! Keep reading for a secret ingredient that makes the flavor top notch!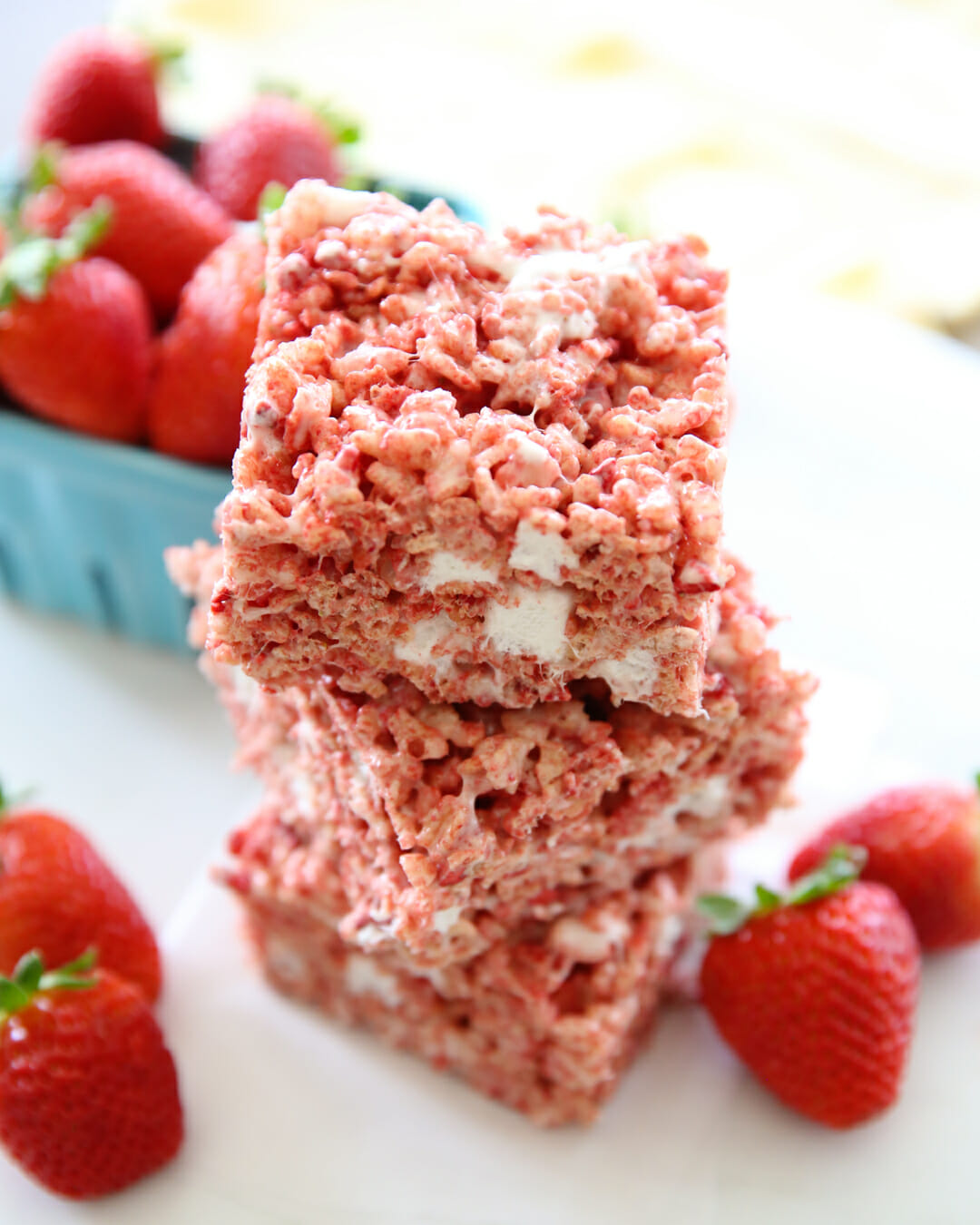 The Rice Krispie Trick You Need to Know
You might think that all rice krispie treats are created equal, but boy are you wrong. We have very strong feelings about our krispie treats around here. So much so that we have a whole section dedicated to them in our index. One of my favorite tricks for superbly gooey treats is to add some marshmallows to your cereal mixture. I learned that from the Salted Caramel Rice Krispie Treat Recipe (which, if you haven't made, you need to. Saying something is life-changing sounds so cliche, but then they're also kind of life-changing.)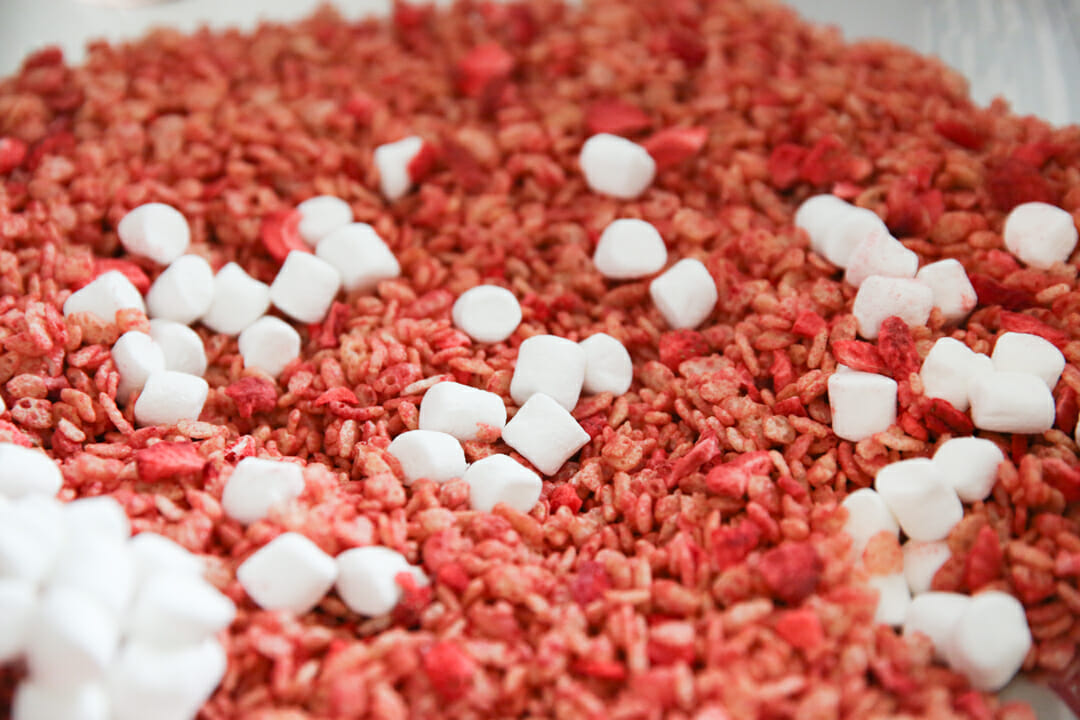 Add Some Real Berries
I wanted to add extra fresh berry flavor and texture here without fresh berries, obviously, so I turned to one of my favorite ingredients: freeze-dried strawberries. I actually have my own freeze dryer but freeze dried berries are so easily accessible these days! You can find them at most grocery stores and even at places like Target.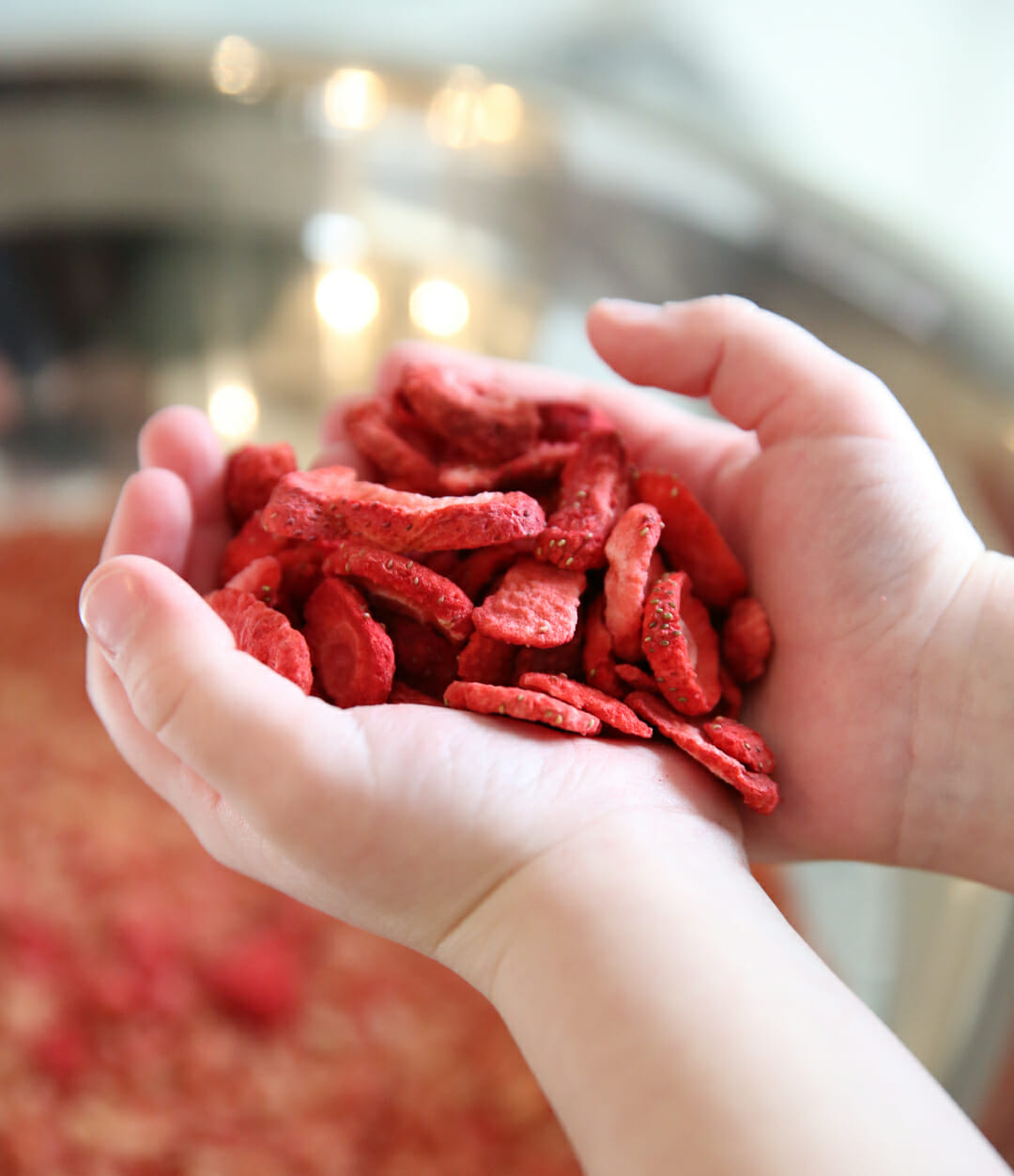 The Secret Ingredient


The secret ingredient in that marshmallow goo is just a bit of almond extract. I add almond to pretty much anything strawberry or cherry because it just brings out the flavors so well.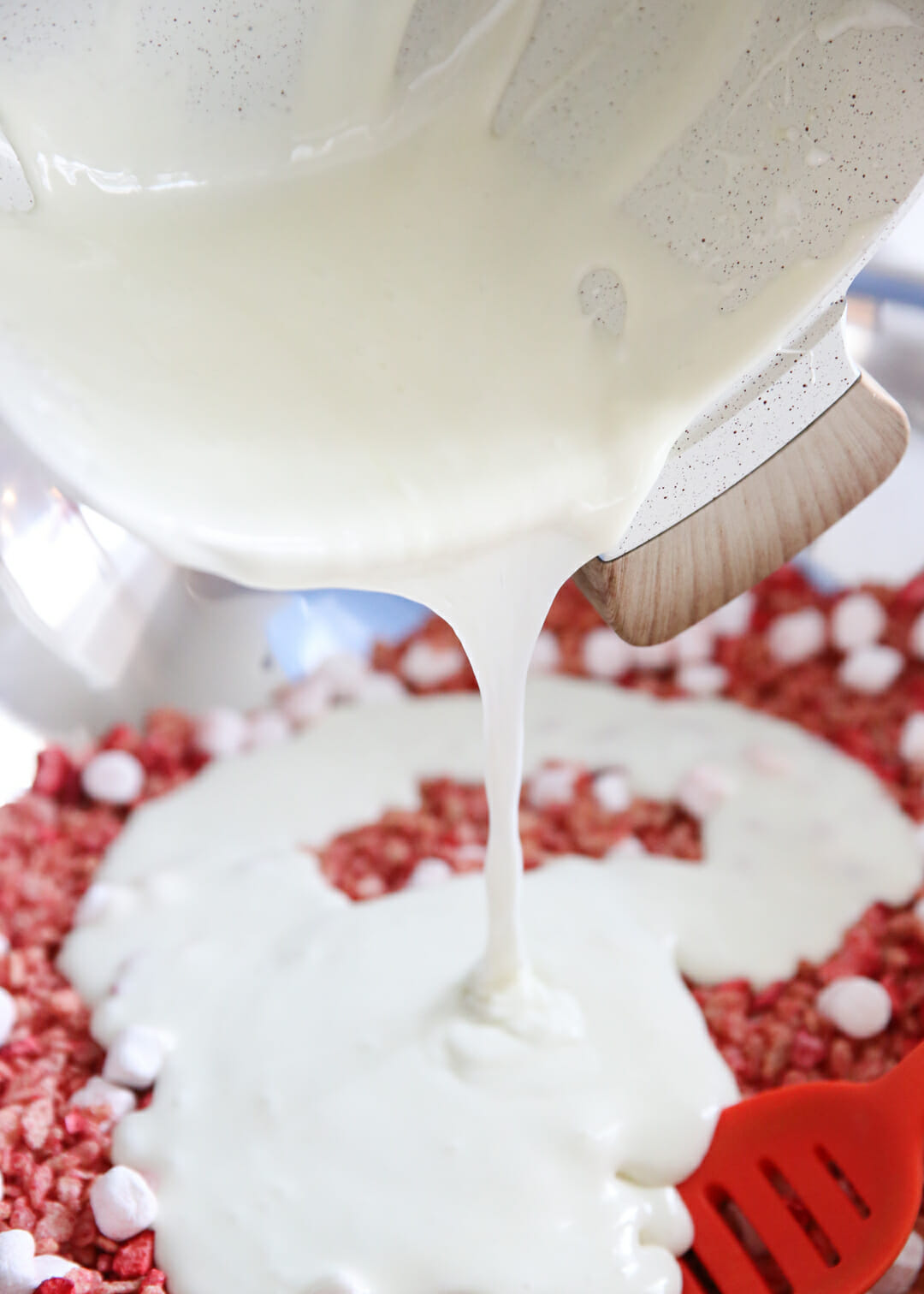 The Best Rice Krispie Mixing Bowl
I've said this before, but if you don't have an enormous mixing bowl, you need an enormous mixing bowl. I'm not talking about just a big one. I'm talking about an enormous one. You might have to store it in a closet or something but this is one of THE most handy items in my kitchen. At our house, we actually call it the "Rice Krispie Bowl" but it's handy for any sort of mixed cereal treat. Even though it can handle up to a triple-quadruple batch of treats, I use it even for single batches because it makes stirring and tossing SO easy and you don't lose half your ingredients over the edge of the pan. It's also amazing for coated popcorn mixes, and salads for 100. You can grab one on Amazon for 20 bucks and I'm just sayin'- you should all have one!!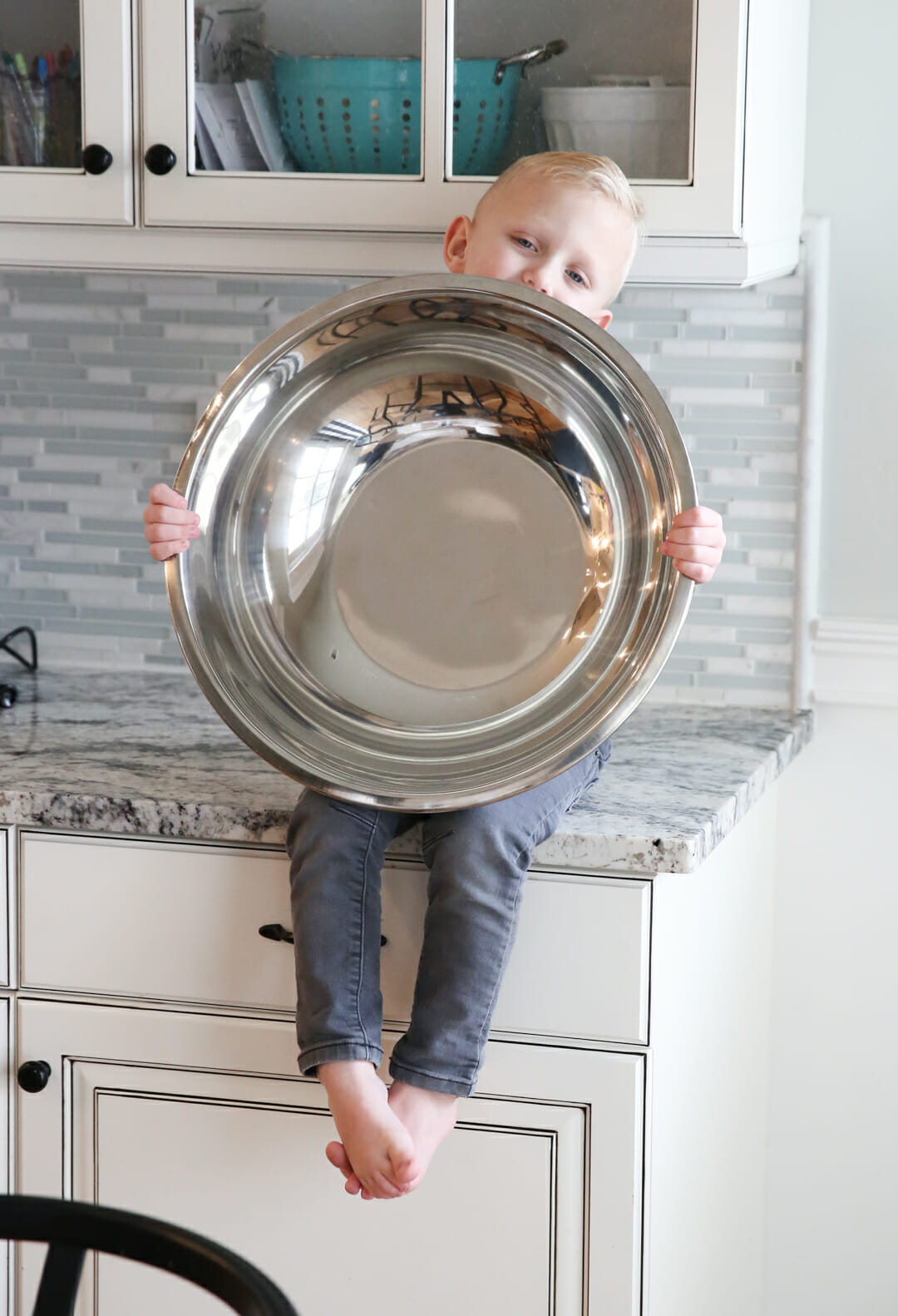 If you've got a red polka dot pan, now is definitely the time to use it. TIP: Don't pack down your treats. So many people pound on them at this point and that makes them hard and dense. Just gently pat them into an even layer and call it good.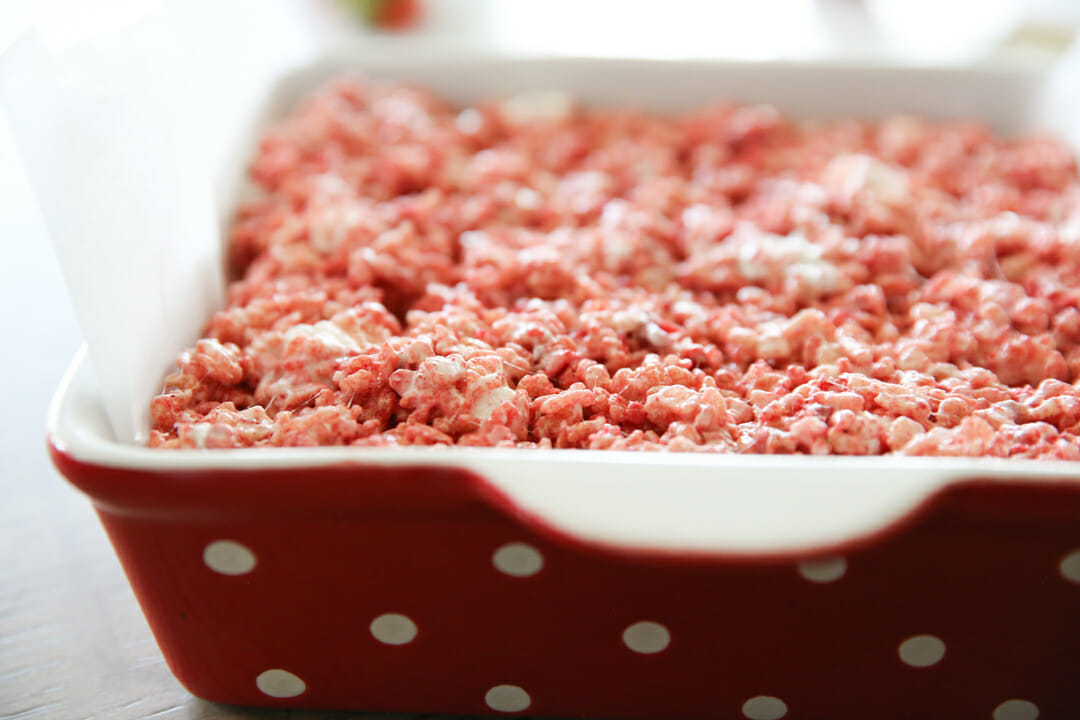 These are ultra thick and perfectly gooey and so adorably sweet and strawberry-y.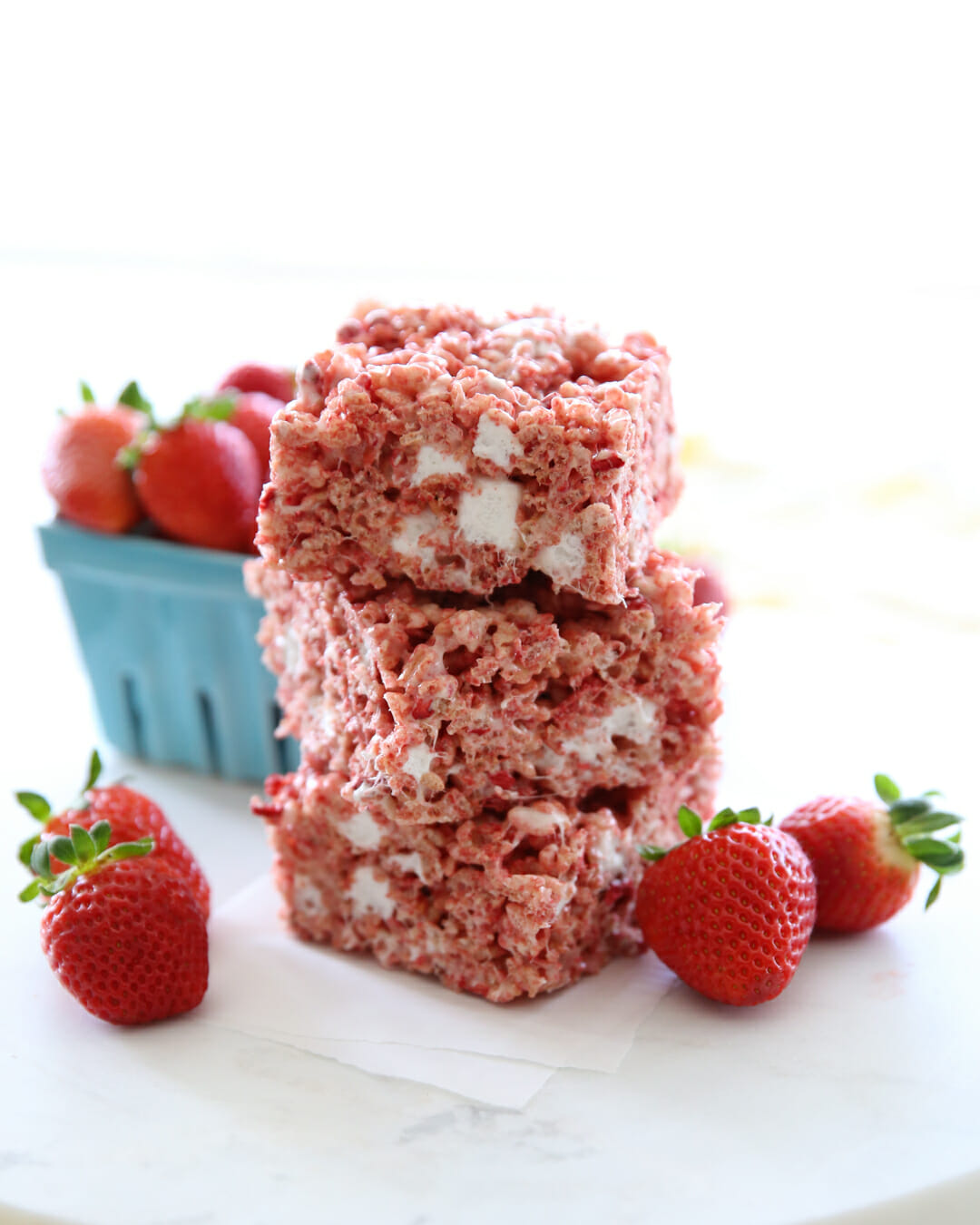 All my kids and my husband commented on how amazing these were.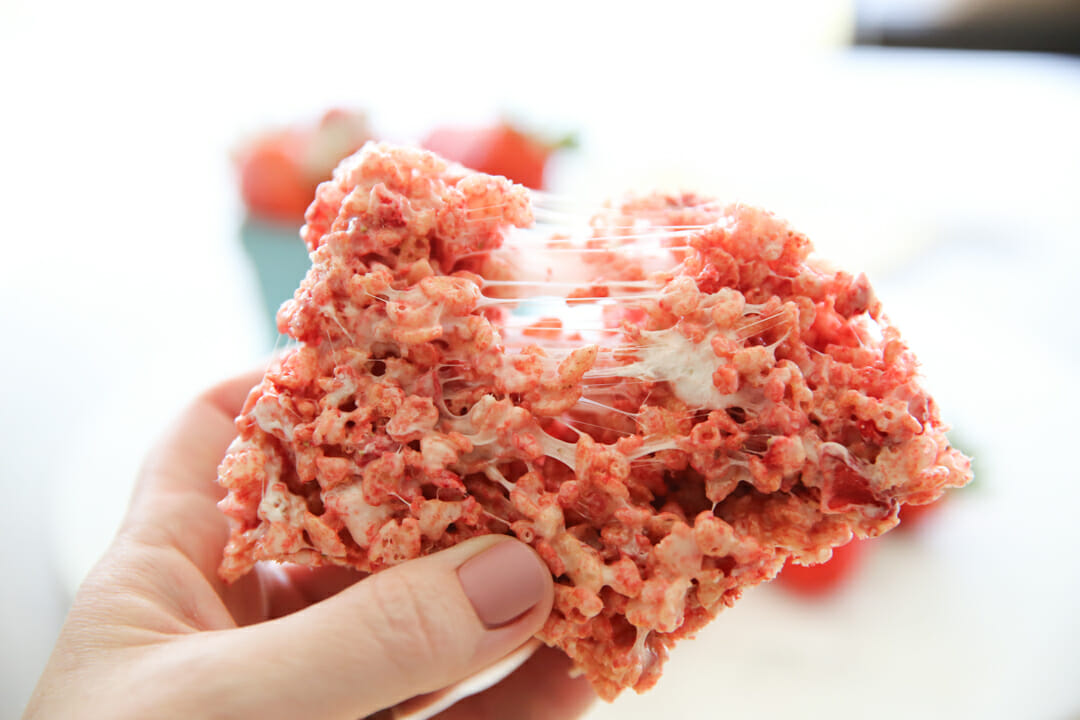 I think you need them, too!
Print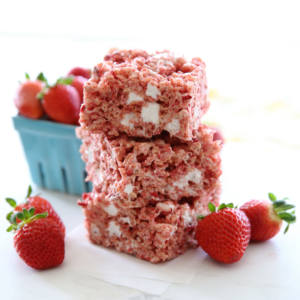 Strawberry Rice Krispie Treats
---
Description
Sweet and gooey and studded with bits of berries, these fruity krispie treats are perfection!
---
6 tablespoons butter
6 cups Strawberry Rice Krispies
1 16oz bag mini marshmallows (about 10 cups)
1oz bag freeze-dried strawberries
1 teaspoon almond extract
---
Instructions
Line an 8×8 (or 9×9) pan with parchment, if desired.
Place butter in a large pot on the stove top. While it's melting, place Krispie Cereal in a separate large bowl and add 1 1/2 cups marshmallows. Use your hands to gently crush the freeze-dried berries as you add them to the bowl with the cereal. You don't need to pulverize them, just crush them into smaller pieces.
When butter is melted, add remainder of marshmallow bag and stir until completely melted and smooth. Remove from heat and add almond extract. Use a rubber spatula to scrape out all marshmallow mixture and pour over cereal mixture. Gently stir until cereal is completely coated and transfer mixture into pan.
Coat hands with a little butter and then gently press down (DON'T pack it down, gently press!) and let sit until cooled and set. Cut into squares to serve, or ya know- just start pulling chunks out with your hands. I won't judge.
---