Classic banana bread is a recipe that should be in every cook's arsenal.  This is our favorite recipe, as it boasts just the right amount of sweetness without being overly saturated with sugar and a perfect texture that highlights the natural flavor of the banana.  It calls for a small amount of yogurt or sour cream, which makes it incredibly tender and soft.  Over the years when we've been in a pinch we've subbed a variety of things for that ingredient, including applesauce, and even ricotta cheese! Try this recipe and you'll agree you've finally found the best classic banana bread recipe!  If you'd like mix it up a bit, we also love Chocolate-Swirled Banana Bread, Coconut-Lime Banana Bread, and Caramelized Banana Bread with Brown Butter Glaze.
Scroll past recipe card for step by step how-to photos and instructions.
Print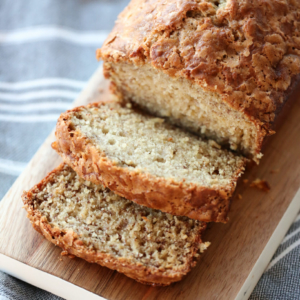 The Best Classic Banana Bread
Prep Time:

15 minutes

Cook Time:

1 hour

Total Time:

1 hour 15 minutes

Yield:

1 loaf
---
Description
The Best Classic Banana Bread recipe-boasting just the right amount of sweetness and natural banana flavor, without being overly saturated with sugar or oil.  Tender and soft and everyone's favorite!
---
2 cups all-purpose flour
3/4 teaspoon baking soda
1/2 teaspoon salt
1 cup sugar
1/4 cup butter, softened
2 large eggs
1 1/2 cups mashed ripe banana (about 3-4 ripe bananas)
1/3 cup sour cream or plain yogurt (see note)
1 teaspoon vanilla extract
2
–
3
tablespoon brown sugar
---
Instructions
Cut a piece of parchment paper so it fits like a sling into your loaf pan and overhangs over the longer sides of your pan.  Spray your loaf pan with cooking spray and then place the parchment paper in so it sticks and then spray the top of the paper as well.  (If you're not sure what this step should look like, see photos in blog post for reference)  If you don't have parchment you can simply spray your loaf pan, or butter and flour it.  Set aside.
Preheat oven to 350°. Lightly spoon flour into dry measuring cups; level with a knife. Combine the flour, baking soda, and salt, stirring with a whisk. Place sugar and butter in a large bowl and beat with a mixer at medium speed until well blended (about 1 minute). Add the eggs, 1 at a time, beating well after each addition. Add banana, yogurt, and vanilla; beat until blended. Add flour mixture; beat at low speed just until moist. Spoon batter into an 8 1/2 x 4 1/2-inch loaf pan coated with cooking spray. Sprinkle brown sugar on top. Bake at 350° for 1 hour or until a wooden pick inserted in center comes out clean. Cool 10 minutes in pan on a wire rack; remove from pan. Cool completely on wire rack.
---
Notes
This recipe calls for plain yogurt or sour cream.  Full fat sour cream is my go-to because it's what I always have in my fridge, but we have used SO many things in its place.  You can use full fat or low fat yogurt, plain or vanilla (we've even used fruit flavored yogurts in a pinch).  I've also used apple sauce.  For the photos in this post I was actually out of all of those things so I used ricotta cheese mixed with a couple tablespoons of milk so it was the texture of full fat sour cream and I think I liked it even better than the original!  So it's flexible.  If you're out of sour cream or plain yogurt, you can be creative.
This recipe also makes great muffins and mini muffins.  You'll have to eyeball the baking time and cook until done- I think I usually start with about 15-20 minutes and then check them.
Keywords: best banana bread
If this recipe looks familiar, it's because it's pulled from another recipe on our site- this Chocolate Swirled Banana Bread.  Same recipe, only in that one you marble a portion of the batter with melted chocolate.  It's a fun variation!  We wanted our classic version to have it's own spot here in the index, so here we are.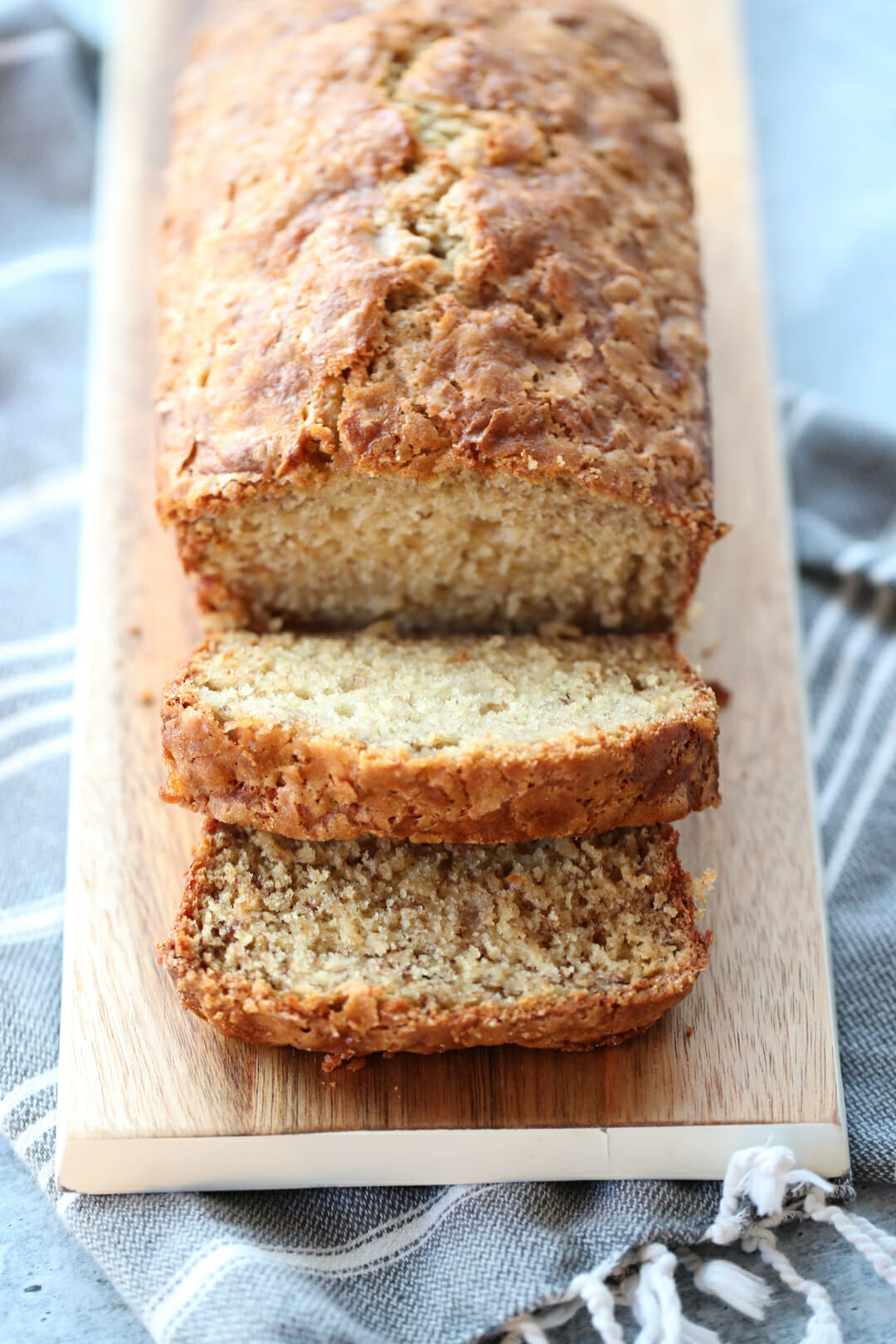 How to Make the Best Banana Bread
One of the unique parts about this recipe is that, for a quick bread recipe, it is lower in fat and sugar than most others.  With only 4 tablespoons of butter, you still get a super rich flavor and tender texture.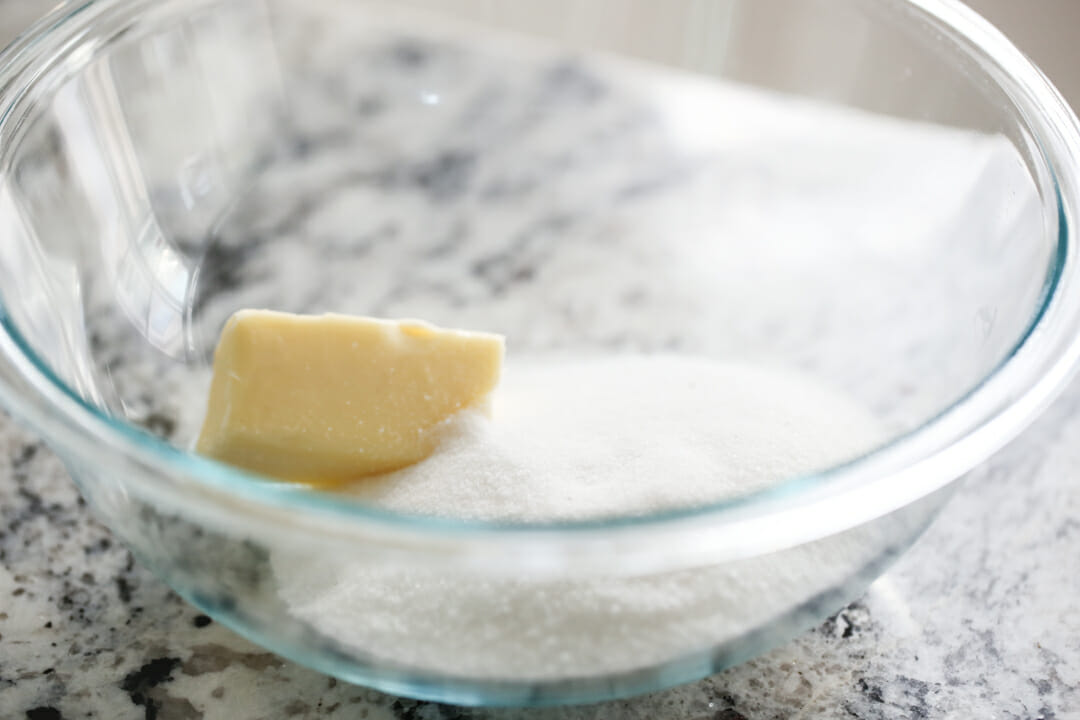 After blending the soft butter and sugar, you'll mix in bananas, eggs, vanilla, and sour cream or yogurt.  I've included several notes about other things you can use in place of the sour cream or yogurt- this recipe is very flexible!  A few basic dry ingredients are added and that's it.  This recipe is very quick and easy to mix up.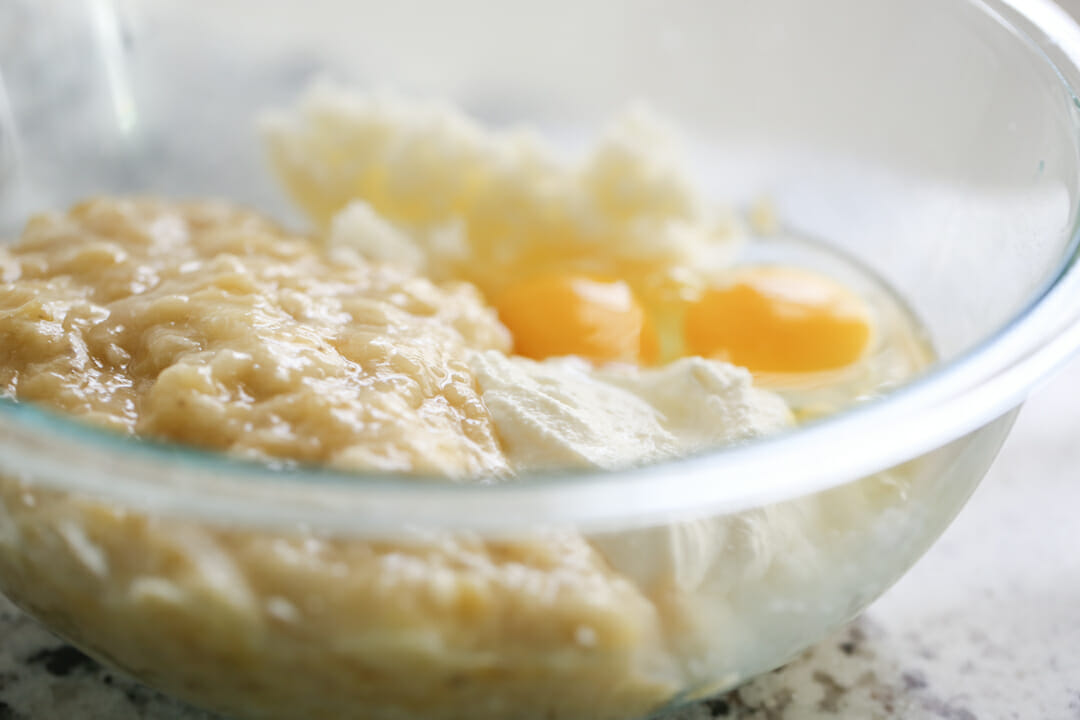 TIP: The Best Way to Bake Quick Breads
I always line my pans with parchment.   You don't need to line the entire interior, like you would with foil.  Rather cut your parchment so it fits like a sling as show in the photo below.  Spray your pan with cooking spray, then place the paper in over it and spray all sides of the pan again.  This will make it super easy to lift your bread right out of the pan.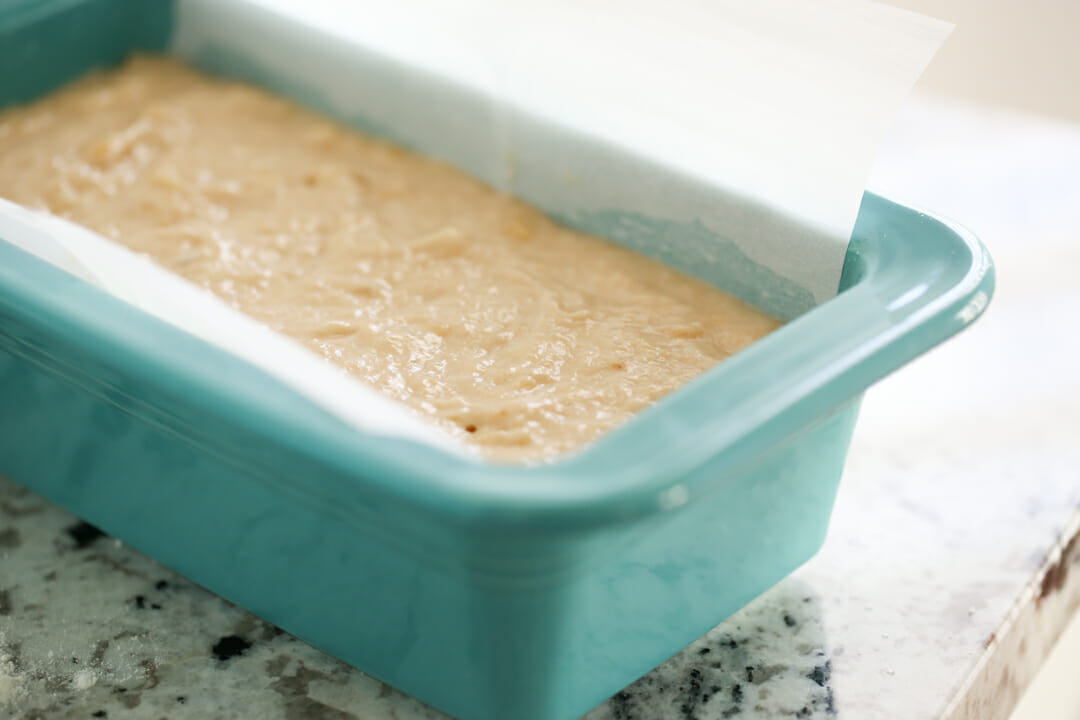 TIP: Top your quick breads!
Here's a little tip for basically ALL quick breads- sprinkle a little brown sugar over the top before baking.  I don't even measure, but about 2-3 tablespoons.  It kind of melts in, but leaves a slightly light, crisp topping that enhances so many breads.
You can see the sugar topping in this photo- it bakes up beautifully!  Let your bread cool until just warm before you pull it out of your pan.  Run a knife around the edges that weren't covered in parchment and then use the paper to just lift it right out.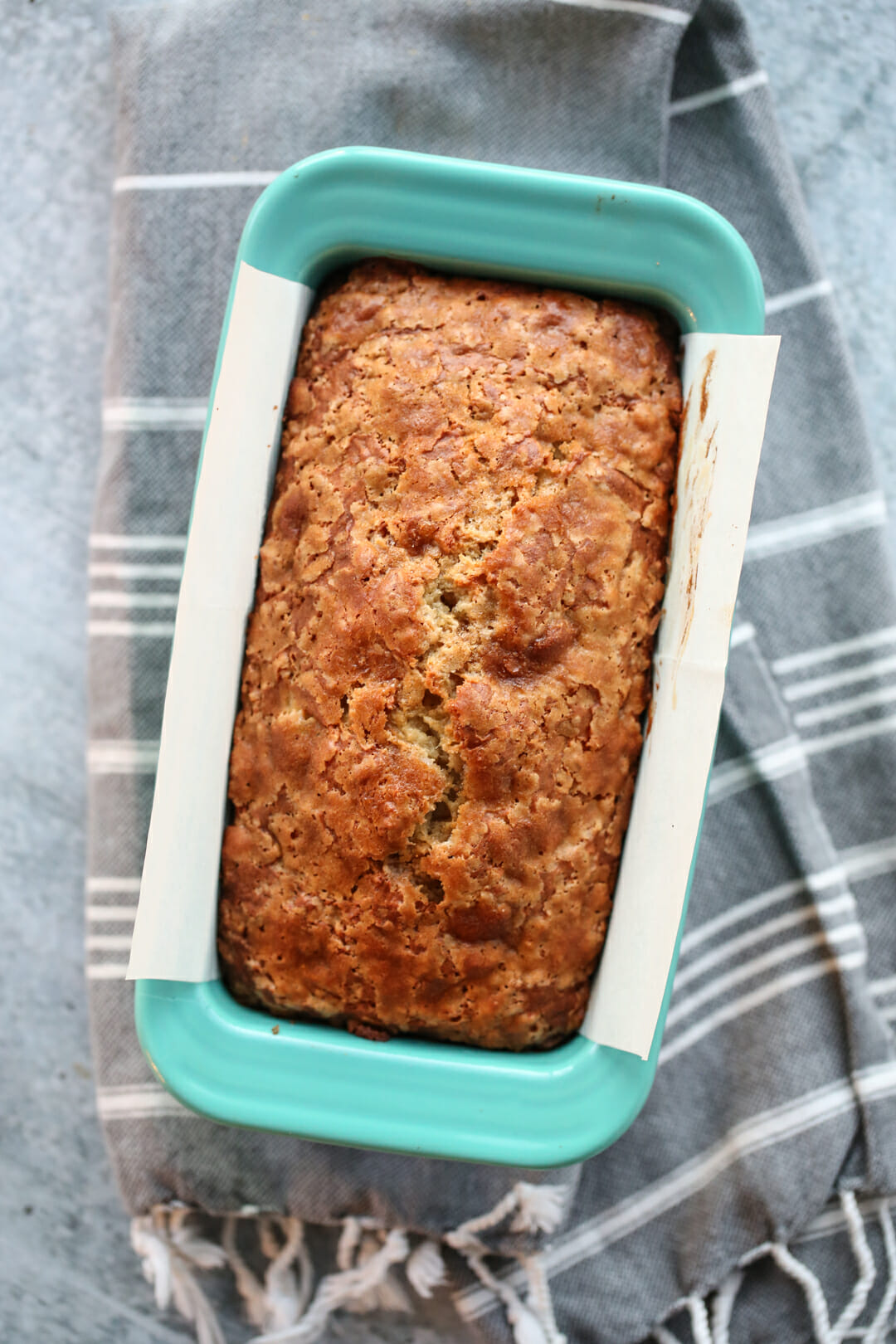 I love this banana bread with a little spread of soft butter on top.  It's soft and sweet and perfectly comforting!
Want more quick breads and muffins?  Click here for our full index!