At first thought you might be surprised to see coconut and lime paired with banana bread, but think about that tropical combination of lime, coconut, and banana and you'll realize it's a match made in heaven! This super soft banana bread is studded with coconut and I like to add just a touch of coconut extract, too. When baked up, it gets a layer of toasted coconut on top and then it's drizzled with a sweet and tangy lime glaze. The flavor combination is unexpected and absolutely delicious!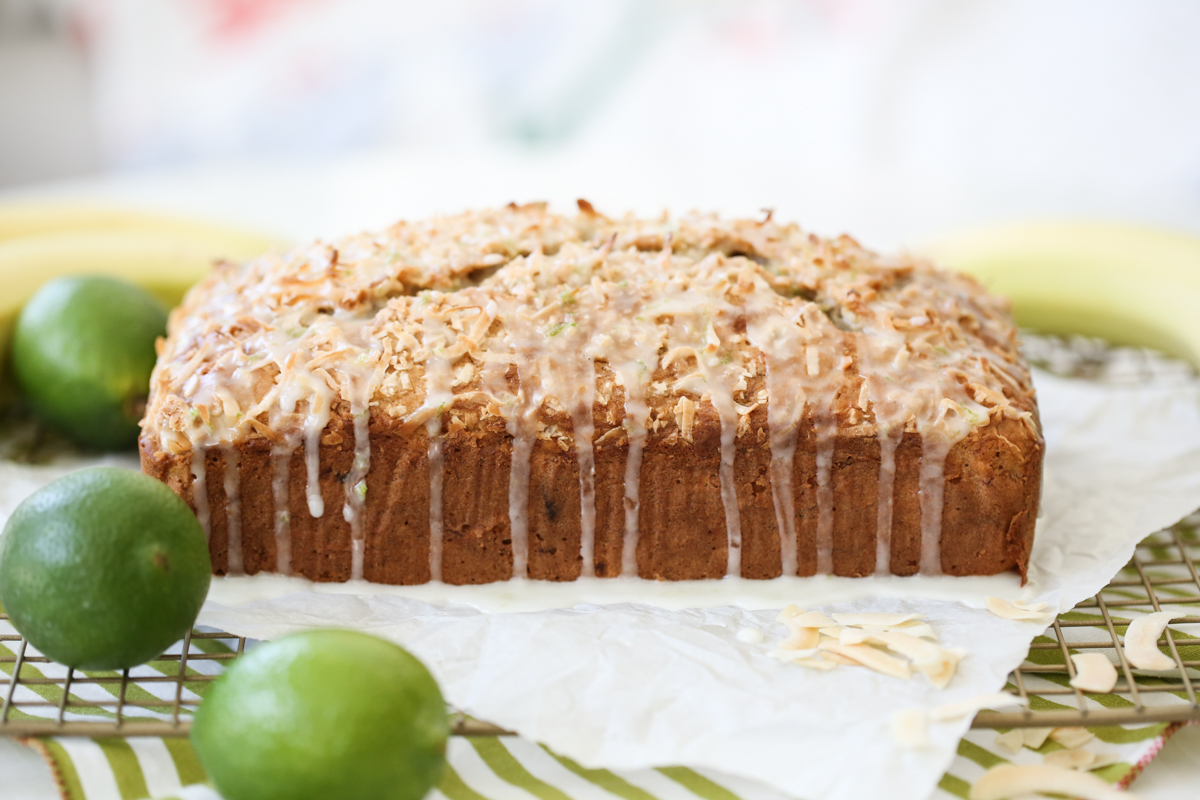 Ingredients and Equipment Notes
Bananas – choose bananas with peels that are deep yellow with brown spots. You might be tempted to cheat the ripeness scale here, but don't. If you use bananas that are just regular-ripe (ready for eating) your bread will lack sweetness and flavor. For best results look for those spotty brown peels! Many times grocery stores will even sell bananas in this state in a discounted section.

Butter – I recommend real, salted butter for this recipe. If you need to make it dairy free, use your favorite alternative.

Sour Cream – I use full-fat sour cream in this recipe, but I've also tried it with a variety of yogurts (preferably vanilla, but lime or coconut might be great, too) with great results. If you need to make this dairy free, I'd try apple sauce in place of the sour cream here.

Coconut – I suggest regular, sweetened and shredded coconut, which you'll find in the baking aisle.
Baking Instructions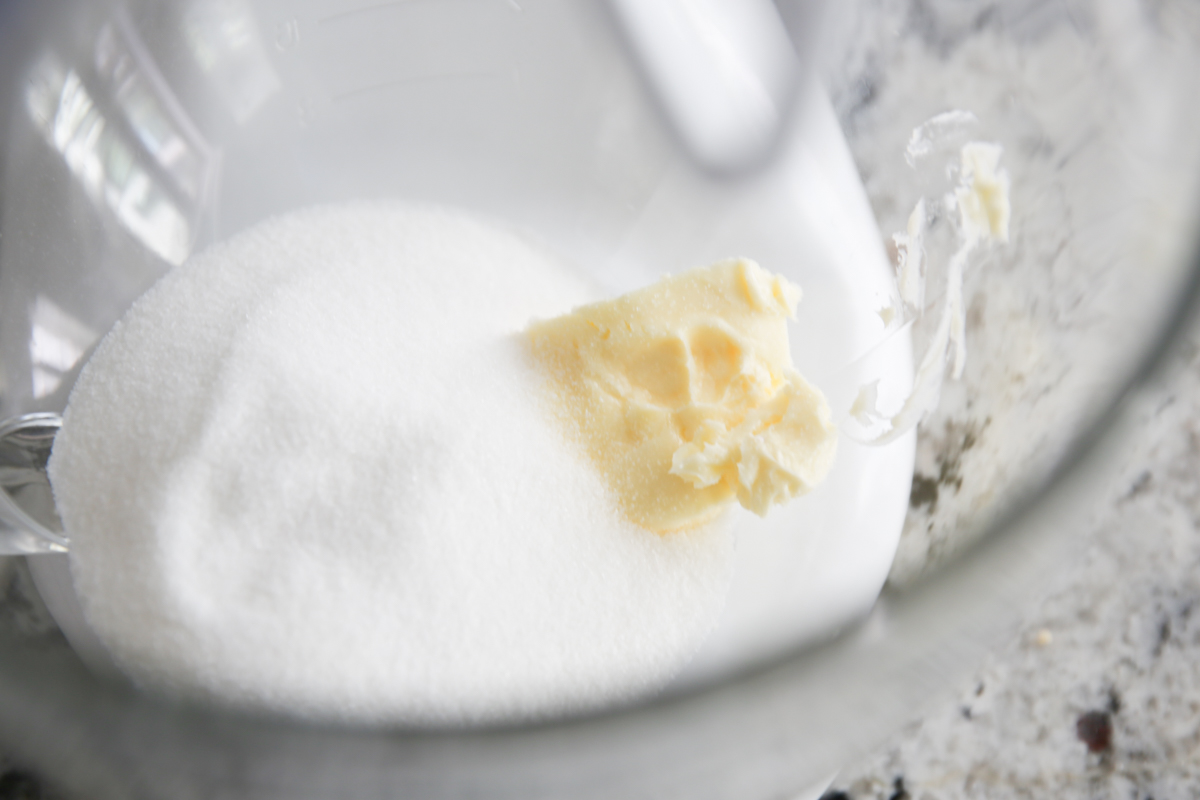 Preheat your oven to 350 degrees. I like to line my loaf pan with a single piece of parchment, extending over both sides of the pan. Spray the pan with non-stick spray before placing the parchment on to help it stick.

In a large mixing bowl or stand mixer, beat butter and sugar, add in eggs, mashed banana, sour cream, milk, and vanilla.

Add dry ingredients and mix until just combined. Stir in coconut.

Pour Batter into the prepared loaf pan and sprinkle with coconut on top.

Bake for about 1 hour and then drizzle with the sweet and tangy lime glaze!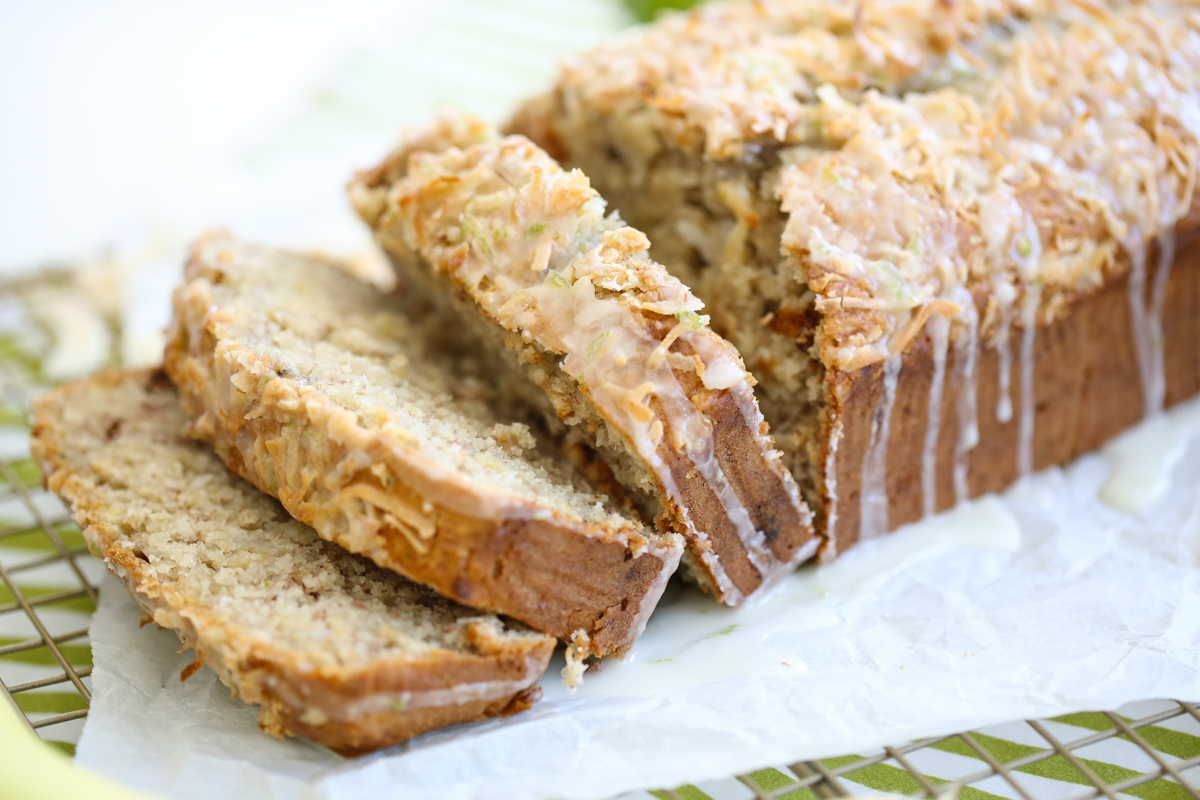 More Banana Bread Recipes
If you're feeling like banana bread now, here's a few other recipes you might like!
Caramelized Banana Bread with Browned Butter Glaze
Chocolate Swirled Banana Bread
Frequently Asked Questions
Can this be made ahead of time? Yes, it stays moist for several days, especially if left un-cut! Keep in an airtight container to store.

Can you freeze this coconut-lime banana bread? You bet. It's easier to freeze without the glaze, consider preparing the glaze and placing in a zip top bag. Place the baked and cooled loaf on a plate in the freezer until frozen, then wrap well with food wrap. Place both bread and glaze baggie in another large freezer bag and freeze together for up to 3 months. When ready to eat, leave bread at room temp to thaw. Make sure glaze packet is sealed well and place in a bowl of warm water to thaw. Snip off a small corner of the baggie and drizzle glaze on top of bread.
Print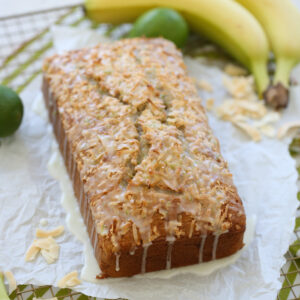 Coconut Banana Bread with Lime Glaze
---
Description
Soft tender banana bread studded with shredded coconut and topped with a sweet and tangy lime glaze.
---
2 cups all purpose flour
3/4 teaspoon baking soda
1/2 teaspoon salt
1 cup sugar
4 tablespoons real butter, softened
2 large eggs
1 1/2 cups mashed ripe bananas (about 4–5 large bananas)
1/4 cup sour cream
3 tablespoons milk or apple juice
1 teaspoon vanilla extract
1/2 cup shredded coconut
1 teaspoon coconut extract, optional
Topping:
2 tablespoons additional coconut
Glaze
1/2 cup powdered sugar
a little zest from 1 lime (about 1/2 teaspoon, okay to eyeball and zest to taste!)
1 1/2 tablespoons fresh lime juice
---
Instructions
Preheat oven to 350 degrees.  Spray a 9×5″ loaf pan with non-stick spray, and if desired, line with parchment.
Whisk flour, baking soda, and salt together and set aside.
In a large mixing bowl, beat butter and sugar until blended.  Add eggs one at a time and beat until well combined.  Add banana, sour cream, milk, vanilla and coconut extracts.  Beat until combined.
Add flour mixture and beat at a low speed until just combined.  Stir in 1/2 C coconut.
Pour batter into prepared loaf pan. Sprinkle additional 2 tablespoons coconut on top.
Bake in the oven for about 1 hour or until a knife or skewer inserted in center comes out clean. Note: Check bread after about 45 minutes.  If the top has browned and the coconut pieces are looking toasty, you can cover top of bread lightly with a piece of foil.  Continue baking until a toothpick inserted in the center comes out with loose crumbs, but no wet batter.
When done, remove pan from oven.  Let cool on a cooling rack for 10-15 minutes and then carefully remove from pan.  Whisk powdered sugar and lime juice together for the glaze and then drizzle over top.    Cool for another 15 minutes before slicing.
---