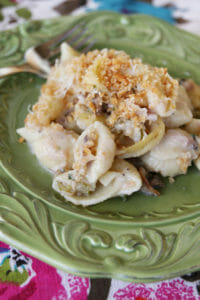 Last month when Kate and I were interviewed for the New York Times my conversation with the interviewer at one point got on the subject of foods from my childhood that I hold a fondness for.  Without hesitation I started talking about casseroles.  When I was a kid we ate lots of cream-of-something soup casseroles.  As much as we like to get "foodie" around here, those retro condensed soup casseroles are some of my most favorite comfort foods and I still make many of them for my family. One of my favorites back then was tuna noodle. I'm sure my Mom made it the same way lots of people do, with cream of mushroom soup and cheddar cheese, and potato chips on top.  That layer of crunchy potato chips melted into gooey cheese was my faaaaavorite thing.  We'd always conveniently scoop our servings horizontally, as to scrape off as much of the topping as possible.  Kate and I have gotten a lot of requests for a tuna noodle casserole over the past few years, and since one of my New Year's resolutions was to cook more fish at home (seriously; lose weight, start doing laundry on a regular basis, and eat more fish.  The only one I'm totally sucking at is laundry.  I should stop making that goal.) I thought this would be a fun recipe to makeover.
Tuna noodle is typically made with wide egg noodles, but I like to use medium sized shell pasta because I like how it sort of holds everything together and the little shells fill up with sauce and veggies and bits of tuna.  I make it with bowties sometimes too and those work great as well.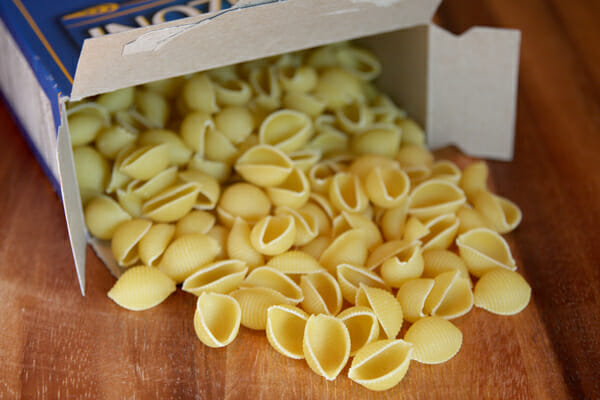 Tuna noodle also often includes frozen or canned peas.  Have I ever told you I'm not a huge fan of peas?  Also commercials where they make babies talk like adults, but we'll save that conversation for another day.  To freshen things up I'm using fresh diced onions, celery, and mushrooms.  It may seem like a lot of mushrooms, but remember they cook down a lot.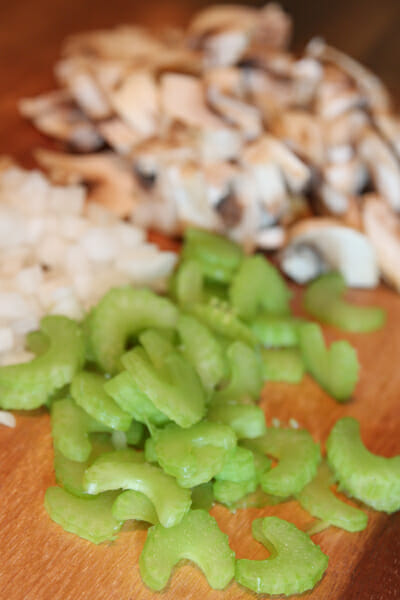 All three of these veggies take different amounts of time to cook, so I toss the celery in the pan first, with a little butter.  Once they cook a little, then I add the onions,
and then the mushrooms go in last.  Once the mushrooms start cooking, you might need a little more moisture, so drizzle in a little olive oil if you need to.   You can continue cooking the veggies until the mushrooms are as cooked as you want them to be.  I like mine pretty cooked down.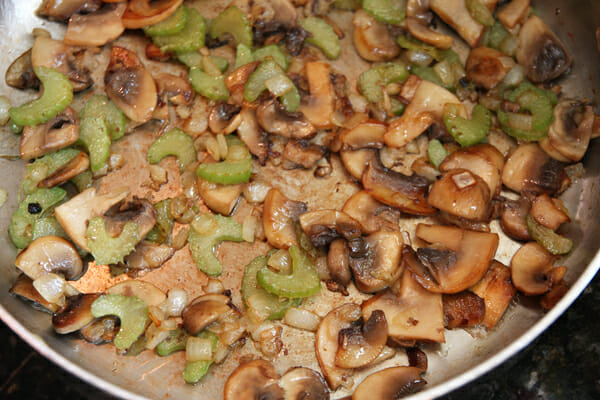 When the veggies are done cooking, you'll take them out of the pan and then start a little roux to thicken your sauce.  Melt a few pats of butter and add a few tablespoons of flour.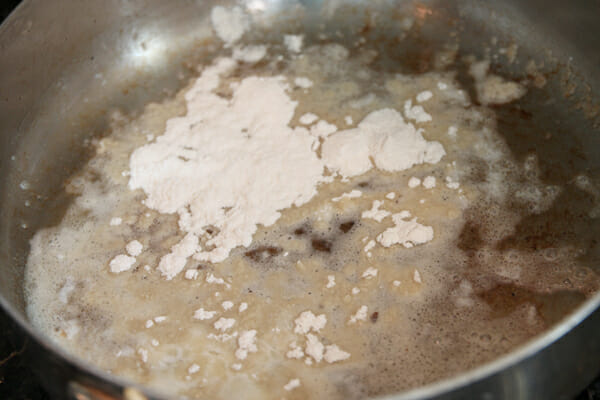 Whisk it until it's nice and smooth and then add the liquid.  I use a combo of chicken broth for flavor and milk for added creaminess.  If you warm both the broth and the milk before adding it to your roux it will mix up a lot easier.  Salt and pepper goes in the pot, as well as a hint of dried dill.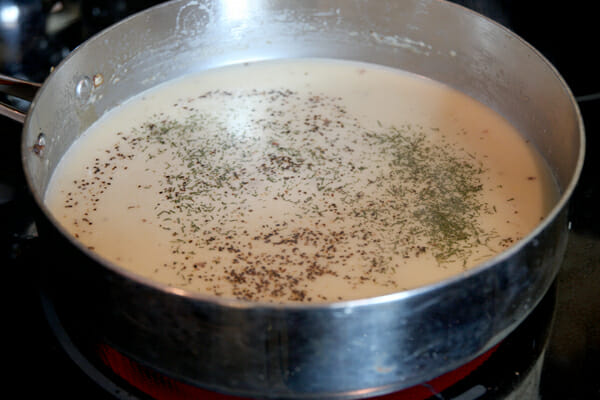 After it heats and thickens, turn the heat way down and add a little fresh parsley and lemon juice.  I kept the lemon juice in the written recipe minimal, simply enough to brighten the flavor, but you can absolutely add more to taste.  When I make it, I add quite a bit more.  Like sometimes the whole lemon.  But you should know by now that me and lemons have a thing.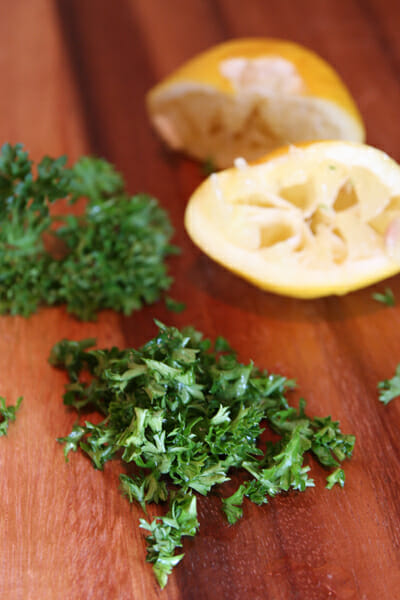 That's it for the sauce.  Toss the pasta in, along with the cooked veggies and the tuna.  You can really add as much tuna as you like.  I just add one 5 ounce can, but you could add two, or one of the larger sized cans if you want to load it with fish.  If you don't want to make it with tuna, you could sub canned or fresh chicken or turkey.  I'm also using Parmesan cheese, but you could be creative and try out other cheeses.  You could go with the retro-classic cheddar or a mild swiss would be yummy too.  Whatever you decide, toss it in there.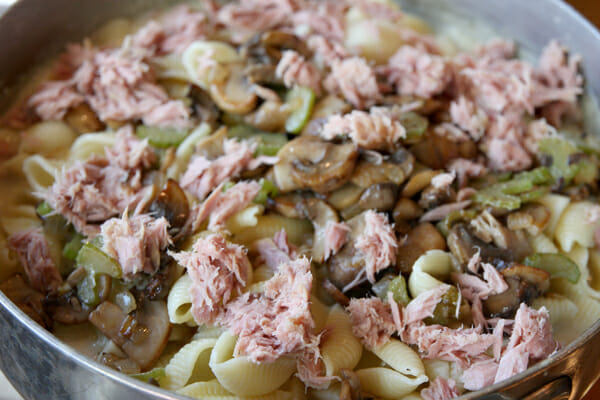 Stir it all together and put it in a casserole dish.  Just eyeball it and pick one that fits- if you want a high topping-to-pasta ratio, choose a larger pan, or fill a smaller one nice and deep.  If you do choose a larger sized pan, you may want to double the topping; I make mine in a pan that's about 8×8 so the topping is done accordingly.
Speaking of topping…in my experience everyone has strong feelings about casserole toppings.  So you can switch it up however you like; I sort of use whatever I happen to have at the moment.  If I've got a bag of potato chips, I go old-school with those.  I've found that kettle style chips stay a lot crunchier.  I also love a cracker crumb topping (as shown in pics); buttery Ritz are super yummy.  You could also do breadcrumbs or toasted panko.  Pick your poison, and then sprinkle it over a layer of cheese on top.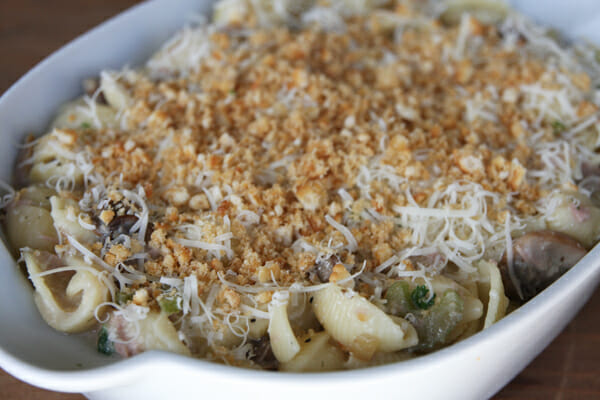 When it bakes up in the oven, the toasty cracker crumbs/chips/breadcrumbs brown up and combine with the melty cheese to form a cheesy crunchy crust on top.  Hands down one of my favorite things in the world.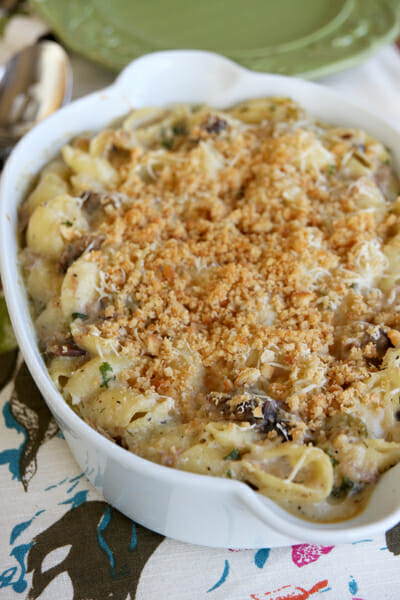 Make sure to let it sit for 10-15 minutes before serving so the sauce can thicken up as it cools a bit.  Serve it as a one-dish dinner, or along with a salad and some crusty french bread on the side.
Tuna Noodle Casserole
Recipe by Our Best Bites
8 ounces medium shell pasta, cooked al dente according to package directions
4 tablespoons butter, divided
1 medium stalk celery, thinly sliced or diced
¼ cup diced onion
8 ounces mushrooms, sliced or diced
olive oil, as needed
4 tbs flour
1 14.5 ounce can chicken broth (just under 2 cups), warmed
1 cup milk, warmed
¼ teaspoon kosher salt
1/4 teaspoon black pepper
⅛ teaspoon dill
2 tsp fresh lemon juice, more if desired (I desire)
2 tablespoons fresh minced parsley
1 cup freshly grated Parmesan cheese, divided
5 oz can tuna, packed in water, more if desired
Topping:
1/4 cup Ritz cracker crumbs mixed with about 1/2 tablespoon melted butter
or 1/4-1/2 cup broken up potato chips (I recommend kettle style)
Melt 1 tablespoon butter in a large skillet.  Add celery and saute for 2-3 minutes. Add onion and cook 2-3 minutes longer, stirring often.  Add mushrooms and cook 3-5 more minutes, until mushrooms are golden and tender. If needed for moisture, add a drizzle of olive oil to the pan after the mushrooms are added; more if needed during remaining cooking time.  Remove vegetables from pan and set aside.
Melt remaining 3 tablespoons butter in pan and add flour.  Stir constantly for 30 seconds.  Slowly add broth and milk, a little at a time while constantly whisking until mixture is smooth.  Bring to a low simmer.  Add salt, pepper, and dill.  Stir constantly until thickened and bubbly, 2-3 minutes.  Reduce heat to low and add lemon juice, parsley, and 1/2 cup Parmesan cheese.  Whisk until smooth and taste.  Season with additional salt and pepper to taste, and extra lemon juice if desired.  Remove from heat and add pasta, vegetables, and tuna.  Stir to combine and place in a 3 quart baking dish.  Sprinkle with remaining 1/2 cup cheese (feel free to add more if you want)  and sprinkle cracker crumbs or chips on top.
Bake at 350 for 25-30 minutes, until top is golden and pasta is hot and bubbly.  Let rest 10-15 minutes before serving to allow sauce to thicken.
Serves about 6