First of all, we're SO excited at how many people have joined our DietBet so far!! The more people who play the more fun it is, so we're glad to see your faces! Like we've mentioned a few times, we're giving away over $1,000 worth of prizes over the next few weeks. We may or may not have a Blendtec 625 in the color of your choice lined up (Sara and I both have the Sea Foam color and it makes me happy every day!) I literally use mine every day–protein shakes, smoothies, salad dressings–and it's hands-down my favorite electric kitchen appliance.
But. We're not giving away a blender yet. But today we're giving away a $50 gift card to Amazon just for entering the DietBet. All you need to do is sign up for the DietBet by 11:59 Central time TONIGHT and then we'll pick a winner from the group of entrants and announce it on the DietBet page first thing tomorrow!
One of THE HARDEST things about trying to eat healthier is doing it in a way that makes sense with your everyday life. I remember being on a rather strict diet once and going to a party and bringing a steak (and it was kind of a crappy steak) in a Ziploc bag, just to make sure I wouldn't have to eat any of those "unapproved" cuts of meat (knowing what I know now I would have just eaten those unapproved and also way more delicious cuts of meat, but I digress). Or those times when I'm eating something completely different from my family, feeling not only resentful that they get to eat something amazing while I'm choking down boiled cabbage and scrambled eggs and also feeling resentful that I'm buying the groceries and washing the dishes for an entirely different meal. I always tell my kids I'm not a short-order cook, so they're either going to have to come to an agreement on what to eat for lunch or they can make their own special request. So why would I do something different for myself?? It feels kind of like punishment. And really, I think sometimes it is–I think we thing we deserve to have this unpleasant experience because we've brought the need to change our diets upon us.
Well. No more of that.
There is no reason why you can't eat delicious meals alongside your family. Depriving or punishing yourself only leads to failure down the road. I've put together a list of some of my favorite OBB meals your whole family will love, tried and true, from my pickiest of eaters to yours. A couple of them are single-serving–the omelet and the Thai chicken salad–but you can either scale them up and make them for more people or you can just make them for you. Because unlike the "punishment" of not being able to eat what your family is eating for dinner, it would kind of be punishment for you to have to eat your toddler's uneaten microwaved Dino nuggets.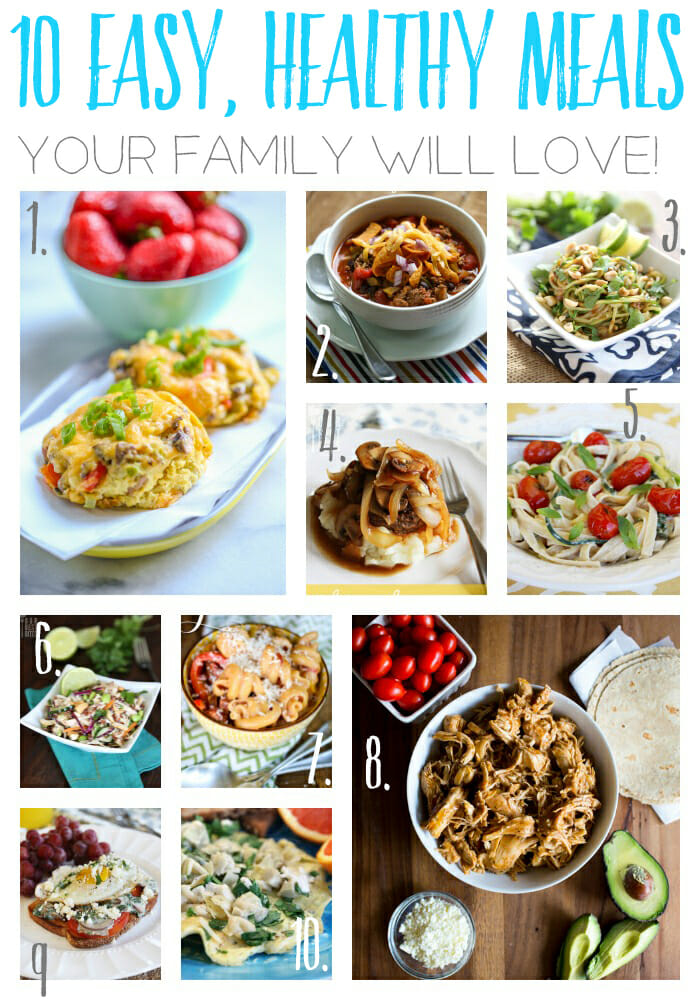 1. Bacon, Egg, and Cheese Cups 2. Easy Weeknight Chili 3. Thai Peanut Zoodles 4. Hamburger Steak with Onion and Mushroom Gravy 5. Zucchini Ribbon Pasta with Light Creamy Lemon-Basil Sauce 6. Thai Chicken Salad 7. Creamy Cajun Pasta 8. Slow Cooker Taco Chicken 9. Eggs on Toast with Creamy Spinach Sauce 10. Cheesy Spinach Artichoke Omelet