What I really wanted to title this post is 2-ingredient-easiest-you'll-ever-make-super-soft-and-fluffy-amazing-biscuits, but it seemed…wordy.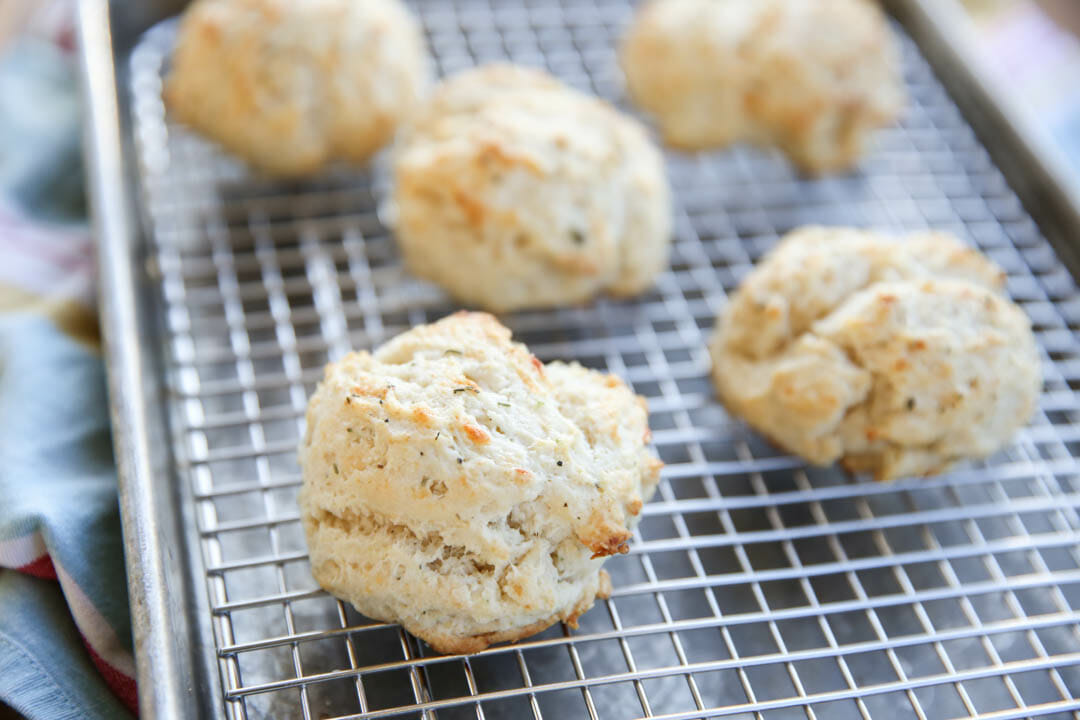 We love a good biscuit around here and we have some amazing recipes.  We've got these Classic Southern Buttermilk Biscuits, these giant, pillowy-soft Cathead Biscuits (weird name, great biscuit),  these easy Buttermilk Cheddar Biscuits, and these quick  Cheddar Cornmeal Biscuits.  I like having options because all of those have different textures and are great for different types of things.  You can also pick one depending on what pantry ingredients you happen to have on hand.   I've made these before; the recipe just kind of "exists" out there, but was recently reminded of them when I spotted them on the KAF Instagram page.  I whipped them up that night and remembered how good they were!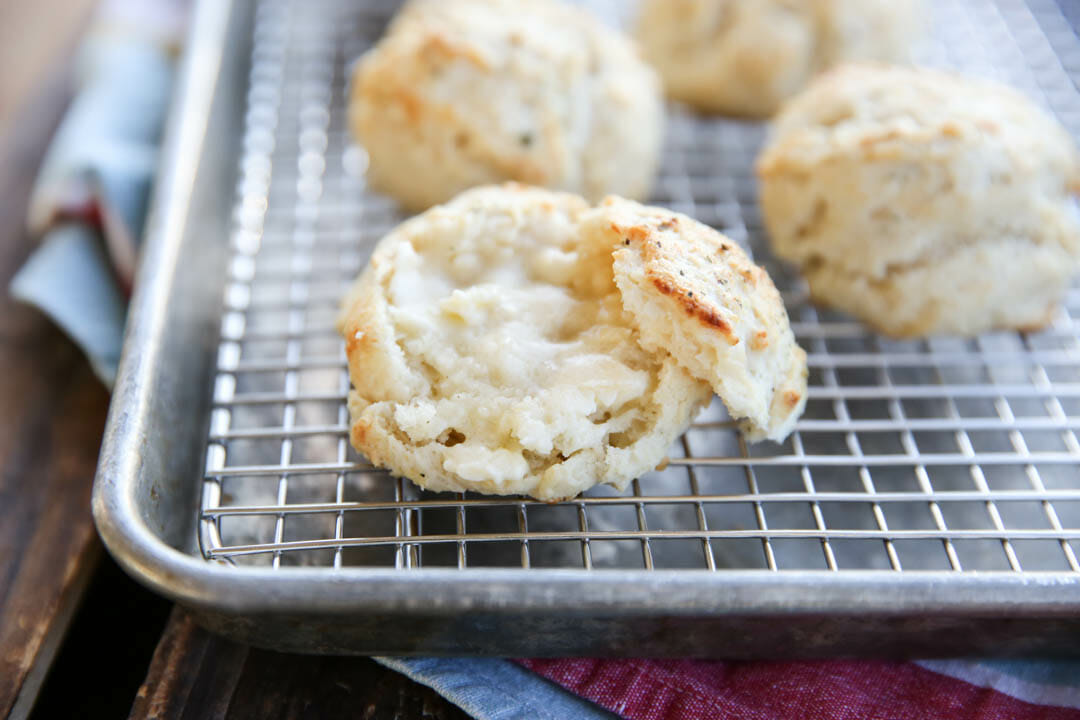 So what about these biscuits?  Well their crowning glory is that they require only two ingredients.  Yep, you read that right, two.  They have a delicate texture so they're perfect as a side dish and not for building a giant sandwich or something.  But they do work great with a lighter combo- like an egg and slice of bacon and cheese sandwiched in there, or with a bowl of soup.  They're tender and light, and super delicious.  I mean, tell me you don't want to eat this right now: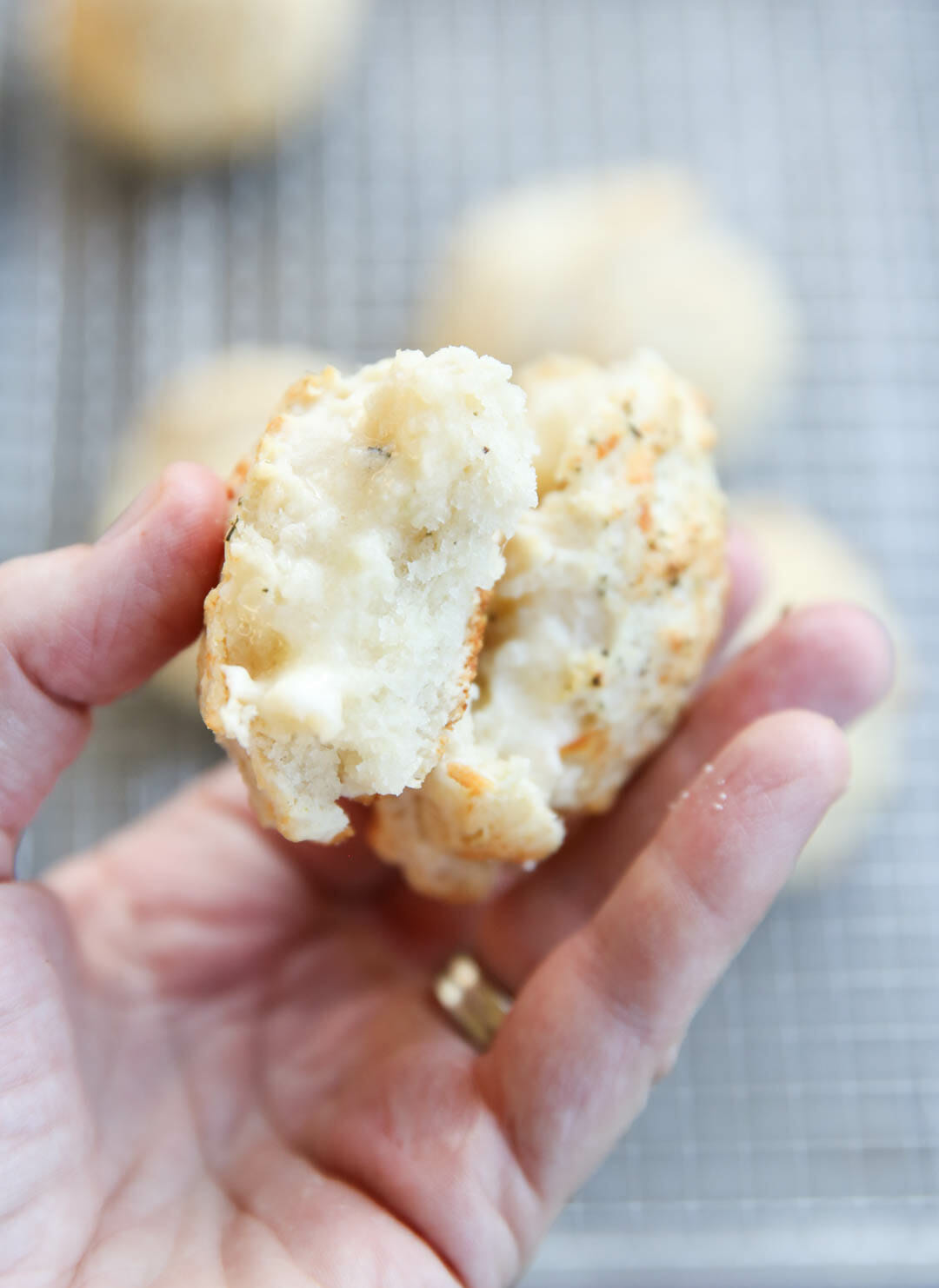 So what are those magical two ingredients?  Self-rising flour and heavy cream.  I keep a bag of self-rising flour in my freezer just for a few specific recipes, this being one of them.  Then whenever I have a little extra cream on hand, it's so easy to whip these up.  You don't even need a recipe because you're using equal amounts (by weight) of both.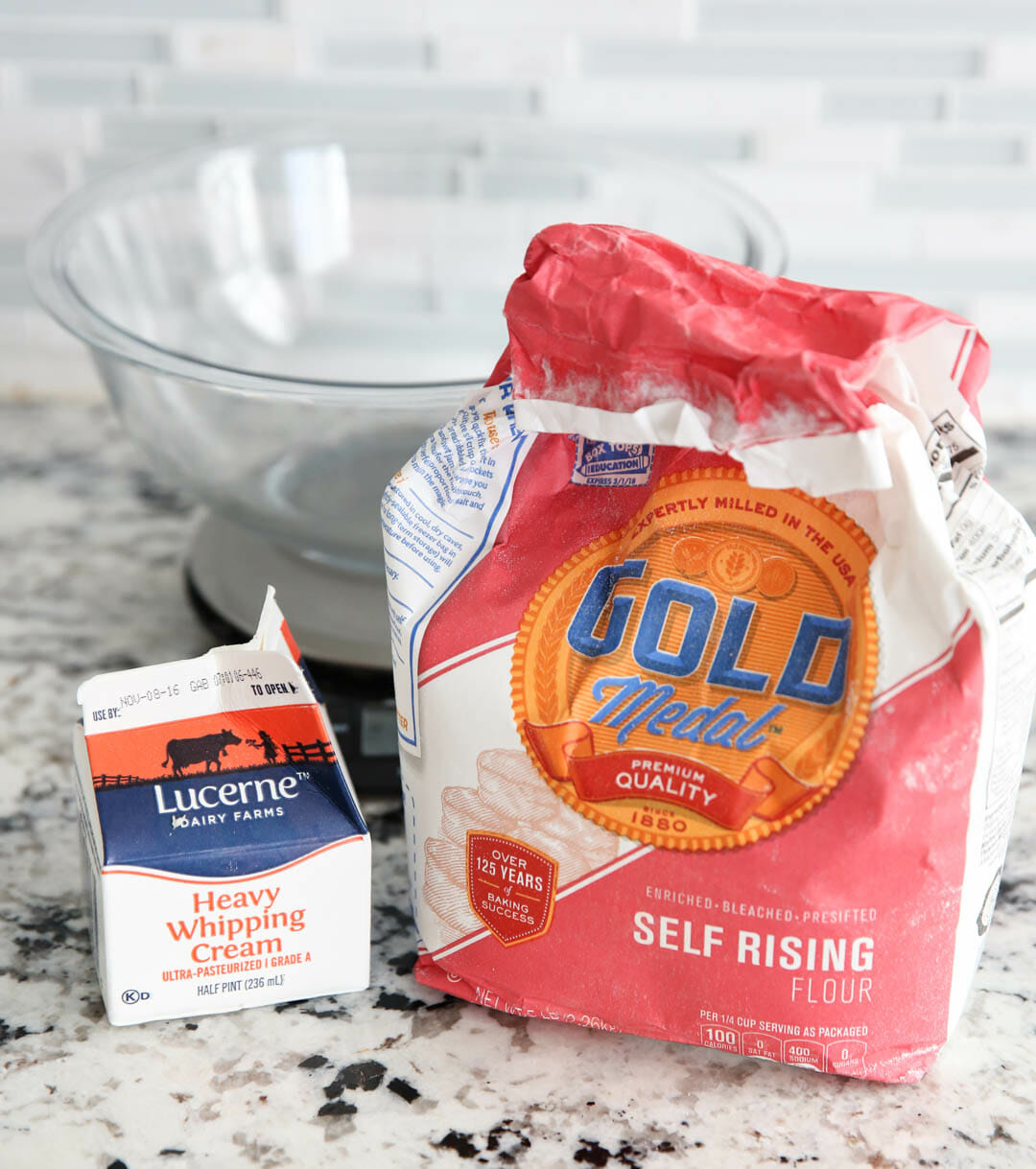 I love that because if you happen to have an extra little bit of cream leftover from another recipe or something, it doesn't matter how much you have; you can make biscuits using that exact amount.  You can make as little as 1 biscuit if you really wanted to! You can leave them plain or the add-ins are endless.  I've made these both sweet and savory and they win every time.  They literally take about 60 seconds to whip up!
It really helps to have a food scale here, but if you don't, then it's basically 1 part cream to 2 parts flour.  Here's the scale I use, available on Amazon for about 10 bucks!  I just add the desired amount of flour (4 ounces, here)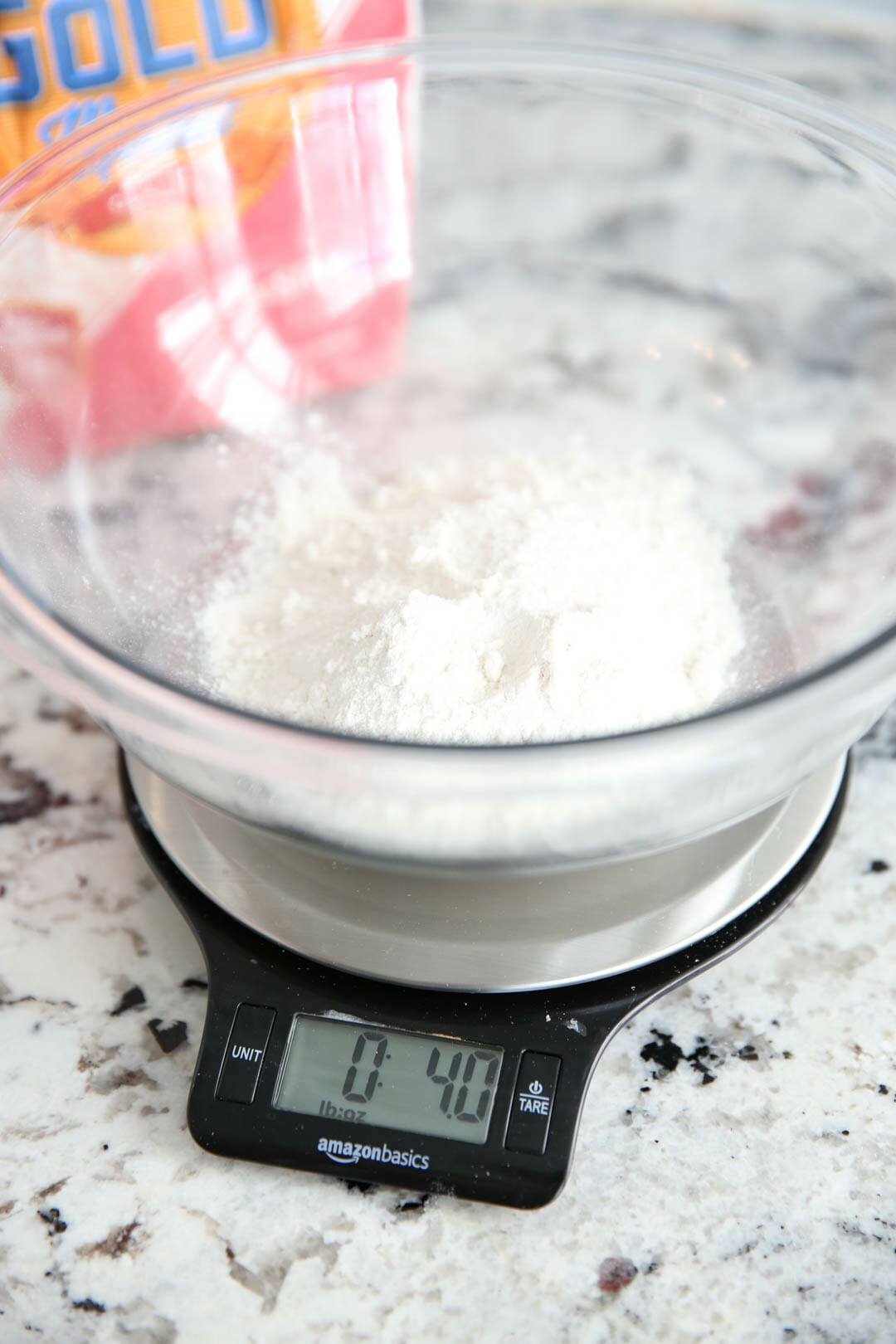 And then pour cream directly in there, very slowly, until the scale reaches 8 ounces (so I know there was equal amounts of both)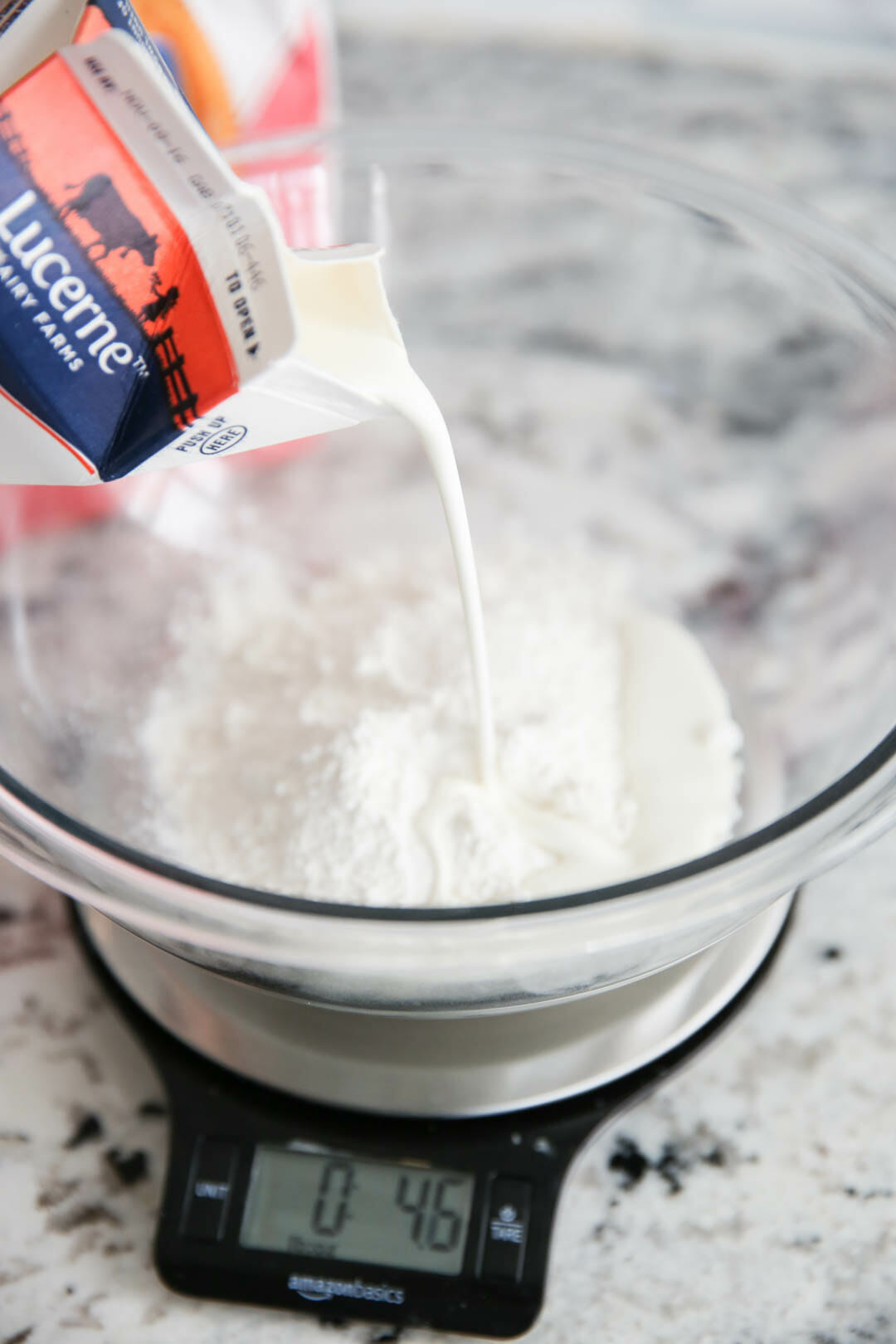 You'll want to add a little salt, and that's your basic dough.  It should come together and form a cohesive dough.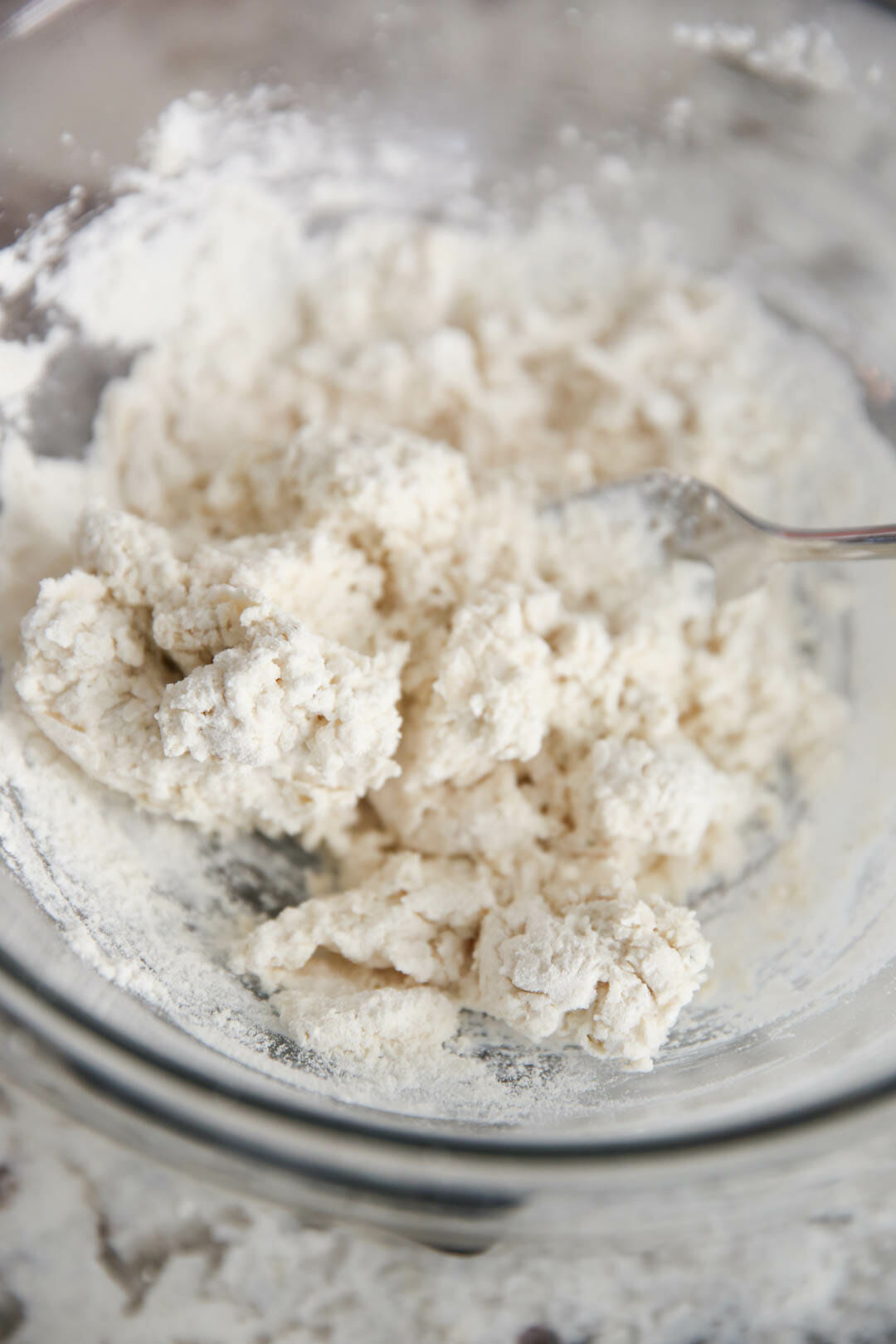 Now, let's back up a step.  If you want to flavor these bad boys, just toss in your desired seasonings with the flour, or simply before you mix it up.  For this batch I added fresh grated Parmesan cheese, and one of my favorite seasoning blends.
The seasoning is this Sandwich Sprinkle from Penzey's.  My friend Mel introduced it to me when we did this Facebook Live together and it has since become one of my go-to's!
Spoon them onto a baking sheet.  I use a cookie scoop for uniform size, but you can just drop them on there if you want, or even roll them out and cut.
And then brush with a little extra cream, milk, or water.  The liquid on top actually helps them rise, so don't skip that part.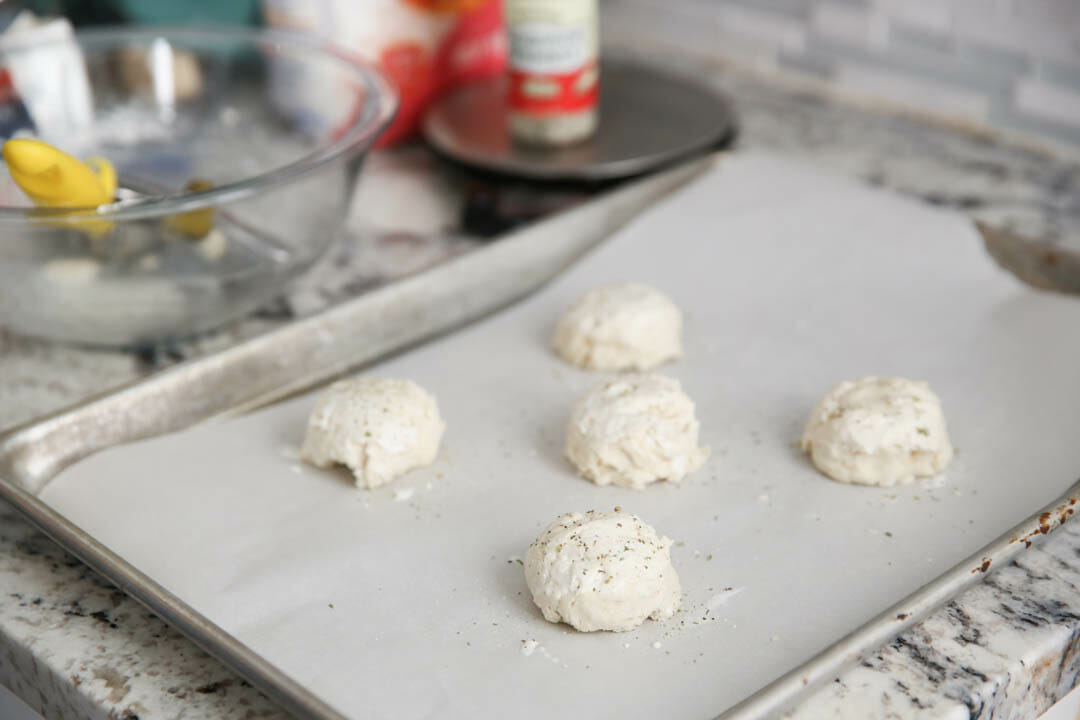 Bake them until puffed up and golden and then cool for just a few minutes before eating.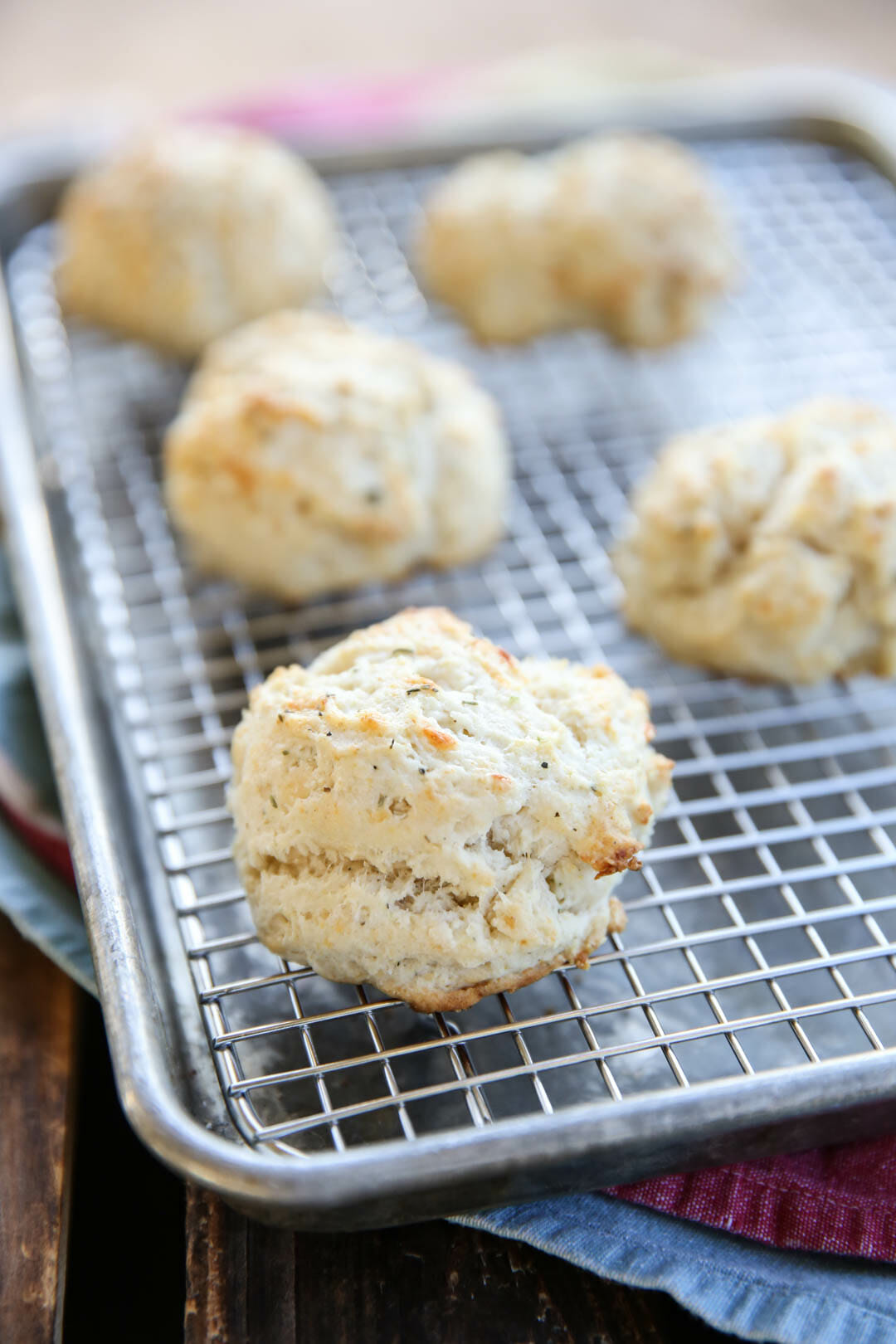 These are so tender and rich, and fluffy soft inside.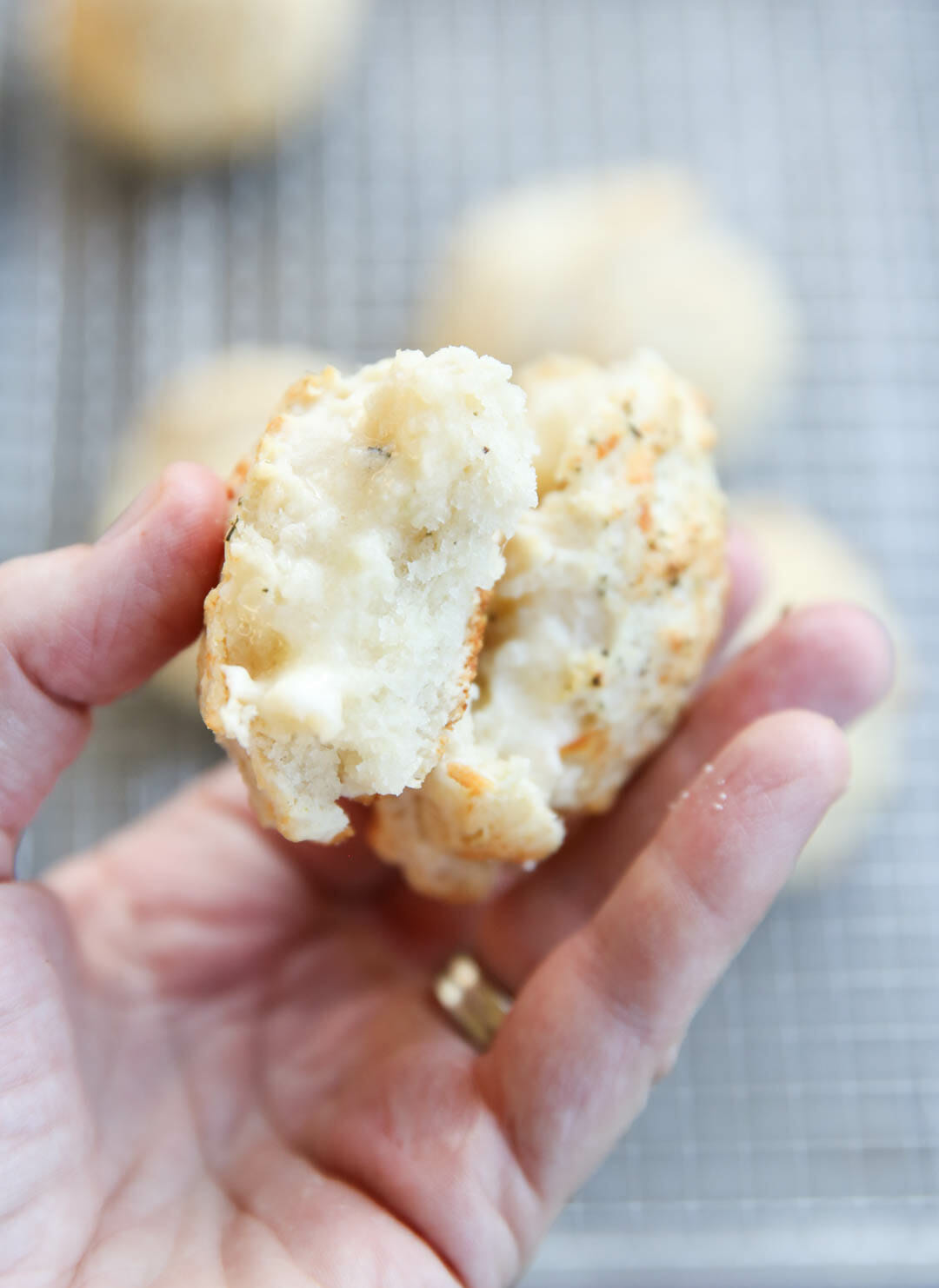 Try different flavor combinations, or go classic to eat with butter and jam. They're also fantastic brushed with a little extra cream and sprinkled with sugar and used for berry shortcake.  Put these in your biscuit repertoire and let me know if you come up with any winning flavor combos!
Print
Two-Ingredient Biscuits
---
Description
The simplest biscuit recipe, yielding pillowy-soft rounds perfect for customization! Takes just minutes to make.
---
6 ounces (by weight) self-rising flour (1 1/2 cups)
6 ounces (by weight) heavy cream (3/4 cup)
1/4 teaspoon salt
optional: any mix-ins, as desired (see notes)
---
Instructions
Preheat oven to 450 degrees. Line a baking sheet with parchment and set aside.
Place all ingredients in a bowl and gently mix with a fork until combined. If dough doesn't combine, very slowly drizzle in just a bit of extra cream until it comes together.
Spoon or use a cookie scoop to drop rounds onto baking sheet, 2-3 inches apart, or alternately you can pat/roll the dough out and then use a biscuit cutter.
Brush the tops of biscuits lightly with cream, milk, or water.
Bake for about 10 minutes or until puffed and golden.
Yields 8-12 biscuits depending on size.
---
Notes
Add different seasonings, cheeses, etc. for different flavor combinations. Simply mix in before combining dough together. Remember to decrease salt in recipe if adding a salty ingredient. These make great strawberry shortcakes as well!
Speeeaking of Biscuits slathered in butter…have you joined our DietBet yet?? Click here for more info.  It just barely started!
*Disclaimer: This post contains affiliate links.