I've noticed a lot of my recipes lately have started with, "So a few days ago I posted a picture on Instagram…" But really. The other day I posted a photo on Instagram telling people about my cookie conundrum. See, I love to bake. And I especially love to bake on Sundays. And I really especially love to bake chocolate chip cookies on Sundays. But I also have zero self-control with fresh chocolate chip cookies. People will say, "Eat a few and give the rest away!" Ya, no. That doesn't happen. "Just bake a few and put the rest in the freezer!" Newsflash: frozen cookie dough tastes just as good, if not better than, regular cookie dough. "Eat 2 and save the rest to eat during the week!" Haha. Good one! You catch my drift. My coping mechanism is more like "Eat the entire batch so they don't tempt you anymore and then continue in a shame spiral all the way to the gym the next day to try and exercise them off."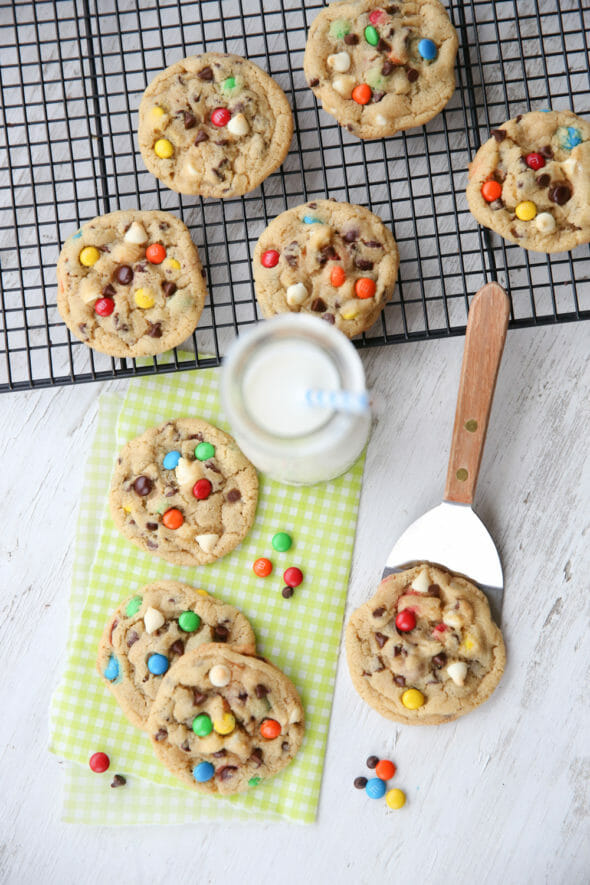 You should know by now that Kate and I are all about everything in moderation. I still like to eat treats when trying to eat healthy, and I'm not about to make some whole-wheat chia seed kale chunk protein "cookie". When I want a cookie, I want a COOKIE.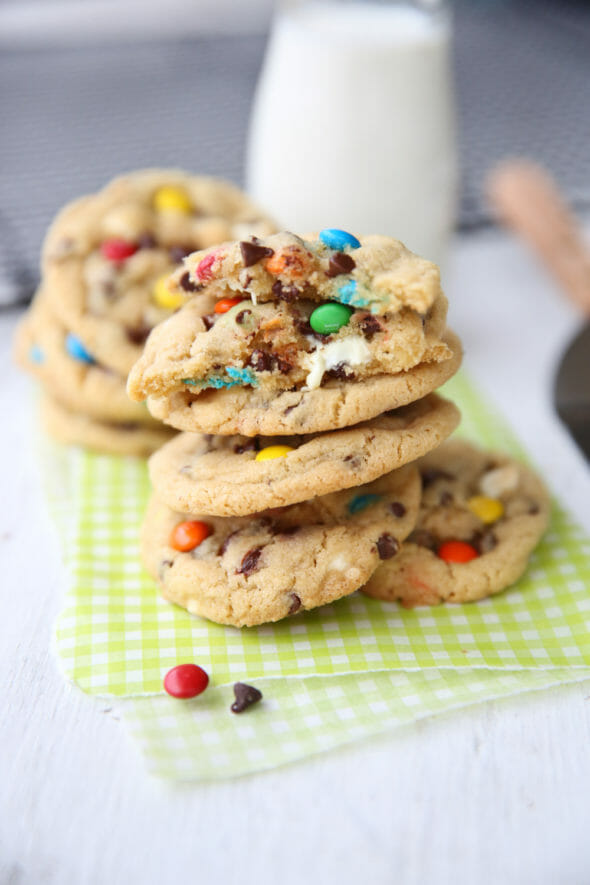 Enter the small batch. This little recipe makes just 10 perfect cookies, and you can whip it up in a matter of minutes with just one bowl and a mixing spoon. No KitchenAid, no hand mixer, no big bowls, no big mess, no 4 dozen cookies to binge on.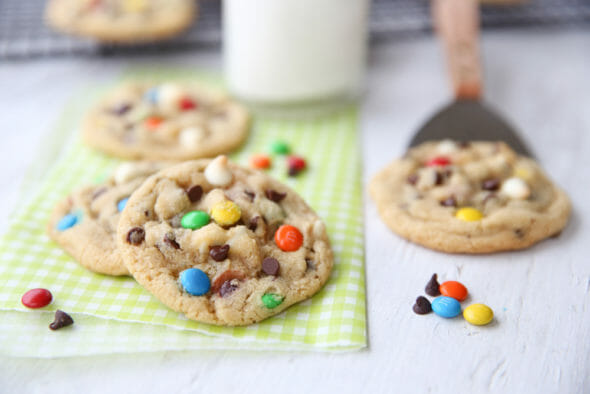 It's perfect for those times you've got a cookie craving, or if you live alone or with a small family. This batch is perfect for my whole family to have 1 or 2 and then they're gone and not tempting me anymore!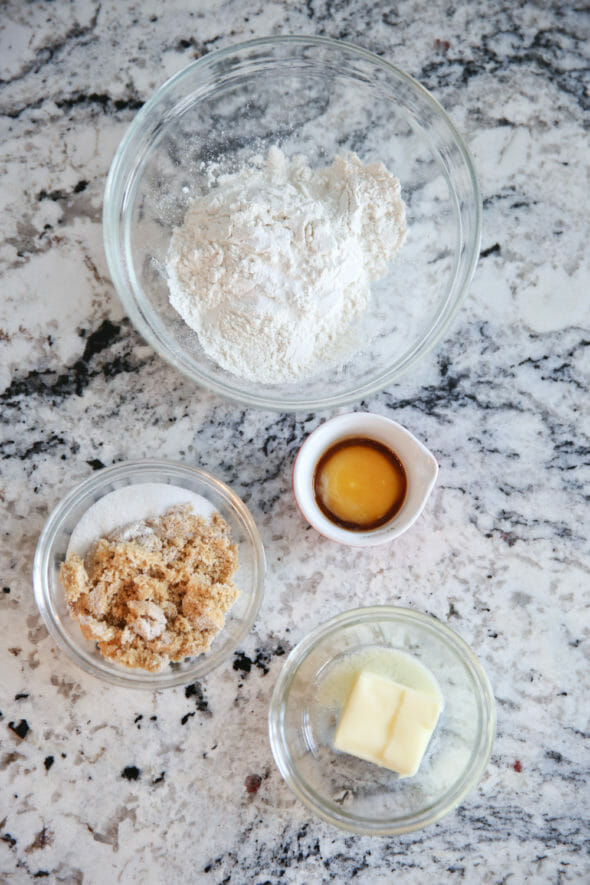 To make them you can pop your butter in the microwave straight from the fridge. You only need 3 tablespoons. That's it! You'll want it soft enough that you can easily stir it with a spoon, but the good news is that if you try to soften it and end up completely melting it, you're good! It works great both ways, and the finished texture is slightly different depending on whether your butter was just softened or melted. Try it both ways and see what you like. Mine is just super soft here in the photos.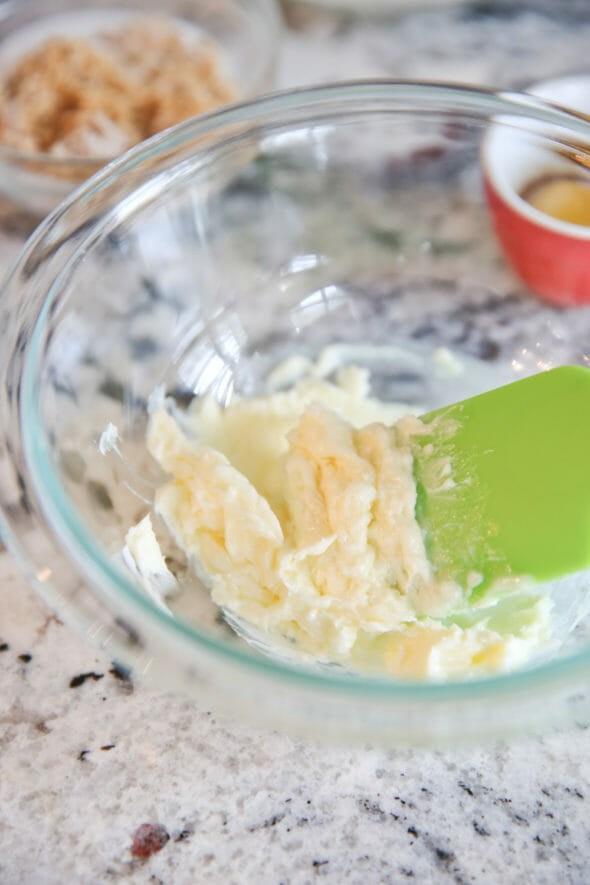 Add some brown sugar, and a little white sugar to the butter and mix it well. You'll want to beat it with a rubber spatula or wooden spoon till it gets nice an fluffy, about one minute. (If your butter is melted, just stir it together.)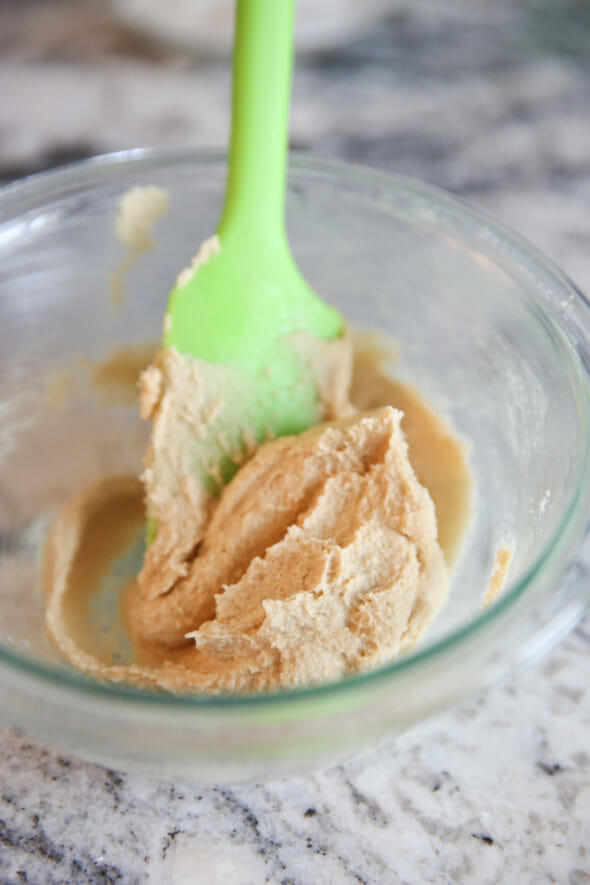 Add in egg yolk and vanilla, and then a little flour, baking soda, and salt.
You can use chocolate chips here, or any other add-ins you like. I always have a zip-lock with a random assortment of half-used bags so that's what I always reach for.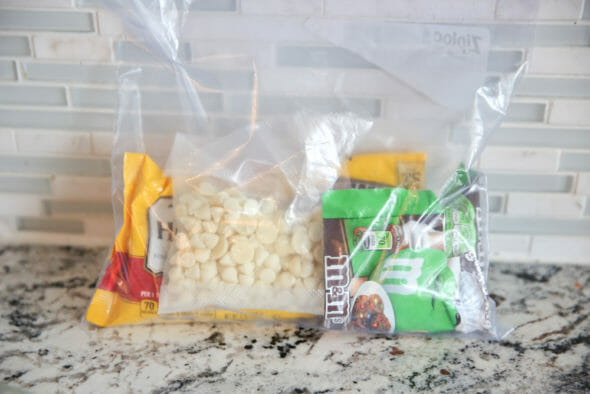 Today that means mini semi-sweet chips, white chips, and mini M&M's.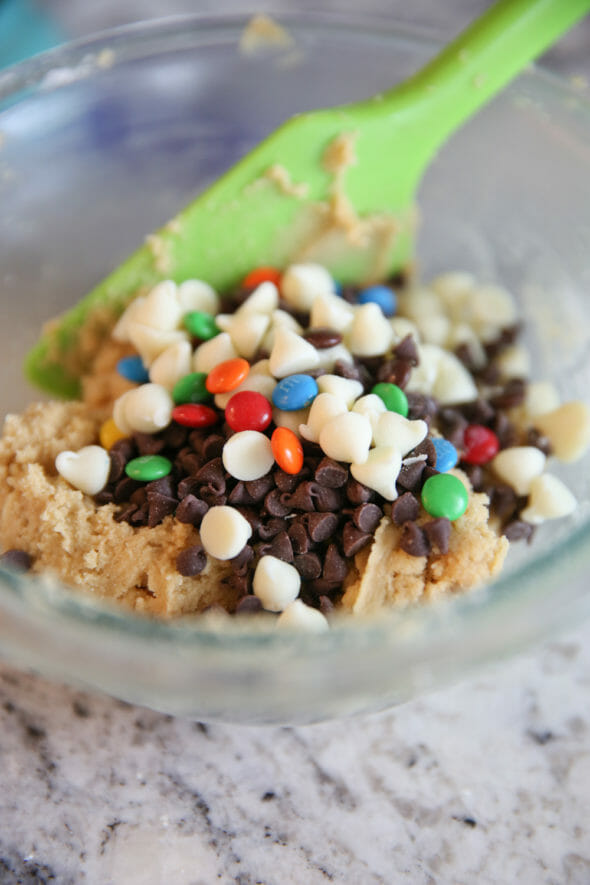 Scoop them onto a cookie sheet and bake until perfection. Oh- while we're talking baking sheets, every time I bake cookies I think about how I need to tell you about my favorite thing ever: the jumbo cookie sheet.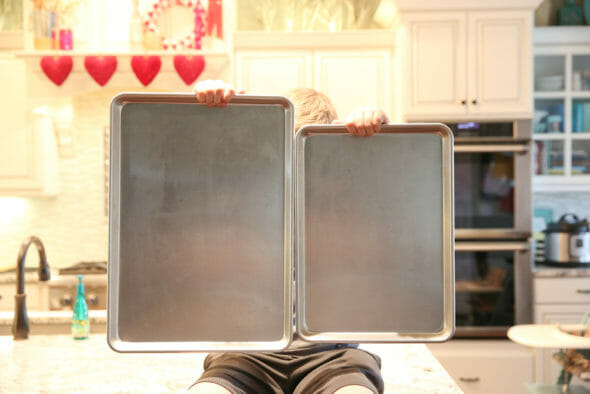 The pan on the right is a standard rimmed half-sheet, and the one on the left is an awesome jumbo sheet. It saves so much time by fitting just a few more baked goods on each sheet, I am seriously in love with these big pans. They also make great trays and cooling pans for things like caramel corn. You probably need one. Anyway, back to cookies.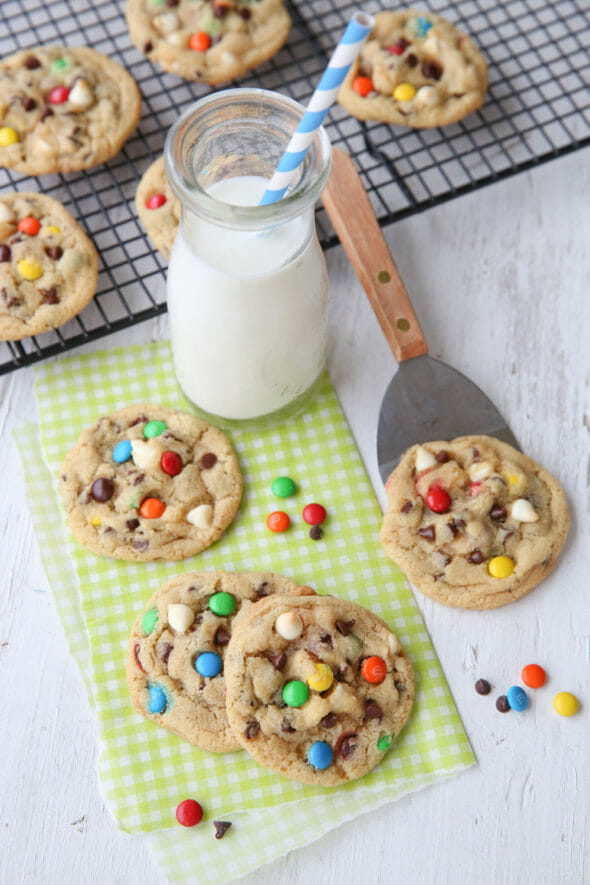 Satisfy your sweet tooth without going crazy!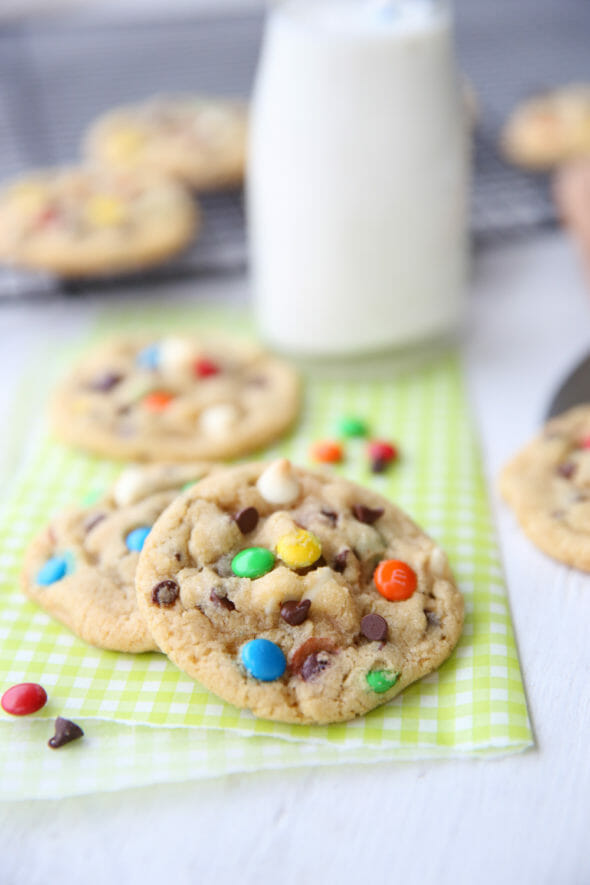 These really are perfection. So quick and easy it's almost dangerous. You can put on your PJ's and whip up a batch during the opening credits of a movie and eat the whole batch before said movie is finished.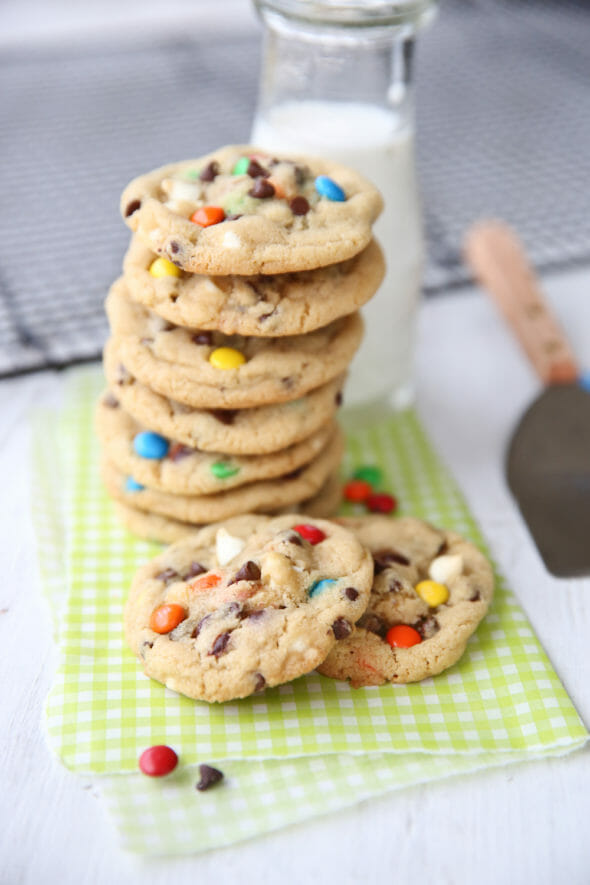 It's cool, just eat a salad the next day for lunch 😉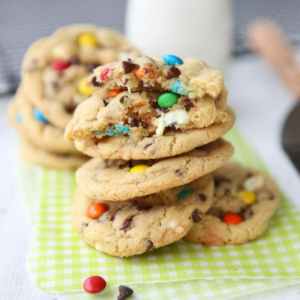 Small Batch Chocolate Chip Cookies
Prep Time:

10

Cook Time:

10

Total Time:

20

Yield:

10
---
Description
The perfect mini batch, resulting in just one pan of scrumptious chocolate chip cookies. Enough to enjoy, but not over-indulge!
---
3 tablespoons

real butter, softened

1/4 cup

packed brown sugar

1 tablespoon

white sugar

1

large egg yolk

1/2 teaspoon

vanilla

1/2 cup

plus 1 tablespoon flour

1/8 teaspoon

baking soda

1

pinch table salt

1/2 cup

chocolate chips, or add-ins of your choice
---
Instructions
Preheat oven to 350 degrees. Line a baking sheet with parchment or non-stick mat.
Place butter in a small-medium sized mixing bowl and microwave for about 8-10 seconds. It should be soft enough to mix easily with a spoon, even semi-melted to completely melted is okay. Add sugar and beat with a rubber spatula or wooden spoon till fluffy. Add in egg yolk and vanilla and mix well until fully incorporated. Add flour, baking soda, and salt all at once and mix until all combined. Add your chocolate chips or other add-ins and mix.
Use a cookie scoop, or roll into balls. Bake for about 9-10 minutes. Cool for 1-2 minutes on baking sheet and then transfer to cooking rack.
---
Notes
You can make this recipe with softened butter, or completely melted butter. Both methods yield delicious cookies with slightly different textures. Try both and see which you prefer!