This bread is most appropriate for this week because of St. Patrick's Day. It's actually a recipe for Irish Soda Bread, but I'm not calling it that because I feel like a lot of people aren't quite sure what that's all about. But when we're talking beautiful crusty rustic bread that's soft, fluffy and flavorful and comes together in about 60 SECONDS prep time with zero yeast or rising time required? Now we're talking. You don't even need butter or oil or eggs. It's kind of a mystery to me how these very basic ingredients come together like this but they just do. Go with the magic.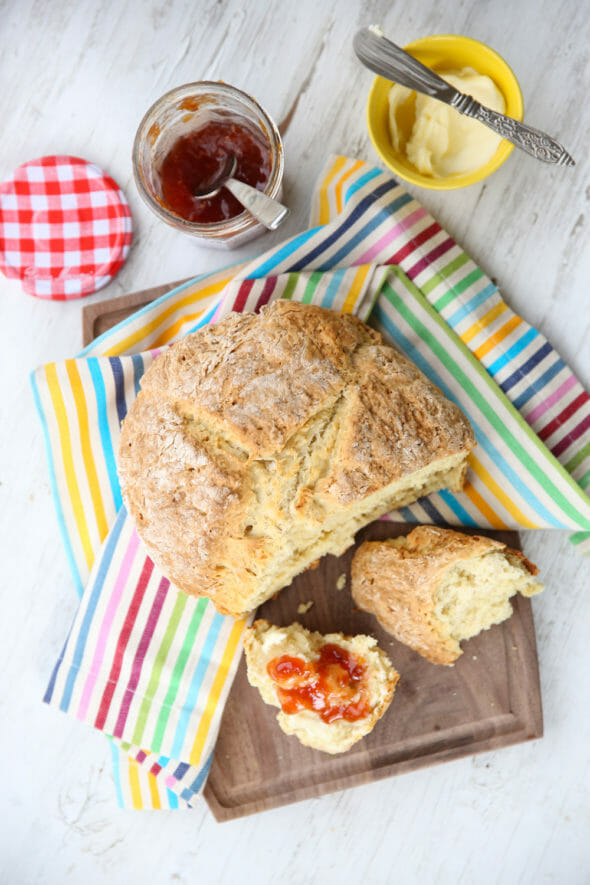 You'll need all-purpose flour, buttermilk, and just a teaspoon each of baking soda, salt, and sugar. It's essential that you use buttermilk here because we're using baking soda as the leavening agent and it requires the lactic acid in buttermilk to react with it and cause bubbles to make it work!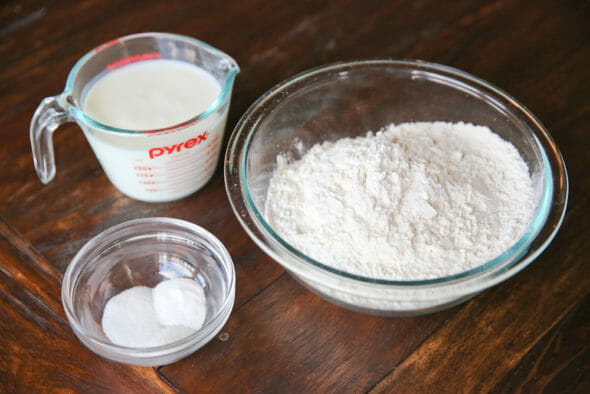 Place all of your dry ingredients in a bowl and then pour the buttermilk into the center.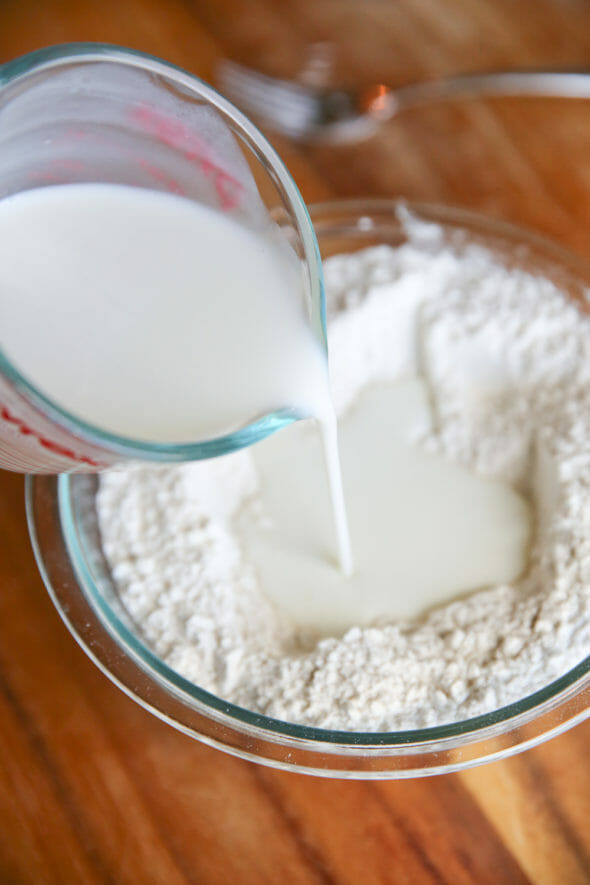 One of the tricks to getting a really great texture is to not overmix the dough. Just use a fork to gently claw the dough around as it incorporates. Once it starts coming together about like this, I dump it out onto a floured cutting board and just use my hands. But don't knead it. Really just gently work it until it comes together. It should be quite soft. If you add too much flour it will be dry, dense and tough.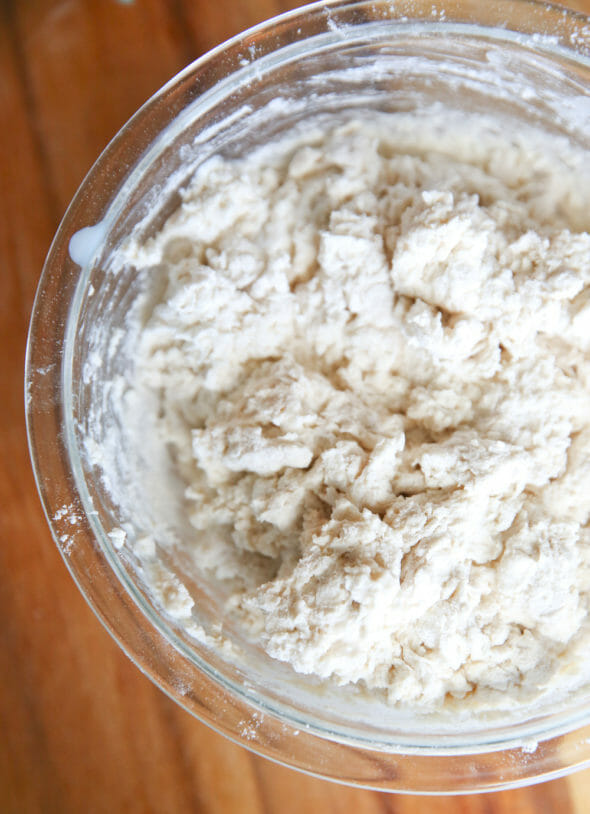 Once you can form a ball like this, you're good to go. It seriously takes about 1 minute or less to prep this!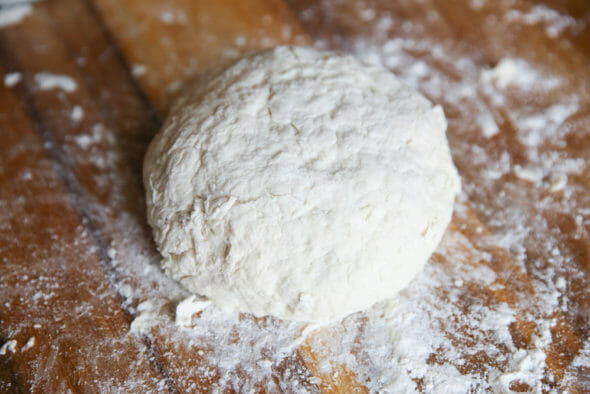 Place it on a baking sheet (I line mine with parchment) and cut an X in the center. You can also bake this in a covered dutch oven, like this.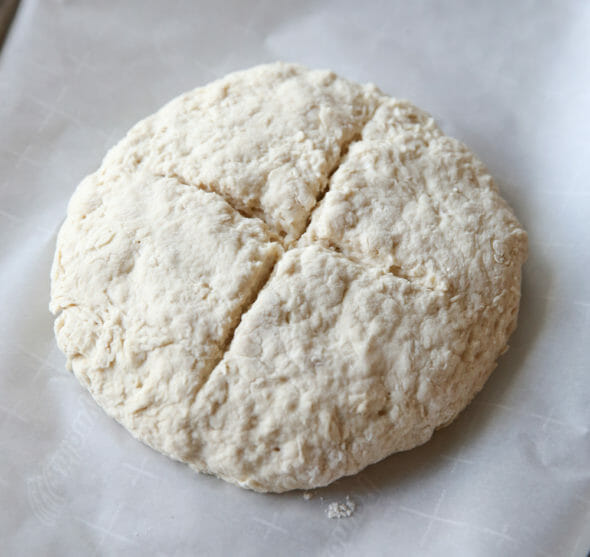 It bakes for about 30-40 minutes and comes out of the oven with a crusty outer crust. One trick I've learned with breads is to use a thermometer to check to see when they're done. Just like meat has an ideal internal baking temperature, so do breads! I cook rustic loaves like this until they reach about 200 degrees. I actually like my bread just barely done so I usually aim for about 195 minimum and up to 200.
You can see where that nice x-cut on the top makes a beautiful finished loaf.
When you crack open the crusty exterior the inside is unbelievably soft and fluffy. If you let the bread cool till it's at least just warm, you can slice this bread into slices or wedges. but our favorite way to eat it is to just break of chunks.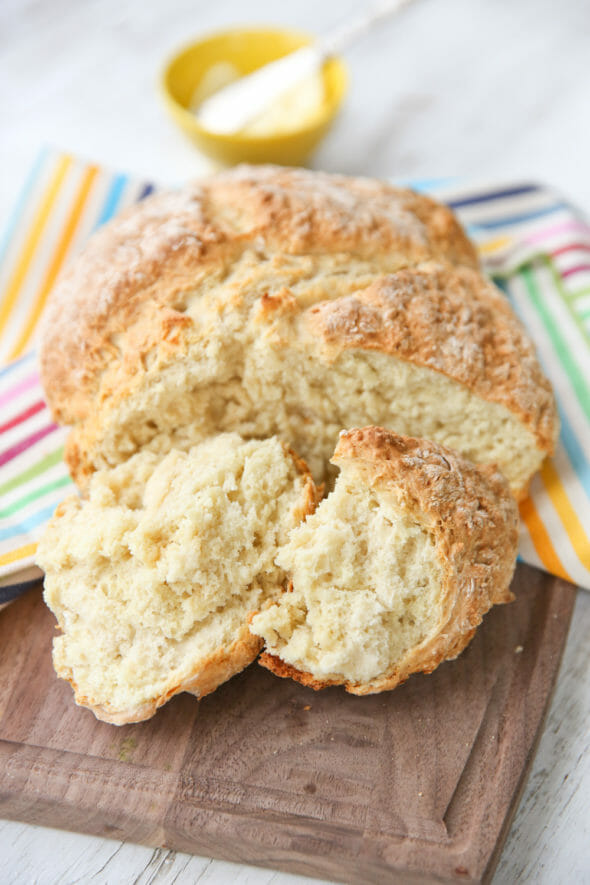 It's perfect alongside a soup or stew or roasted beef; anything where you can use it to sop up juices. We might love it most though, warm from the oven with butter and jam.
You can definitely add things to this basic recipe to switch it up, like raisins with cinnamon-sugar, or throw in a handful of Parmesan cheese and chopped rosemary. It's such a great recipe to have on hand for a go-to quick bread. I think it's best eaten fresh all at once, but it you save it, make sure to keep it airtight to prevent drying out. Pop it on your menu this week and let me know how you like it!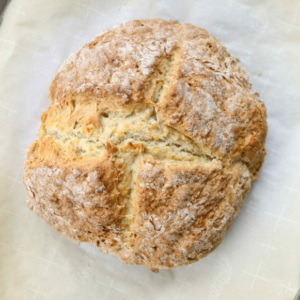 1 Hour No-Rise Rustic Bread Loaf
Author:

Rachel Allen

Prep Time:

5

Cook Time:

40

Total Time:

45
---
Description
The quickest, easiest way to create a rustic white loaf perfect to eat with butter and jam, or along side a pot of soup or stew. Done in under an hour and no yeast or rising required!
---
3½ cup

all-purpose flour, plus extra for dusting

1 teaspoon

sugar

1 teaspoon

baking soda

1 teaspoon

salt

1½

–

2

cups buttermilk
---
Instructions
Preheat the oven to 450°F
Place flour, sugar, baking soda, and salt into a large bowl and whisk together.
Make a well in the center and pour in most of the buttermilk, leaving about ¼ cup in the measuring cup. Using a fork, or one hand with your fingers outstretched like a claw, bring the flour and liquid together, adding more buttermilk, if necessary. Don't knead the mixture, or it will become heavy. The dough should be soft, but not too wet and sticky.
When the dough comes together, turn it onto a floured work surface and bring it together a little more. Pat the dough into a round about 1½ inches thick and cut a deep cross in it. Place on a baking sheet.
Bake for 15 minutes. Turn down the heat to 400° and bake for 20-30 minutes more. When done, the loaf will sound slightly hollow when tapped on the bottom and be golden in color. One way to check if your bread is done is to use a thermometer. Cook until temperature in center reaches 195-200 degrees.
---
Notes
I do prefer to use real buttermilk, but if you don't have any, youcan add 1 tablespoon fresh lemon juice OR white vinegar to every 1 cup of milk to replace the buttermilk. Add the lemon juice/vinegar to the milk (the higher the fat content the better) and then add it to the recipe.
This post includes affiliate links, read more about 'em here.