For as long as we've been writing this blog, dinner time has been a major point of focus for the majority of our readers.  And we get it.  I too, often look at the clock around 5pm and suddenly wonder what the heck I'm going to pull together and how I'm going to do it when all the meat in the house is currently frozen.  My pressure cooker has been a game-changer in this department, which is why you've been seeing more and more pressure-cooker recipes from me!  (You can read more about them, here.) This recipe can also very easily be made in a slow cooker, and I've included directions for that.  So we've got super fast AND super slow options for ya.  The best part?  You can take use those completely frozen chicken breasts from the giant Costco bag and stick them straight from the freezer into your pot and it only takes 15 minutes cooking time in the pressure cooker.  The whole meal is done and on the table in about 30.  I shared my Chili-Lime version recently, and this is my Asian-inspired version.  I've got another Italian style version and with those three flavor profiles you can seriously make ANYTHING for dinner depending on what else you can scrounge up in the fridge.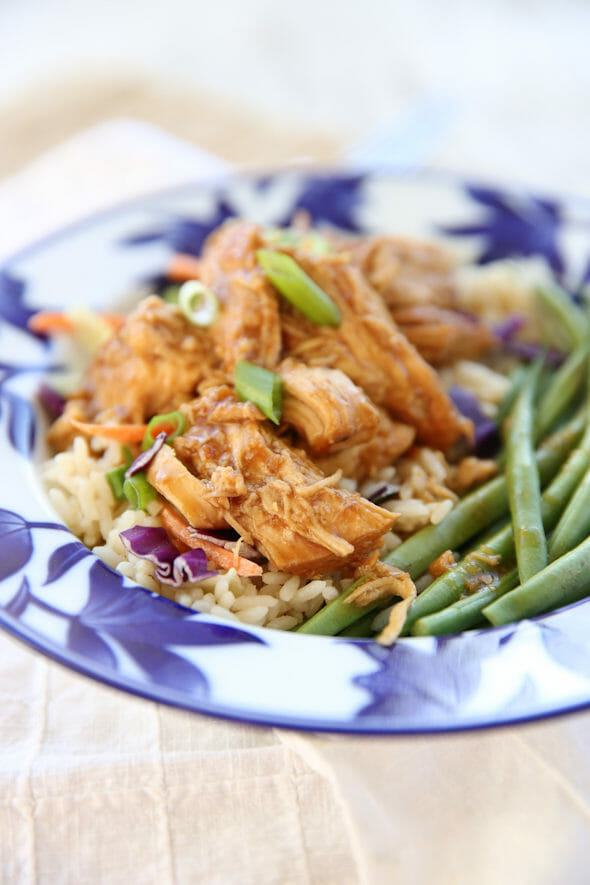 If these ingredients look familiar to you, it's because I borrowed a lot of flavors from this Honey Orange Pork, which is one of my family's favorite recipes.  I swapped out the cider vinegar for rice vinegar and added a hefty dose of ginger and then used the juices to make the easiest sauce.  These are things that you can keep around in the fridge and pantry all the time so you can whip this up easily.  You could even sub out powdered ginger if you didn't have fresh.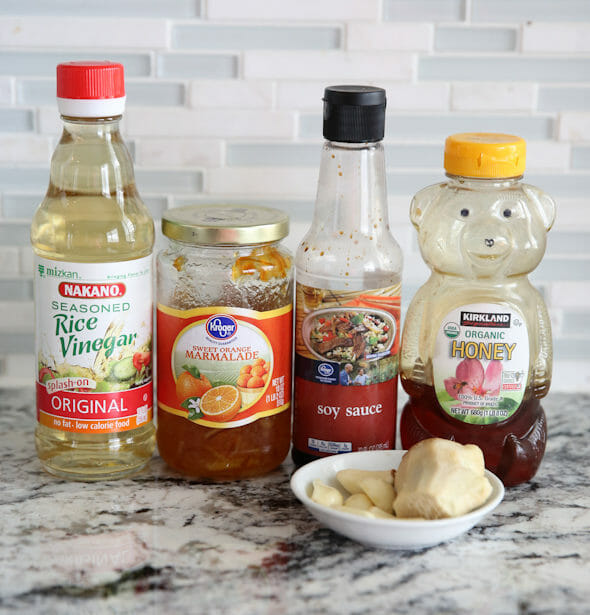 Orange marmalade is one of my favorite ingredients to cook with, and honestly- what else do people do with orange marmalade??  I don't see many people spreading it on toast or plopping it on their PB&J but man it's good.  It's works perfectly in a sauce like this because it adds sweetness, thickness, and concentrated orange all in one hit.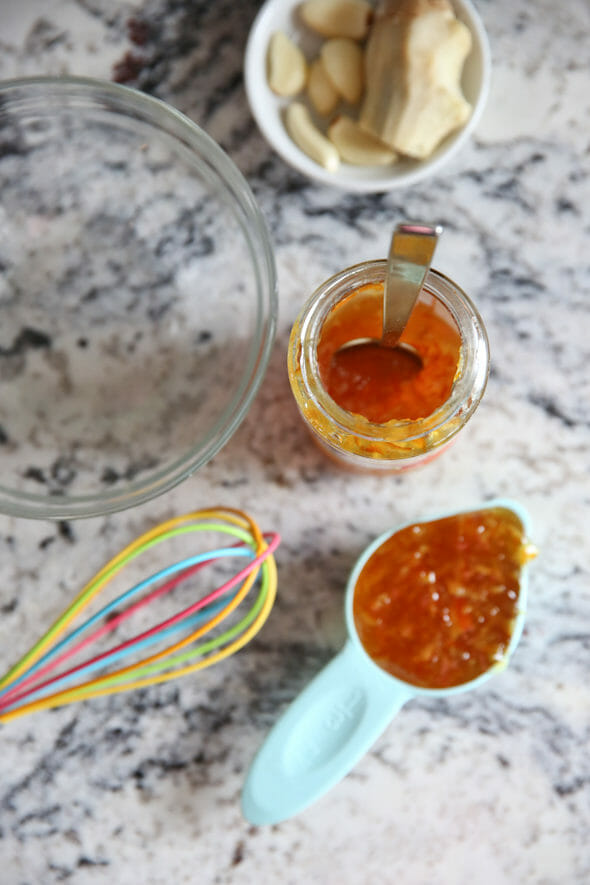 The sauce comes together in minutes, maybe even seconds.
And then you can just pour it right over your chicken.
If the chicken is frozen, I set it to 15 minutes pressure cooking time, and if thawed, 6 minutes.  When it's done, pop it on a cutting board and shred and while you're doing that, just turn the heat on the pan and bring the sauce up to a simmer.
I just add a little cornstarch slurry, which takes all those flavorful juices and turns them into a nice sauce that coats the chicken.
From there you can serve it over rice and vegetables, or use it in lettuce wraps or on a salad or whatever.  It's super versatile and my whole family loves it.  So there you go, dinner in under 30, boom.
Looking for more Pressure Cooker Recipes?  Here's 3 more for you to try!
Pressure Cooker Brazilian Black Beans
Pressure Cooker BBQ Ribs
Pressure Cooker Chili-Lime Chicken
Print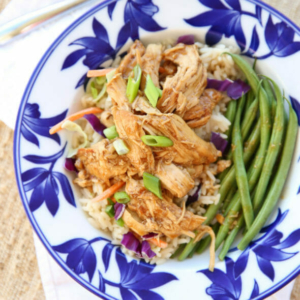 ---
Description
Sweet and tangy Asian-inspired shredded chicken. Perfect with rice, over steamed vegetables, in lettuce cups,a wrap, or on a salad.
---
2 lbs boneless, skinless chicken breasts (frozen OR thawed)
1/3 cup orange marmalade
3 tablespoons soy sauce
3 tablespoons rice vinegar
1/2 tablespoon honey
3 tablespoons water, broth, or orange juice
2 tablespoons chopped fresh ginger
6 cloves garlic, minced
3 teaspoons cornstarch
---
Instructions
Place chicken breasts in pressure cooker (see notes below for alternate cooking methods).
In a small mixing bowl, whisk together: marmalade, vinegar, soy sauce, honey, water, ginger and garlic. Pour mixture over chicken. Secure lid on pressure cooker and cook at high pressure for 15 minutes (15 minutes is the cooking time once under pressure.) When finished, release steam according to pressure cooker instructions and use an instant-read thermometer to make sure meat has reached 165 degrees. (If it has not reached temperature, simply return shredded chicken to sauce and simmer until cooked through.)
Remove chicken breasts and place on a cutting board. Bring remaining sauce in pan up to a simmer (use the saute feature on an electric cooker). Combine cornstarch with 3 teaspoons cold water and then pour mixture into pan. Simmer until sauce is thickened and the turn off heat.
Shred chicken and return to pot with sauce.
Yields about 4 cups shredded chicken
---
Notes
Tip: If your chicken breasts are extra thick (more than about an inch or so) they might require a longer cooking time, or if they are thawed, simply cut them in half before putting them in pan.
Slow cooker instructions: place thawed chicken breasts in slow cooker and top with sauce. Cook on low until internal temperature reaches 165. Don't overcook. While you are shredding chicken, turn slow cooker to high to bring to a simmer and finish thickening sauce.