After my Snow Globe post, there were lots of questions about my advent calendar, so here some more details about what I do with my family.  Having an advent calendar has been one of my most favorite traditions since I was a little girl, so I am always excited to do things with my kids.  This year I wanted to find a new calendar, and I bookmarked 547 of them (okay not really, but lots) from the web and pinterest, etc.  I had very good intentions of being crafty and making something and in the end  I splurged on one I loved from Pottery Barn Kids.
Unfortunately it says it's no longer available, but I'm thinking for those of you who are the sewing-crafting kind of chicks, this would be fairly easy to knock off.  It would definitely take quite a bit of work, but I think it would be doable, or at least something similar.  If you're interested in doing that, here's some details:
First of all, it's huge.  It measures 5 feet tall by 3 feet wide.  The entire back is red corduroy, and the front has a 2 inch corduroy border and then a burlap type center.  It has batting inside so it feels like a big quilt.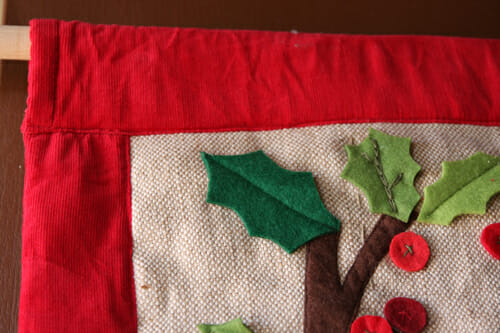 All of the stockings are different, with felt, fabric, and embroidered stitching.  They measure about 6 inches tall with the top opening being about 4 inches wide.They're strung with white yarn that is loose so you can move it around.
Santa is at the bottom, with bells on his coat
And a reindeer holds Christmas Day
And there are little felt tree, branch, and berry details throughout.
If anyone attempts to make one, I want to see a picture!
Now, for filling it up.  I do a mix of things inside.  I like to have some activities, some service oriented things we do for others, and some that are simply for fun.  Some involve opening a little gift,  others are little riddles written on paper, and others are items that represent an activity.
Because the type of activity in each day really depends on my family schedule, I just keep my big master list and fill the actual stockings a few days at a time.
One trick is to make a list of the things you'll be doing anyway during the month, and use those too.  Things like a concert at school, or a church Christmas party, or pictures with Santa, etc.
Here are the things on my list, and I want to make sure everyone knows that I am realistic enough to know that we will not do all of these things, or even these types of things every day!  December (and life in general) is busy, so I have little bags of treats and trinkets to slip in when I just need a little prize in there.   The trick is having things organized so you have options.
Here's my list:
Family Activities:
*Go to a Christmas movie in the theater (movie tix in stocking)
*Attend our church Christmas breakfast
*Drive to DQ for peppermint Blizzards (picture of a blizzard in the stocking)
*Have a movie night at home with red and green candy popcorn (photo of movie cover in stocking, tied on to a little bag of popcorn)
*Attend city tree lighting, our tour lights in our area (a baggie of lights in stocking)
*Read the Christmas story from the Bible and act it out (a tiny figurine of baby Jesus in the manger in stocking)
*Go sledding
*Go ice skating
Service for others:
*make gift baskets for the missionaries at our church
*visit the local nursing home and deliver flowers
*take goodies to friends and family
*prepare gifts for teachers, bus drivers, mail carriers, garbage men, etc
*Write Christmas letters to Grandparents
*Send Christmas cards to servicemen
*go shopping and pick out a toy to donate to charity
Gifts:
*These are slips of paper that tell them to open a numbered wrapped gift from a basket
*Read a new book (The Jolly Postman (my FAVE) wrapped up to open before bed, plus a few more we're adding to our collection))
*Start a Lego count down (actual day #1 since we did snow globes early.  More about this below)  Lego advent wrapped under tree.
*Watch "The Snowman" movie (movie wrapped up under tree)
Kitchen/Craft Stuff:
*Make hot chocolate with all the fixings (hot chocolate fixings in stocking)
*Make snowflakes and eat them! (a little snowflake snack)
*Get trapped in a snow globe!
*Decorate gingerbread houses
*Make Christmas ornaments
*Open a new Christmas cereal (wrapped under the tree)
Lastly, if you have Lego fans at your house, we LOVE the Lego advent calendars.  They make them in several different themes.  At our house we're all about Lego Star Wars.  Each day you open a window and there is a tiny little Lego set in there.  On the inside of the door is the instructions.  Some our little things like ships, and others are Lego guys.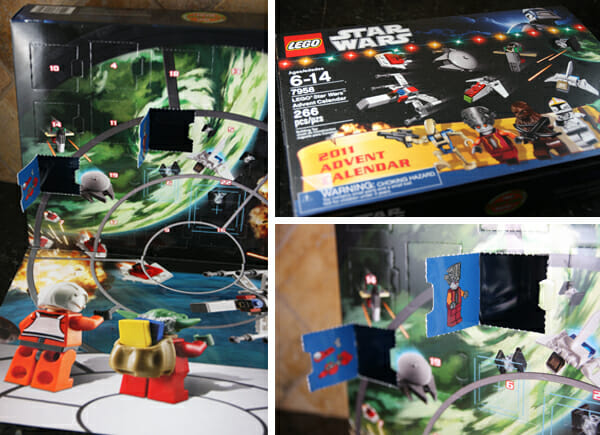 And one other fun tradition we sort of started this year is one I saw on 320 Sycamore last year.  If you've got lots of Christmas books, wrap them all up and put them in a basket.  Let your kids choose one book every night to unwrap and read.  Or if you don't have that many books, you can do it once or twice a week, etc.  It's fun because the books only come out once a year! (Do you all have "You are my Miracle"?  My copy was a gift from my Aunt Barbara when I had my first baby, and it has become one of my most favorites.  Such a beautiful, tender message about parenting, children, and Christmas. )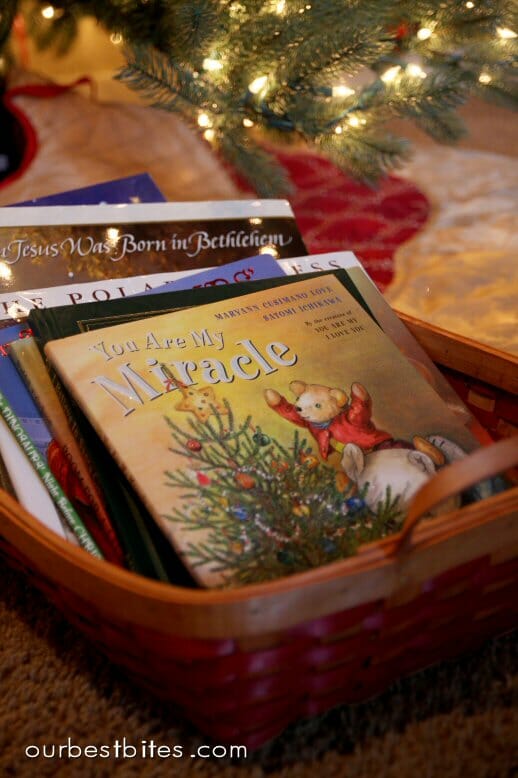 Oh, and last year we started the tradition of sprinkling Reindeer Food on Christmas Eve.  *LOVE* this one.
Okay, this post turned out much longer than I anticipated!  Now it's your turn!  If you have fun ideas, or have made an advent calendar you love, feel free to link up in the comments!  I'd also love to hear about any great holiday traditions you think other people might enjoy starting in their homes.  I'd love to hear all of your fun ideas, so please share!