Those of you following me on Instagram came along on a trip I took with my husband a couple weeks ago:  a cruise to Alaska on Princess Cruises.  I shared a lot of our day-to-day on Instastories and I honestly have never had a response to a travel series as massive as I did this time. SO many messages, questions, and comments- which I loved!  So many of you said that Alaska had never even been on your radar until I shared some peeks into our trip and I was so happy to hear that.   I have so much to show you and tell you about this trip, but before I do, I wanted to answer the most commonly asked questions I saw over and over again.  If I missed any, definitely leave a comment and I'll answer there! Alaska is absolutely BREATHTAKING.
WHAT CRUISE DID YOU DO?
---
We did this round-trip cruise on Princess, starting and ending in Seattle, WA.  It's a seven-day cruise through Alaska's famed Inside Passage.  It stops in several ports, including Juneau, Skagway, Ketchikan, and Victoria B.C. and also includes a whole day sailing through Glacier Bay National Park.  Princess also offers round-trip cruises from San Francisco, Los Angeles, and Victoria, if that interests you.  Click here and you will find links to all the Alaska options!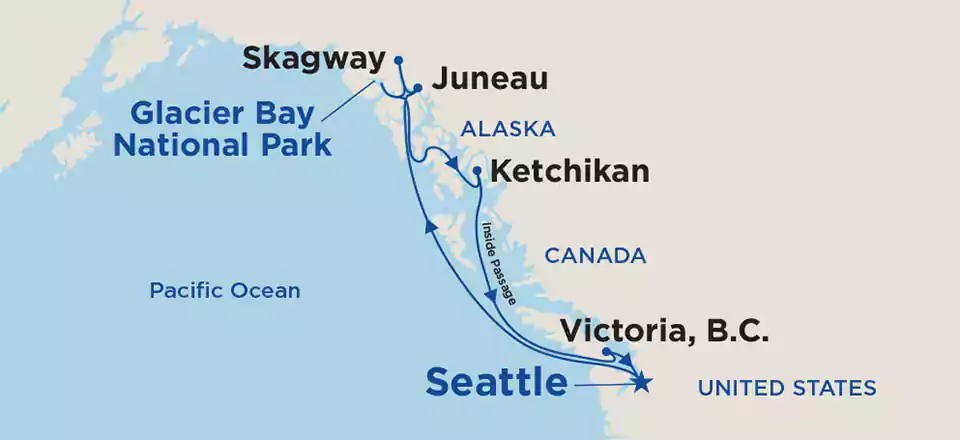 IS IT WORTH PAYING EXTRA FOR A ROOM WITH A BALCONY?
---
I had a lot of people ask me this and I'm a little claustrophobic by nature so I don't think I could do any cruise without a balcony, but I would say it's especially worth it on this particular cruise.  The unique thing about Alaska is that a huge portion of your voyage follows land.  While some cruises will just have you out in the middle of the ocean for days, Alaskan cruises have gorgeous vistas of mountains and wild life on a large portion of your trip.  This photo was just snapped on my cell phone one morning off my balcony one day.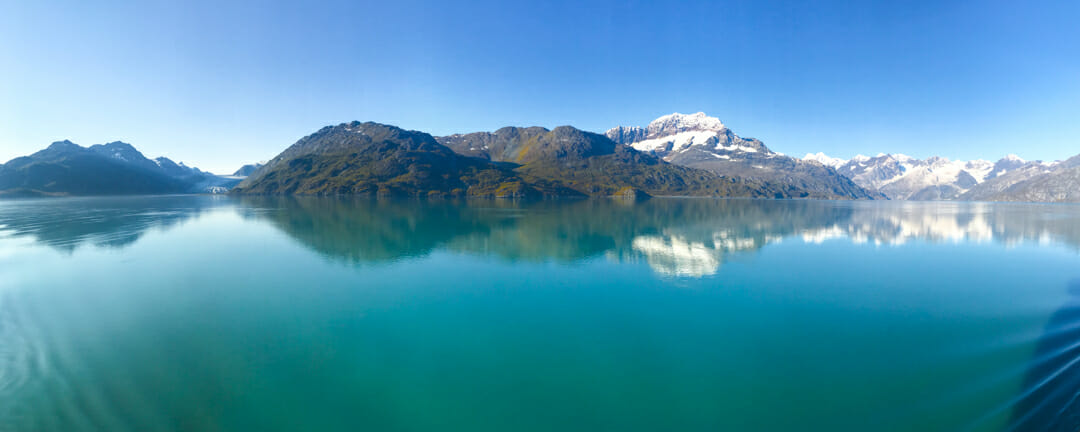 Our favorite thing was waking up each morning and opening the door to see where we were!  There was always a new gorgeous view and we loved having breakfast on our balcony in our pajamas just soaking it all in.   We saw whales, sea otters, and bald eagles often from our balcony.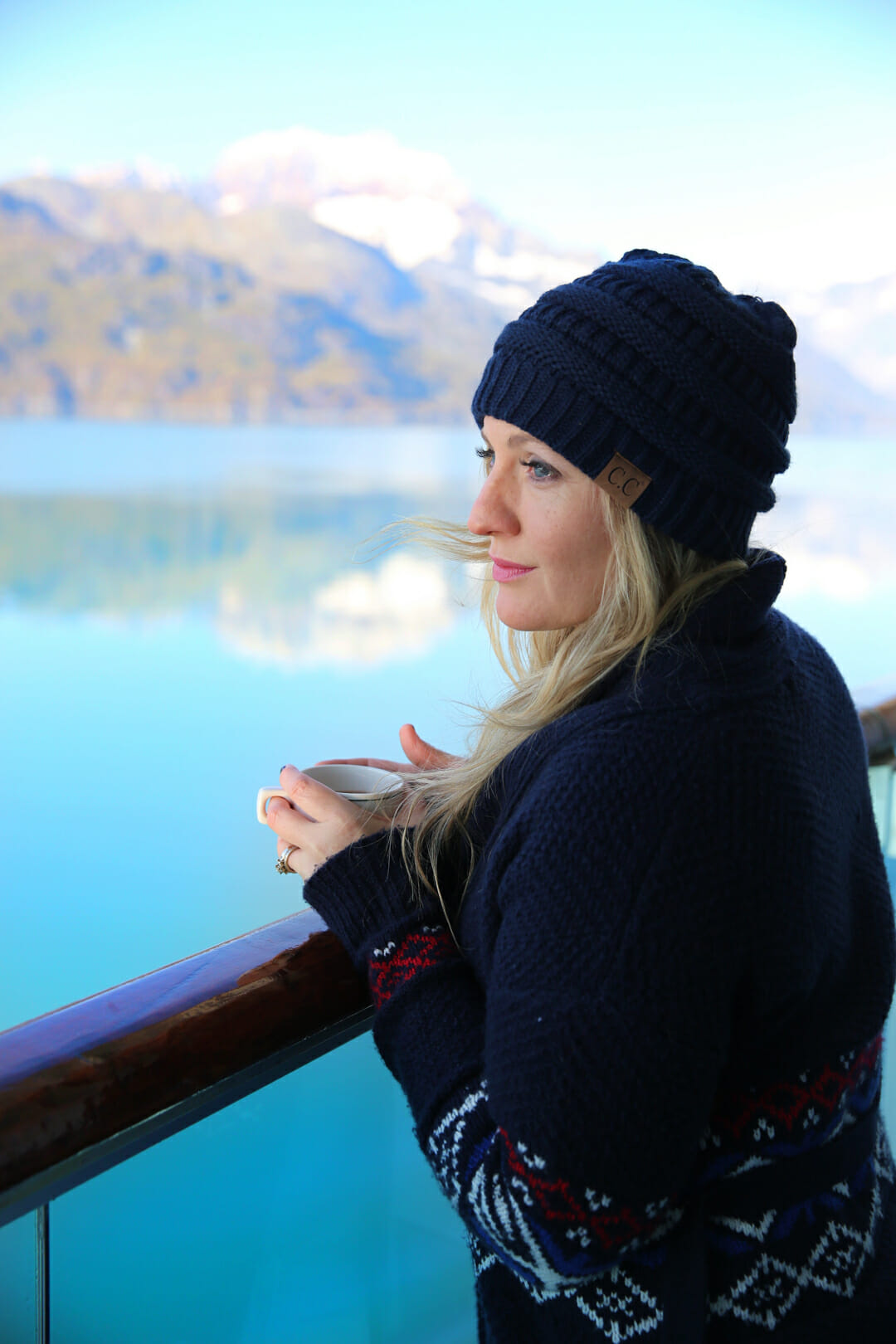 WHAT WAS THE WEATHER LIKE?
---
The weather on our trip was nothing short of phenomenal, but from what I hear, we really lucked out!  We only had 1 day on our whole trip that was overcast and drizzly.  The other 6 days were stunningly sunny.  September tends to be a cooler, wetter month, so we feel so fortunate to have such incredible weather.

Alaska's weather is somewhat unpredictable and often rainy, so you do need to be mentally and physically prepared for a variety of weather conditions.  I've had friends go durning the summer months and say it was warm and they wore shorts and t-shirts, but I'd say usually the weather is pretty temperate.  We cruised in the very middle of September (the 2nd to last cruise of the Alaska season on Princess) and while we definitely needed warm coats (and hats were nice!)  in the mornings and nights, the days were rather pleasant, yet cool.  I most often wore a sweater or long-sleeve shirt during the day with a beanie, and birkenstocks. The best thing to do is check the weather in ALL your ports the week before you leave.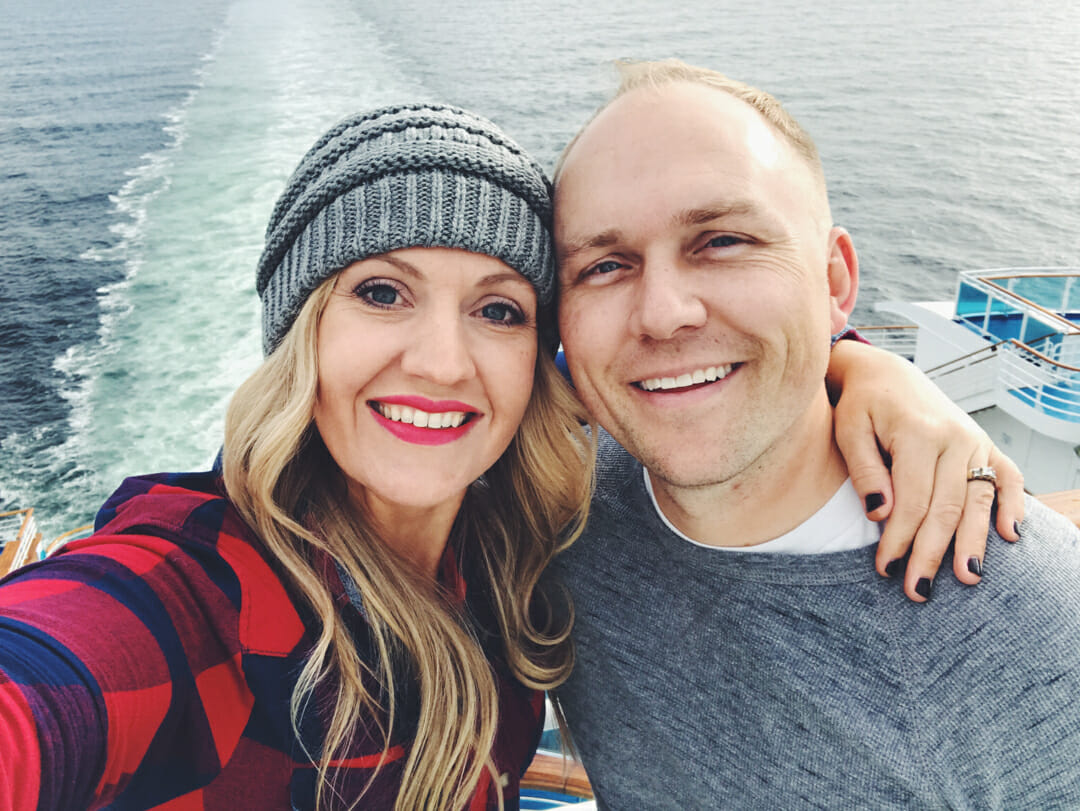 SERIOUSLY THOUGH, WAS IT ALL OLD PEOPLE?
---
Not kidding, this was definitely one of the most asked questions!  Was it all old people?  No.  Was there a considerably larger demographic of "mature" folks over the age of 50?  You bet.  And we loved it.  The vibe on a cruise to Alaska is different than the crowd you get on say, a Caribbean cruise.  You don't get the wild "spring break" types, and you don't have tons and tons of children running around, it's definitely a little slower paced and calm and we loved that.
WHAT KIND OF EXCURSIONS DO YOU DO IN ALASKA?
DID YOU BOOK THEM THROUGH THE CRUISE LINE?
---
The excursions in Alaska are one of the things that makes this cruise so unique.  There are things you can do here that you simply can't experience anywhere else!  I'll share more of what we did in another post, but just to name a few things that are readily available there:  float planes, kayaking, fishing, hiking, helicopters, glacier walking, air boats, sled dogs, trains, wildlife boat trips, and so much more.  I noticed there are many "adventurous" excursions that are also wheel chair accessible.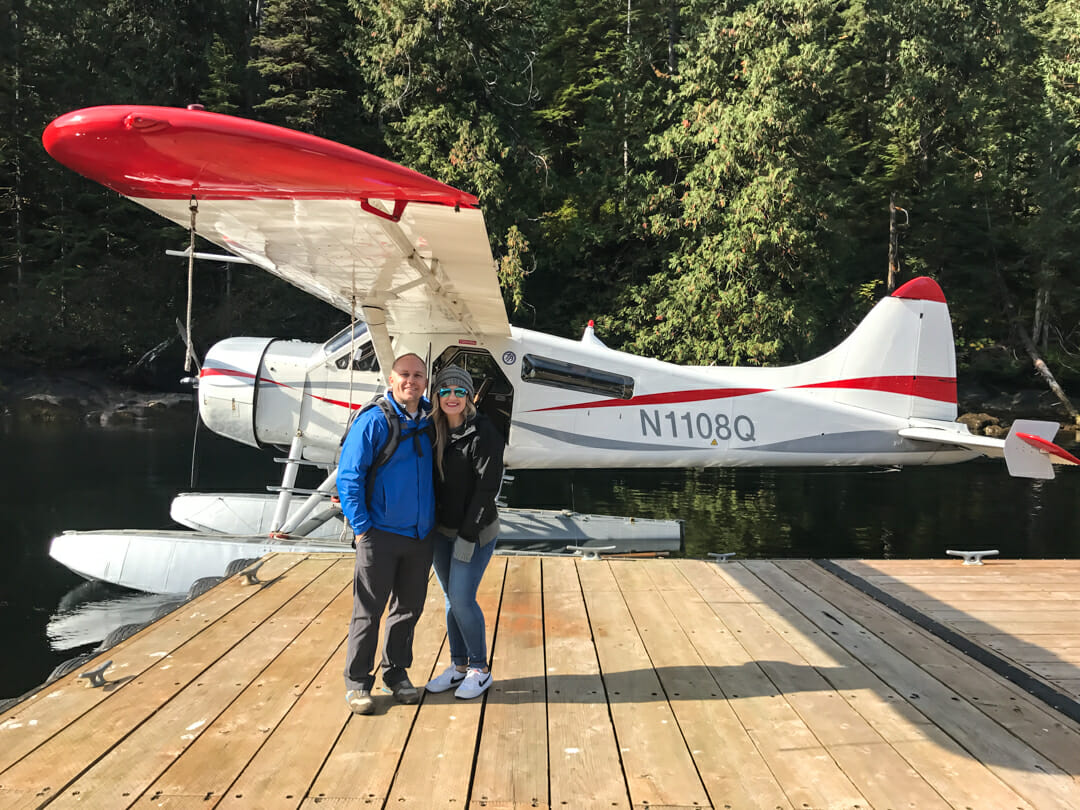 We did book our excursions directly through Princess ahead of time.   You could also book your own "off shore".  There are tons of companies offering excursions right off the boat and in town.  One of the benefits of booking through the cruise line is that should anything happen to deter your schedule, the boat will not leave without you!
WHAT KIND OF CLOTHES DO YOU PACK FOR A TRIP LIKE THIS?
---
Ask anyone this question and they will answer the same thing: layers.  For one, the weather can be a little unpredictable (as explained earlier) but it also really changes depending where you are and what you're doing.  Toward the end of the season, and I imagine the beginning, mornings and evenings are quite chilly.  I brought a big puffy coat and wore it often.  People visiting from places like California and Arizona were freezing, and those of us used to colder weather were just fine, haha.
However, during the day there were many days and times where the weather was perfectly comfortable.  Again, during the summer months it can get quite warm.  You'll also definitely want a rain jacket.  I brought my big puffy coat for warmth and then a light waterproof shell as a lighter option.  There were many days where a hoodie was perfect.  Bottom line?  LAYERS.  You'll also want some comfortable shoes for hanging out on the ship, and some sturdy ones for excursions if you're planning on adventures like hiking, fishing, or just walking through towns.  I also was glad I brought plenty of "cozy clothes" like activewear and casual-comfy sweatshirts and sweaters.
ARE THERE ANY ITEMS YOU WOULD RECOMMEND BRINGING THAT ONE MIGHT NOT THINK OF?
---
Large fridge magnets- my friend Mique told me about this one.  All of the walls in cruise ships are metal, so they are magnetic!  Large clip magnets are awesome for organizing all the many papers you'll get during your trip.
Umbrella – might be a duh moment, but bring a small travel one, easy to toss in a backpack or purse.
Laundry Detergent- You can grab some onboard, but next time I might toss in a small bag of powder detergent just to save money on the expensive single-load packs you can buy on-board. I packed light on some things knowing I could just do a load of laundry in the coin-operated machines and it was super convenient.
Purse or Backpack – another one that seems obvious but sometimes when I pack suitcases and carryons, I forget to bring a good bag for excursions and off-board stuff.  I also brought a small clutch to use when we were attending formal dinners.
Formal wear.  I always thought formal dress was optional on cruises and didn't think I'd need any haha.  Turns out you really do need a nice outfit or two.  I just brought this super easy to pack dress that takes up as much room as a t-shirt, and was soft, stretchy, and comfortable!  I hanged it up when we got on board and the wrinkles were out by the next day.  I brought a sparkly necklace and earrings to dress it up and it was perfect.  Also great to have something loose and comfortable when all you're doing is eating, haha.
WHEN IS THE BEST TIME TO SEE THE NORTHERN LIGHTS?
---
With the unusually clear weather we had, the captain explained it's what they call "Severe Clear" and gives you the best chance of seeing the northern lights.  You also need to be away from city lights, so a cruise is a great spot if the weather conditions are favorable.  You can find many tools online that will help predict aurora borealis viewing, like this one.  Many cruise ships (and hotels in Alaska) offer wake-up calls if you like, in the event that the Northern Lights are visible.  We lucked out and saw them just before bed time, from our bedroom balcony!  Cruises later in the season, like ours in September, will also give you a better shot than cruises in the summer, because of Alaska's long days and short nights.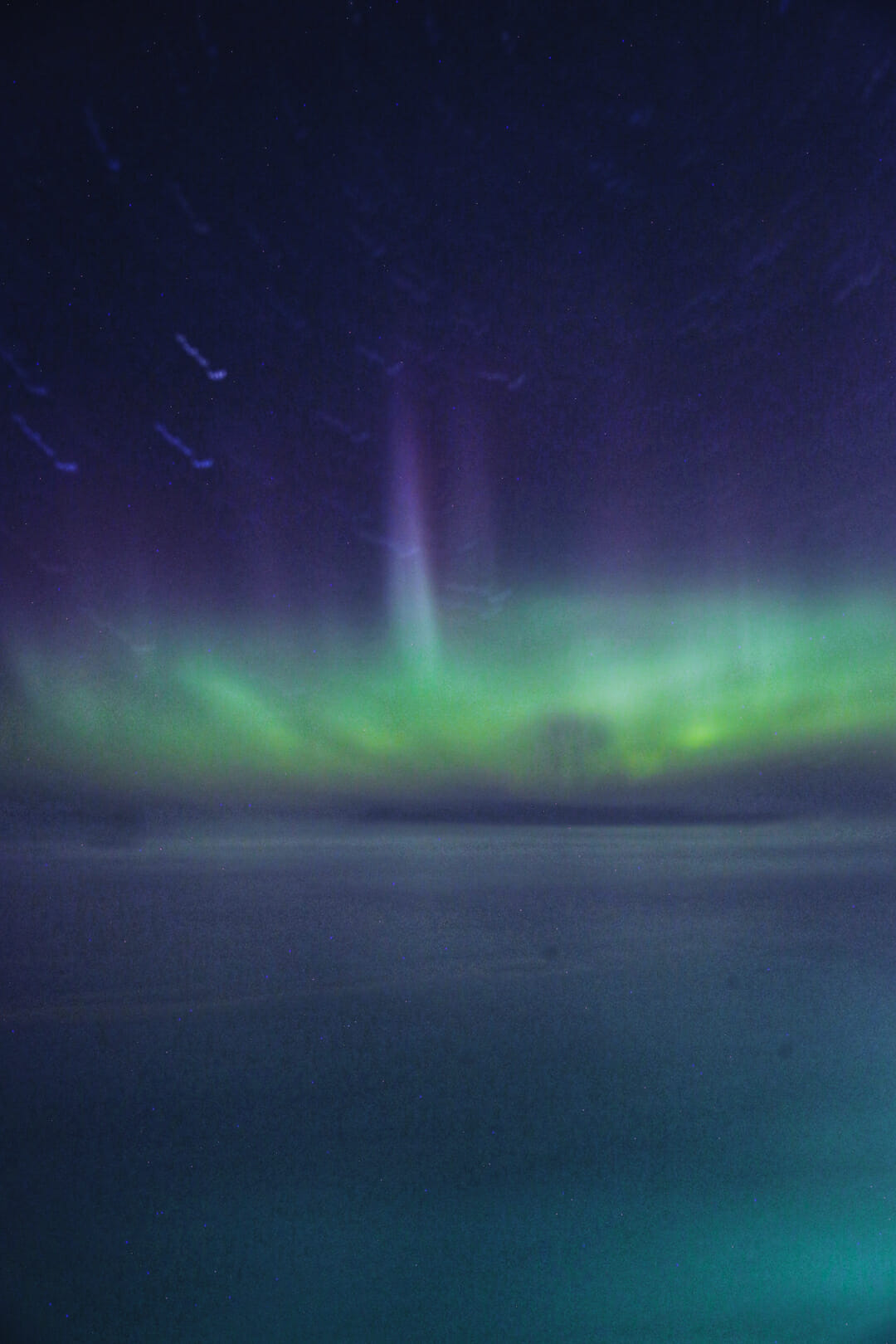 HOW WAS THE FOOD?
---
I will give you the same answer I gave my trainer at the gym when I returned home and he asked the same question:  plentiful.  Haha!  Like all cruises, there are many, many options for eating on-board the Ruby Princess.  There is of course a standard buffet, and I would compare it to any sort of all-you-can-eat-buffet restaurant.   It wasn't bad, but it also wasn't anything special.  I would however say that if I had kids on the ship with me, we'd (or rather, they'd)  be at the buffet every single day- they had a huge variety of options from a ramen bar to tacos, to prime rib, so that's a great option in some cases.  We only ate at the buffet a couple times because we quickly found some options we preferred so much more.  There was a great pizza place where you can buy brick-oven-style pizza by the slice, and grab a soft-serve cone right next to it.  My favorite place for general meals, from breakfast until late afternoon was hands down a place called "The International Cafe".  Besides having an amazing selection of baked goods and confections and sitting right next to the coffee shop, they also had perfect light-lunch fare inspired by countries around the globe.  Some of my favorites were a Thai Beef Salad, Greek Salad, and their little snack sandwiches like Ham and Cheese Croissants, Cubans, and Italian Pesto and Cheese.  We ate there ALL the time.  They were open 24 hours so it was perfect when we needed something at random hours of the day.  This photo is a selection of the breakfast pastries we had on our balcony with hot chocolate one morning.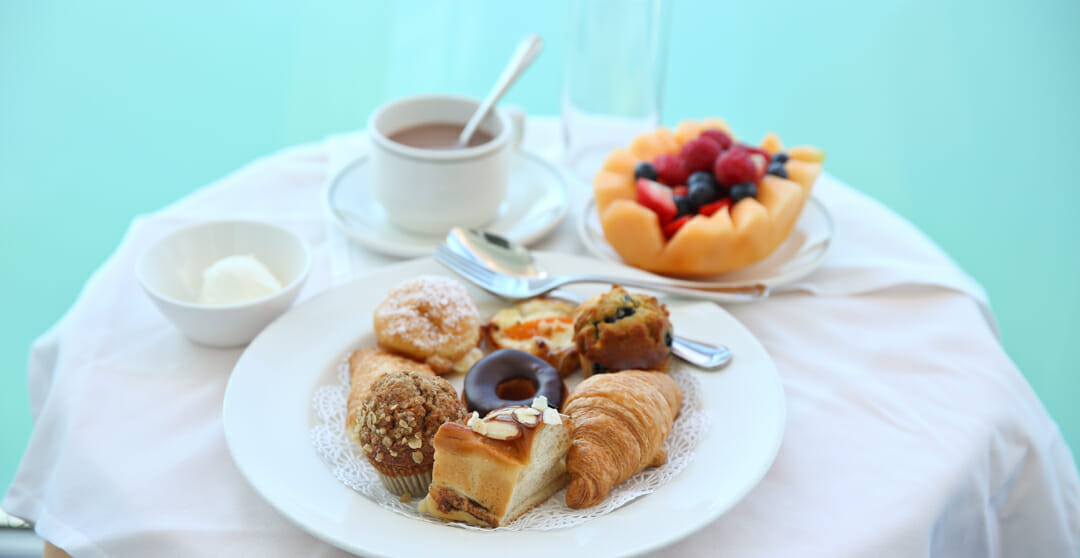 When it came to dinners, the specialty restaurants are where it's at!  Don't waste time on the buffet, hit up the amazing restaurants like Curtis Stone's Share, where you choose options to create a personalized 6-course fine dining meal.  We loved this whole experience and if 6 courses sounds like overkill- don't worry, they're small, perfectly-sized portioned plates so you can enjoy each and every course.
Our other favorite (and if I had to pick one, THE favorite) was The Salty Dog,  a gastropub born from a partnership with renown chef Ernesto Uchimura.  This burger (fresh ground rib eye and short rib patty, grilled pork belly, caveaged Gruyère, caramelized kimchi beer battered jalapeño, charred onion aioli on a smoked salt & pepper brioche bun and served with Truffle-Parmesan fries WHAT) was named "Best Burger at Sea" by Cruise Critic.  (Below that burger, and also the photo above are some of the dishes from Share so you can see the portions)
So ya.  How was the food?  Fantastic.  If you find yourself on this ship, definitely make some reservations and pay the extra (reasonable fee) for the nicer restaurants, they're worth it.  I should mention, we also made a point to look up local restaurants in each city we visited and eat in town, supporting the local businesses and experiencing local dining, and we loved that!
WOULD YOU RECOMMEND IT?
---
 Heck Yes.  100%.  As I mentioned, sooooo many people commented after seeing my photos and hearing about my experiences on our cruise, that a cruise to Alaska wasn't even on your radar.  Not something you'd ever even considered, but that you'd changed your mind seeing mine!  That made my day because if there was one thing I was hoping to communicate in photos, it is just how magnificent this place is.  A true place of awe and wonder, and while so close and so accessible, it still feels hidden away, like a special little secret.  So now you're in on the secret.  I'll be sharing more peeks into some of the adventures we got into while on this cruise, but I wanted to have all the bases covered here so you started with all the info, and the questions I keep hearing over and over again!  If there's anything you'd like to ask about our individual ports of call, or anything else, definitely let me know!  No go dream of a cruise…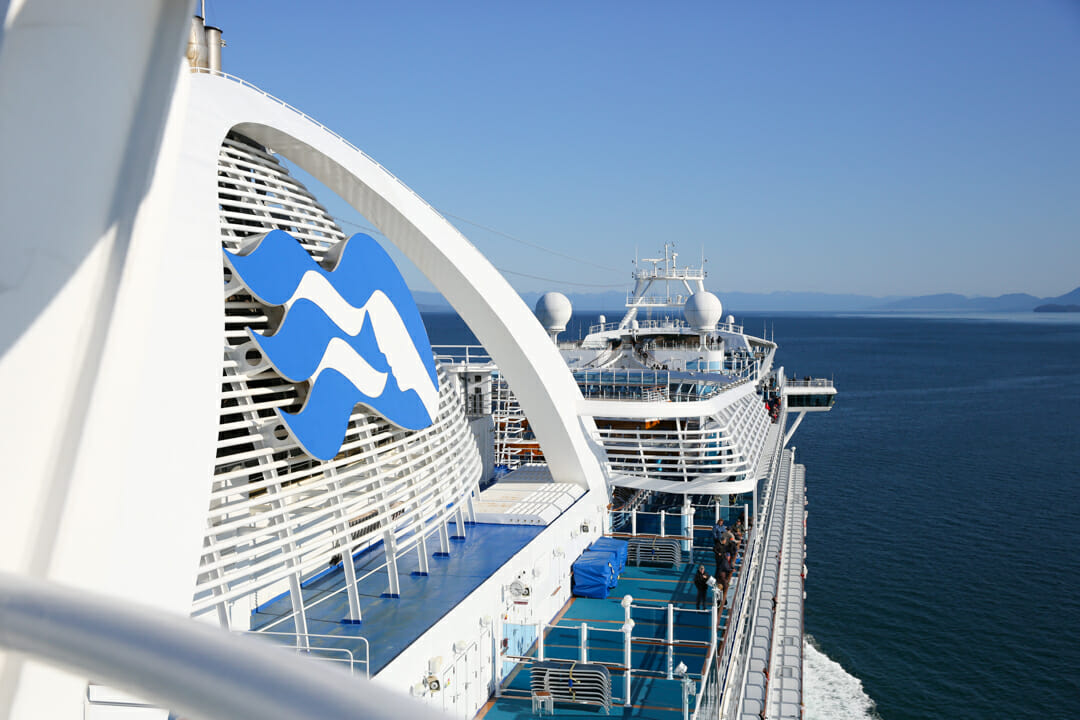 This post is in partnership with Princess Cruises and contains affiliate links.