This Almond Toffee Tart has been gracing the table at our Easter dinner for years. I believe my Mom got the recipe from her sister who got it from someone else so I'm not even sure on the origin. All I know is that it's one of my most favorite desserts, and it's often overlooked because it's one of those things who's appearance doesn't adequately showcase it's amazing-ness. But it is in fact amazing.
It's in my arsenal of looks-and-tastes-super-gourmet-yet-is-unbelievably-easy recipes. A few years ago I served this as part of a dessert spread at a wedding I catered and everyone was asking me about it. One woman asked if I would email her the recipe and when I obliged and word got out, the list started circulating its way around the reception. At the end of the night I got an entire sheet full of names of people requesting it.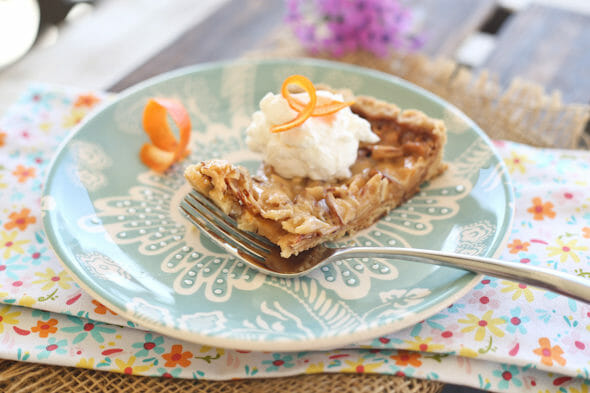 You'll notice that although it's called an "Almond Toffee Tart" there's no actual toffee in the recipe. That's because it's a magical tart. You toss together a simple filling and while it's in the oven the little tart faries come and turn that filling into a chewy, caramelized, toffee-like substance. Amazing! You'll need a tart pan with removable sides for this recipe. Honestly, if you buy the pan just for this dessert, it will be money well spent!
The pastry dough comes together in minutes, and you can use a food processor. You just need real butter (no exceptions), flour, and a couple of egg yolks.
You can use a food processor, or a pastry cutter to cut them together until crumbs form. Make sure there are pea-sized chunks of butter in there to help you get a flaky crust.

Press the dough into the tart pan and up the sides.
Pop it in the oven and bake for 10 minutes. While the pastry is baking, you can whip up the filling. It's so simple and easy. You just heat up some whipping cream and sugar on the stove top.

After it simmers for a few minutes, take it off the heat and add almond extract and fresh orange zest.

Next goes in a bunch of sliced almonds. The original recipe didn't call for toasting the almonds, but I started doing that a few years ago and loved the flavor and texture even more.
That's all there is to the filling! You might think the soupy consistency is strange, but that's how it should be.


Use a spoon to spread out the almonds so they're in a nice layer and that's all there is to it. You'll bake it for about 45-55 minutes. All ovens are different so just keep an eye on it at the end. When it's in the oven the sugar and cream will caramelize and turn into that soft chewy caramel-toffee-ish goodness. It should look about like this when it's done. The color should be that light caramel color and around the edges should be deeper golden brown.
Let it cool on a wire rack and you'll see the color and appearance morph into this, which is exactly how it should look:
This is one of those rare desserts that really needs to cool completely to be at its best. I try to make it several hours before I'm going to serve it for the best flavor and texture. In fact, I think it improves over time, so I make it as early in the day as I can.

I wish you could all have a bite of this so you could understand the flavor and texture. The crust is buttery and flaky and melts in your mouth. The top of the tart is slightly chewy, yet soft in the middle and the flavor of the caramelized sugar and cream with hints of almond and orange is just out of this world. I actually don't think it necessarily needs whipped cream, but it looks pretty and well, everything seems to be better with a little whip on top.
This can also serve a lot of people. Because it's sweet and rich, you can get away with thin slices. Or you can eat like, seven thin slices yourself. I dare you not to.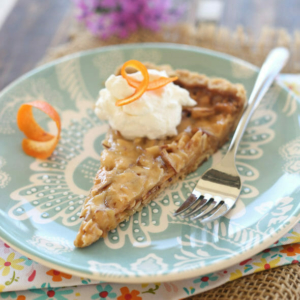 Almond Toffee Tart
Author:

Our Best Bites

Prep Time:

20

Cook Time:

50

Total Time:

1 hour 10 minutes
---
Description
A chewy caramelized almond filling nestled in a delicate buttery crust.
---
Pastry
2 cups

all purpose flour

3/4 cup

real butter, chilled

2

egg yolks from large eggs
Filling
1 1/2 cup

heavy whipping cream

1 1/2 cups

sugar

1/4 teaspoon

salt

2 tablespoons

fresh orange zest

2 cups

sliced almonds, toasted

1/2 teaspoon

almond extract
optional: sweetened whipped cream for serving
Equipment: 11 or 12-inch tart pan with removable bottom (see link in post)
---
Instructions
Preheat oven to 325 degrees. Spray tart pan with nonstick spray and set aside.
Prepare crust by cutting flour into butter until crumbly and then adding egg yolks. You may use a food processor, processing until pea-sized crumbs form. Dough will be slightly crumbly. Press dough into pan and up sides. Place tart pan on a baking sheet and bake for 10 minutes. Remove from oven and increase heat to 375 degrees.
While pastry is baking, prepare filling. Combine cream, sugar, salt, and orange zest. Bring to a boil and then reduce heat and simmer for 5 minutes, stirring occasionally. Remove from heat and add almonds and extract.
Pour mixture into pastry crust, spread out almonds if necessary into an even layer.
Return pan to oven and bake for 45-55 minutes, until the top is bubbly and starting to turn golden brown. **Baking time varies depending on ovens and pan so I highly suggest keeping an eye on it after about 40 minutes.
Place pan on cooling rack and cool completely. This dessert is definitely one that is optimal after it's cooled and set (as opposed to warm.)
When ready to serve, remove outer ring on tart pan and slice into small slices. If desired, top with sweetened whipped cream.
---
Notes
To toast almonds, lay in a baking sheet in a single layer. Bake at 375 degrees, watching carefully and tossing often until golden brown.