Sometimes when I have things on my grocery list, like a few lemons for example,  I find myself at Costco buying 57 lemons simply because it's a really great deal on 57 lemons and it saves me a trip to the grocery store for my 3 lemons.  Then without fail I find myself at home frantically thinking of things to make before my 57 lemons (or limes, or that industrial sized bag of broccoli- seriously I have never once in my life finished one of those broccoli bags) goes bad.  Hence here we are at lemon pie.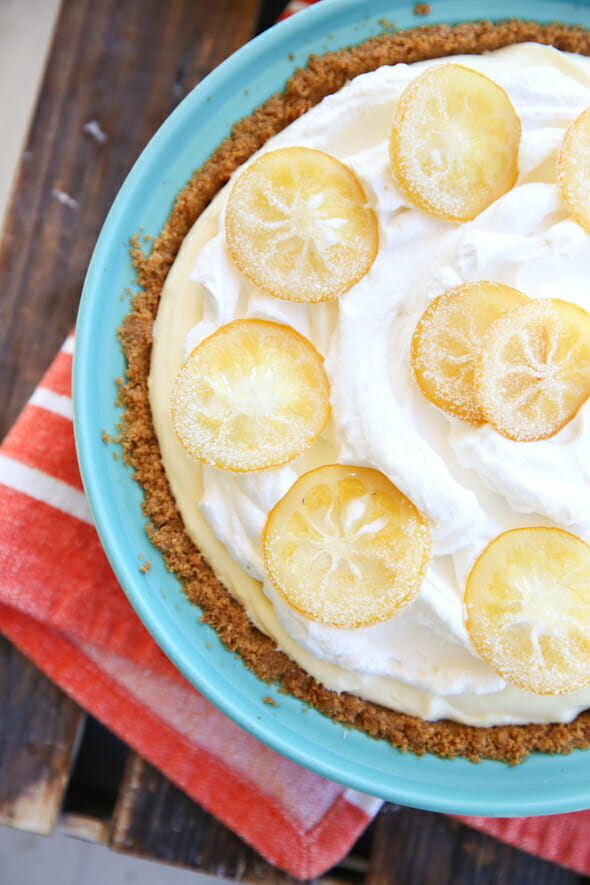 This recipe is based off of our super popular Banana Cream Pie (which is a very old post with very old photos, but awesomely delicious.)   I was craving some sort of lemon cream pie but didn't have the time nor energy to make a traditional egg-based custard.  My mind immediately went to our beloved banana cream pie and I wondered if the same recipe could be tweaked for lemon.  Sure enough, it was a home run.  (Insert fist-pump, here.)
You only need a few ingredients here.  I started with a basic graham cracker crust.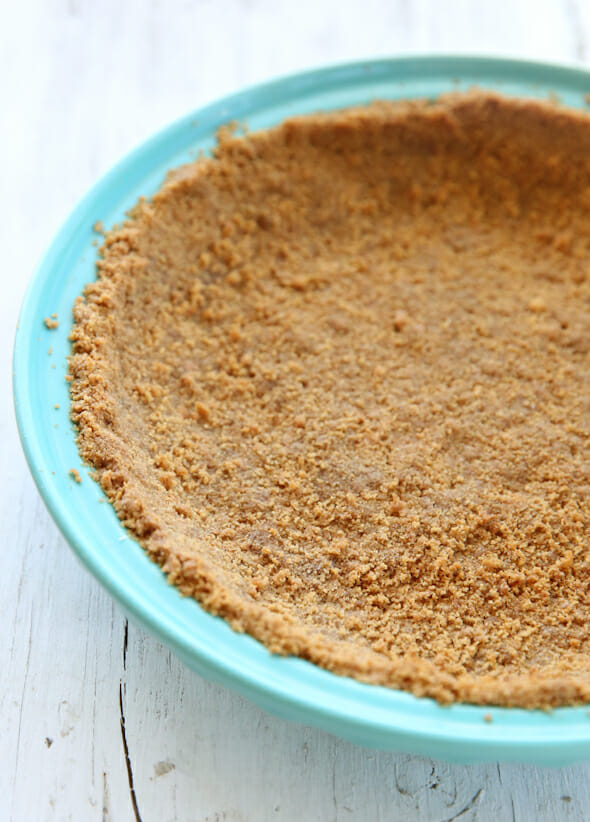 I know at least one person will ask about that pie plate, so here's a link!  Kate shared it once upon a time and I promptly bought one for myself.  It comes in a million colors and is only about $18 bucks.  Win.
You can do a baked or unbaked crust for this pie.  I baked mine, which makes it a little crispier, but I really love soft graham cracker crusts as well.
The ingredient list couldn't be more simple.  We're using a boxed pudding mix, but no worries, we're not going to just make lemon flavored pudding.  You'll be using cream, sweetened condensed milk, and fresh lemons for amazing flavor.  The pudding adds a beautiful creaminess (without eggs) and provides stability.   Don't use lemon pudding, because we don't want that artificial flavor in there, just go for the vanilla and we'll get all of the lemon flavor from actual lemons.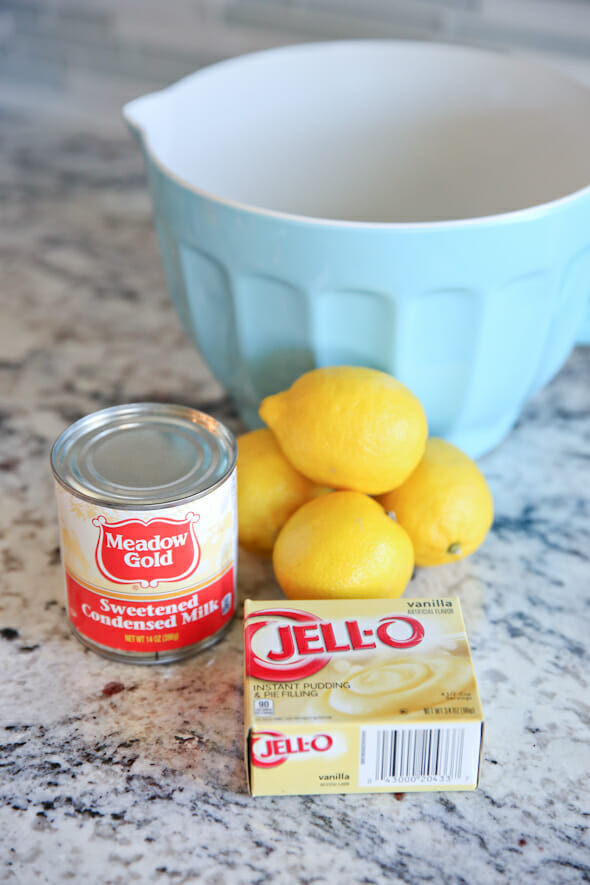 Use electric beaters to mix up the pudding, lemon juice, sweetened condensed milk, and a little regular milk as well.  I also include some of the zest.  Then you'll fold in whipped cream.  Don't stir, fold fold fold.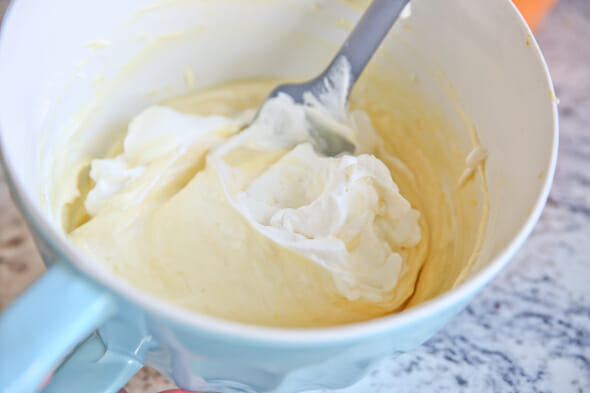 Spread that mixture into your pie crust.  Now you might notice that this same mixture in the Banana recipe makes 2 pies, however in that version, you've got a bunch of space taken up by the bananas.  I've found if you do 2 pies here, they're pretty shallow, so I prefer to make just one tall, full pie.  You'll have more than enough filling than you need, so it's the perfect amount to stow away a little bowl for yourself to eat while hiding in the closet.  Or wherever.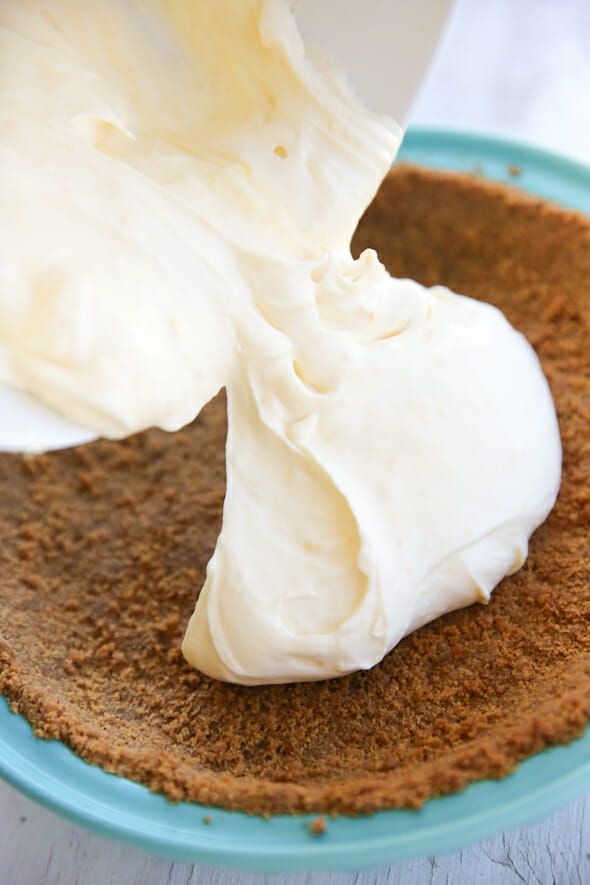 Spread out the mixture evenly and refrigerate the pie.  It's important it has plenty of time to chill (like 4-6 hours at least) so it firms up enough to slice.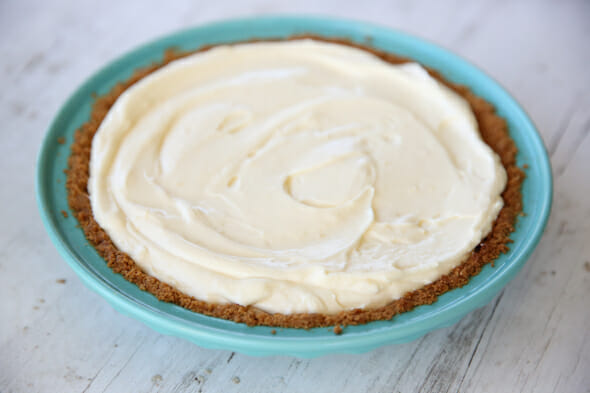 Before you serve it, top it with whipped cream (again, you'll have a very generous amount of whipped cream, so just use some for that closet binging sesh we discussed earlier) and if you want, those candied lemon slices I showed you how to make a few weeks ago.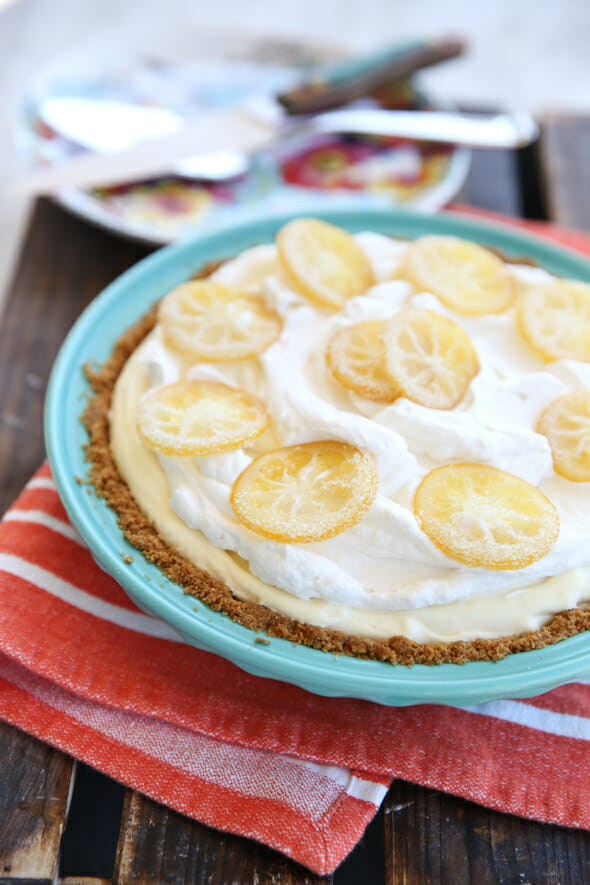 Gorgeous.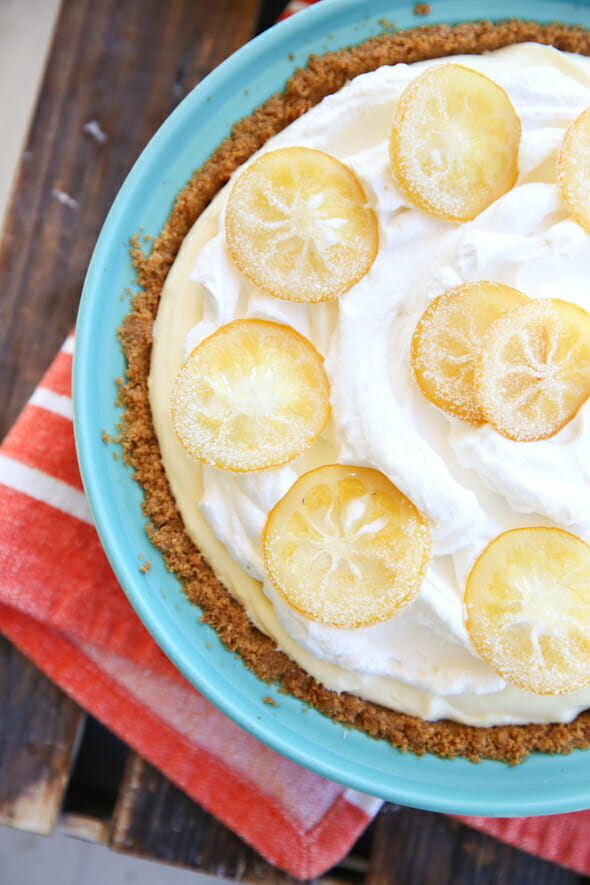 This pie is super sweet, yet super tart, so a little goes a long way!  It would feed 8 people minimum, and really more like 10-12 because you can get away with smaller slices.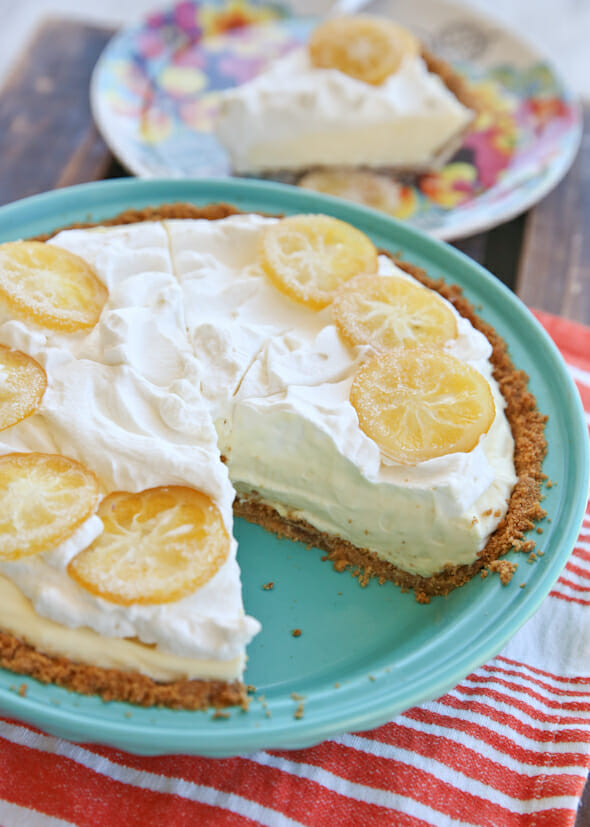 It would be perfectly beautiful on a Mother's Day table if you ask me.
Oh, and can we just talk about that plate for a quick minute?  It was one of my most favorite plates (I have hundreds, for food styling) and I totally dropped it after this shoot and broke it and my heart crumbled into a million pieces so I ate the whole pie to cope.  Seriously though.  It was from Anthropologie, does anyone have them and know what the name of the pattern is so I can see if I can find them anywhere?  Anyone know where I can find them?  I would buy a whole set if I could find them because I love them so much.  Help a girl out!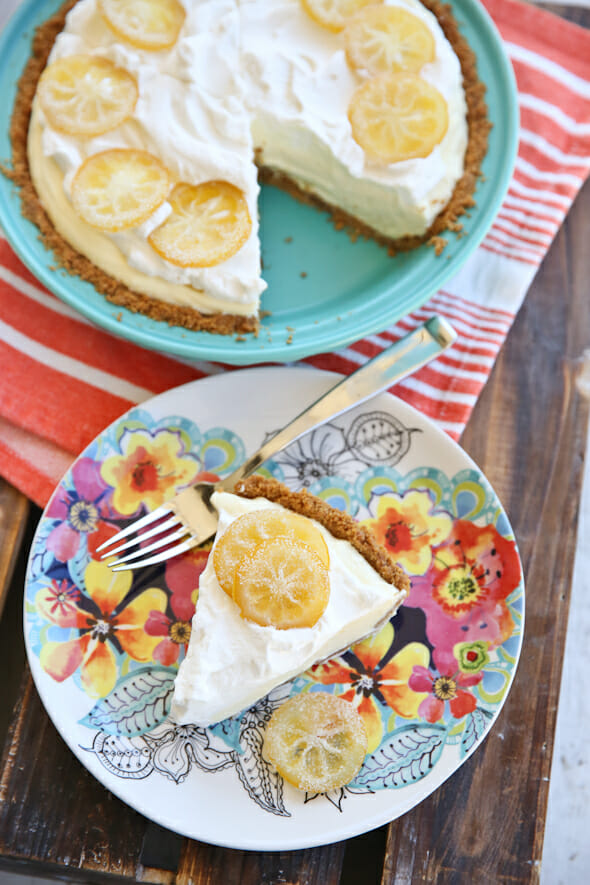 Easy Lemon Cream Pie
Recipe from Our Best Bites
Ingredients
Crust
1 1/2 cups graham cracker crumbs
1/4 cup brown sugar
6 tablespoons melted butter
Pie Filling
1 4-serving size vanilla instant pudding mix
1 tablespoon fresh lemon zest
1/2 cup freshly squeezed lemon juice
1/4 cup milk
1 14-ounce can sweetened condensed milk
Topping
1 pint (2 cups) whipping cream
1/3 cup powdered sugar
1/2 teaspoon vanilla extract
optional: Candied Lemon Slices for Garnish
optional: Additional crushed graham crackers for garnish
Instructions
To prepare graham cracker crust, combine cracker crumbs and sugar.  Pour in melted butter and stir with a fork until well blended.  Press into a standard pie plate and up sides.  You may refrigerate unbaked for a softer crust, or bake at 375 degrees for 5-6 minutes for a crispier crust.  Cool and set aside.
In a medium bowl combine pudding mix, lemon zest, lemon juice, milk, and sweetened condensed milk.  Beat well with electric beaters and place in the fridge to chill for a few minutes.  In a separate bowl, whip 1 cup of the whipping cream until medium-stiff peaks form.  Remove pudding from the fridge and gently dollop 1/3 of the whipped cream on top of the pudding and gently stir in.  Dollop the additional whipped cream, in large spoonfuls, onto the pudding mixture and gently fold the cream into the pudding mixture until well-combined.
Pour the mixture into your prepared graham cracker crust.  (There will be plenty for a full pie, so feel free to save a mini bowl for the cook to eat!).  Cover with plastic and place in the fridge to chill for 4-6 hours, or overnight.
Before serving, whip the remaining 1 cup cream with powdered sugar and vanilla until medium peaks form.  Spread on top of pie (again, there is a generous amount, so use a little to top your secret serving you saved.  You deserve it, you made a pie).  Garnish with candied lemon slices and crushed graham crackers if desired.